Comfort food and macaroni and cheese go together like bad singing and Christmas caroling. Always good, no matter what! By the way,  I nominate this for the worst Intro ever for "Not Outta The Box" Macaroni And Cheese". You're welcome…*cough, cough.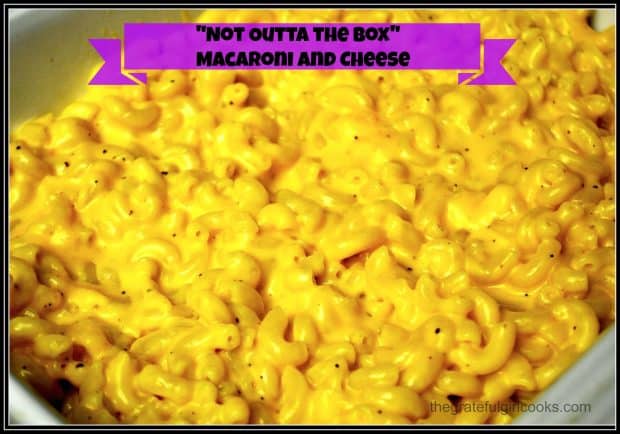 So, here's the back story. I grew up in your typical, average, All-American household. We didn't have a lot of money, but we were well-fed. Our Mom fed us macaroni and cheese out of a lovely blue and gold box (go ahead – insert nationally known name brand here!), and we loved it!  Yes… we loved it…and I have to admit that my hubby and I occasionally STILL eat it when we want something cheesy…stat. Truth.
But….sometimes I crave a homemade version of those cheesy macaroni noodles and don't want to use a box mix, filled with orange cheese-like substances. I wanna go full out and make it … FRESH! I found this easy and very tasty recipe on Pinterest (my "go to") for quick recipe searches. Tried it… and loved it. End of story. Oh yeah…they all lived happily ever after, their little tummies filled with homemade macaroni and cheese. Now wasn't that a nice little story? Well, here's the nice little recipe. My photos of this dish are not some of my best, but don't let that mess with your head. This is a great recipe. Hope you enjoy it!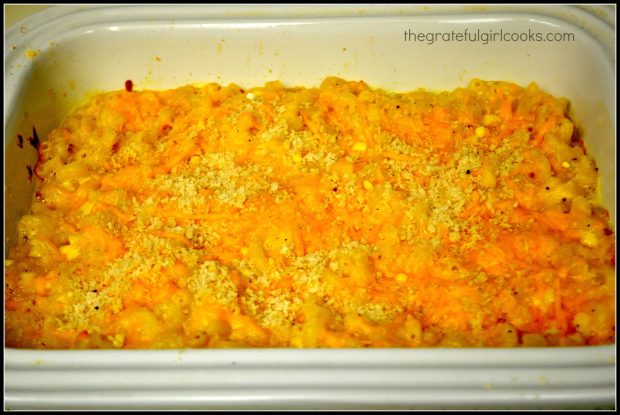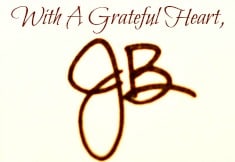 Recipe Source: http://www.iheartnaptime.net/homemade-macaroni-and-cheese/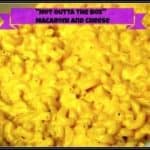 "Not Outta the Box" Macaroni And Cheese
Comfort Food at it's best! Creamy and cheesy homemade macaroni and cheese...fresh, not out of a box!
Ingredients
1

lb.

elbow macaroni noodles

1/4

cup

(1/2 cube) butter

1/4

cup

all-purpose flour

1 1/2

cups

milk

1/2

cup

whipping cream

(I used heavy)

1

Tablespoon

yellow table mustard

3

cups

sharp cheddar cheese

, grated

1

cup

medium cheddar cheese

, grated

1/2

teaspoon

salt

1/2

teaspoon

creole seasoning

(or you may substitute seasoning salt)

1/4

teaspoon

ground black pepper

1

cup

additional grated cheddar cheese

(to top dish with prior to baking)

1/2

cup

seasoned bread crumbs

(for topping - optional)
Instructions
Preheat oven to 350 degrees.

Cook the elbow macaroni noodles according to package directions. Remove and drain once macaroni is cooked.

In a separate large saucepan, melt the butter on low heat. When melted, whisk in the flour. Cook these two ingredients together for 3-4 minutes. Stir constantly while these are cooking.

Add the salt, pepper and creole seasoning (or seasoning salt) to the flour mixture.

Add the milk, whipping cream and mustard. Whisk these ingredients until they are well combined.

Add the sharp and medium grated cheddar cheese. Stir these as they melt. Stir until the mixture is smooth.

Add the drained macaroni to the cheese mixture; stir it to combine.

Spray a 9x9 baking dish with non-stick spray. Pour the macaroni and cheese mixture into this dish. Add the additional cheese on top, followed by the bread crumbs.

Bake at 350 degrees for 20 minutes, or until cheese is bubbly and the dish is beginning to turn golden brown on top. Serve and enjoy.
Save
Save
Save