Do you enjoy Pasta Salad? We sure do. I like to make them in the summer (when it's HOT), and have the chilled, yummy salad "hang out" in our refrigerator for quick bites here and there! It's so easy to make this Pasta Salad, and it tastes quite wonderful.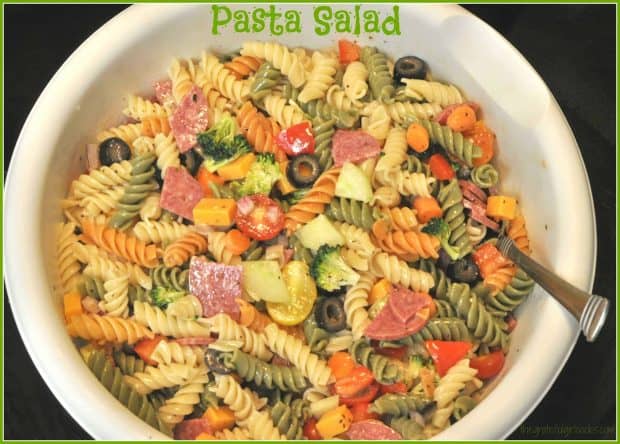 I've been making Pasta Salad like this for at least 20 years, and we always enjoy it. Here's a closeup of the "Cast Of Characters", chopped and ready to go… sliced black olives, cheddar cheese, Genoa salami, red pepper, broccoli, baby carrots, red onion, cucumber, and cherry tomatoes (from our garden)! YUM.  I chop and cut all of this while the pasta is cooking, to save time!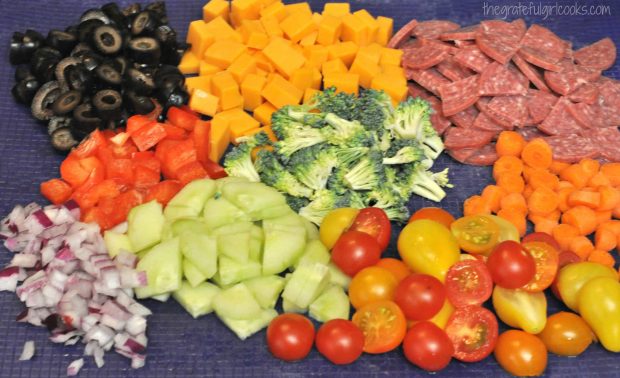 The prep time to make this salad is minimal. Ready in under 15 minutes!  Start by cooking pasta according to package directions. I like to use rainbow pasta (as shown) for color and variety, but elbow macaroni, bow-tie pasta, etc. will work fine, as well! When done, rinse and drain pasta.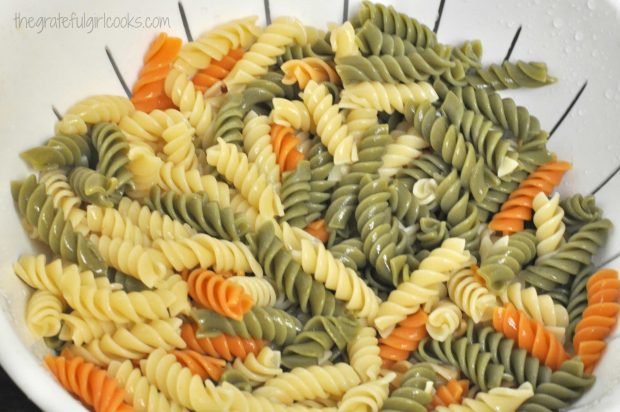 Add pasta and all other ingredients into a large salad bowl.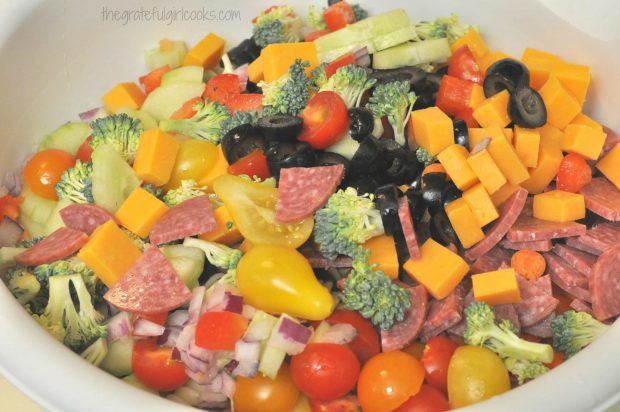 Pour Italian salad dressing over top, and mix well, to fully coat it all. Any Italian dressing will be just fine (just use what you have), BUT this is my FAVORITE dressing to use on this salad! (No… I am not sponsored by Olive Garden… I just really like their creamy Italian dressing paired with this salad).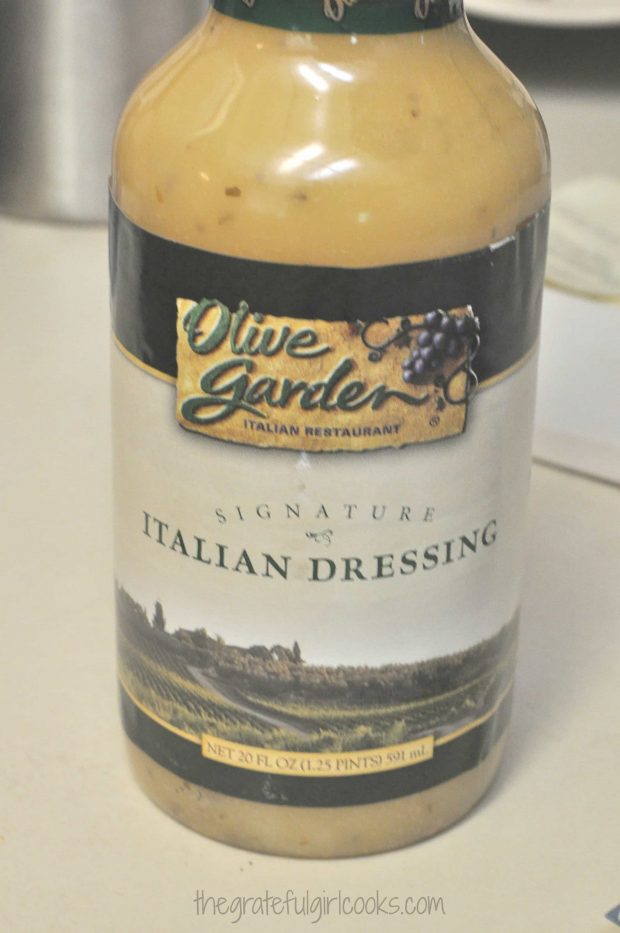 Cover and refrigerate salad for at least an hour (for best flavor!). Right before serving, taste, and add additional salad dressing if necessary (the dressing will absorb into the pasta while refrigerating).  That's it… serve it up… and ENJOY the great flavors in this salad.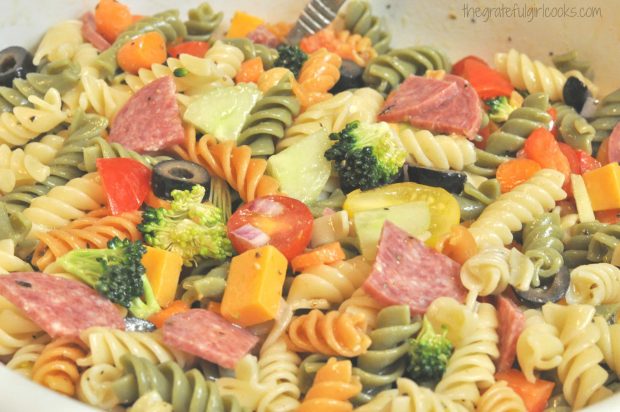 Have a great day! Make the most of every opportunity to be a blessing to someone that crosses your path today. Life is short, friends. Be kind!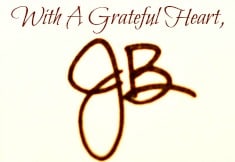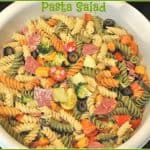 Pasta Salad
This quick, and easy to prepare pasta salad with Italian dressing will soon become a family favorite!
Ingredients
1

lb.

bag rainbow pasta

(or any kind you like, elbow macaroni, bow-tie, etc)

Salami

(approx. 20 slices), cut into quarters

Cheddar Cheese

(3 med. thick slices), cut into 1" cubes

Cherry tomatoes

(10), halved

Broccoli

, cut into tiny pieces (about 1/2 cup)

Red Onion

(about 1/4 cup), diced

Baby carrots

, sliced thin (about 10)

1

small can sliced black olives

, drained

1/2

cup

chopped red pepper

Cucumber

(approx. 1 cup), peeled, sliced, then quartered

Italian Dressing

(1/3- 1/2 cup)
Instructions
Cook pasta according to package directions. When done, rinse, drain, then set aside.

While pasta is cooking, chop, dice, slice (etc.) all the veggies and cheese, etc. for salad.

Combine cooked and cooled pasta and remaining ingredients in large salad bowl.

Pour 1/3 to 1/2 cup salad dressing over salad. Toss well, to combine. If it needs a bit more salad dressing, add it! The salad dressing will absorb a bit into the salad as it refrigerates. If necessary, add just a bit more dressing right before serving!

Cover and refrigerate for about an hour before serving, to give all the flavors a chance to mingle!

Serve, and enjoy!
Recipe Notes
The quantity of chopped veggies and cheese used in this recipe is approximate. Change quantities up and/or add other ingredients as you prefer! You really can't hurt this salad. Trust me!
Save
Save