Well, here's my first post in 2015. Nothing fancy or glamorous, but this meal is sure inexpensive, FILLING, and delicious! If you've ever had extra ham or ham bones left over after a meal, then this recipe for Pinto Beans And Ham is perfect for you!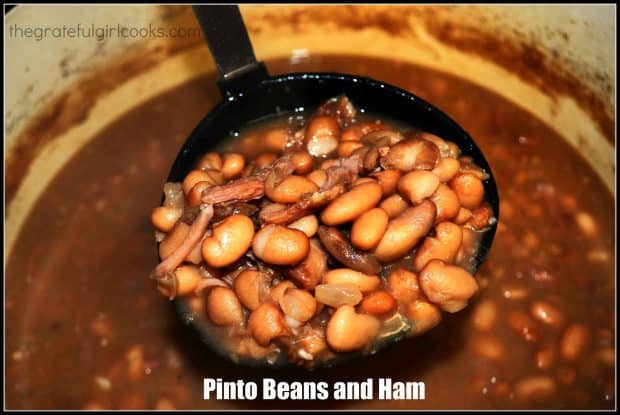 This dish is also totally easy to prepare, so consider that a win-win!
Only a few ingredients are necessary to make a big soup pot full of these tasty, filling, tender pinto beans and shredded pieces of ham, flavored with onion and garlic! I prepare this meal often, usually any time we have leftover ham (always after a holiday like Christmas or Easter, and especially in the cold, winter months!). The recipe makes about 8 servings, so there is always enough left over for other meals.
If you have a large ham bone from a ham hanging around (with pieces of meat still attached)… PERFECT! If not, then just use slices of ham, cut into small chunks. The long cooking time will help the meat to pull off the bone or shred easily! The long cooking time helps the beans to soften… find another activity to do while they are cooking, and just check on them every hour or so to make sure there is enough liquid in the pan. During the last part of the cooking time, the beans and ham liquid will begin to thicken. This is a GOOD thing!
Your house will smell GREAT while these are cooking! We love to eat this like a thick bowl of soup with some Copycat Marie Callender's Cornbread or warm tortillas on the side… yum!
Hope you'll give these a try… think you're gonna love them!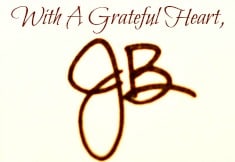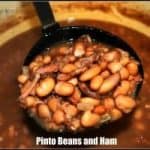 Pinto Beans And Ham
Nothing beats a cold, winter day like a big pot of pinto beans, with ham, onion, and garlic to warm you up!
Ingredients
1

bag pinto beans

(regular sized - about 2-3 cups)

1

large leftover ham bone

(with meat attached), OR 2 cups chopped cooked ham

1

medium brown onion

, chopped

1

heaping Tablespoon minced garlic

1/4

teaspoon

cumin

1

teaspoon

salt

1

teaspoon

black pepper

Water

Additional Salt/Pepper

, to taste (I usually have to add more before serving)
Instructions
Rinse the pinto beans in a strainer. Place beans into a large stockpot. Cover completely with water.

Add ham bone (or chopped ham). Add additional water, if necessary to more than cover the beans and ham.

Add onion, garlic, salt, pepper, and cumin.

Bring water to a boil. Reduce heat to medium-low heat. Let beans cook for approximately 4 hours. For first half of cooking time, keep a lid on the beans, but with lid vented. After about 2 hours, remove the lid and continue cooking, uncovered for remainder of time. As water level begins to reduce, add a bit more water back into the pot so that beans remain submerged during cooking time.

Check beans to make sure they are fully softened. Remove ham bone from pot; remove any ham meat from bone and add the ham back into the pot.

Taste test the beans when fully cooked. Mixture will thicken slightly as the amount of water reduces through the long cooking time. Season with additional salt and pepper, to taste.

Serve hot with some cornbread or tortillas on the side, and enjoy!
Save
Save