I have several friends who "do the happy dance" each Fall, when their local coffee stand begins offering their seasonal Pumpkin Spice Lattes. Cracks me up to see how fast the "news" spreads via Social Media. Well… if you like Pumpkin Spice Lattes, then I would be willing to bet you will love these Pumpkin Spice Latte Biscotti!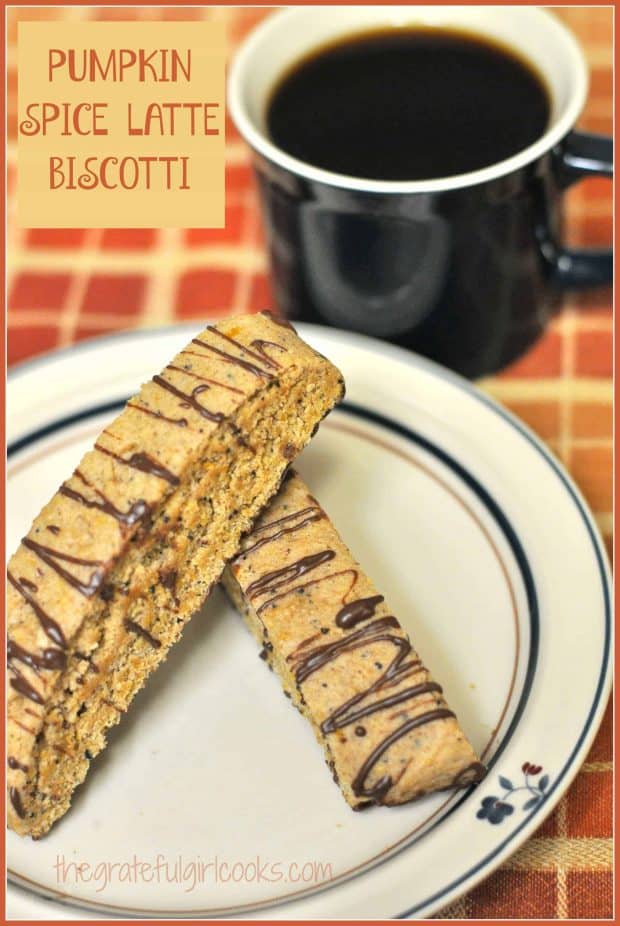 I saw this recipe pop up on Pinterest and thought I would give it a try. I've made biscotti before (here's my recipe for Orange Almond Biscotti -yum!), so I knew I would enjoy the flavor combination of these… how can you go wrong with a great coffee drink in cookie form? A little pumpkin and spice, coupled with a slight taste of coffee in the biscotti? Umm, yes, please!
Here's how easy these are to make:
In a medium sized bowl, whisk together flour, baking powder, salt and spices, then set aside. See the ground coffee? Yes!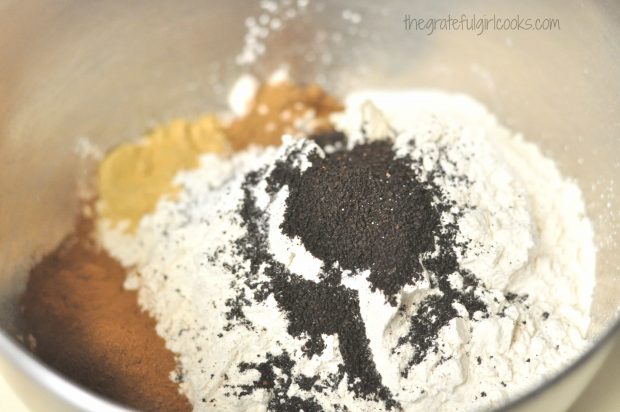 Using a hand mixer or a stand mixer, cream butter and sugar together until creamy, then add in eggs, and beat well.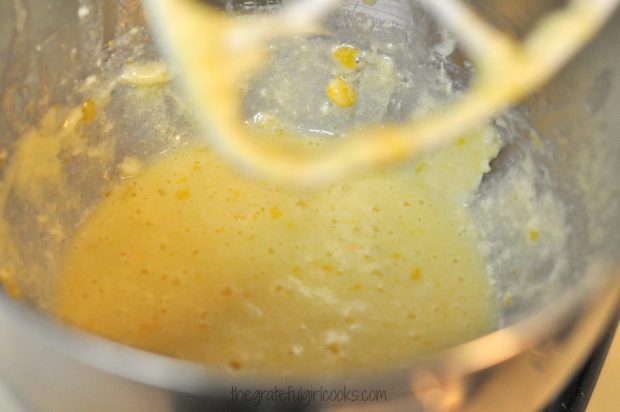 Add pumpkin puree and vanilla extract; beat these well.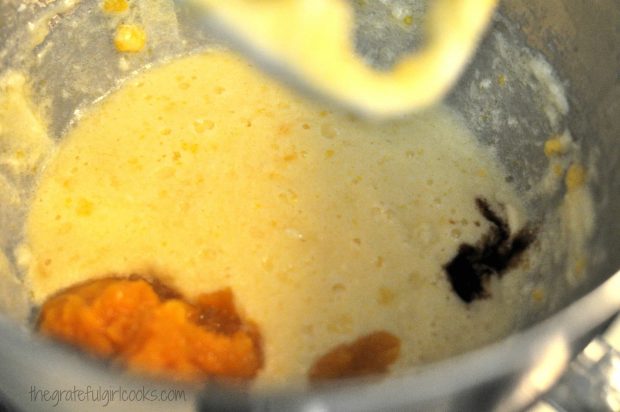 Now add in the dry ingredients, a little at a time, beating well until ingredients are fully combined.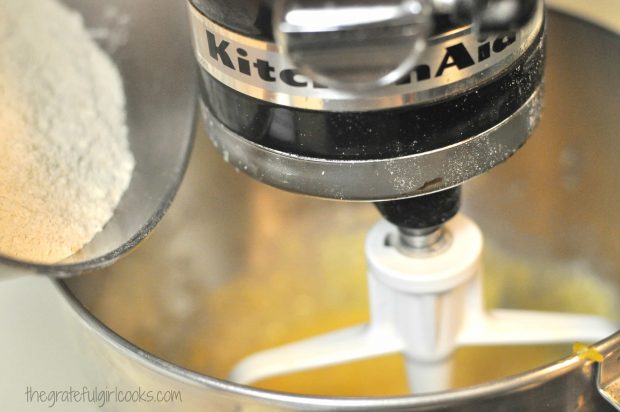 The batter will look like this when done… see the little coffee granules? Ooh…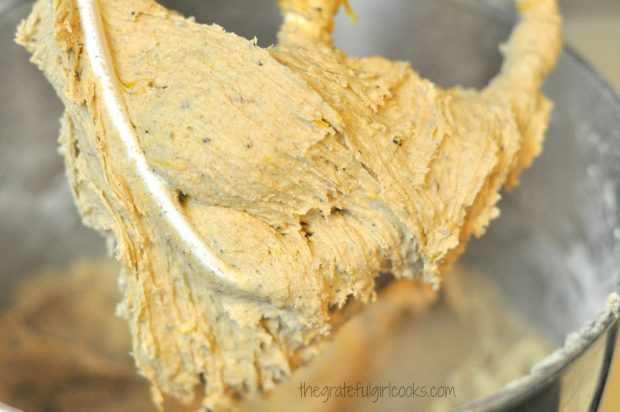 Spoon the soft dough onto a parchment paper lined baking sheet. Make two separate mounds (about 3 inches wide by 12 inches long) of dough several inches away from each other (cause the dough will spread while baking).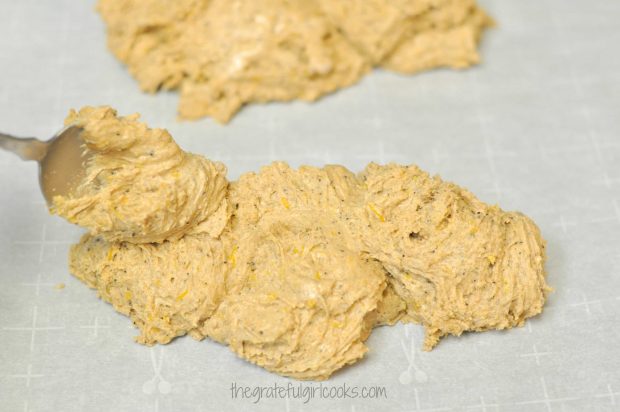 Using moistened hands, shape the dough into 3 inch wide by 12 inch long logs, remembering to leave several inches space between logs, cause they will spread when baking.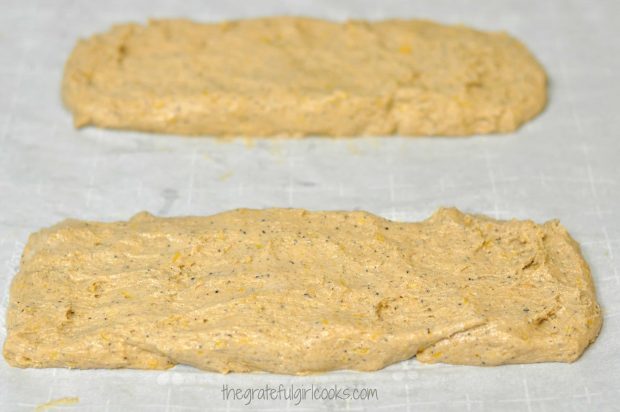 Bake in a preheated 300 degree oven for 35-40 minutes, until firm. (mine took 40 minutes). Please see my note on oven temp. in the NOTES section of the printable recipe!  When done, remove pan from oven; let biscotti rest for a full 10 minutes.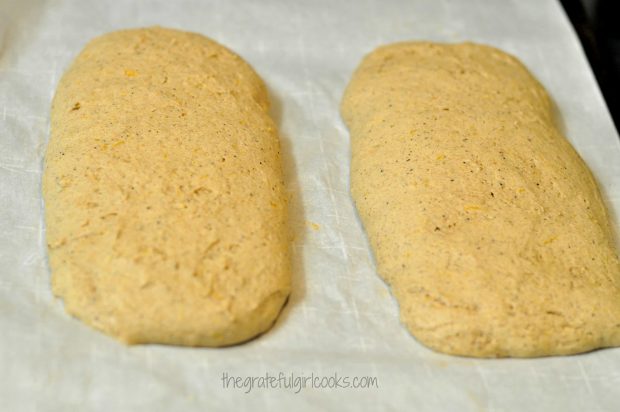 After 10 minutes, remove the biscotti logs to a cutting board (remove the parchment paper), and carefully slice each log into 12 one inch slices, using a serrated knife to cut.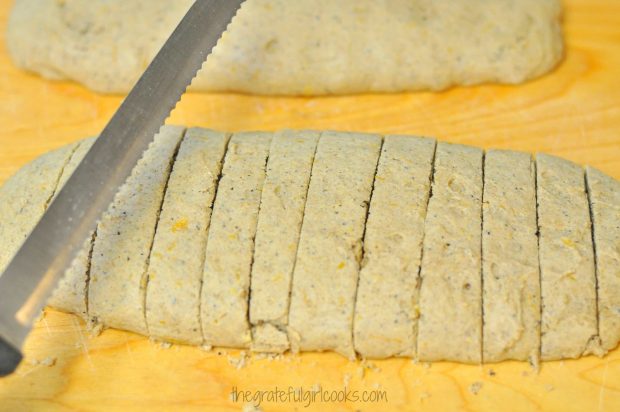 Once cut, carefully move the slices one at a time (I used the blade of the knife) back to a baking sheet (no parchment paper needed this time), making sure to place the cut side down.  After 15 minutes, remove biscotti from oven, and turn them over. Put them back in the oven and bake an additional 15 minutes (I actually let the second cooking go for 20 minutes).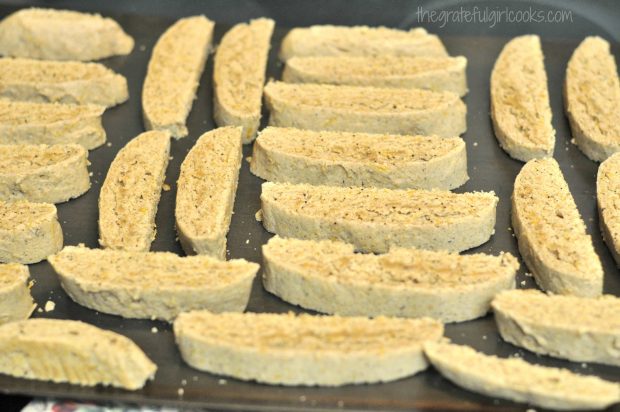 When done, remove the biscotti to a wire rack and let the cookies cool down completely.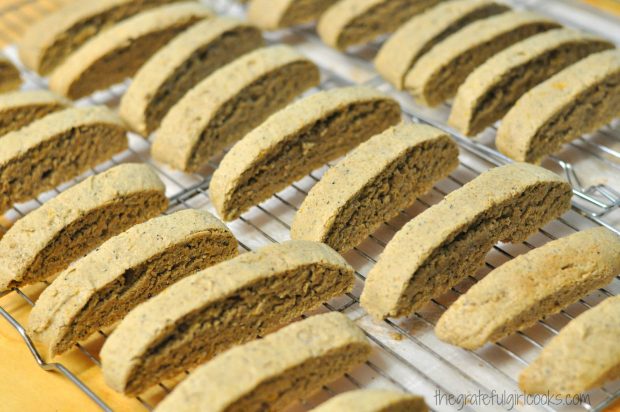 While biscotti cools, make a chocolate drizzle to decorate them with. Melt chocolate chips and a little shortening in the microwave. (30 seconds on high. Stir. 30 seconds on high. Stir.)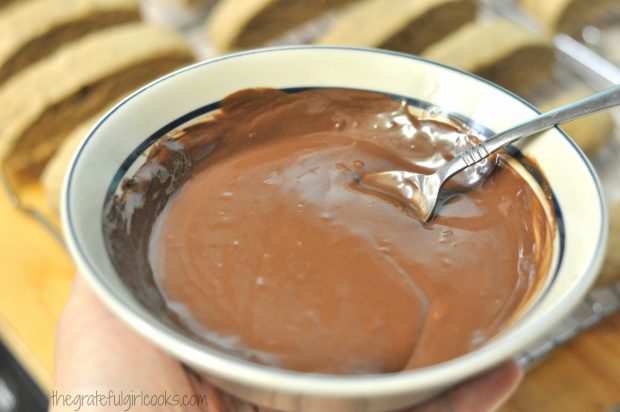 Drizzle the tops of the biscotti (I use a honey dipper, but you can use a fork, etc.). Let harden, then "PAINT" the bottoms of each biscotti with the melted chocolate, using a pastry brush. Let harden.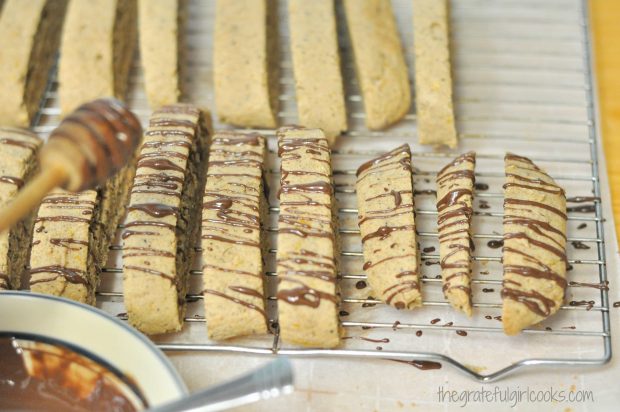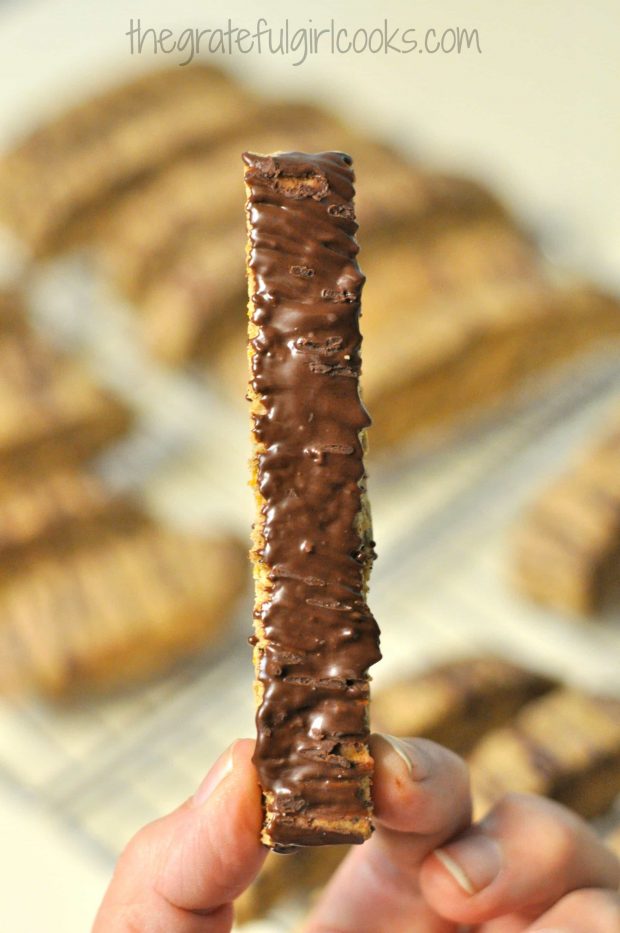 Once chocolate has hardened up on the top and bottom of biscotti, they are ready to eat… or dunk in a hot cup of coffee!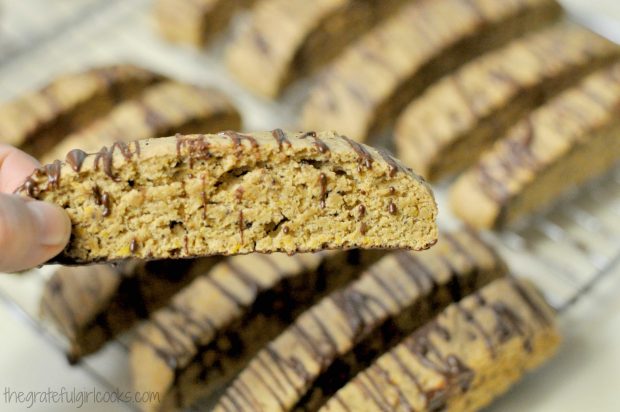 Hope you enjoy this little taste of FALL! Have a great day, and may God bless the work of your hands this day!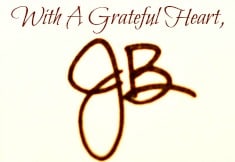 Recipe Source: Jennifer, at http://www.seasonsandsuppers.ca/pumpkin-spice-latte-biscotti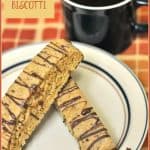 Pumpkin Spice Latte Biscotti
A delicious pumpkin biscotti cookie that tastes like the popular Pumpkin Spice Latte drink of the Fall season!
Ingredients
For the biscotti:
3

cups

all purpose flour

1 1/2

teaspoons

baking powder

2 1/2

teaspoons

finely ground coffee

(grounds)

1/4

teaspoon

salt

2

teaspoons

cinnamon

1

teaspoon

ginger

1/2

teaspoon

nutmeg

1/2

cup

butter

(at room temperature!)

1

cup

granulated sugar

3

large eggs

1

teaspoon

vanilla extract
For The Chocolate Drizzle:
1

cup

semi-sweet chocolate chips

1 1/2

Tablespoons

vegetable shortening
Instructions
Preheat your oven to 300 degrees.

In a large bowl, whisk together the flour, baking powder, coffee grounds, and spices until well combined. Set bowl aside.

Place the room temp. butter and sugar in a mixing bowl or the bowl of a stand mixer. Beat with mixer on high until completely smooth. Add the eggs, one at a time. Beat the mixture well after adding each egg. When smooth, add the pumpkin puree and the vanilla extract. Beat this well.

Turn the mixer to low and gradually add the dry ingredients to the wet ingredients (a little at a time), while mixer is running, until completely combined.

Spoon the dough out onto a parchment paper-covered baking sheet. Divide dough evenly into 2 separate log shapes, about 12 inches long by 3 inches wide (approx.). Wet your hands and shape the dough into a smooth log (12 x 3). REMEMBER TO KEEP LOGS SEVERAL INCHES APART AS THEY WILL SPREAD WHILE BAKING!

Bake the dough at 300 degrees for 35-40 minutes or until firm. When done, remove pan from oven and let dough rest for 10 minutes.

Remove dough logs to a cutting board (remove parchment paper). Carefully slice each log into 12 one inch slices, using a serrated knife. Place biscotti slices, CUT SIDE DOWN onto baking sheet. Bake for 15 minutes; remove pan from oven. Turn the biscotti slices over, return pan to oven, and cook an additional 15-20 minutes. When done, remove from oven. Carefully place biscotti on wire racks to completely cool.
To make chocolate drizzle:
Place chocolate chips and vegetable shortening in microwave safe bowl. Microwave on HIGH for 30 seconds. Stir. Microwave again for 30 seconds. Remove from microwave and stir well, until smooth. Drizzle over each biscotti. Let chocolate harden. Use a pastry brush to brush chocolate on the bottom of each biscotti. Let chocolate fully harden, then they are ready to eat!
Recipe Notes
*FYI- I noticed that these biscotti were not as crunchy the day after I made them. After looking at my other recipes for biscotti, I'm convinced the lower oven temp. for this particular recipe played a part. Next time, I will bake these at 350 degrees, then place the cut slices standing upright on sheet (as opposed to flipping to both sides), and bake for approx. 20-25 min. until firm and set... cause we want crunchy biscotti, right?
Save
Save