One of the first things I ever learned how to can was Strawberry Jam. There's just something about a jar of home-canned jam that makes it special. Do you know how to can strawberry jam? It's not so hard. Really!  It can be made year-round, due to the availability of this delicious fruit.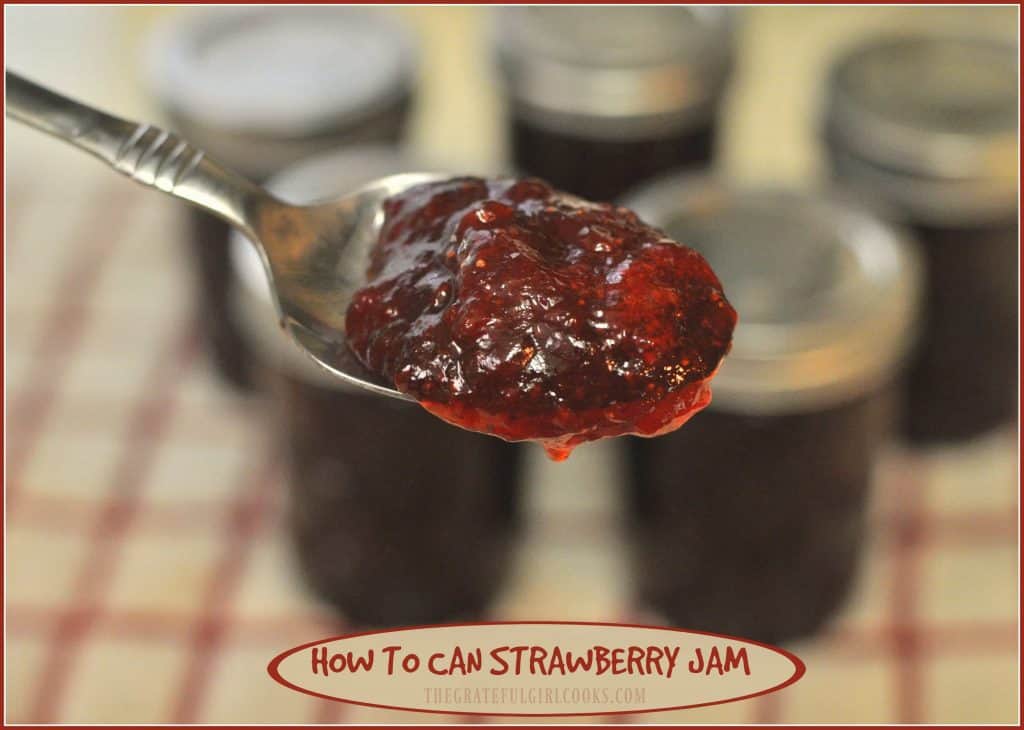 I grow strawberries in my small backyard garden, and love to have them to snack on.  But when I am going to make jam, I usually end up going to a local U-Pick farm in the Spring and picking a large amount of them, as you can see from the photo below. Regardless of how you "get" the strawberries (growing them, grocery store or picking them at a farm), jars of homemade strawberry jam are wonderful to have in the pantry to enjoy, and have available to give as gifts throughout the year.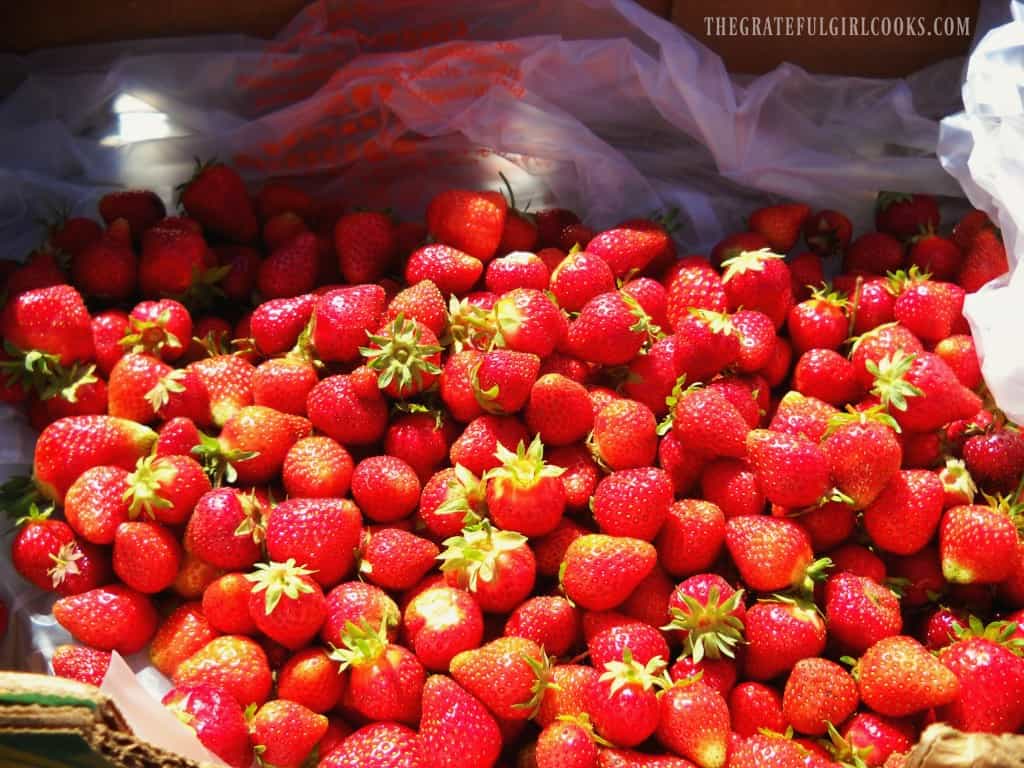 Strawberry Jam is canned for long term storage using a water bath canner.  While getting the jam made and ready for canning, you can begin heating the water in a canner, and prepping jars, lids and rings per manufacturer instructions, so everything is ready to go when the jam is ready.
Here's how to make the jam and can it:  Start by placing clean and de-stemmed strawberries in a large bowl and crush them (I use my potato masher to crush the fruit). You can also use a food processor for this, but do not puree the fruit. Use the pulse button to chop fruit. You need small pieces of the strawberries in the jam!
Measure the exact amount of crushed fruit the recipe calls for into a large heavy saucepot.  Add fresh lemon juice and 1 box of powdered pectin into the fruit; stir to combine. I also add 1/2 teaspoon of butter to the fruit, which helps to keep the fruit from foaming too much while it cooks (but this is optional).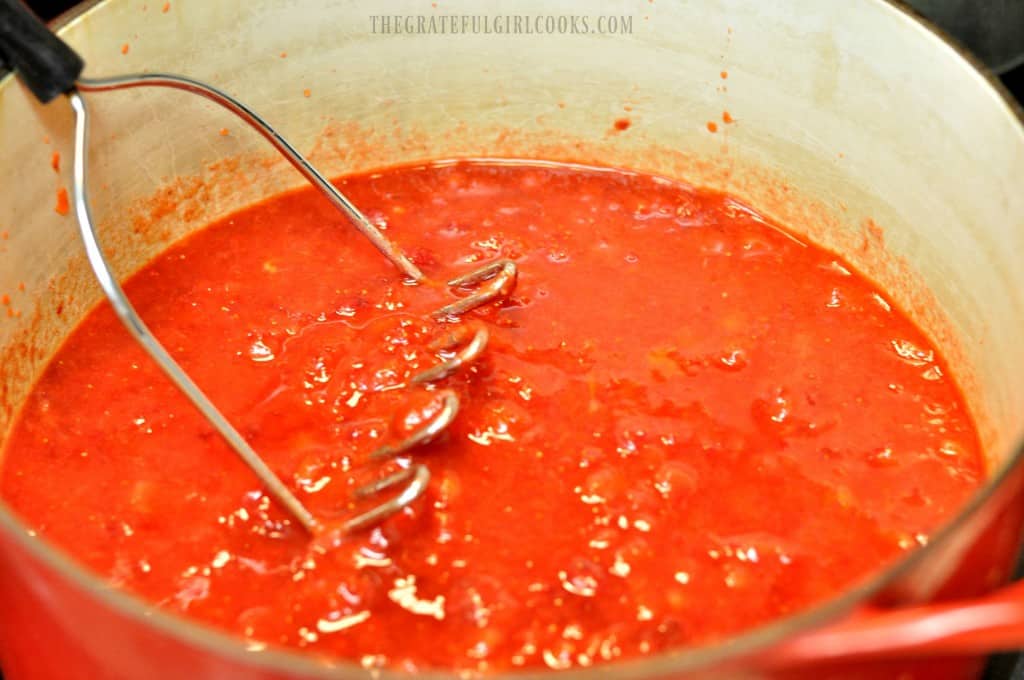 Measure exact amount of sugar into a separate bowl. Set aside until ready to add to the hot fruit mixture.
Bring the strawberry mixture to a FULL ROLLING BOIL over High heat.  Stir mixture CONSTANTLY.  (*A full rolling boil means that the strawberry mixture doesn't stop boiling, even when you are stirring it). As soon as mixture comes to a full rolling boil, dump ALL the sugar in at once, and stir well, to combine.
Bring the jam mixture back to a FULL ROLLING BOIL, then let it boil for 4 minutes. Be sure to stir jam constantly so it won't burn on the bottom of pan.  Remove pan from heat. Skim off any foam that appears on top of jam and discard.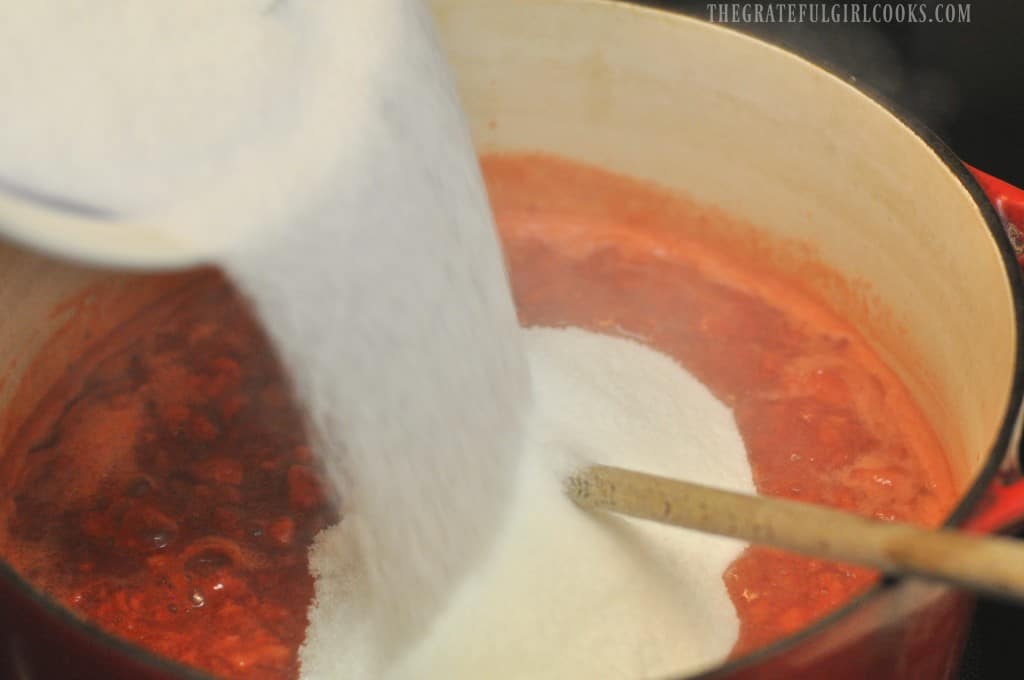 Ladle the hot jam quickly into clean, pre-heated jars.  Fill each jar almost to top, leaving 1/8 inch headspace. Insert a non-metallic utensil into each jar two or three times to remove air bubbles, then adjust headspace, if necessary.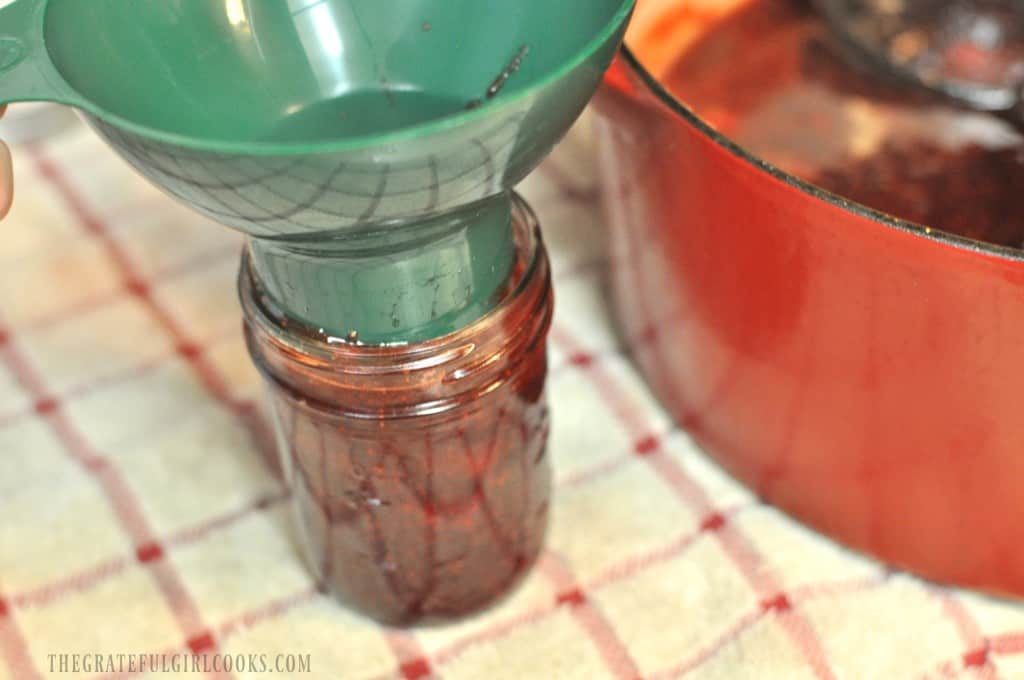 Wipe the rims of each jar with a wet paper towel or clean dishcloth to remove any jam residue (residue would prevent jars from sealing properly).  Cover each jar with prepared flat lid, add screwband and tighten. Place the hot jars (using canning tongs) onto canning rack.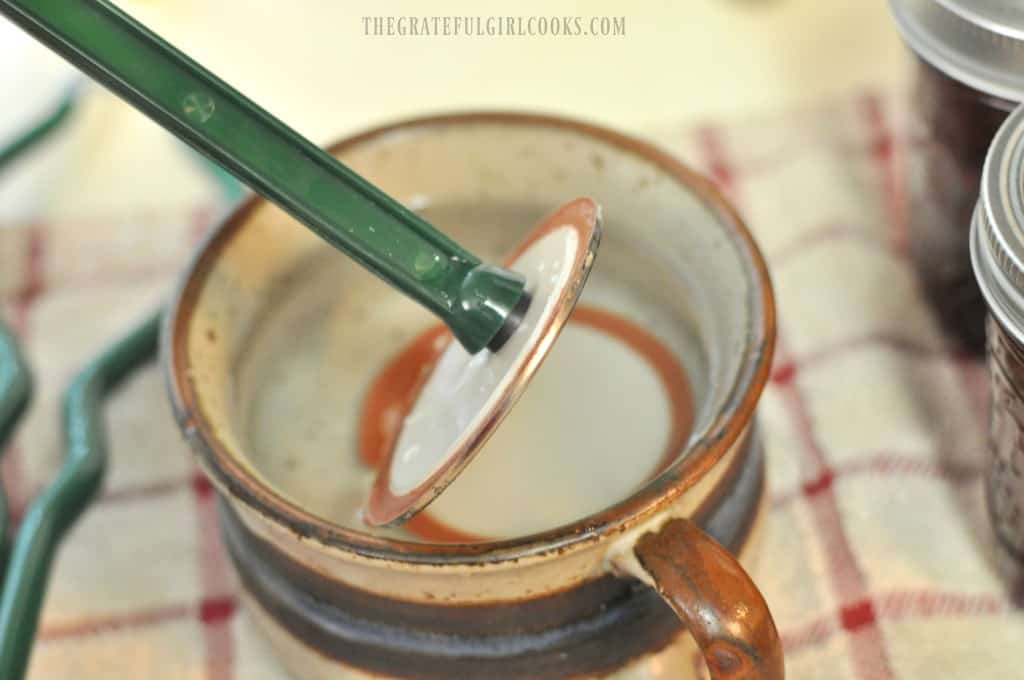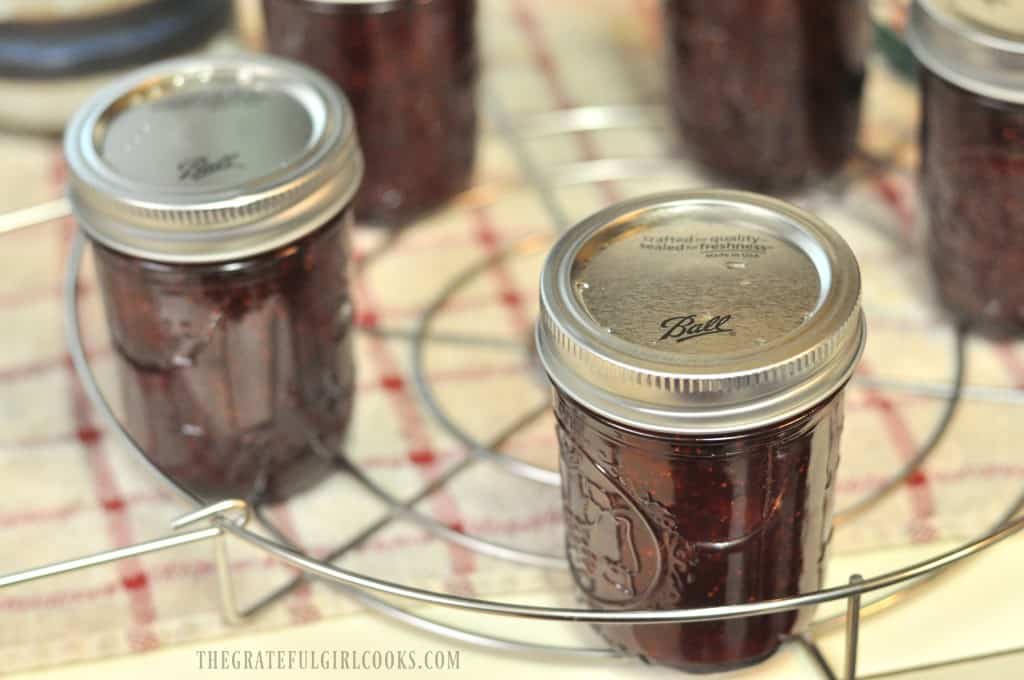 Lower rack into simmering water in canner (the reason the jars must be on a slightly elevated rack is so the jars don't crack while in contact with direct heat on bottom of pan).  Make sure the hot water completely covers the jar tops by a couple inches (add additional hot water if needed). Cover the canner.  Bring the water inside to a gentle boil. Once boiling, process the jam for 10 minutes.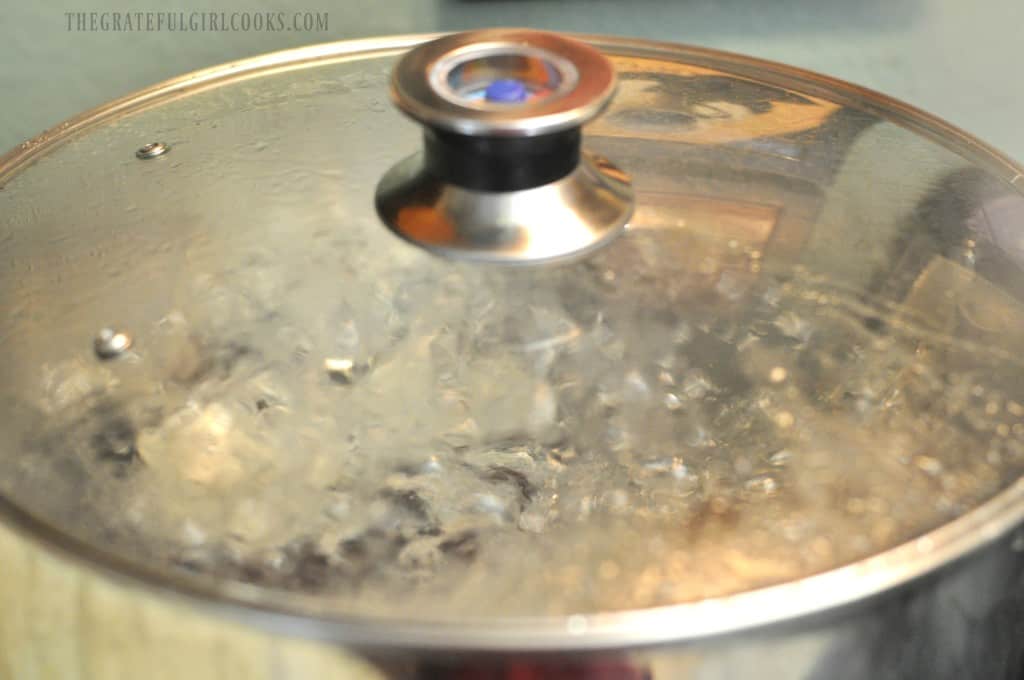 When processing time is complete, remove jars and place them upright on a dish towel until they have cooled completely (do not place hot jars directly onto kitchen counter. Temperature variances could cause the jars to crack).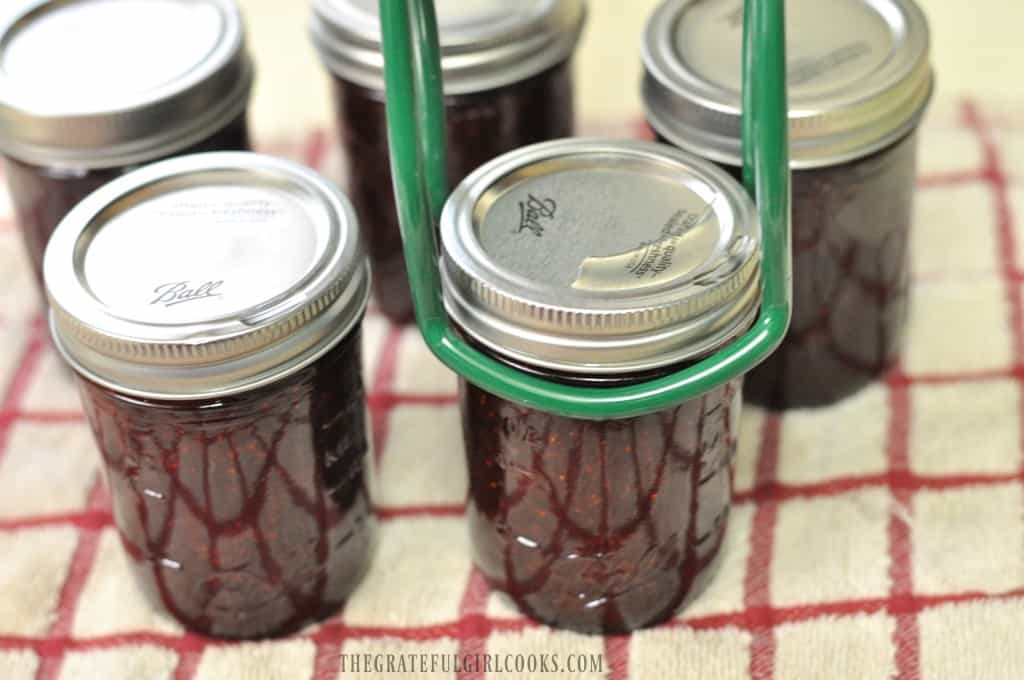 Once jars have completely cooled (12 hours or overnight), make sure to test the seal on the jars before storing in pantry. (Press the middle part of the lid. If it springs back, the seal is bad, and the jam will need to be stored in the refrigerator). If the jars have a good seal,  label them and store in pantry, as they are shelf stable.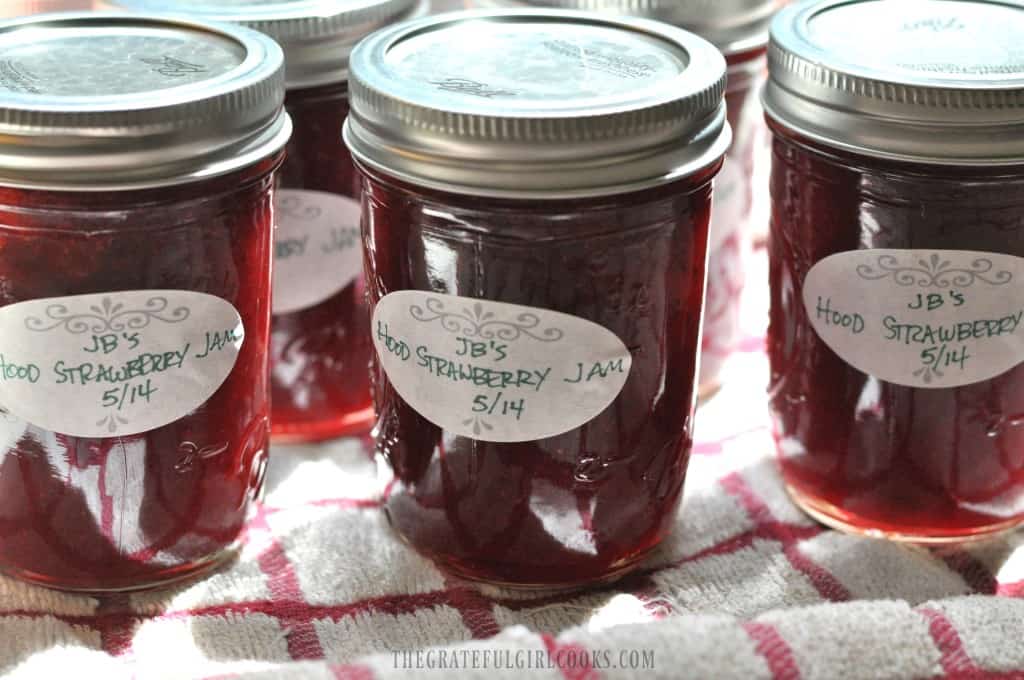 When ready to use, open up a jar, and spread some of that thick, sweet strawberry-goodness on a piece of toast… and ENJOY the delicious work of your hands! YUM!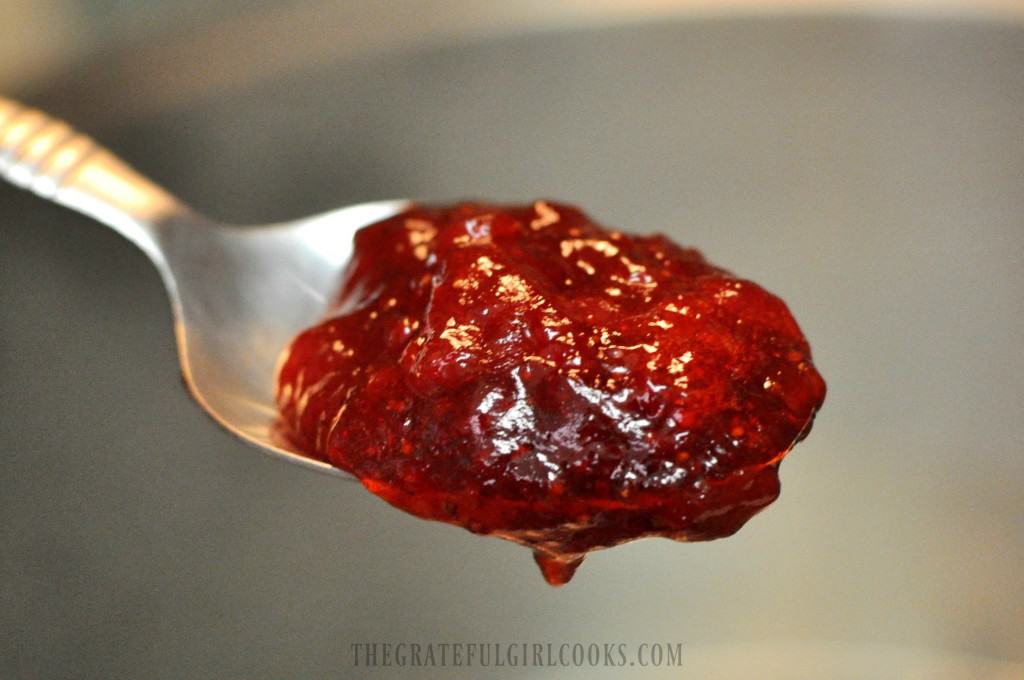 Have a wonderful day!  Spring is just around the corner… can't wait to get out there, pick some fresh delicious strawberries and make more jam! I've given away so many jars of homemade jam to friends and family recently, I need to make more just so WE can have some around to enjoy this year!  Go figure!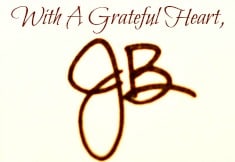 Recipe Source:  Written instructions with box of MCP Premium 100% Natural Fruit Pectin



Here's one more to pin on your Pinterest boards!

Save
Save
Save
Save
Save
Save
Save
Save
Save
Save
Save
Save
Save
Save
Save
Save
Save
Save
Save
Save
Save
Save
Save
Save