Here's a fantastic tasting side dish for "Rissole Potatoes With Feta". Oh wow…they are sooo good! By "good" I mean these potatoes are "phenomenally GOOD"!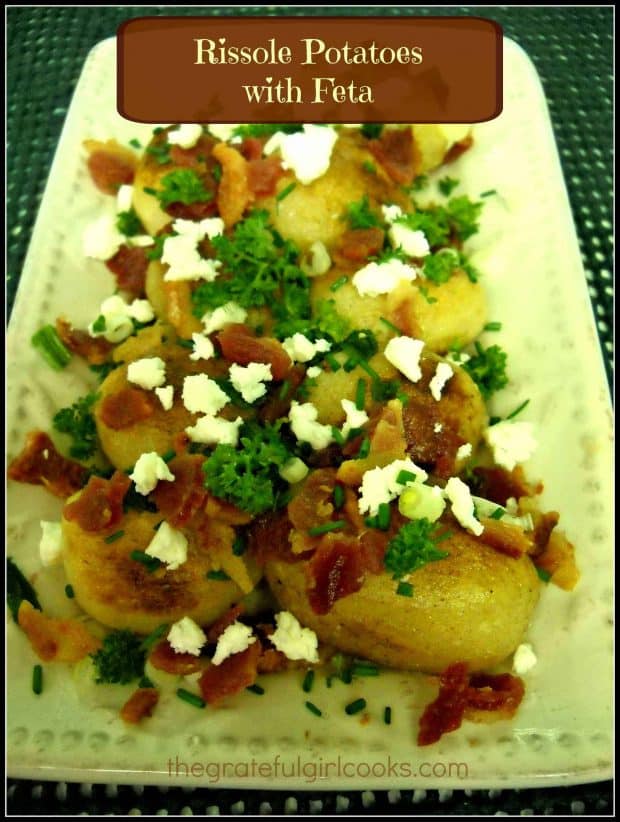 My hubby and I went to our local Farmer's Market on Saturday to look around. Since our home garden is in full production right now, I ended up not buying any fresh produce (it's a miracle!) EXCEPT for some baby red potatoes, which I had a diabolical plan for.
I found a recipe online this past week from Martha at "A Family Feast" for these potatoes, and decided to give the recipe a try (with just a slight tweak). I loved that they are cooked on the stovetop. It's been crazy hot in Portland recently and I've been trying not to use my oven so I don't heat up the house!
Rissole (rihs-uh-lay) is just a fancy way of describing a method (French) of cooking food (usually something "breaded") by frying it until it is crispy brown and crunchy on the outside, and soft on the inside. Well…these potatoes fit the bill. Peeled, baby red potatoes… crispy on the outside and garnished with butter, parsley, chives, scallions, crispy crumbled bacon, and crumbled feta cheese. Have mercy…these potatoes were absolutely FANTASTIC! I really hope you will give them a try… This recipe is a definite keeper, and is going to be used in our home…OFTEN!
My pictures only show HALF the quantity of this recipe, because I made these just for myself and my husband. These potatoes are fantastic, but we can't eat an entire batch of them. Well, maybe another time…just not this time. Enjoy!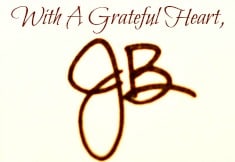 Recipe slightly adapted from: http://www.afamilyfeast.com/rissole-potatoes-fresco/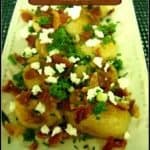 Rissole Potatoes With Feta
Crispy on the outside and soft on the inside, these potatoes are phenomenal, enhanced with butter, bacon, chives, and feta cheese. YUM!
Ingredients
5

strips bacon

3

green onions

(white and green parts)

1/4

cup

fresh parsley

, chopped

1/4

cup

chives

, snipped

1 1/2

pounds

baby new red potatoes

(small)

6

Tablespoons

butter

(Divided)

1

teaspoon

salt

1/4

teaspoon

freshly ground black pepper

1/4

pound

Feta cheese

, crumbled (or you can use queso fresco, if desired)
Instructions
Cook the bacon in a skillet until crispy. Remove from pan; let cool, then crumble. Set aside.

Chop the parsley and green onions; snip the chives (it's easy using kitchen scissors). Set aside.

Completely peel the potatoes. Put them in a large non-stick pot (or really large skillet) of salted water. The water should cover the tops of the potatoes.

Bring the water to a boil using high heat. Once water is boiling, reduce heat to a slow boil and cook potatoes (uncovered) for 10 minutes.

Drain the potatoes (gently) into a colander. Place 4 Tablespoons (not all of it!) in the dry pot or skillet. Let the butter begin to melt, then gently place the hot potatoes back into the pan. Put a cover on the pan, turn the heat to medium-low, and cook the potatoes for an additional 10 minutes (without removing the lid!!!).

In a separate dish, melt the remaining 2 Tablespoons of butter and set aside.

After the 10 additional cooking minutes have passed, remove the pan or skillet cover. Turn the heat to high, and add the salt and pepper to the potatoes.

Continue to cook (and brown) the potatoes for another 8-10 minutes. Turn the potatoes gently as they brown, so they stay whole. Spoon the butter up and over the tops of the potatoes as they cook. HINT: *Use two wooden spoons to gently turn the potatoes-works like a charm*. Once the potatoes are nicely browned on all sides (smaller potatoes will brown faster than the larger ones), remove them to serving dish.

Once all potatoes are browned and transferred to serving dish, pour the RESERVED butter (NOT the brown butter left in the pan) over the potatoes. Garnish potatoes with green onions, chives, crumbled bacon pieces, parsley, and top it off with crumbled feta cheese.

Serve, and enjoy!
Save
Save