You'll love these amazing shredded pork smothered burritos, covered in a homemade red sauce. They taste just like you ordered them at a Mexican restaurant!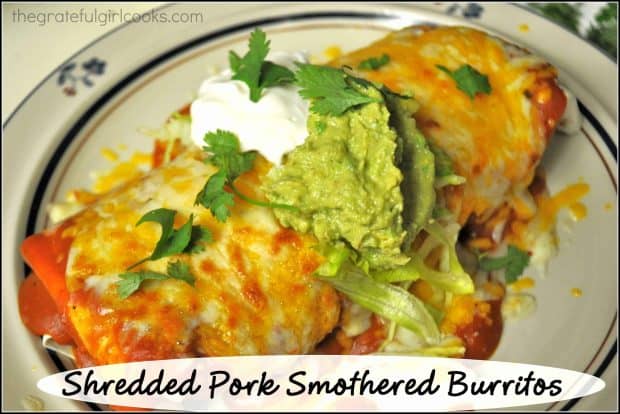 I love Mexican food… it's my FAVORITE! Recently my son and his girlfriend got me "hooked" on Shredded Pork Smothered Burritos at a local restaurant! When I saw a recipe on Pinterest for a recipe that looked similar, I was determined to try and make them at home!
A few days ago I made them! I ended up merging 2 recipes together, added a few tweaks of my own – and let me tell you…they were fantastic! Our oldest son joined us for dinner and we all agreed these were absolutely "restaurant quality" burritos!
My cooking experiment was a bit time-consuming, because I also made a homemade mole sauce (an ingredient in the sauce) instead of going to the store and purchasing it. I made enough of both sauces used in this recipe (mole and red) to make another batch of these delicious burritos in the future. My time investment will pay off next time I make these…and there will definitely be a next time!
Scroll Down For A Printable Recipe Card At The Bottom Of The Page
Tips To Save Time When Making These Burritos
If you want to make this meal quicker and easier to prepare:
Buy a can of mole sauce in the Hispanic section of your grocery store.
Use shredded rotisserie chicken or leftover pork or shredded roast beef, and it will shave down your prep time, with the same great results!
Prepare the red sauce ahead of time, then these will be really quick to prepare!
Making Homemade Red Sauce For Shredded Pork Smothered Burritos
Melt vegetable shortening in large pan on medium heat. Sprinkle in flour and continue whisking while the shortening and flour melt together and slightly begin to bubble. Add the mole sauce. Here is a link to my recipe: DIY Mexican Mole Sauce.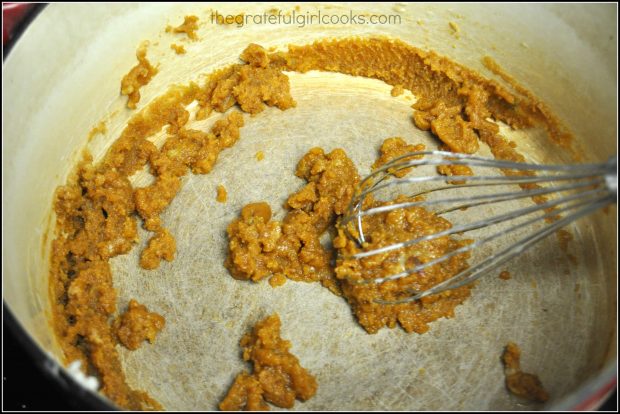 Once the mole sauce has been incorporated, add the beef stock and whisk until sauce is smooth. Add in the rest of the spices and mix again. Whisk in the milk.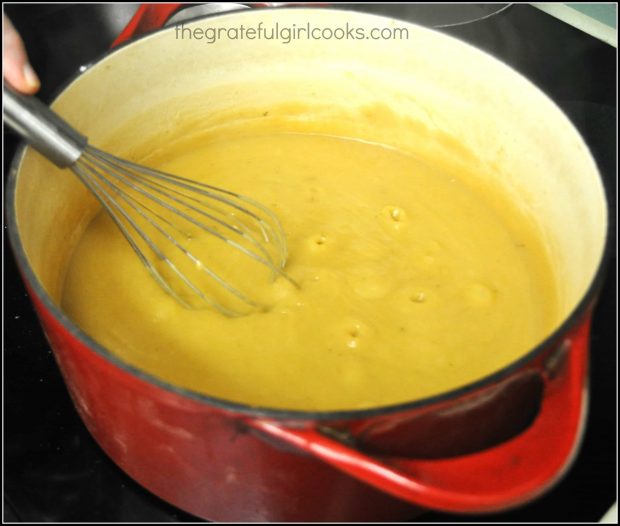 Pour in the tomato sauce, tomato paste and the water. Whisk sauce until completely smooth; cover pot and let simmer for about an hour. Make sure to stir the sauce about every 10-15 minutes to make sure it doesn't stick to the bottom of the pan. Reheat the sauce when you are ready to assemble the shredded pork smothered burritos.
To Cook the Pork (or Chicken) For Burritos
For the sake of this recipe, I am going to start with the assumption that you already have cooked pork (or chicken or roast beef). I cooked a pork roast recently and found it easy to use the leftover pieces for this recipe. I threw the pieces of pork back into a crock pot with a little bit of water and salsa and let it cook for a couple extra hours to be tender enough to shred.
If you don't have leftovers, then plan ahead! Put a small seasoned pork roast or chicken breasts in a slow cooker with some water and salsa early in the morning. Let it cook…all day, in order to be "shred-able" when you are ready to build the burritos.
Seasoning The Shredded Pork
Saute the onions and peppers in a teaspoon of oil in a large skillet, then add the shredded meat, onions, peppers, taco seasoning, and 1/4 cup water. Cook over medium high heat until water has cooked away and meat is thoroughly seasoned.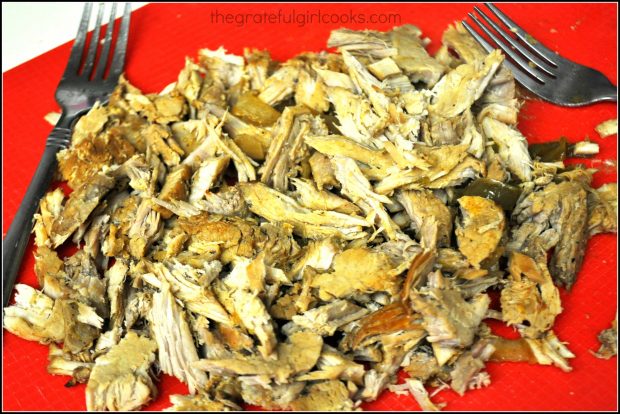 Add 3 ladles of the red sauce to the meat; mix well to combine. Stir in precooked rice. Heat to serving temp, then keep heat on low, while assembling the burritos.

Assemble The Shredded Pork Smothered Burritos
Preheat your oven's broiler. (Make sure your plates are oven-proof– just sayin'). Warm the tortillas. Place a tortilla on each serving plate. Spread 2 heaping teaspoons of beans down the middle of each tortilla (don't spread the beans all the way to the edges!).
Place 2-3 large spoonfuls of pork mixture on top of beans. Sprinkle with a bit of the cheese (not a lot – most of the cheese will go on top!) Roll the burrito up. Make the first fold shown in the photo below. Fold both side edges up; finish rolling forward, then carefully flip the burrito over, seam side down onto serving plate.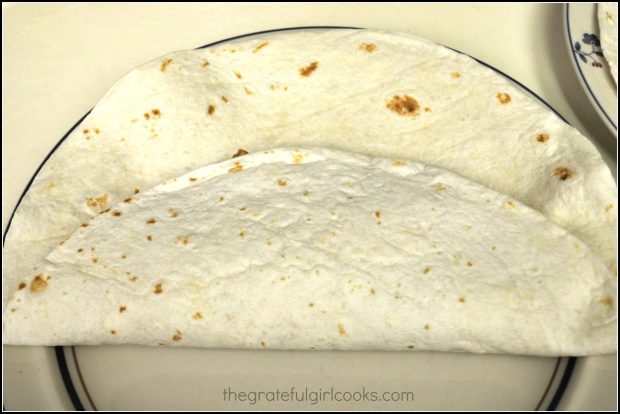 Ladle red sauce over the top of burrito; sprinkle with a good amount of cheese. Place the ovenproof plate a few inches from the broiler and heat until cheese has melted. Carefully remove plate (remember it will be HOT!).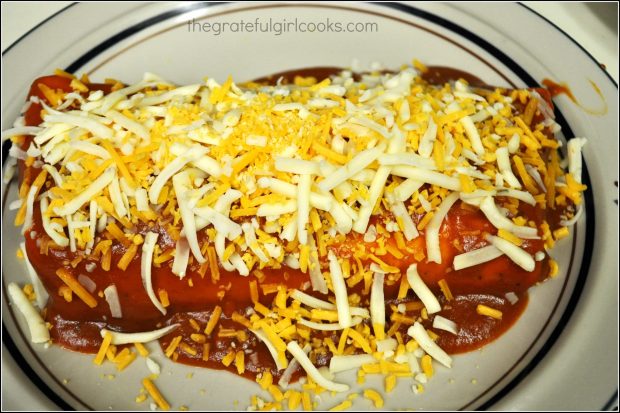 Garnish And Then EAT!
Garnish the top of each of the shredded pork smothered burritos with shredded lettuce, dollops of guacamole and sour cream, and cilantro.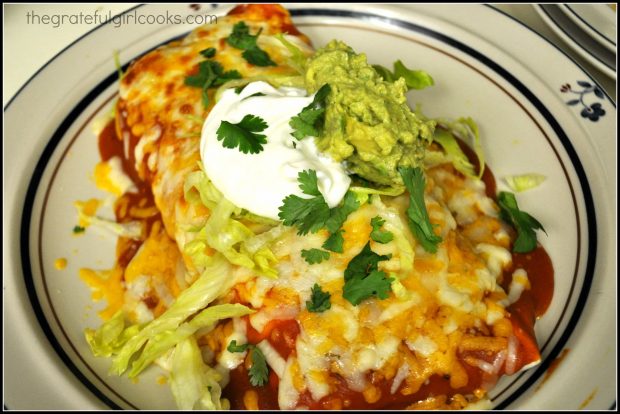 Serve (remember plates are hot) and ENJOY! These shredded pork smothered burritos are truly wonderful! They taste like they were ordered in a restaurant. The homemade red sauce tastes very authentic and awesome! It's really worth the extra effort to make!
I really hope you enjoy these delicious shredded pork smothered burritos. Have a great day, and come back soon.
Looking for More MEXICAN FOOD Recipes?
You can find ALL my recipes in the Recipe Index, located at the top of the page. I have some delicious Mexican food recipes you'll enjoy, including:
Here's one more to pin on your Pinterest boards!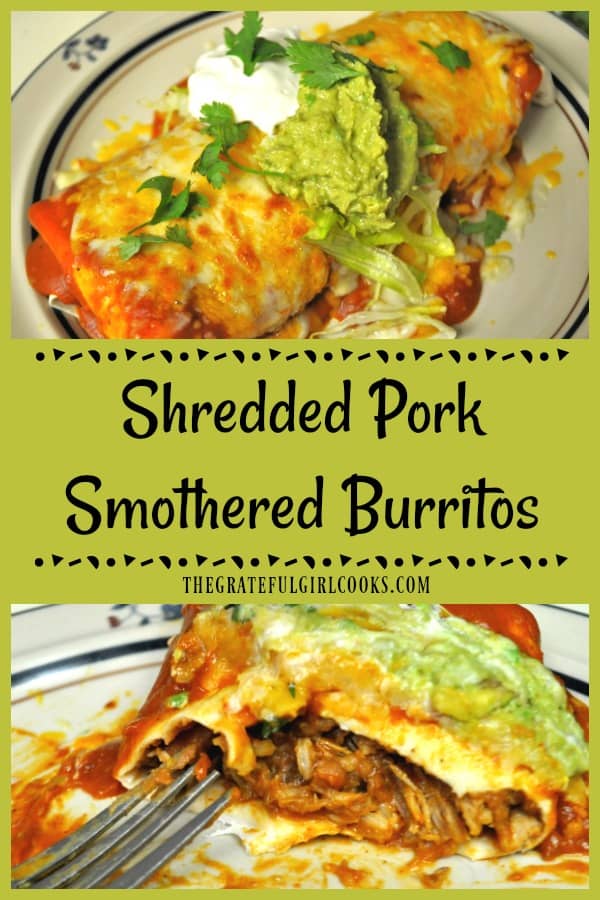 Save
Save