The other night I decided to make Shrimp Tacos for our dinner. Pretty funny, since I'd never made shrimp tacos before (it's usually beef, shredded pork or chicken). Sooo… I knew what ingredients I wanted to include in them, love to experiment in the kitchen, and the result? Seriously, ridiculously GOOD shrimp tacos… and they were very easy to make, too!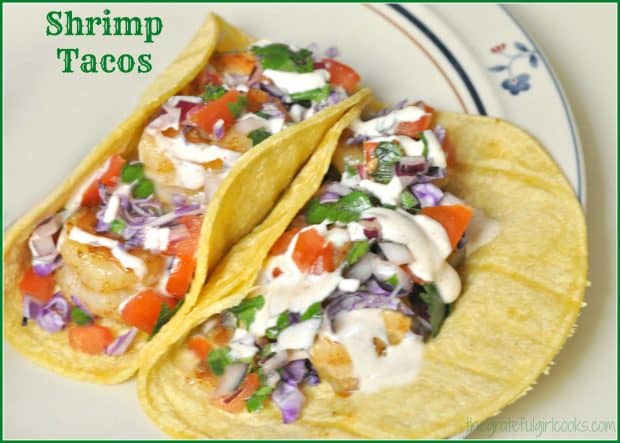 I didn't use a recipe to make the shrimp tacos, but you really don't need one to make these! I gathered my "must have" ingredients, chopped them up, pan-seared seasoned some medium sized shrimp, warmed the tortillas in the microwave (wrapped in paper towels), put them all together, and voila! Shrimp tacos, with an amazing sauce, and lots of crunch and flavor from the purple cabbage and pico de gallo! As quick as you can say "Icanhardlywaittotrythese", they were done! We LOVED them! No, really. We LOVED them, and they were done in less than 15 minutes! Now that is my kind of meal!
I made a quick pico de gallo, using chopped tomato, red onion, cilantro, a couple squeezes of fresh lime juice, and salt and pepper to taste, then set aside. I chopped up purple cabbage and set aside. I mixed sour cream with green taco sauce, then mixed in some of my homemade taco seasoning mix (http://www.thegratefulgirlcooks.com/make-your-own-taco-seasoning-mix/), and set aside. I happened to have a squeeze bottle handy, so I put the sauce in it, then squeezed the sauce over the finished tacos, when done (but you can just drizzle it on with a spoon).
I am not adding an "official, printable" recipe with this post, because honestly, you can tailor make as many or as few as you wish (and increase quantities to match), but here's a picture of the basics you use, plus 3-4 cooked shrimp per taco, and corn tortillas. By the way… sliced avocado would taste great on these, also!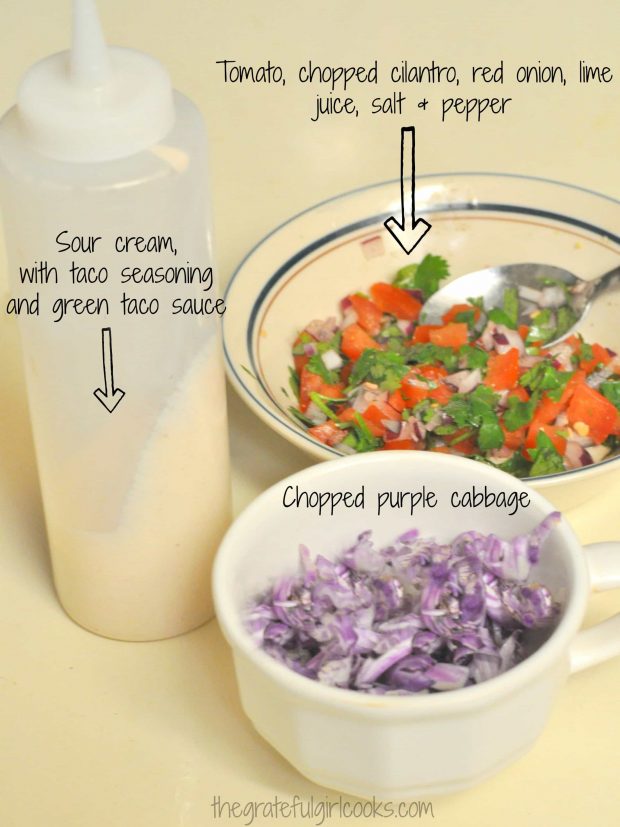 To cook the shrimp, I heated a small amount of olive oil in skillet. I tossed the shelled and  de-veined shrimp with 1 1/2 teaspoons taco seasoning mix, then pan cooked them on medium high for 2-3 minutes on each side until done (I threw in a tiny pinch of chopped cilantro right at the very end of the cooking time).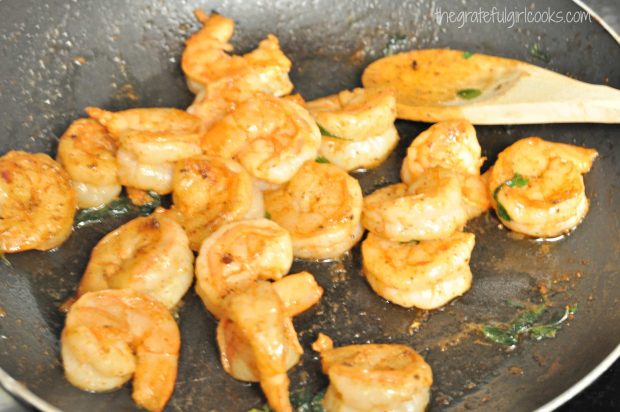 I wrapped corn tortillas in paper towels, then heated them on medium temp in microwave just until warm (15-20 seconds). Once warm, I added 3-4 cooked shrimp per taco, a small handful of purple cabbage, then pico de gallo. I topped the tacos off by adding the green sour cream sauce. That's it!  Many restaurants use 2 tortillas for each taco to prevent them from tearing open, but to save on calories, I used one tortilla per taco. If you want to double up on tortillas, then by all means, go for it!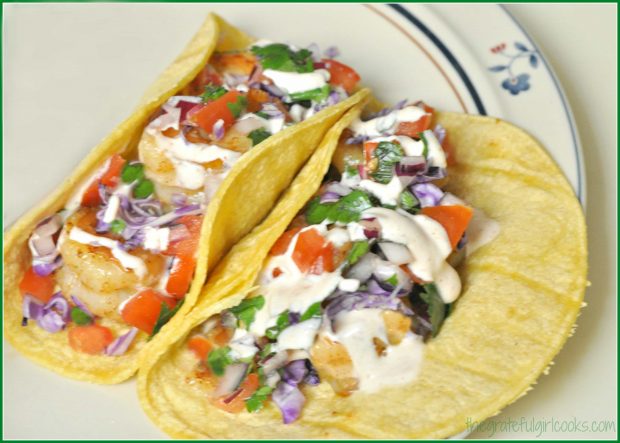 I didn't measure anything when I made these scrumptious tacos… I just "guess-tamated", and taste-tested everything. The sour cream sauce was approx. 1/3 cup sour cream, with 1/2 teaspoon taco seasoning mix, and approx. 3 Tablespoons green taco sauce (just taste it until it tastes just right for YOU!) The amounts shown made 6 tacos.
I hope you will consider trying these quick and tasty shrimp tacos! They were so delicious… I can't wait to make them again soon. Have a fantastic weekend, friends; may you experience a deepening awareness of God's great love for YOU!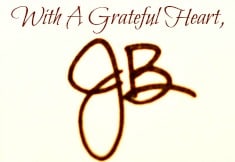 Save
Save
Save