Years ago I loved occasionally buying a teriyaki chicken rice bowl for lunch from a local Japanese restaurant near my office. It was always a delicious meal!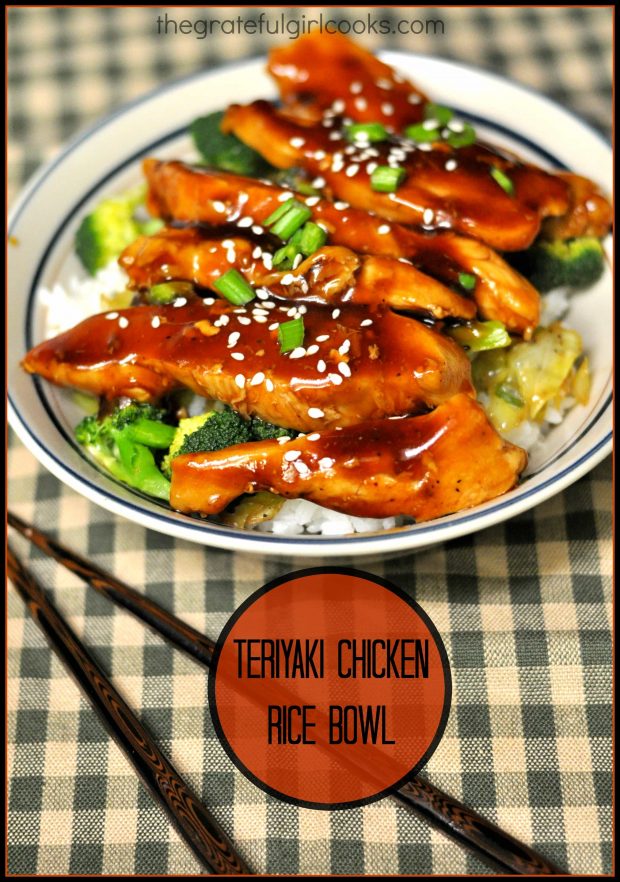 I loved the simple goodness of the chicken, rice, veggies, and the delicious teriyaki glaze on top of the whole thing. Scrumptious!
Recently I decided to make a similar dish for dinner for my husband and I to (hopefully) enjoy. I steamed some rice and broccoli, sauteéd some green cabbage with green onion and a little bit of soy sauce, pan-seared some lightly seasoned chicken strips, then coated them with teriyaki glaze, layered all ingredients into a bowl with some extra teriyaki glaze on top, and presto! A filling, tasty, relatively inexpensive, and healthy Teriyaki Chicken Rice Bowl was cooked and devoured!
The "recipe" I came up with is so simple, I hardly can call it a "recipe". But for purposes of this little blog, that is, in fact, what I will call it. Okey-dokey?
Hope you will give this easy to fix dinner a try… think you're gonna like it!
Started by cooking shredded green cabbage with green onion…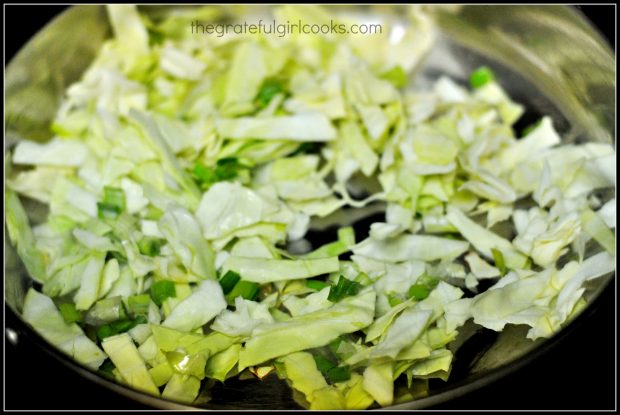 Once cabbage had cooked down, I added a tiny bit of soy sauce.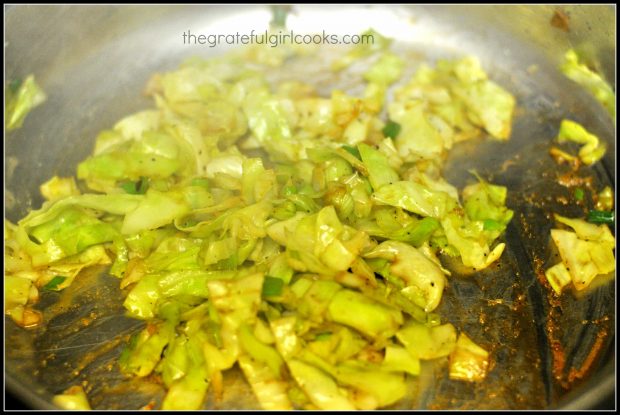 Cook some broccoli. I steamed the broccoli on top of my rice cooker, which was easy-peasy!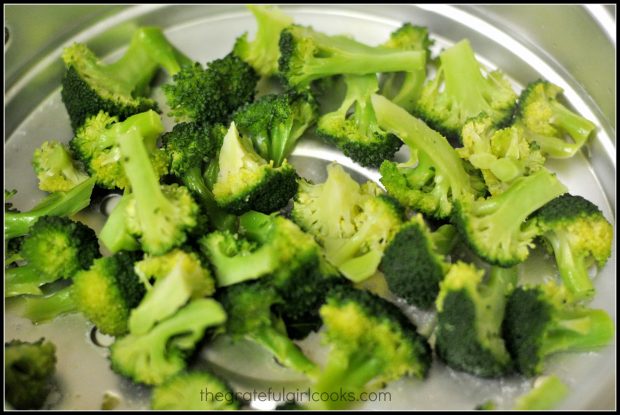 Chicken breasts are cut into strips, then pan-seared on all sides until light brown and done…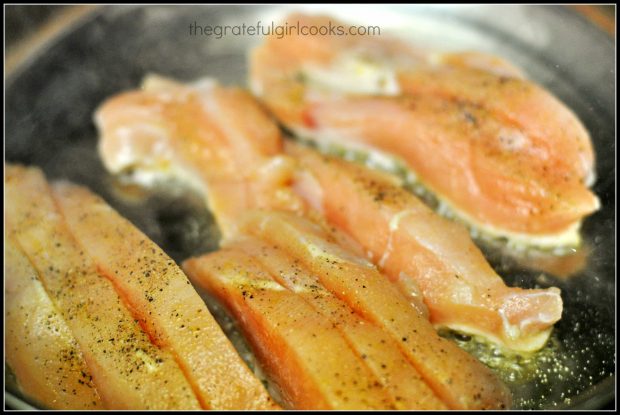 When chicken is fully cooked, teriyaki glaze is added to skillet, and chicken is turned to coat with glaze on all sides. Continue cooking until heated through.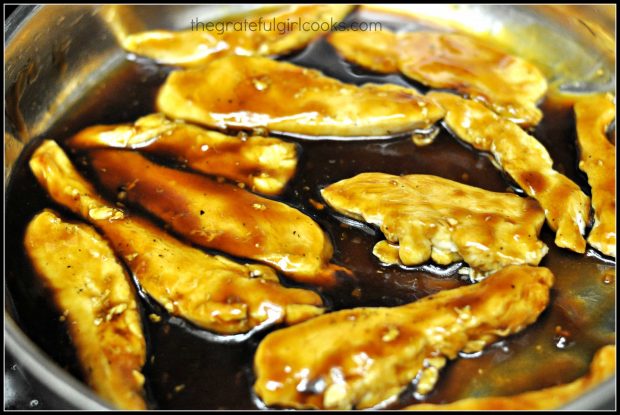 I placed steamed white rice on bottom of bowl…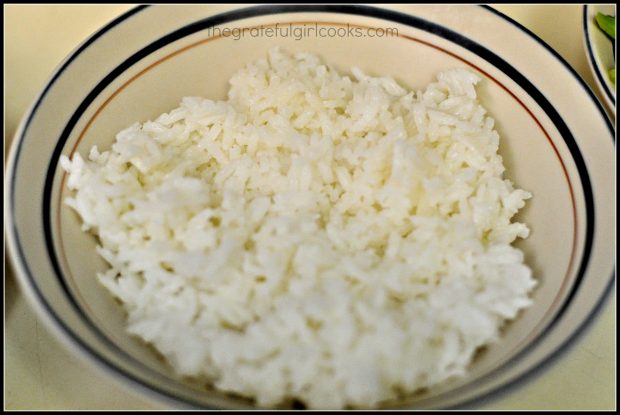 Next I added the cabbage mixture, followed by the steamed broccoli…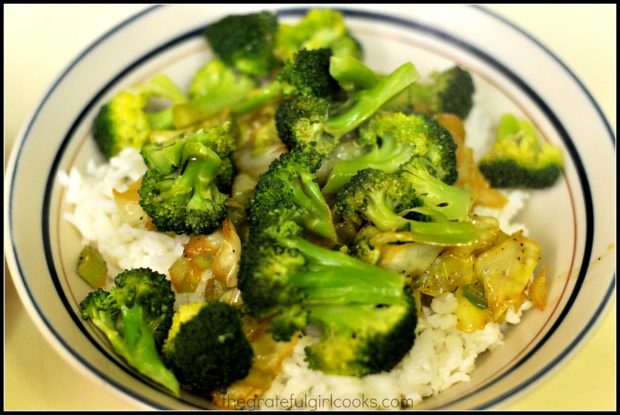 I added the hot teriyaki chicken strips. I spooned a bit more of the teriyaki glaze over the chicken, then sprinkled the chicken with sliced green onions and sesame seeds. Ready to eat!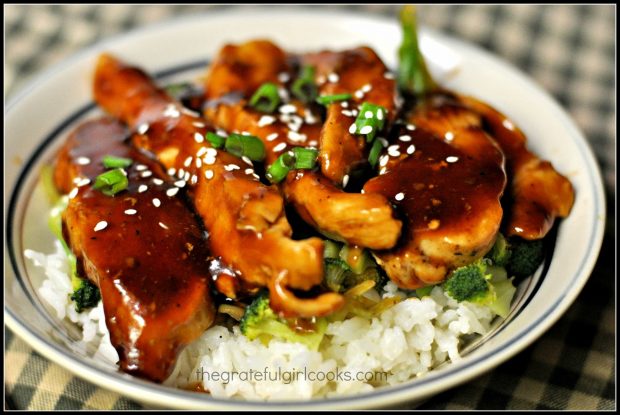 Hope you enjoy this delicious all in one bowl meal! Have a great day!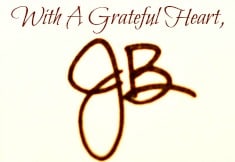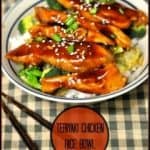 Teriyaki Chicken Rice Bowl
Teriyaki chicken strips, atop a bed of veggies and steamed rice is a a filling and delicious meal!
Ingredients
2

cups

cooked white rice

2

cups

cooked broccoli

1 1/2

cups

chopped green cabbage

1

stem green onion

(white and green parts), sliced

2

Tablespoons

olive oil

(for cooking cabbage)

2

Tablespoons

water

1

Tablespoon

soy sauce

2

boneless

, skinless, chicken breasts, sliced lengthwise into thin strips

Salt

, Pepper, Garlic Powder (to season chicken breasts)

2

Tablespoons

olive oil

1

teaspoon

sesame oil

(optional)

1/2

cup

teriyaki glaze

(NOT teriyaki sauce... make sure you buy the GLAZE)

Additional sliced green onion and sesame seeds

, for garnish (optional)
Instructions
Pre-cook the rice. Keep warm.

Steam or precook the broccoli. Keep warm.

In a large skillet, heat 2 Tablespoons olive oil until very hot. Add the chopped cabbage and the green onion. Stir fry the cabbage for several minutes. Add 2 Tablespoons water, some salt and pepper (for seasoning), and continue cooking for a total of about 5 minutes. Cabbage should have cooked down. Add 1 Tablespoon soy sauce to cabbage. Stir well, to combine, then remove skillet from heat.

In separate skillet, heat 2 Tablespoons olive oil and sesame oil until very hot. Lightly season the chicken pieces with salt, pepper, and a little garlic powder. Add chicken strips to the oil once skillet is very hot. Sear the strips for several minutes, then turn over and cook the other side for a few minutes, until chicken is fully cooked. Chicken should be light golden brown. Turn the heat down to low; add the teriyaki sauce to the skillet. Coat chicken with sauce (spoon it over the pieces), then turn each piece over, to fully coat. Heat fully. Once hot, remove pan from heat.

Reheat rice, cabbage or broccoli in microwave, if necessary.

In serving bowl, place 1 cup of cooked rice. Level it out. Place half of the cabbage on top of the rice. Layer half of the broccoli on top of the cabbage. Place half the chicken strips on top of the broccoli. Spoon additional teriyaki glaze over the chicken. Sprinkle with additional sliced green onions, and sesame seeds, if desired. Serve and enjoy!
Save
Save