Ooh… today's recipe is for a delicious, cold, sweet, and a bit spicy Watermelon and Cucumber Gazpacho. I tried this for the first time last year, and LOVED it! I truly enjoy the crunch of the vegetables and the sweetness of the watermelon. It's FRESH & HEALTHY!!!!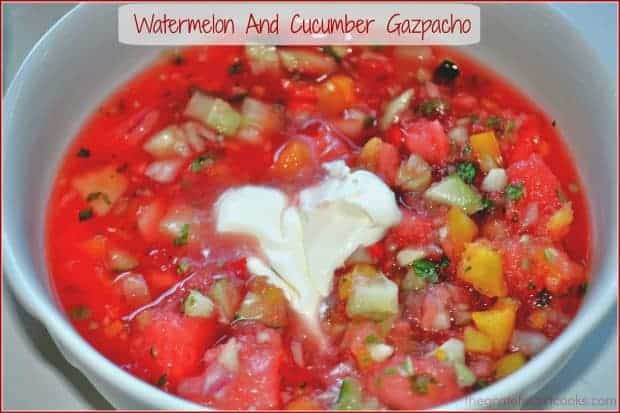 I love this quote: "A true friend is like a good book – the inside is even better than the cover". (author unknown)  I am so grateful for the friends God has given me the opportunity to know over the course of my life… and the lessons I've learned from each of them, including making this wonderful watermelon gazpacho  Isn't it gorgeous?
I have a beautiful and dearly loved friend named Shari who has taught me many things about cooking: great food presentation, creating recipes outside the "box", and being fearless to try new cooking experiments in the kitchen, and by far the most important…how to be a loving, caring, encouraging friend.   I was first served this chilled soup in her home, at a themed dinner party (photo above shows how Shari served it to us that evening)!  Can you guess what the theme was?  Watermelon.
Every single part of the meal had to include watermelon. That's right…soup, salad, beverages, main courses, (including pasta, I might add), and even the desserts (my contribution) had to include watermelon. A bit of a challenge, to say the least, but it ended up being a phenomenal themed meal on a hot summer night!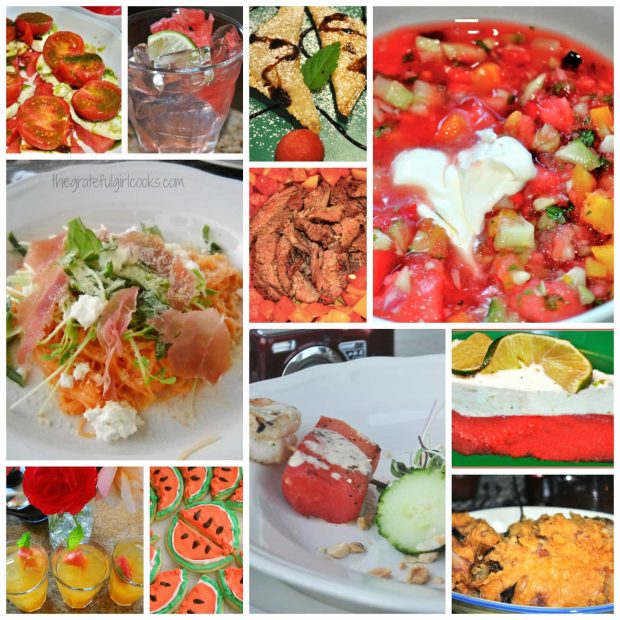 We all contributed dishes or beverages following the theme! One of the courses served was this Watermelon and Cucumber Gazpacho, originally created for Bon Appétit magazine (August 2005 issue) by chef Cat Cora.
Oh my goodness…it was FANTASTIC! Completely HEALTHY, chock full of sweet and spicy ingredients – this cold gazpacho was absolutely PERFECT!  My husband and I loved it so much that I got the recipe from my friend, and have made it several times.
This is amazingly simple to make (chopping/prepping the veggies is the "hardest" thing about it). I think you will LOVE the results…absolutely refreshing, crunchy, and delicious! Recipe can be doubled very easily! It's amazing! With warm Spring and hot Summer days ahead, I'm looking forward to making this wonderful chilled soup many times!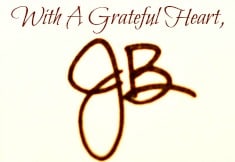 Recipe Source: http://www.epicurious.com/recipes/food/views/Watermelon-and-Cucumber-Gazpacho-232543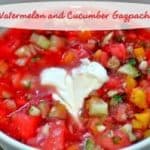 Watermelon and Cucumber Gazpacho
A healthy, sweet and spicy chilled watermelon soup, bursting with crisp veggies!
Calories Per Serving
:
146
kcal
Ingredients
1- 3

pound

seedless watermelon

(about 5 cups), finely diced

1

small cucumber

, peeled, seeded, finely diced (about 1 cup)

1

medium-sized red bell pepper

, seeded and finely diced (about 1 cup)

1

medium-sized yellow bell pepper

, seeded and finely diced (about 1 cup)

1

small jalapeno chile

, seeded and very finely minced

3

pale green inner celery stalks

, finely diced (about 1/2 cup)

1/2

of a small red onion

, finely diced (about 1 cup)

1/4

cup

finely chopped fresh mint

3

Tablespoons

fresh lime juice

2

Tablespoons

red wine vinegar

1/4

tsp.

salt

1/2

cup

creme fraiche

, or sour cream (for garnish)
Instructions
Place 4 cups of the watermelon in blender or food processor. Puree until it is completely smooth.

Transfer watermelon puree to a large bowl.

Add remaining 1 cup of diced watermelon and the next 10 ingredients to the puree; stir to combine.

Cover the gazpacho and refrigerate for several hours (up to 4 hrs.).

To Serve: Serve cold. Divide the gazpacho among bowls or margarita glasses and garnish each bowl with a dollop of creme fraiche or sour cream. ENJOY!

*Note: The dice on all the veggies is fairly small.
Recipe Notes
Be sure and chill this gazpacho very well. It's the best when completely cold!
Nutrition Facts
Watermelon and Cucumber Gazpacho
Amount Per Serving (1 serving)
Calories 146
Calories from Fat 18
% Daily Value*
Total Fat 2g 3%
Cholesterol 6mg 2%
Sodium 115mg 5%
Potassium 616mg 18%
Total Carbohydrates 30g 10%
Protein 3g 6%
* Percent Daily Values are based on a 2000 calorie diet.
Here's one more to pin on your Pinterest boards!

Save
Save
Save