I recently made a very yummy and unique salad as a side dish with our dinner… a chilled Watermelon, Feta, and Mint Salad, to be exact! It's a perfect chilled salad to serve when the temperature heats up, like it's doing here in Oregon this week (temps of 108)!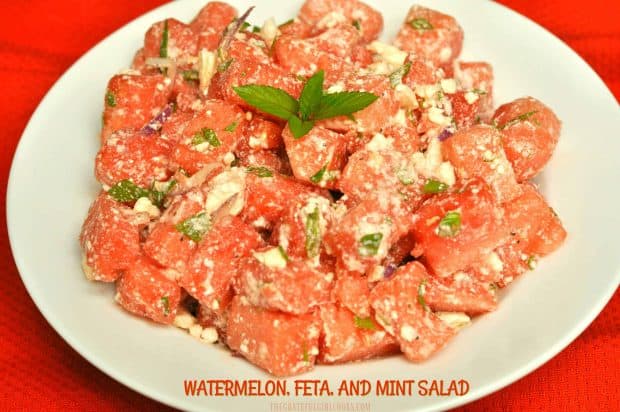 I discovered the recipe on Pinterest and thought it sounded interesting… and guess what? It was FANTASTIC! Cold, ripe and sweet watermelon pairs unbelievably well with slightly salty feta cheese; the addition of chopped fresh mint, a touch of olive oil and a smidge of red onion make this recipe a delectable and refreshing summer salad!
The recipe could not be any easier to prepare… there are two methods and both are simple! Here's how to prepare this yummy salad:  Cut up a well-chilled watermelon into cubes (only need 6 cups worth of watermelon cubes – for me this was only two large slices out of a whole watermelon!)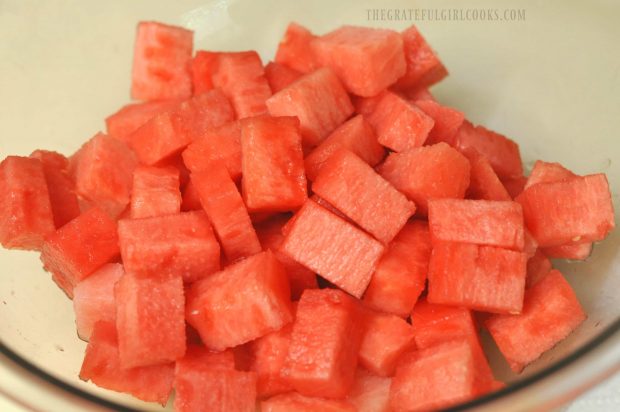 Add remaining ingredients to the watermelon cubes (crumbled feta cheese, olive oil, thinly sliced red onion, and chopped fresh mint, then season with a little bit of salt and pepper to taste.  Toss gently to combine, and try not to break up the feta crumbles too much.  See the printable recipe below for another way to prepare this salad!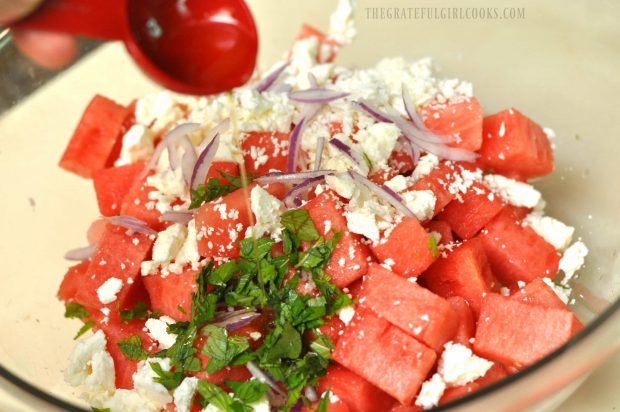 Once salad is gently mixed together, it is ready to serve… but I feel it is at it's best when the flavors have had time to come together in the fridge… and the watermelon is really COLD, so I refrigerated the salad for about an hour before serving.  When ready to serve, place it in a pretty serving dish, garnish with a fresh mint sprig (if desired) and dig in! It's DELICIOUS!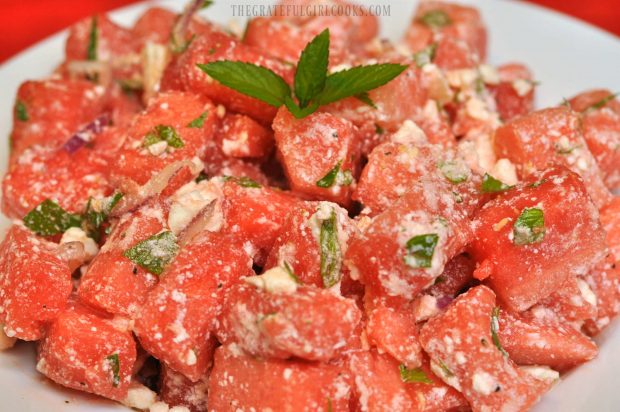 Hope you have a great day!  We've had record-breaking heat here in the Portland, Oregon area this week.  Our power has gone out 2 times in 24 hours (last night and this morning), so it hasn't been fun trying to stay cool with no electricity or cooling, but we are thankful for CANDLES… and that the problems have now been fixed.  Whew!!!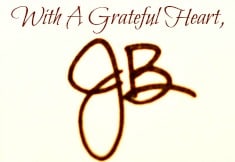 Recipe Source:  http://www.slenderkitchen.com/recipe/watermelon-feta-and-mint-salad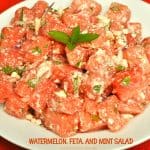 Watermelon, Feta, and Mint Salad
Sweet and cold watermelon salad with fresh mint, salty feta cheese crumbles and a bit of red onion make this unique dish a "must" on a hot Summer day!
Ingredients
6

cups

cold watermelon

, cubed

3/4

cup

crumbled feta cheese

1/4

cup

red onion

, sliced thinly

1/4

cup

fresh mint leaves

, roughly chopped

1/2

Tablespoon

olive oil

Salt and ground black pepper

, to taste
Instructions
Method 1: (this is the method I used)
Combine all ingredients in large serving bowl. Toss gently, to combine, trying to not break up the feta crumbles too much. Cover and refrigerate until ready to serve. Serve and enjoy!
Method 2:
Combine all ingredients except for crumbled feta cheese. Cover and refrigerate until ready to serve. Sprinkle salad with feta cheese crumbles (but do not mix it in) right before serving. Serve and enjoy!
Here's one more to pin to your Pinterest boards!

Save
Save
Save
Save
Save
Save
Save
Save
Save
Save
Save
Save