Looking for a quick bite summer appetizer? How about these cute little Watermelon, Feta, and Balsamic Bites?  Your family or friends will enjoy this unique "finger-food" appetizer, that's so easy to prepare you won't even need a recipe!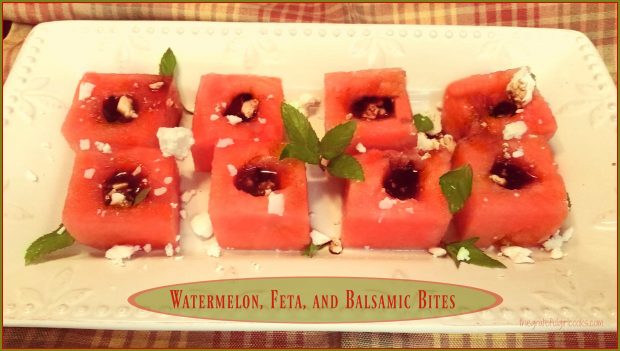 I first tried these at a "Watermelon" themed dinner that my friend hosted. Every part of the dinner from beverages to dessert HAD to include watermelon in some form. The watermelon cube appetizers caught my eye, so decided to try making my own at home!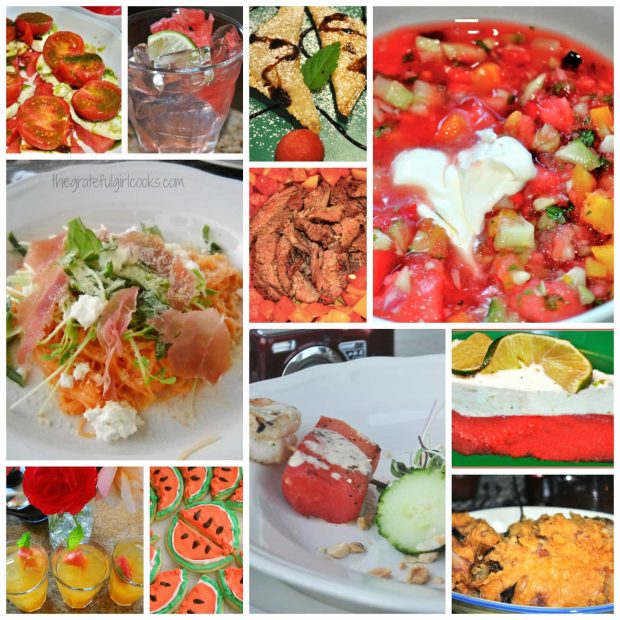 They are so very easy and quick to make, and your family or dinner guests will love them!  The most important thing is to start with a COLD, sweet, ripe watermelon!  The sweetness of the watermelon contrasts nicely with the slight "tang" of balsamic vinegar and the salty feta crumbles!
Start by slicing about a 2 inch wide wedge of watermelon. Cut off rind, then square it off, and cut into even sized cubes.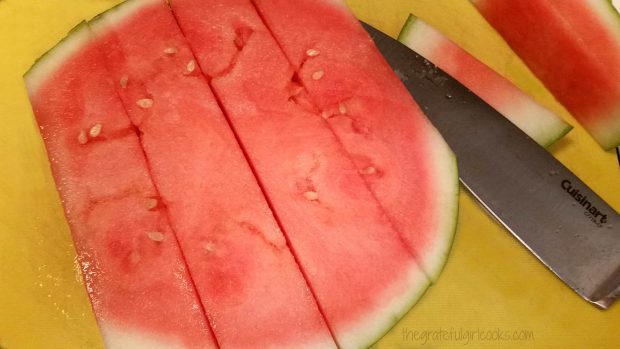 Place watermelon cubes onto serving platter.  Take a very small spoon or knife and scoop out a tiny hole in each watermelon cube. Do NOT go all the way to the bottom of each cube (anywhere there is a hole besides the one in the middle, the balsamic will leak out!).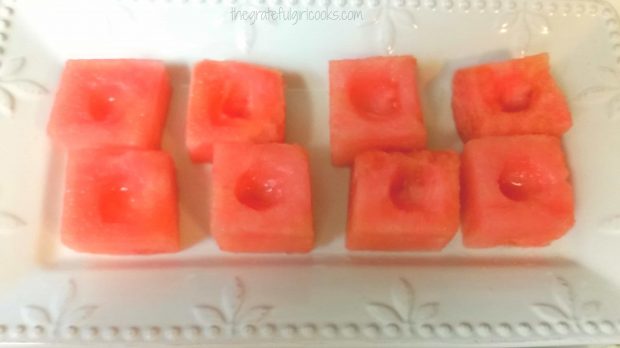 Fill each hole with a little balsamic vinegar, then sprinkle the tops of the watermelon with crumbled feta cheese, and garnish with mint leaves! That's it! No "recipe" necessary for these fun and delicious, quick mini-bite appetizers!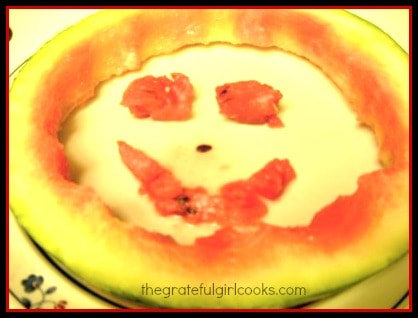 Hope you will consider trying this appetizer! We sure enjoyed it! The combination of sweet watermelon, slightly salty feta cheese crumbles, and tangy balsamic is a winning one that I believe you will really enjoy!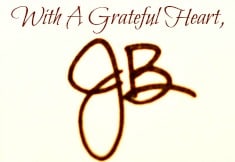 Original Idea From: Shari Altree
Save
Save