I love holidays, and all the happy memories associated with them. A lot of my holiday memories revolve around simple, delicious meals with family and friends. Mom's Famous Cream Cheese Ball is an appetizer I've prepared for many years (35+), and is always a hit.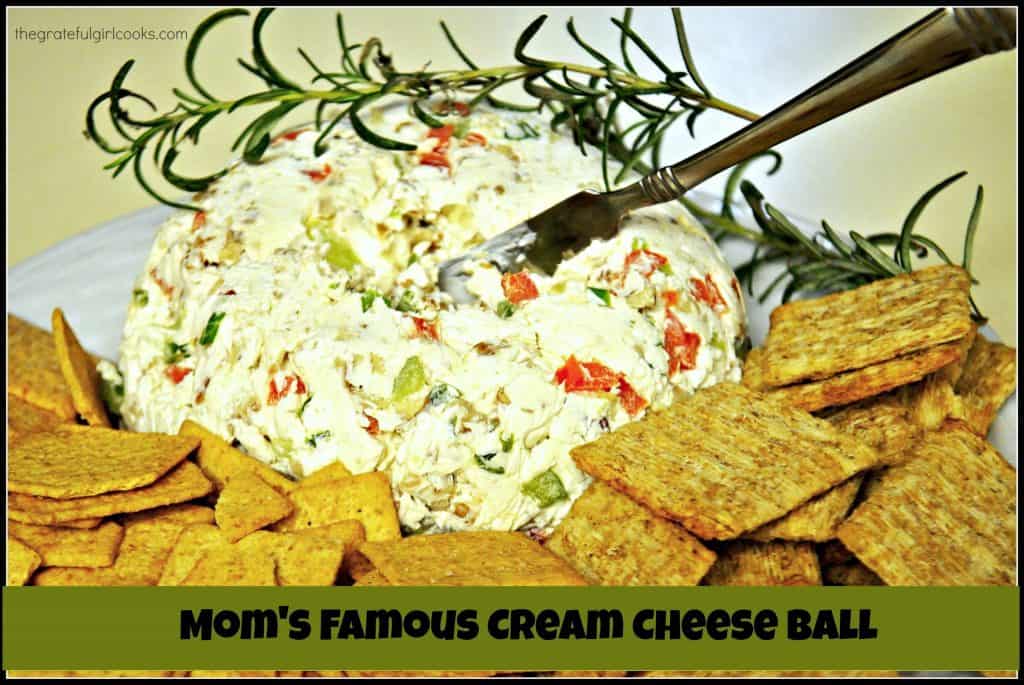 My Mom got this recipe from a friend at church over 30 years ago, and has passed the recipe (and the "serving it at the holidays" tradition) down to her daughters. It is so easy to prepare, and with only a few ingredients like green and red bell peppers, green onions and pecans, is easy on the wallet.
I usually make it the day before it is served.  I think the "good-flavor elves" work the flavors into the cheese ball even better that way. This cheese ball can be served with any kind of cracker. Let it sit out 30-45 minutes before serving, so the cheese can soften up a bit (it's easier to spread on a cracker that way).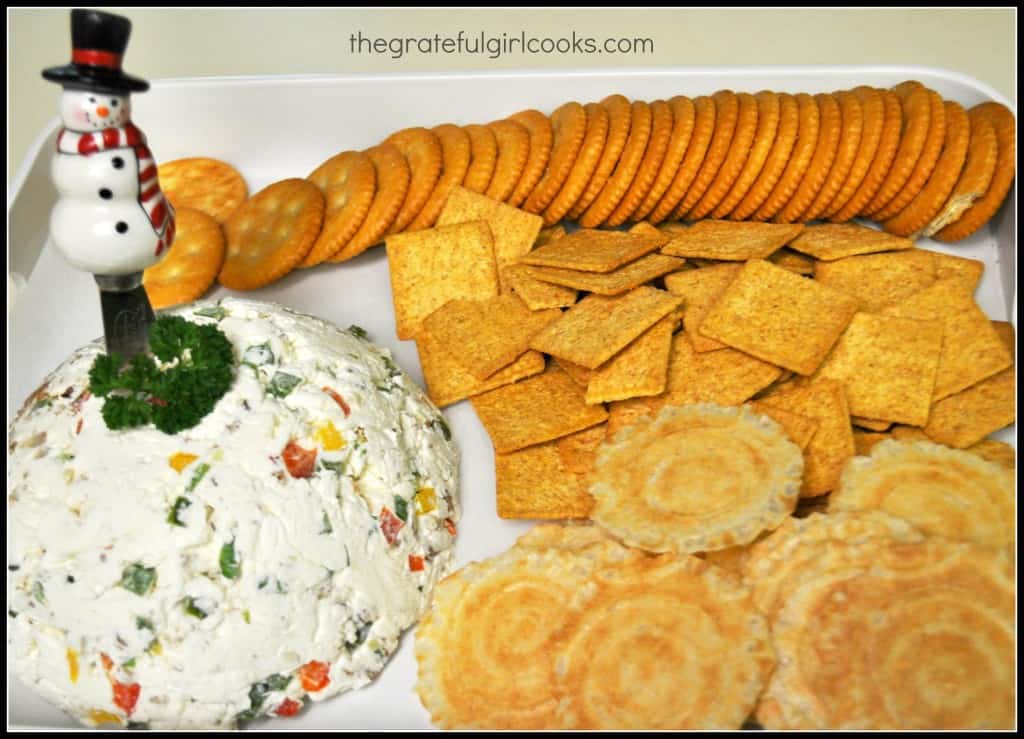 You're going to be surprised how easy and delicious it is! It is such a family tradition of ours, and is usually the first thing our grown sons head straight to, when I make it! Enjoy!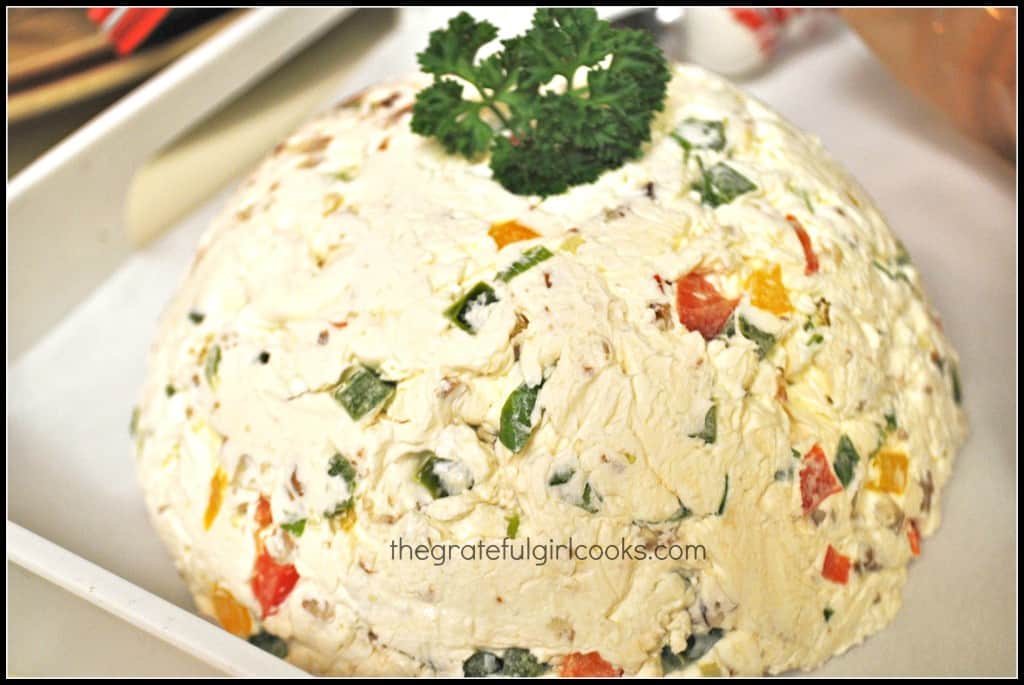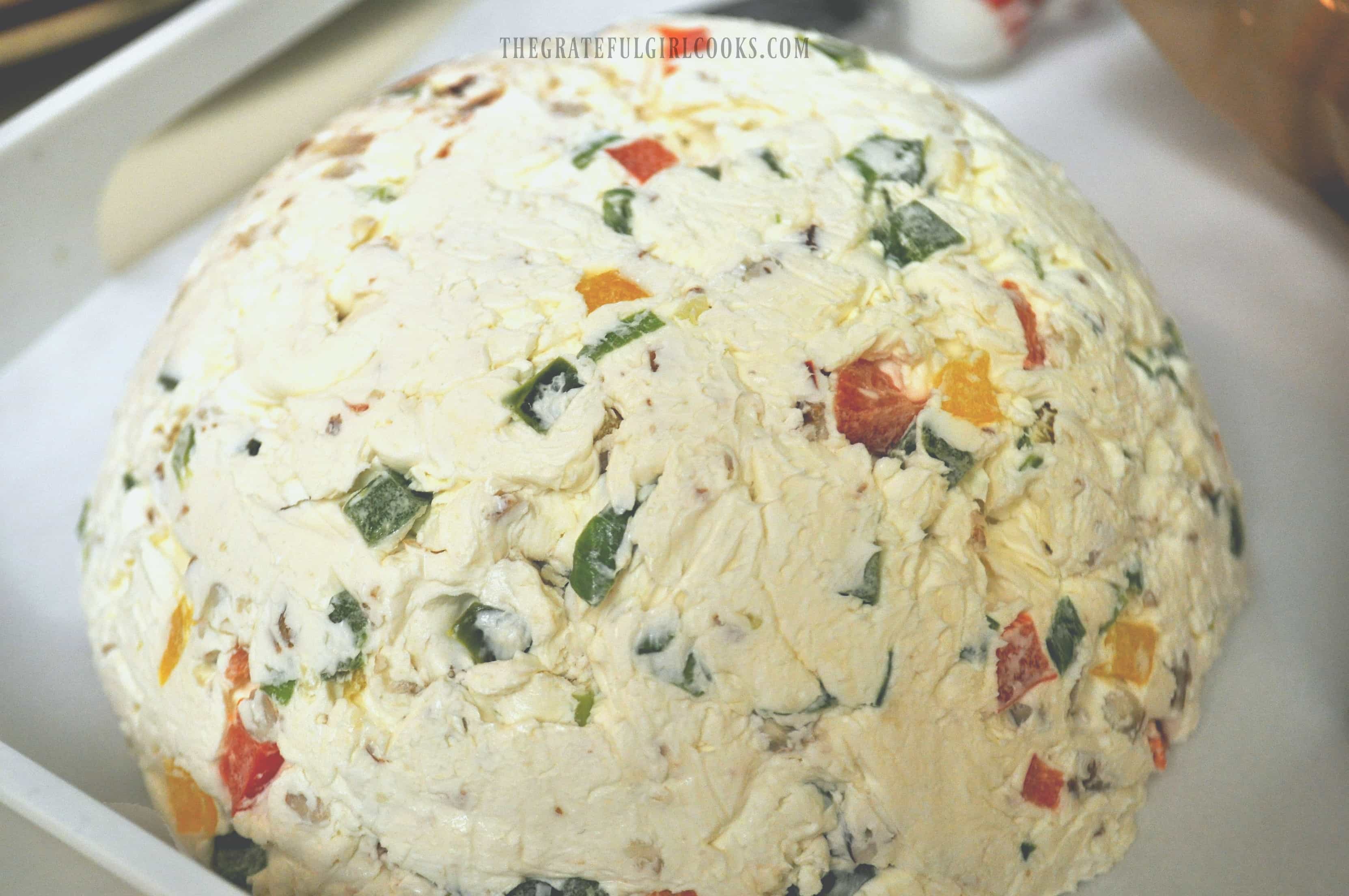 Have a great day!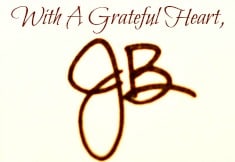 Recipe Source: My Mom
Mom's Famous Cream Cheese Ball
A delicious appetizer, made with cream cheese, green onions, pecans, red and green peppers.
As Prepared By:
JB at The Grateful Girl Cooks!
Ingredients
2 packages. cream cheese, at room temp
½ cup chopped pecans or walnuts (I use pecans)
2 individual stalks green onion, sliced (green stem and white part)
¼ cup chopped green pepper
¼ cup red pepper
Directions
Place all ingredients in a medium-sized bowl. I use a fork to "mash" the ingredients together (a fork helps to blend the veggies and nuts into the cream cheese).
Once completely blended, I "mold" the cheese into the shape I want to serve it in. To do this, you take plastic wrap, drape a small bowl (whatever shape you choose to use) and completely cover it with plastic wrap with the sides overlapping and hanging over the bowl several inches on each side. Then I use a spoon to "mold" the cream cheese mixture into the bowl, being sure to push the mixture into every part of the bowl and packing it down.
Once packed into the bowl, make sure you level off the top part of the cheese as flat as you can (this will end up being the bottom of the cheese ball, and you want it lay flat). Wrap the excess plastic wrap completely over the top of the cheese, so it is sealed completely.
Refrigerate overnight, or at least 8 hours, in order for the flavors to come together.
When ready to serve, unwrap the plastic and invert the cheese ball onto serving platter. Grab a serving knife and serve with the crackers of your choice. Enjoy!
Save
Save