Watermelon Feta Balsamic Bites are a simple appetizer for a hot day! Chilled cubes of watermelon, with balsamic vinegar, feta cheese and mint garnish!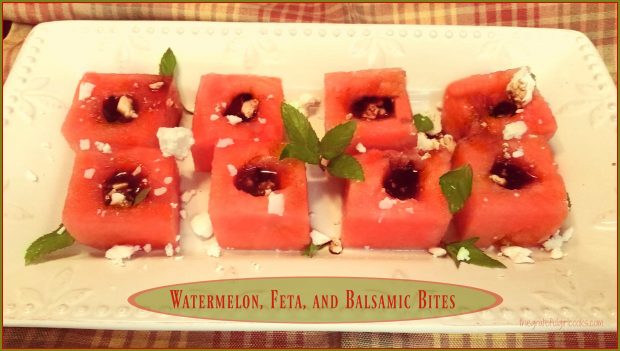 Looking for a quick bite summer appetizer? How about these cute little Watermelon Feta Balsamic Bites? Your family or friends will enjoy this unique "finger-food" appetizer, that's so easy to prepare you won't even need a recipe!
I first tried these watermelon feta balsamic bites at a "Watermelon" themed dinner some dear friends hosted. Every single part of the dinner from beverages to dessert HAD to include watermelon in some form, and we all contributed dishes!
Below you can see a lot of the watermelon-themed food we enjoyed that evening! Some cute watermelon cube appetizers (not shown) caught my eye, so I decided to try making my own at home!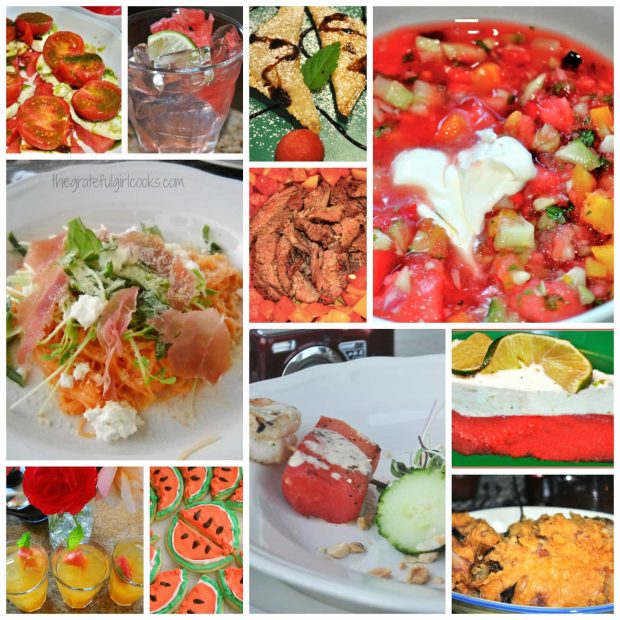 Watermelon feta balsamic bites are so very easy and quick to make, and your family or dinner guests will love them! The sweetness of the watermelon contrasts nicely with the slight "tang" of balsamic vinegar and the salty feta crumbles!
How To Make Watermelon Feta Balsamic Bites
The most important thing is to begin with a very COLD, sweet, RIPE watermelon! Start by slicing about a 2 inch wide wedge of watermelon. Cut off the rind, then square it off, and cut into even sized cubes.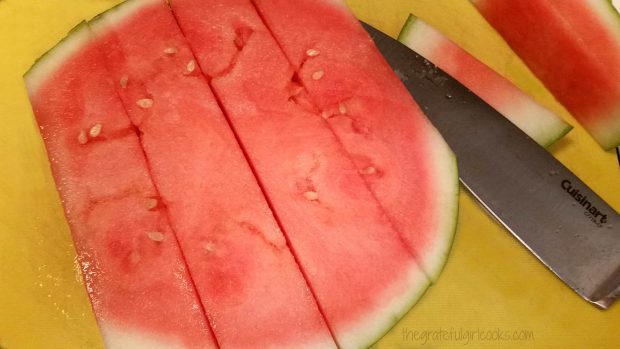 Place watermelon cubes onto serving platter. Take a very small spoon or knife and scoop out a tiny hole in each watermelon cube.
IMPORTANT TIP: Do NOT scoop all the way to the bottom of each cube (anywhere there is a hole besides the one in the middle, the balsamic will leak out!).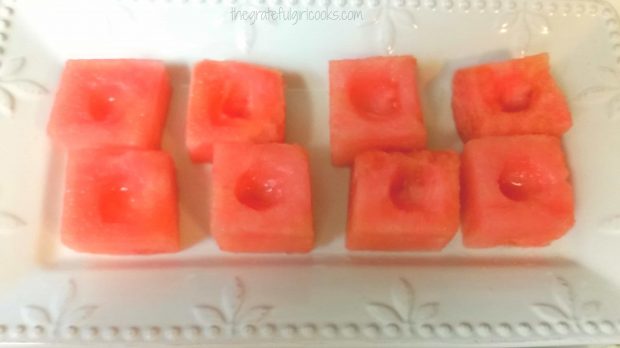 Fill each hole of the watermelon feta balsamic bites with a tiny bit of balsamic vinegar. Next, sprinkle the tops of the watermelon cubes with crumbled feta cheese, and garnish with mint leaves!
That's it! No "recipe" necessary for these fun and delicious, quick mini-bite appetizers!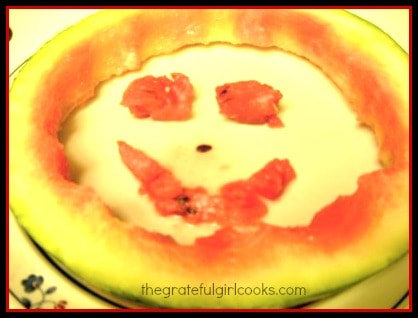 Hope you will consider trying this appetizer! We sure enjoyed these watermelon feta balsamic bites! The combination of the sweet watermelon, slightly salty feta cheese crumbles, and tangy balsamic is a winning one I believe you'll really enjoy!
Looking For More APPETIZER Recipes?
You can find all of my recipes in the Recipe Index, located at the top of the page. These wonderful appetizer recipes include:
Interested In More Recipes?
Thank you for visiting this website. I appreciate you using some of your valuable time to do so. If you're interested, I publish a newsletter 2 times per month (1st and 15th) with all the latest recipes, and other fun info. I would be honored to have you join our growing list of subscribers, so you never miss a great recipe!
There is a Newsletter subscription box on the top right side (or bottom) of each blog post, depending on the device you use, where you can easily submit your e-mail address (only) to be included in my mailing list.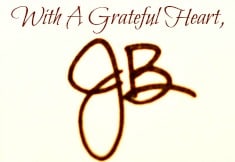 Original Idea From: Shari Altree
Here's one more to pin on your Pinterest boards!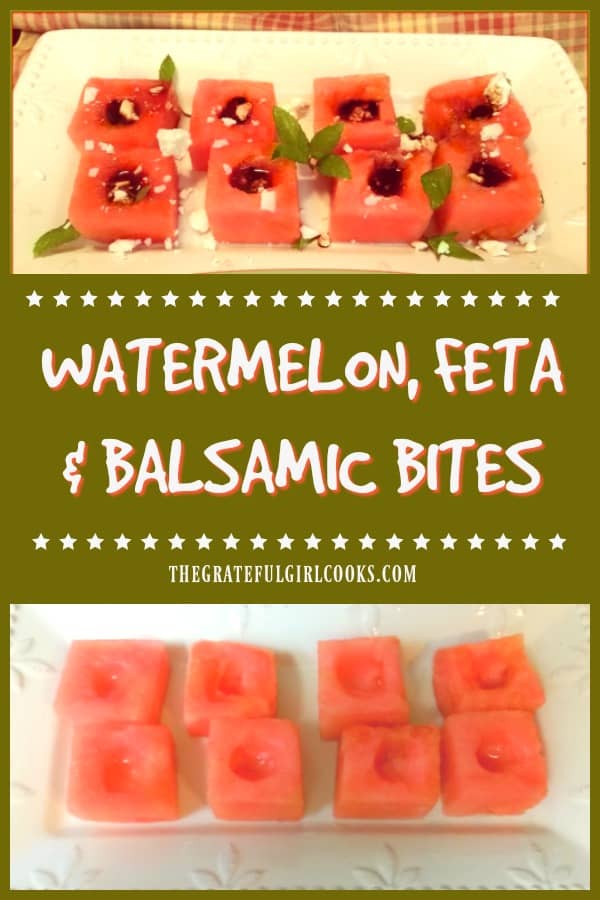 Save
Save