If you enjoy a good pastry AND enjoy chocolate, I'm pretty sure you will love this recipe for a Chocolate Cream Cheese Danish that I found online recently. Added bonus? It's EASY to make!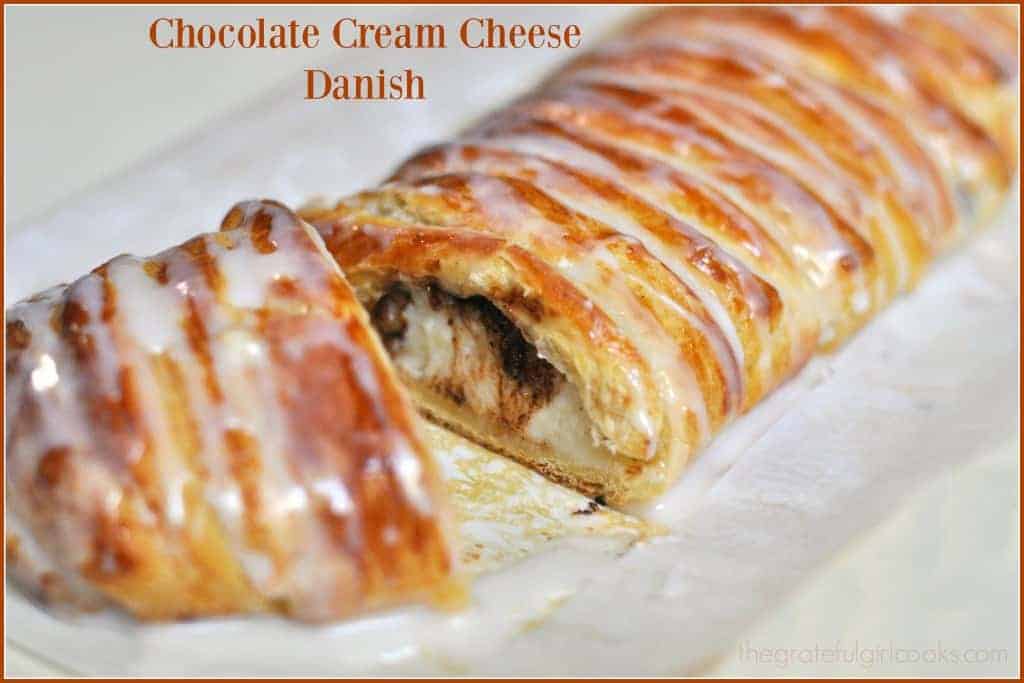 This pastry is easy to prepare because it starts with a can of store-bought crescent rolls, and only takes about 30 minutes total to prepare!
Here's how you make this delicious pastry treat… Before beginning, preheat your oven to 375 degrees F. (See? I told you this would be EASY!).  Mix together room temperature cream cheese, sugar, flour and vanilla extract in a small bowl. I used an electric mixer to do this and it was mixed in a flash! When creamy and thoroughly combined, set aside.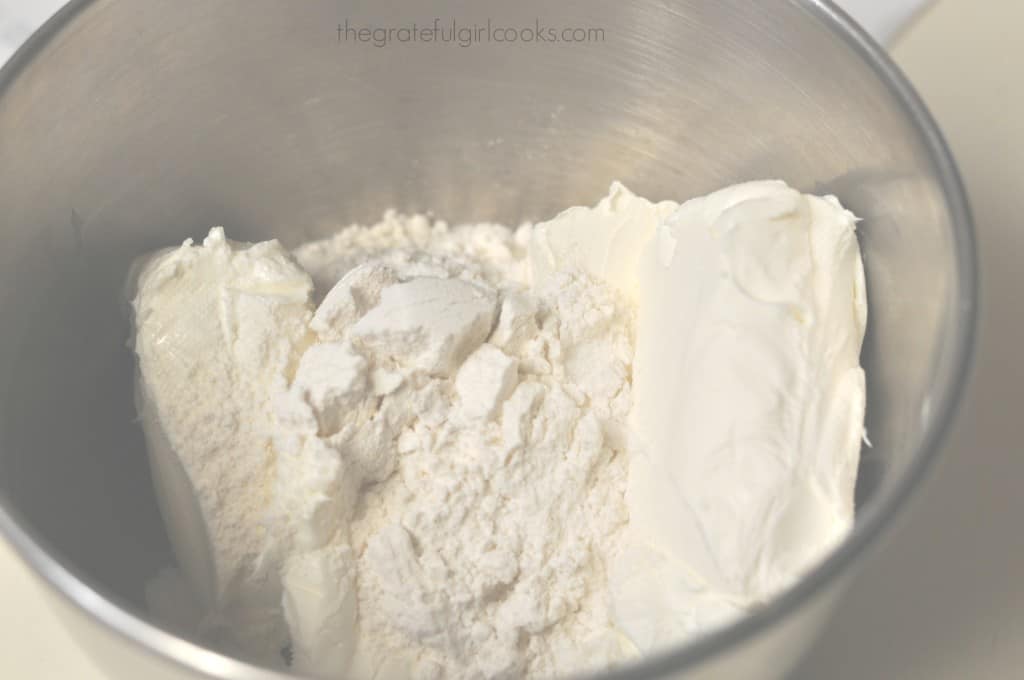 Open the can of crescent dough; without separating the triangles, unroll the dough and place it onto a parchment paper-lined baking sheet. Using your fingers, press the dough together to close all the holes (perforations) up, so you have one complete piece of dough.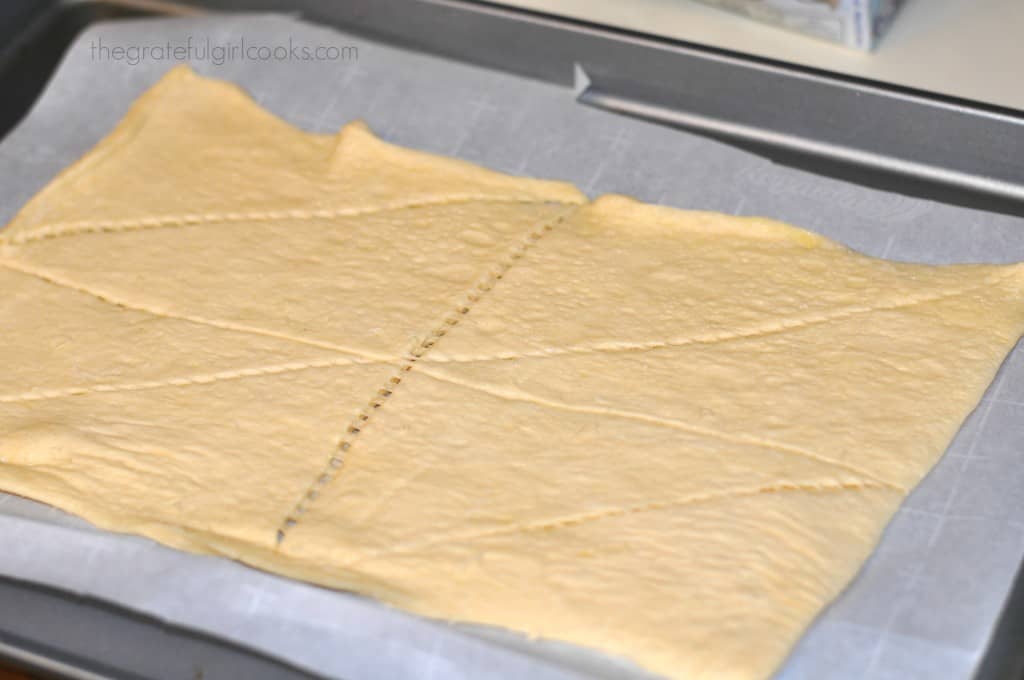 Once you have pressed all the holes in the dough together, drop the cream cheese filling (by the spoonfuls) in the center, down the length of the dough. Make sure you evenly spread the filling out, making sure the filling is between 2-3 inches wide.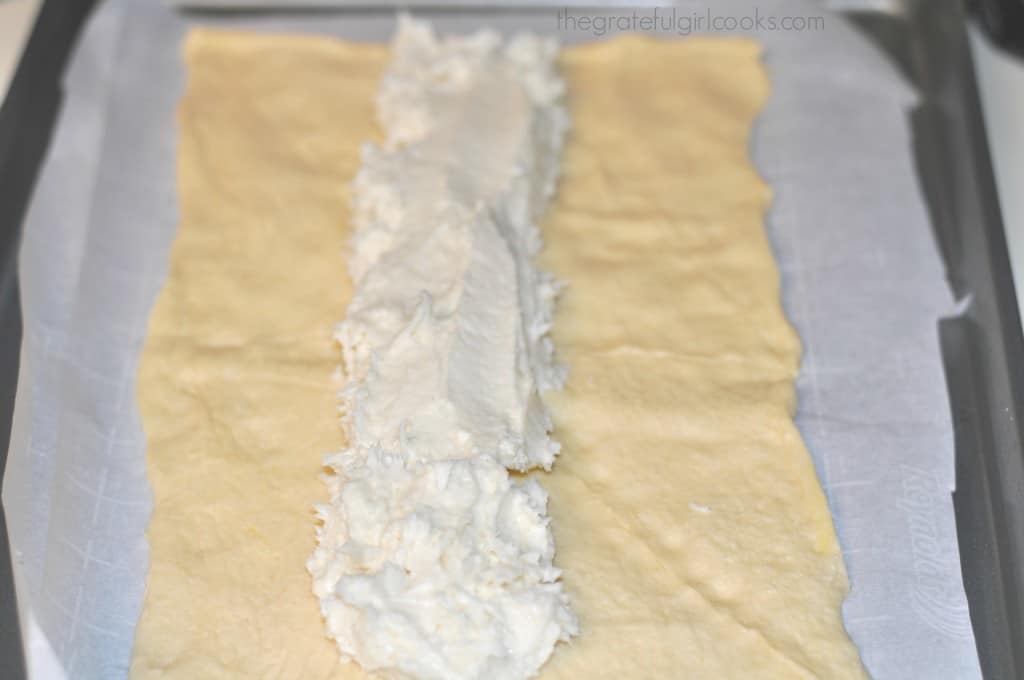 Evenly sprinkle the chopped chocolate on top of the cream cheese filling.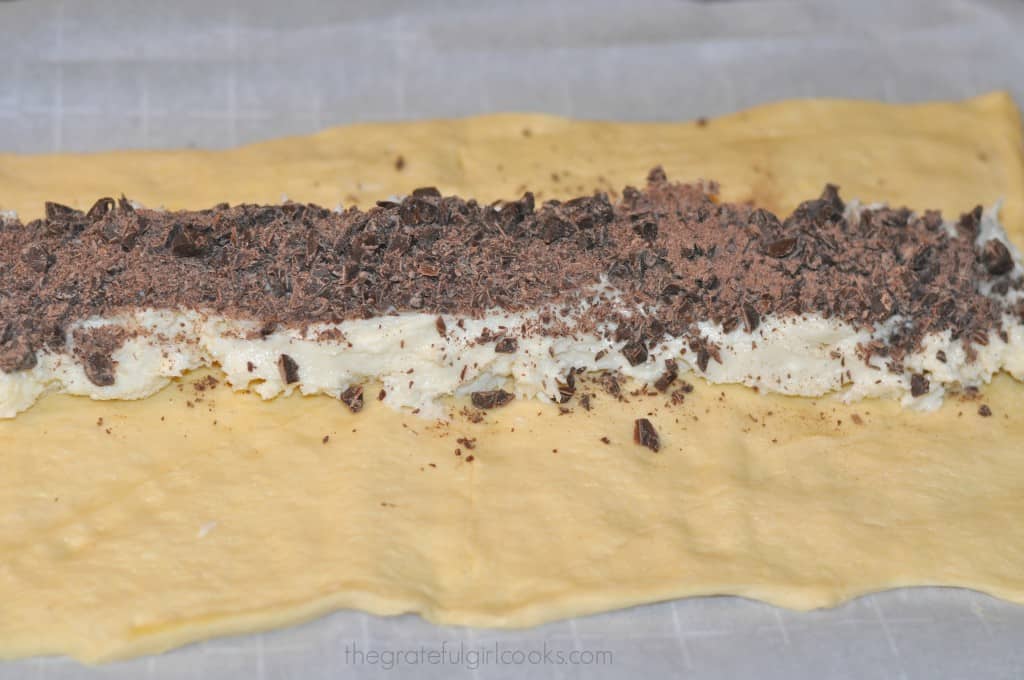 Starting at one end, cut 1 inch strips (at a slight angle toward the top) into both sides of the dough. Cut in until it reaches the filling. Pull the strips up and over the filling making sure to alternate sides (L,R,L,R, etc) until entire roll has been "braided. Tuck in any extra bits of dough that you may end up with on each end of the roll.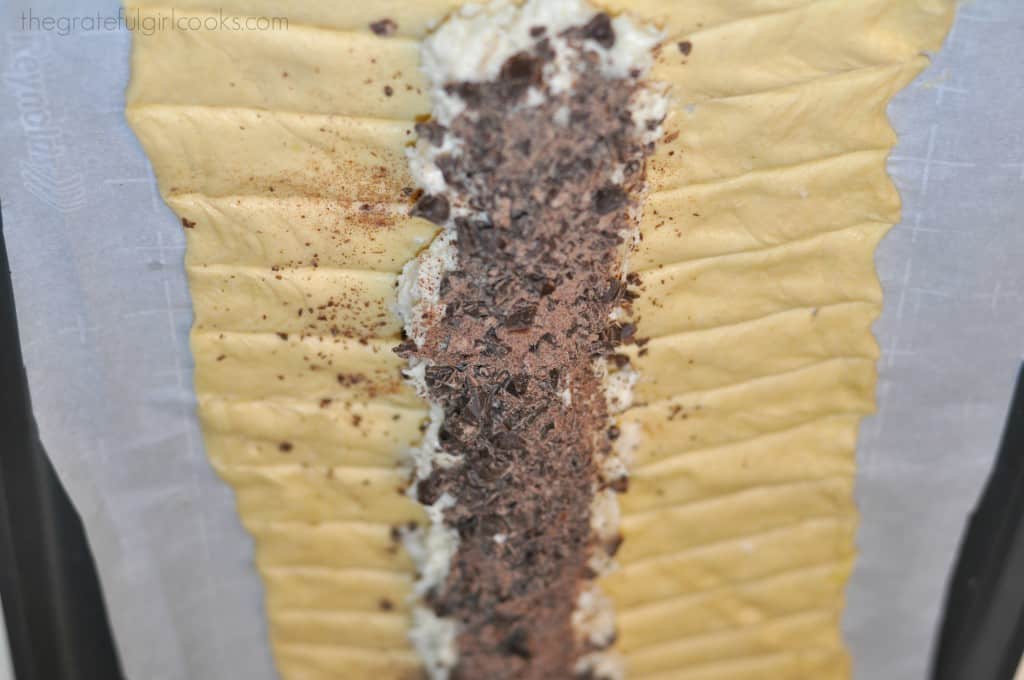 Whisk an egg YOLK in a small bowl, then brush the surface of the pastry roll with the beaten yolk.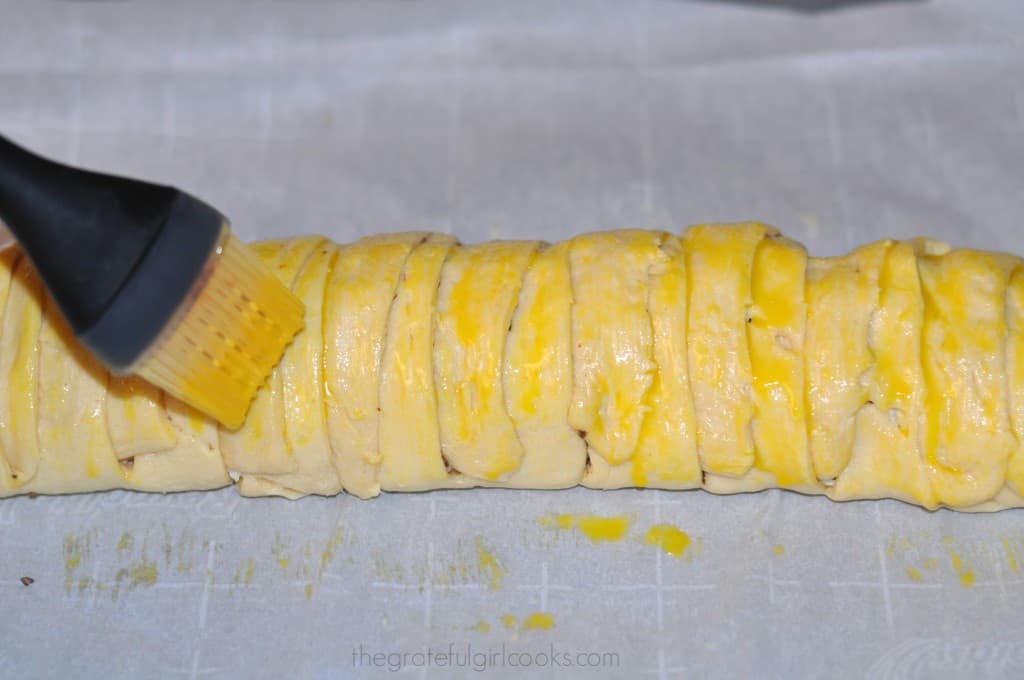 Bake the pastry at 375 degrees for 20 minutes, until the pastry is golden brown in color. Remove from oven and let the pastry cool COMPLETELY on a wire rack (leave the parchment paper underneath).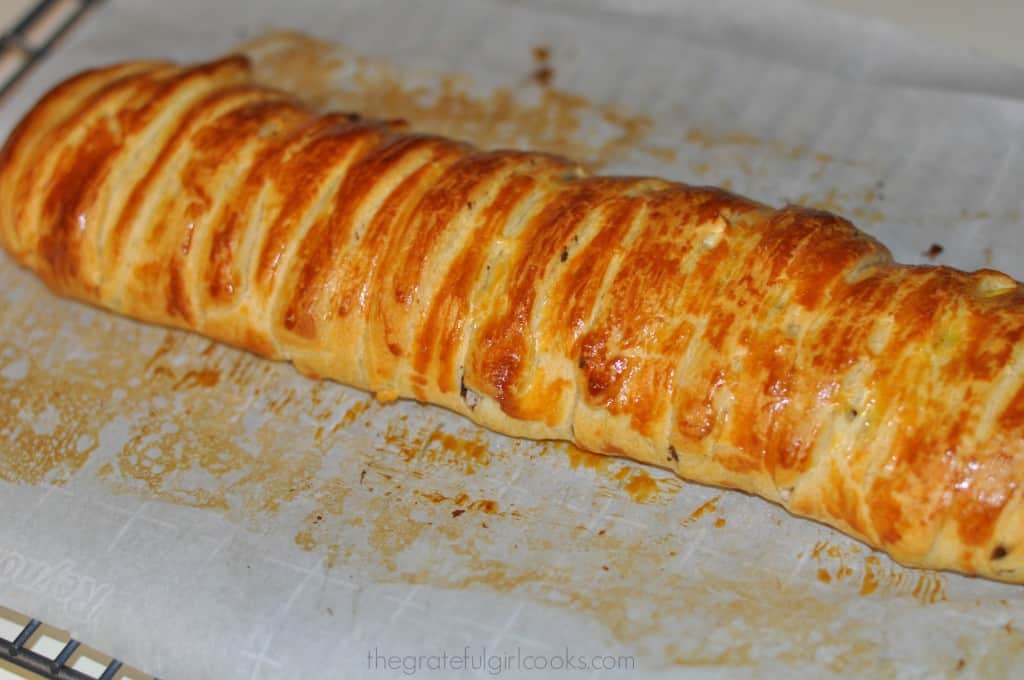 While the pastry is cooling, mix together a simple glaze of powdered sugar, milk, and vanilla in a small bowl, until smooth. Once the pastry has cooled completely, decoratively drizzle the glaze back and forth across the pastry until all the glaze is gone. The parchment paper will help to collect any run-off glaze, and will help to make it an easy cleanup.  Let the pastry sit while the glaze firms up.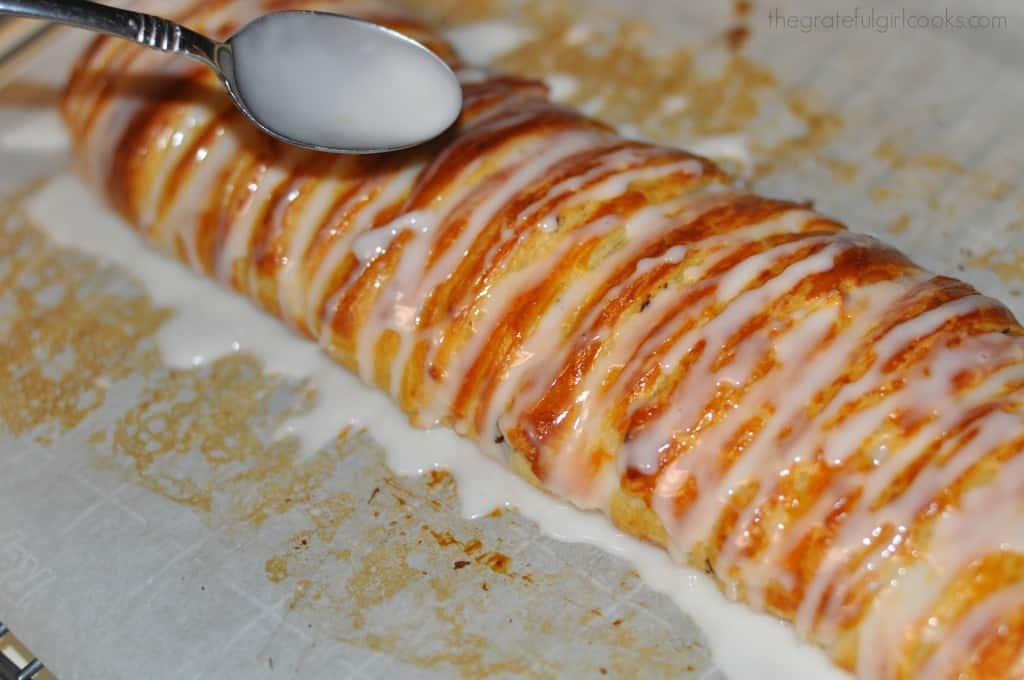 When ready to serve, cut the pastry into slices… grab a cup of coffee or tea… and dig in!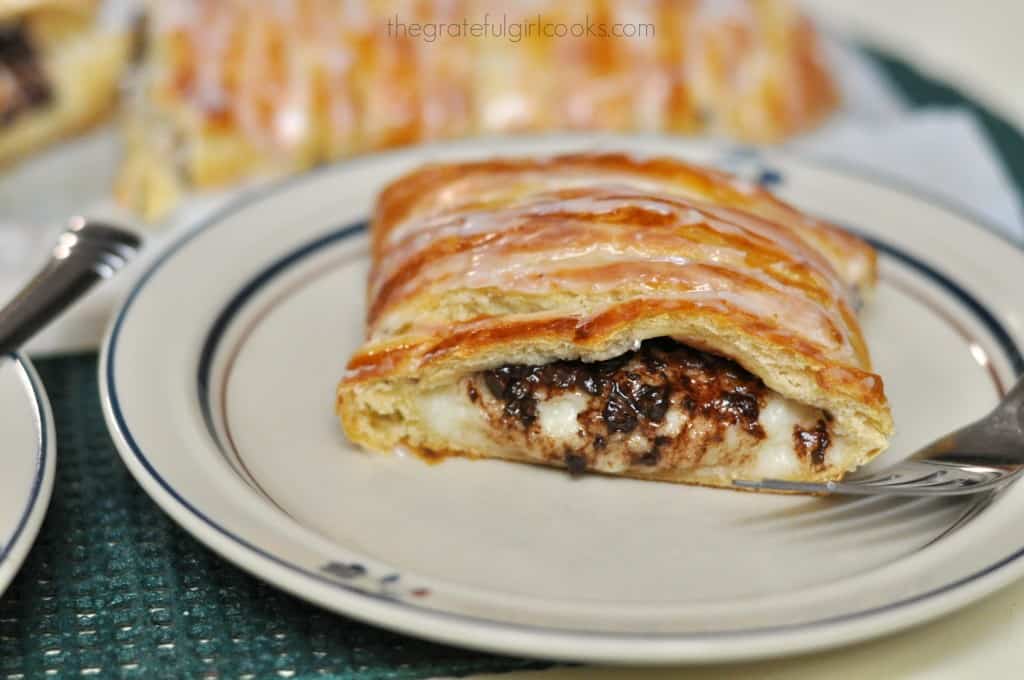 This breakfast pastry is decadently rich, creamy, and chocolatey, so it obviously is not something you want to eat every day, but for an occasional treat… it really is delicious!  A small piece goes a long way!  Sure hope you enjoy this treat. I know I sure did.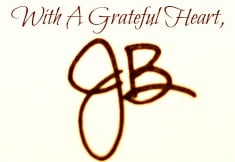 Recipe Source:  http://www.laurenslatest.com/chocolate-cream-cheese-danish/

Save
Save
Save
Save
Save
Save
Save
Save
Save
Save