I tried a new recipe for Fruit and Cheese Danish Pastry recently. I found the recipe on Pinterest after going down several bunny trails clicking through different websites looking for a great breakfast pastry recipe.  The recipe I landed on is absolutely delicious and easy to prepare.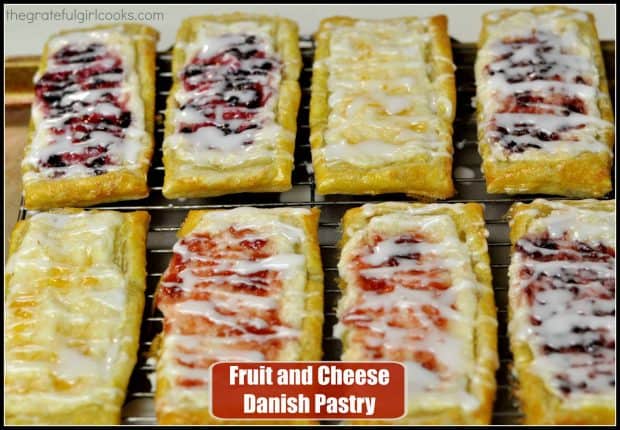 I happened to have a box of Puff Pastry sitting in my freezer patiently (for a few months) waiting it's turn to be transformed into something wonderful. Well… this recipe was a great way to utilize it! The pastries were perfect for an "out of the ordinary" breakfast for my husband and myself, but I gotta tell you… munching on one of these and sipping a large cup of strong, HOT coffee was a nice way to start the day. The recipe is pretty straightforward, doesn't require a degree in rocket science to prepare, and they are delicious! Hope you'll give these a try!
Here's what you do:  First, remove one sheet of puff pastry from box and let thaw slightly before unfolding.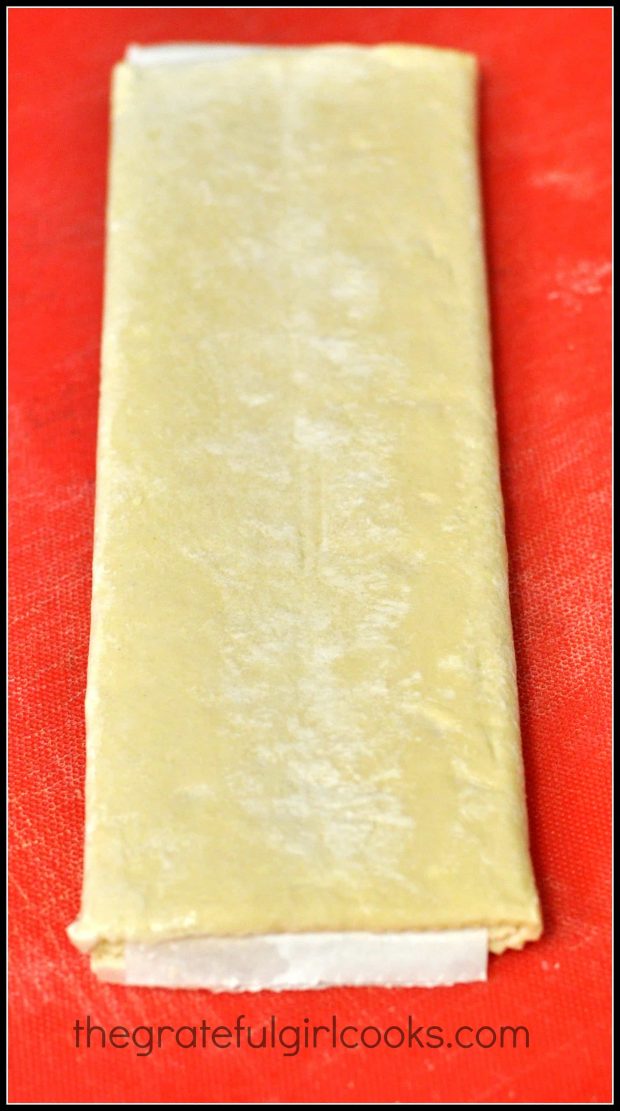 While the dough is thawing, prepare the cream cheese filling… easy!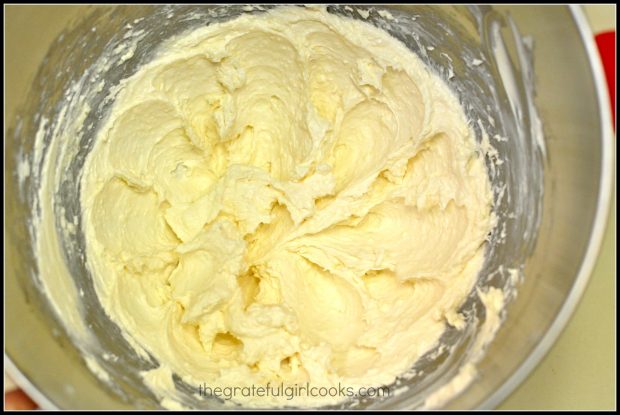 Now unroll the dough. Press together the fold lines.. Then cut the dough in half.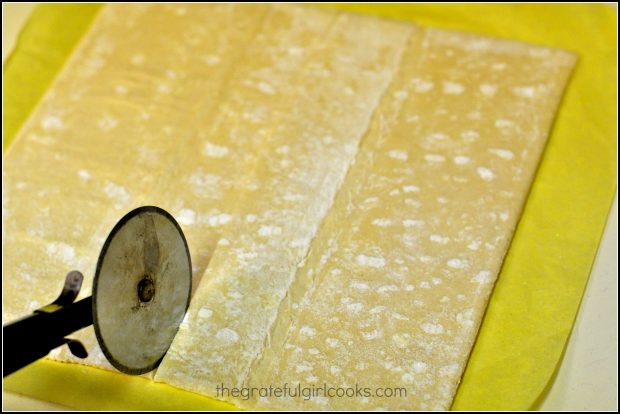 Now cut the dough in half again. You should now have 4 equal sized squares.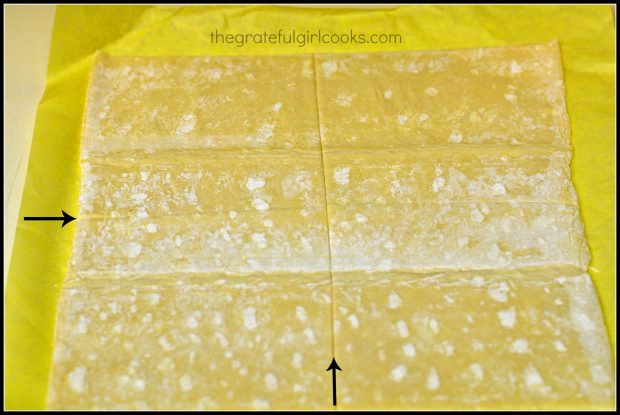 Cut each of the 4 squares in half. You should have 8 rectangle sized pieces of pastry dough.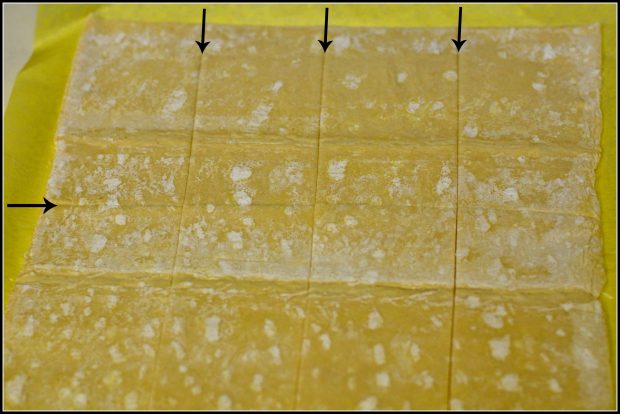 Place 4 pieces of dough onto a parchment paper lined baking sheet. Place remaining 4 pieces onto another lined sheet, making sure to leave lots of space in between each piece. Using a sharp knife, cut a border all around the edge (but don't cut all the way through the pastry dough!).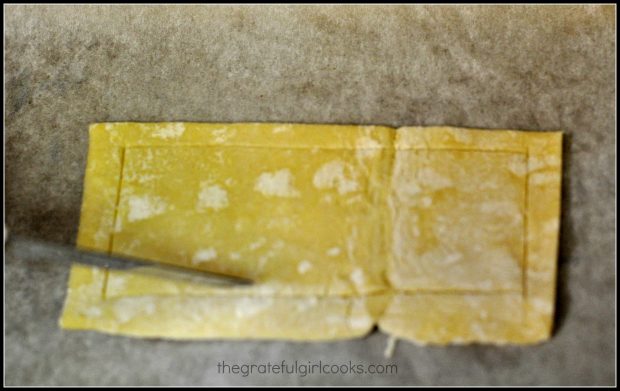 Now spoon some of the cream cheese filling onto each piece of dough like this…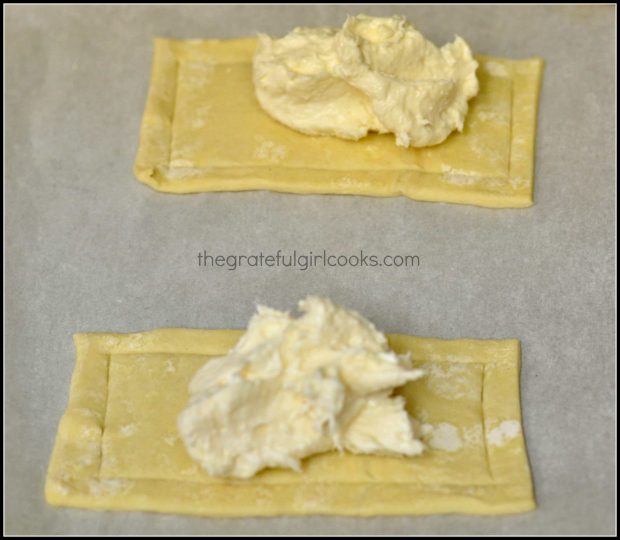 Carefully spread the cream cheese filling out, almost to the border…This is where you need to stay within the lines!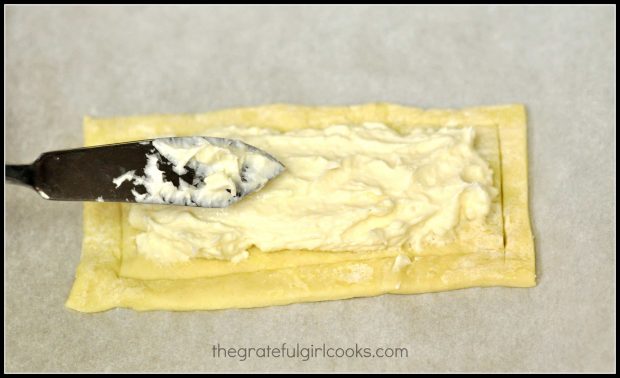 Now place a small dollop of your favorite jam on top of the cream cheese and swirl it around a bit to blend (I used a toothpick). Use any flavor jam you prefer. I used my homemade jams: orange marmalade, strawberry, raspberry, and boysenberry (a couple pastries of each flavor). It should look kind of like this: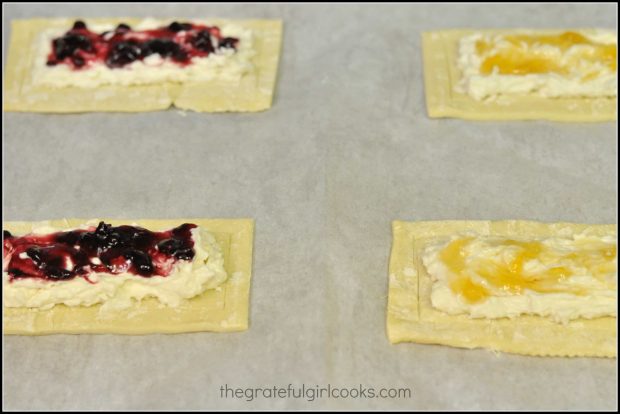 Brush the outside border of each pastry with an egg yolk mixture, then sprinkle border with turbinado sugar, and into the oven they go for 13-14 minutes (or until golden brown).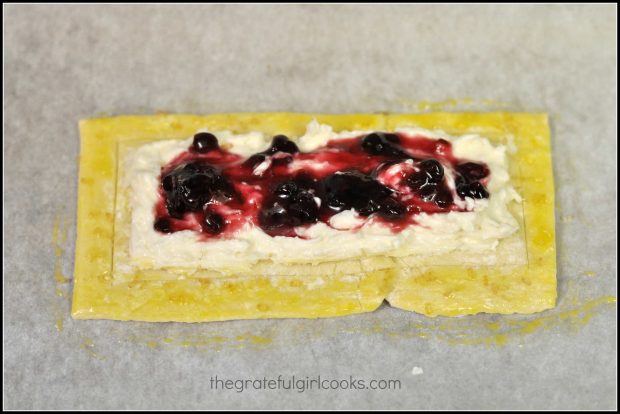 They will look like this when you remove them from oven…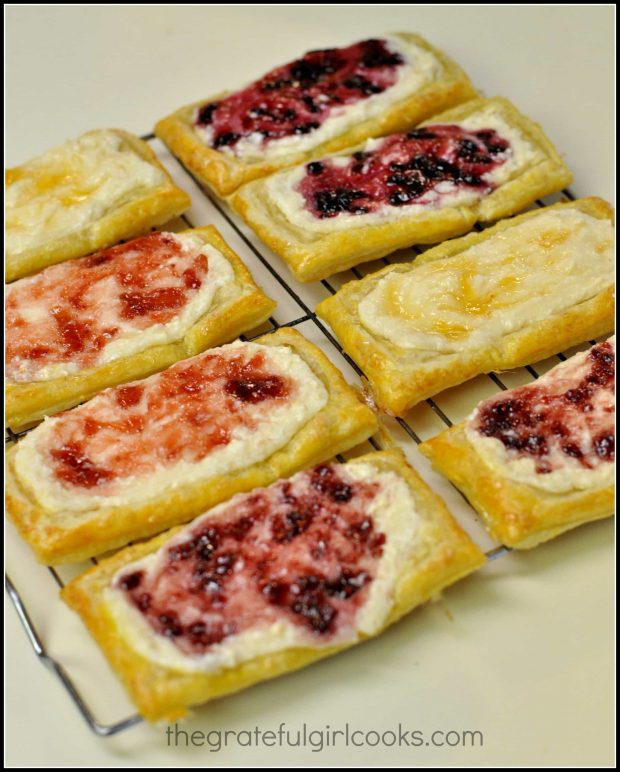 Here's an "up close and personal" look…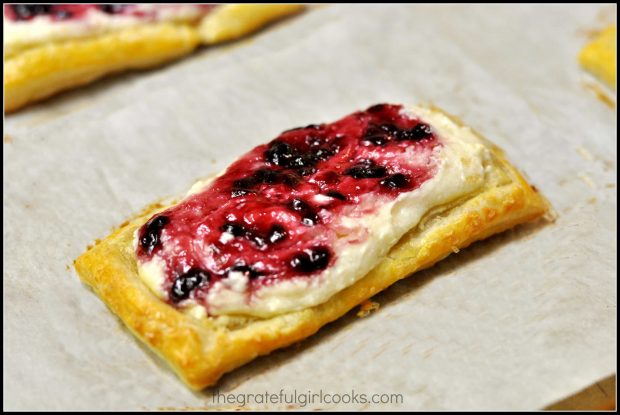 Once the pastries have cooled, they are drizzled with a powdered sugar/lemon glaze. Once the glaze has firmed up, they are ready to eat!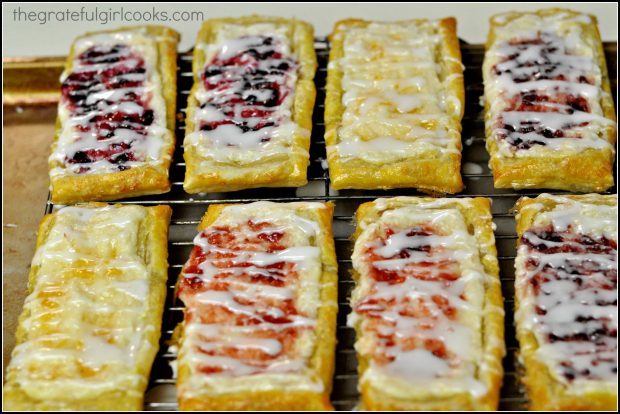 Dig in… and enjoy! We thought they were wonderful!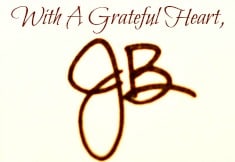 Original recipe source: https://sites.google.com/site/oakcottagerecipes/easy-fruit-and-cheese-danish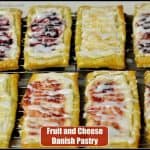 Fruit and Cheese Danish Pastry
This "easy to create" recipe features puff pastries, topped with cream cheese mixture and assorted fruit jams.
Ingredients
For the pastry:
1

sheet of frozen puff pastry

4

ounces

cream cheese

, room temp.

1/4

cup

granulated sugar

1/2

teaspoon

vanilla extract

1

Tablespoon

heavy whipping cream

(or half n' half)

2

Tablespoons

jam

(of your choice)

1

egg yolk

, beaten with 1 teaspoon water

Turbinado sugar

(to sprinkle on pastries before baking)
For the drizzle on the baked pastries:
1

cup

powdered sugar

2-3

Tablespoons

lemon juice
Instructions
Preheat your oven to 400 degrees F.

While oven is pre-heating, remove one sheet of puff pastry from freezer. Let it slightly thaw before unfolding dough (15 minutes or so).

While dough is slightly thawing, prepare the cream cheese "filling". In a medium sized bowl, beat the cream cheese, granulated sugar, vanilla extract and whipping cream together, using an electric mixer. Mix for several minutes until mixture is smooth and spreadable. Set mixture aside.

Unroll the puff pastry carefully, and try to press dough together where the fold lines were. Cut dough into 8 rectangles (dough is cut in half, then in half again, then each of the 4 squares is cut in half once more).

Cover 2 baking sheets with parchment paper. Place 4 dough rectangles on each baking sheet, leaving ample space in between each piece. Take a sharp knife, and score a border all the way around the dough. Make sure to NOT cut all the way through to the bottom! (by cutting a border, the edges will rise up and hold the filling in better!-don't leave this step out!)

Evenly distribute the cream cheese filling onto the middle of each dough rectangle. Use a knife or spatula to spread it out over the top of the pastry dough, but stay inside the cut border!

Place a very small dollop of your favorite jam onto the cream cheese mixture. Use a toothpick and gently swirl the jam across the top of the pastry.

Mix the egg yolk and water in a small bowl. Using a pastry brush, brush the egg yolk mixture around the outer border of each pastry. While the dough is still "wet", sprinkle the border lightly with turbinado sugar.

Put the baking sheets into the oven and bake at 400 degrees F. for 13-14 minutes. The pastries should be golden around the edges. The dough should have also risen a bit. Take the pans from the oven and place them on a wire rack to cool completely.

Once the pastries are cool, mix the powdered sugar and lemon juice in a small bowl. (if too thick to drizzle, just add a bit more lemon juice!). Use a spoon, and drizzle the glaze over the cooled pastries (I went side to side). Let the glaze firm up, then pastries are ready to be served.

Enjoy!
Save
Save
Save
Save