Well… here's our new favorite pickle… these homemade Crunchy Garlic Dill Pickles!  Even if you've never made pickles before… have no fear! You don't have to have a water bath canner or a pressure canner to make these fantastic pickles. You only need some canning jars and lids, plus the basic ingredients. That's it!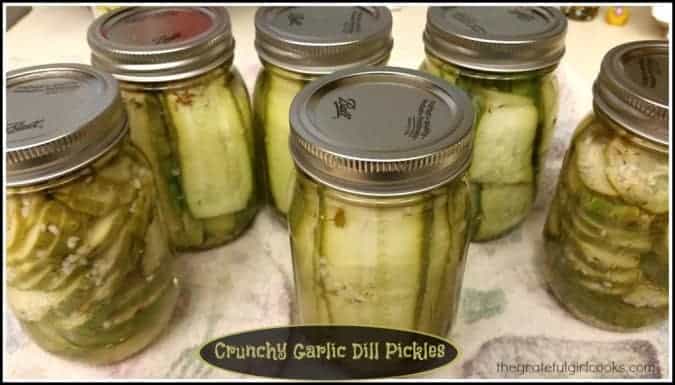 These jars of pickles, once sealed properly, will be shelf stable for quite awhile. Then when you need a new jar of pickles, just pull a jar out of your pantry, refrigerate, then enjoy! They are so good!
I grew our own pickling cucumbers this summer. I am so glad I did. Last summer my friend Sandy gave me some of her pickling cucumbers from her huge garden to make pickles. It inspired me to try growing them this year in our little backyard garden… so I did! I only grew 3 plants, but it was more than enough for about 12 or 13 jars of pickles.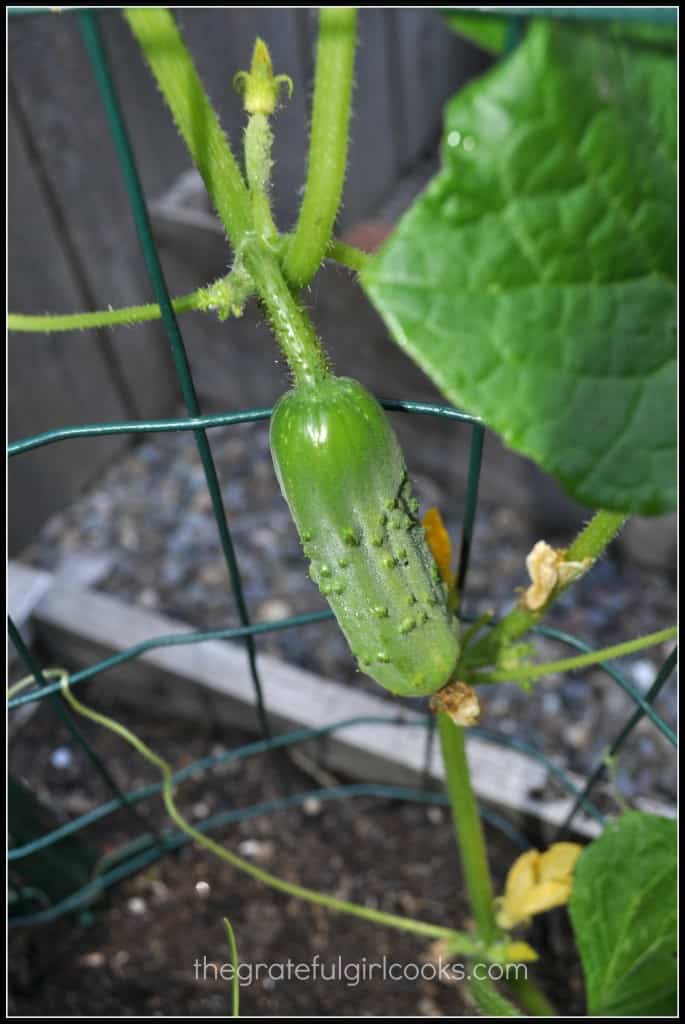 Yahoo! Of course you can always find pickling cucumbers (you know, the cute little ones grown especially for pickle-making!) at your local grocery store or a Farmer's Market when they're in season and plentiful during the hot summer months.
Okay… back to the recipe. Easy peasy. Basically you slice the ends off the cukes (yes, both ends), then slice them into spears, chips (horizontally) or into sandwich slices (vertically), making sure you have enough cut slices to fill 6 pint-sized cleaned and hot canning jars (12 oz.). Add a bit of minced garlic and dill seed. Let them sit in a 250 degree oven (I place filled jars onto a tea towel lined cookie sheet) until they are hot and ready to fill with a boiling hot brine. Then when everything is really hot (including the lids and seals heated separately), you pour the brine over the pickle slices, remove air bubbles, wipe the rims to make sure you have a good clean seal, pop the lids and rings on, and seal to fingertip tightness.
Once the lids and bands are on, I invert the jars for 5 minutes, then turn right side up again. Let the jars cool on the counter (on a towel, to prevent breakage). You should hear the seals "pop" to indicate they sealed while they cool. **This process has worked on every jar I've made of these pickles… however, if you wish to water bath can the jars, they should be processed for 15 minutes (pint sized jars).**Then comes the hard part. You have to let the pickles "cure" for about 2 weeks before you open the jar and taste them. IT IS WORTH THE WAIT! Trust me.
I made pickles this way for the very first time this summer, and I've already made several batches as my cucumbers have ripened. I  keep any extra brine I had leftover (if I wasn't making the full recipe) in the refrigerator and then use it within a couple weeks for a new batch.
These are really very easy to make, and I just KNOW you're gonna love them.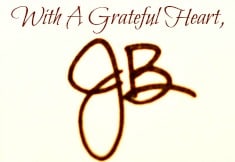 Recipe Source: unknown

Save
Save