I stared and stared at a bagel calling to me this morning from it's shelf in our pantry. It looked so forlorn just sitting there, so I decided to turn it into something beautiful. I "morphed" it into a delicious Ham, Egg & Cheese Bagel Breakfast Sandwich (try saying that in one mouthful)!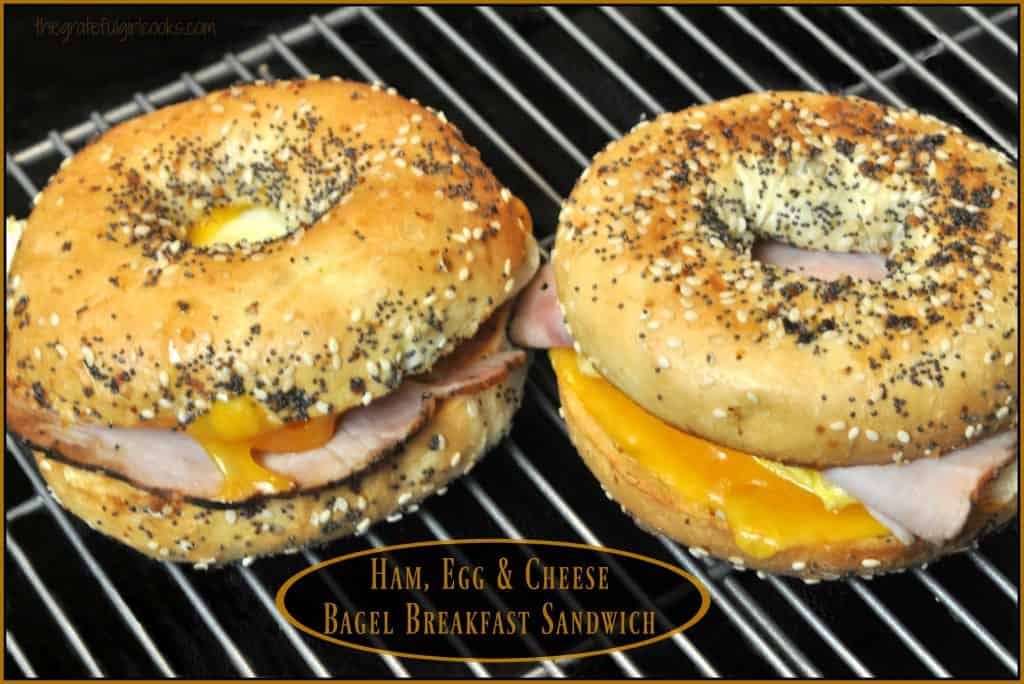 Being the nice wife that I am (*cough, cough), I asked my husband if he wanted to have one also, since there were actually 2 bagels left in the bag. Of course he said yes (he hardly ever turns down food), so off into the kitchen I went to play… I mean cook us breakfast! Guess what? It tasted fantastic!
Less than 10 minutes later, we were chowing down on these hearty breakfast sandwiches… delicious and filling! And truthfully, they were so easy to make! Here's what you need to do:
Split bagel in half. Lightly butter both sides. Place on wire rack under oven broiler (about 5-6 inches away from heating element) and broil, only until they are light golden brown.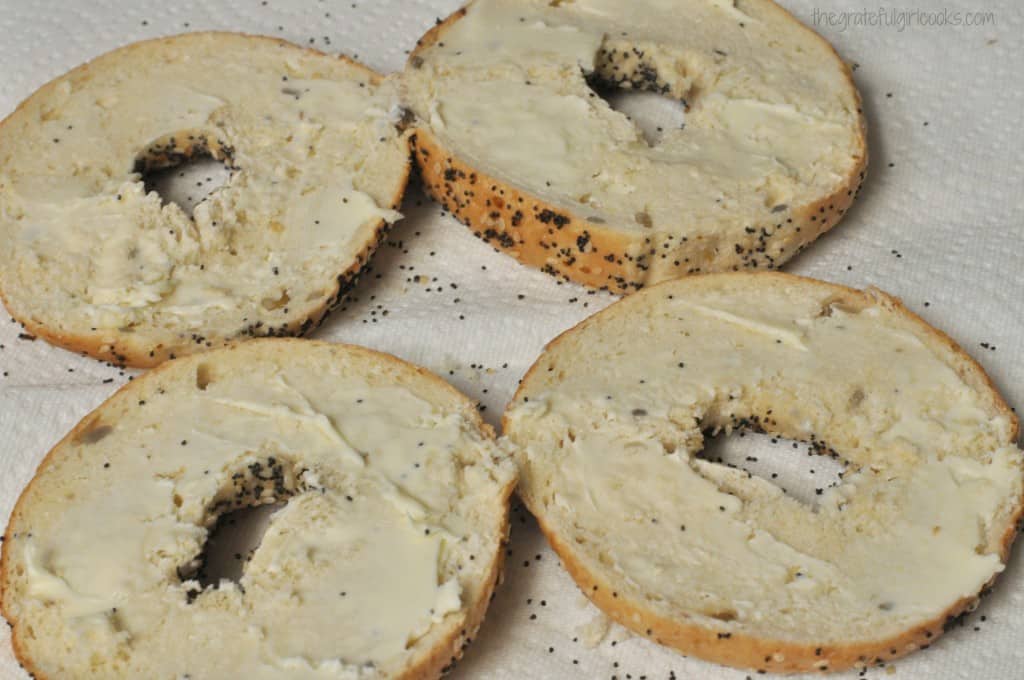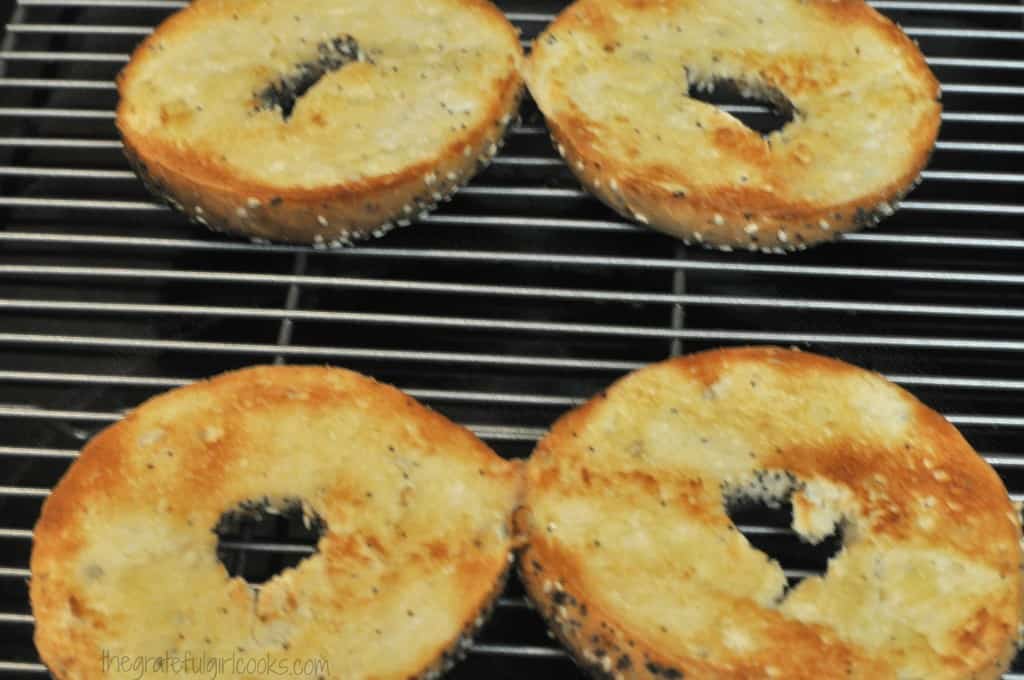 Once you take them out, place sliced cheddar cheese on one half of the bagel (while bagel is still hot). Put on enough thin slices of cheese to cover.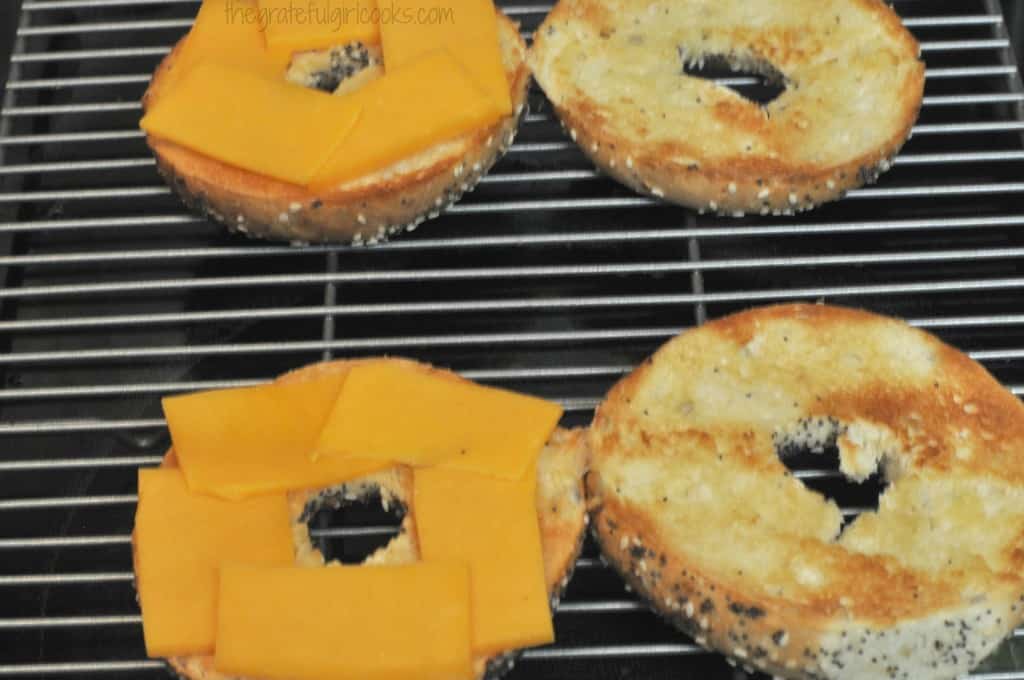 In a skillet, fry one egg (per sandwich) however you like them cooked (over medium, over easy or hard). Salt and pepper egg, to taste.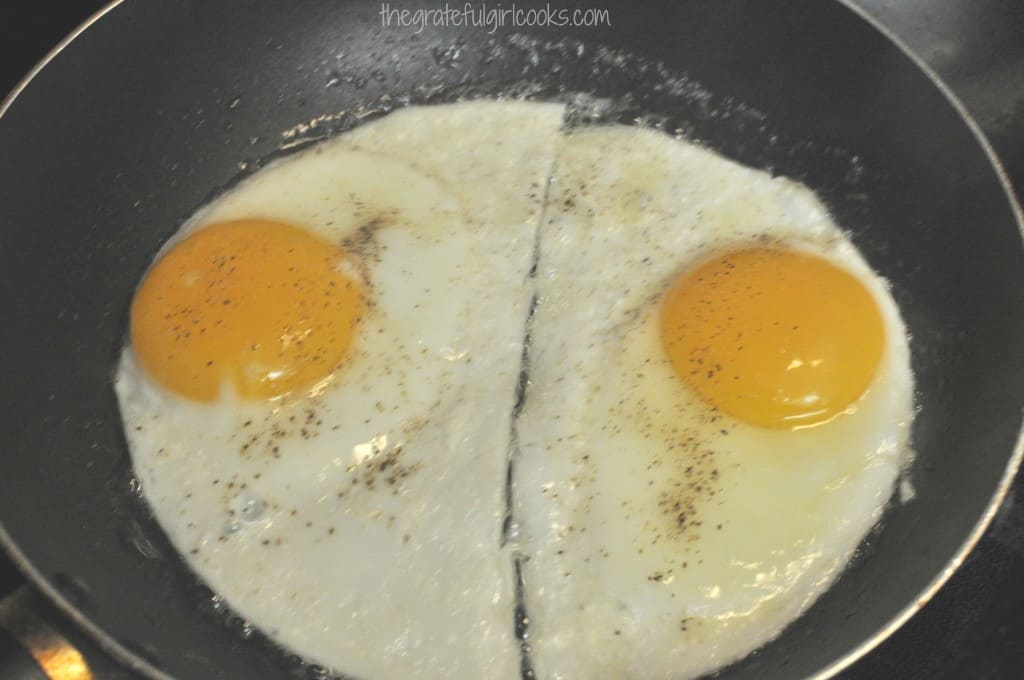 When egg is done, place it on top of the cheese half.  Place a thin slice of deli ham onto the other half, folding the ham to make it cover bagel.  Place the bagel halves back into the oven under the broiler (about 5-6 inches away from broiler). Re-heat only until cheese begins to melt, and sandwich is re-heated.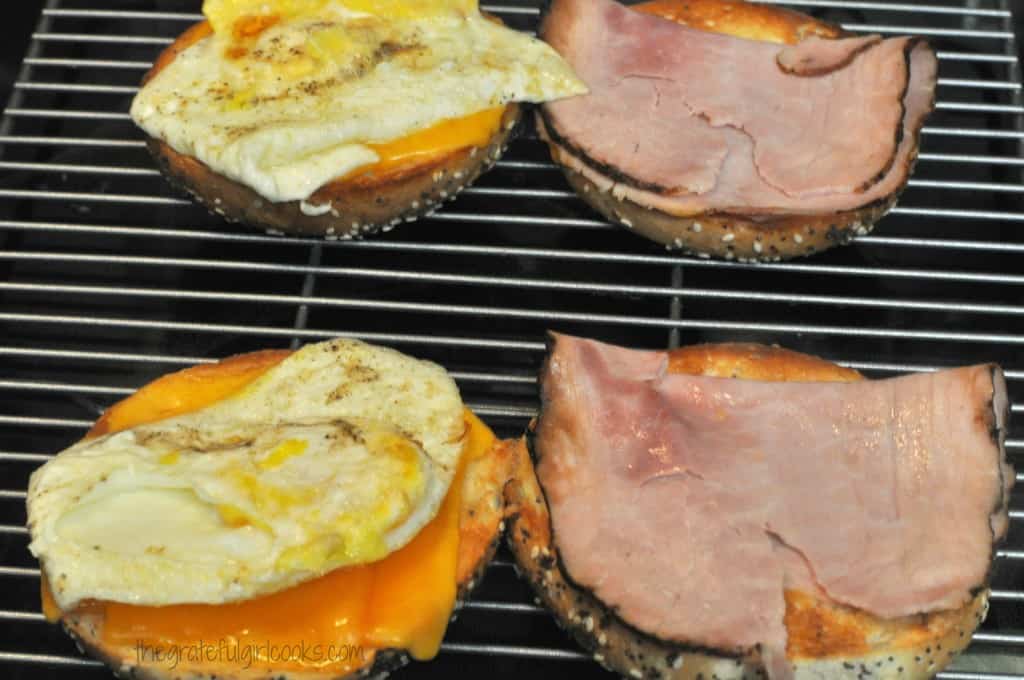 Remove bagel halves from oven. Place the half bagel with the ham on top of the other half. Ta-Da!  Your breakfast sandwich is now ready to devour!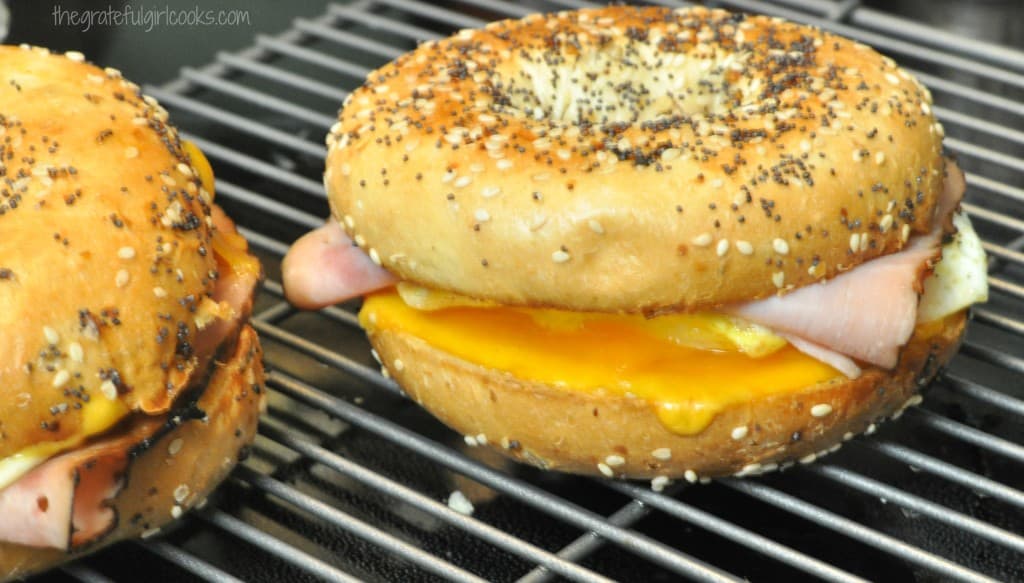 I cut mine in half, just so I could show you the inside of the sandwich in all of it's glorious "bagely-eggy-cheesy-hammy" goodness!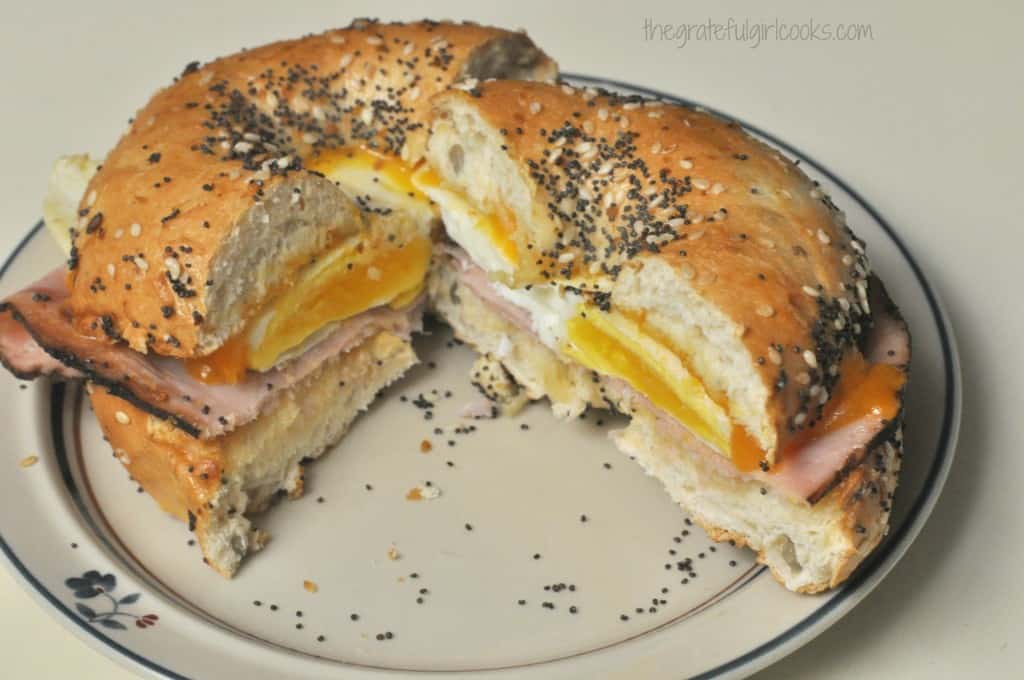 This breakfast sandwich was so good… don't think I will be eating lunch, because it was pretty filling!  Hope you'll consider making these for your family.  My hunch is that these would be great made up, then frozen (wrapped very tightly). It would be fantastic to have some of these breakfast sandwiches around for a quick re-heating in a microwave on a busy morning!
Have a fantastic day!  Try to find time (in this crazy, busy day) to stop pedaling for just a minute and recharge your soul (and body!). I am always glad for those stolen moments of rest.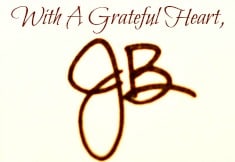 Recipe Source: My hungry brain.

Save
Save