What do ya get when you morph the best of two breakfast casseroles into one dish? This delicious "all-in-one" Ham and Cheese Breakfast Soufflé that will get your morning started out just right.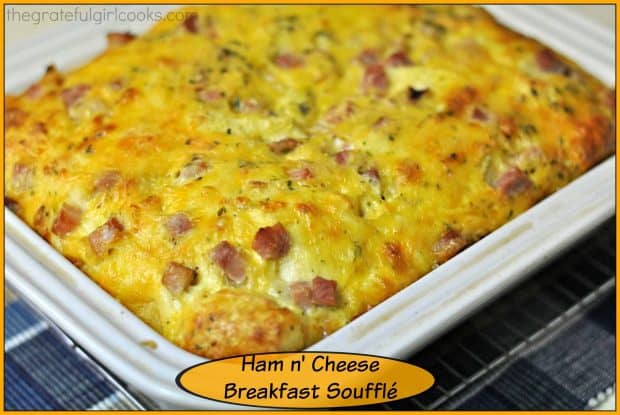 A few days ago, one of my friends asked me if I had a good "breakfast casserole" that would feed quite a few people. She needed a recipe for a brunch she was going to be attending this coming weekend. I told her I did, and immediately thought of this recipe! It serves 12, is super easy to make, plus it is always a hit at a brunch or potluck. So here ya go, Sherry. This one is for YOU!
When I got married, I was given a recipe for a Cheese Soufflé from two friends. I've made that recipe many times over the past 37 years. I ended up blending that original recipe with parts of another recipe (source unknown), and came up with this delicious breakfast dish years ago. It really is an all-in-one breakfast dish, because it contains eggs, bread, milk, cheese, and ham. This dish takes only a few minutes of prep to get ready;  it chills in the fridge overnight, then is baked for one hour. That's it! Easy… and delicious! The mixture puffs up during the cooking process, which is why it is has the word "soufflé" in the title.  From Wikipedia: "The word soufflé is the past participle of the French verb souffler which means "to blow up" or more loosely "puff up"". And there you have it!
Hope you will give this recipe a try. The leftovers are easily reheated, so this one can go the distance. I think you will enjoy it!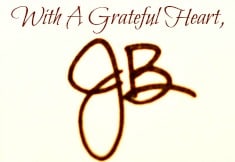 Original Recipe adapted from: Dee Gustafson and Faye Johnson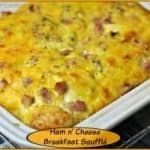 Ham n' Cheese Breakfast Soufflé
A light, puffy, "all in one" breakfast souffle containing eggs, milk, ham, cheese and sourdough bread.
Ingredients
10

slices

white bread

, crusts removed (I used 5 really large slices sourdough bread)

2

cups

chopped ham

2

cups

grated Cheddar cheese

6

eggs

, slightly beaten

2

cups

milk

1

cup

half n' half

1

teaspoon

salt

¾

teaspoon

dry mustard powder

2

Tablespoons

dried parsley
Instructions
Spray a 9x13 pan with non-stick spray.

Remove the crusts from the bread and discard. Cut the remaining bread into cubes. Spread in baking dish.

Cut the ham into cubes. Layer on top of the bread cubes.

Layer the grated cheese on top of the ham.

In a medium bowl, whisk together the eggs, milk, half n' half, salt, mustard powder, and dried parsley, until fully combined. Pour this evenly over the top of the cheese in baking pan. Cover pan with plastic wrap, and refrigerate overnight.

On the day you are going to bake it, remove the pan from refrigerator and let it sit for about 30-40 minutes, to take the chill off the pan. Preheat your oven to 350 degrees.

When ready, remove plastic wrap, and place in oven.

Bake for 1 hour at 350 degrees (or until it is eggs are "set" in the middle of pan). **If you forget, and end up taking the dish straight from the refrigerator to the oven, remember to add another 25-30 minutes of baking time!

When done baking, remove pan to wire rack. Let it cool for about 10 minutes, then cut it into pieces. This dish is at it's very best once it has cooled down a bit. Enjoy!
Recipe Notes
Prep time does NOT include overnight refrigeration time.
Any white bread will work in this recipe. this time I used 5 LARGE slices sourdough bread. Usually I just use regular old, cheap white bread.
If you would like a bit more flavor, try adding a small can of diced green chiles to this dish. Just mix the drained chiles in with the eggs, Really good!
Save
Save
Save
Save