I love roasted pumpkin seeds! How cool is it that not only can we carve and decorate pumpkins for the Fall season, but we can roast and eat the seeds, too! Today I'd like to show you exactly how to roast pumpkin seeds!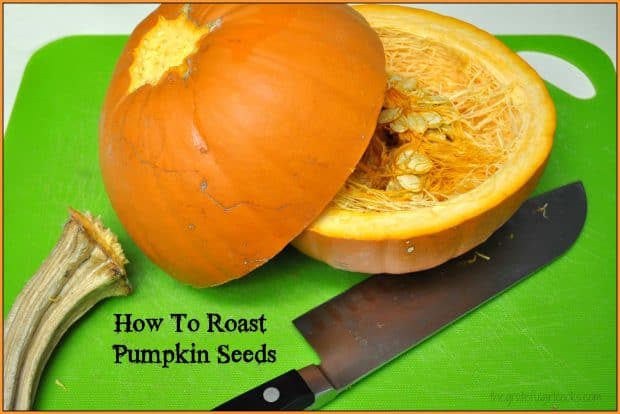 Do you roast pumpkin seeds?  I remember my mom roasted them occasionally, when I was little. I love the slightly salty crunch of a pumpkin seed roasted just right! It's very easy to make roasted pumpkin seeds for a quick, tasty snack. With pumpkins beginning to make their annual appearance at grocery stores and Farmers Markets all over town, this seemed like the right time to post this quick "how to", in case you've never made your own!  You can certainly add additional spices to the basic roasted pumpkin seeds to make them taste just how you like them… this is simply the basic "how to"!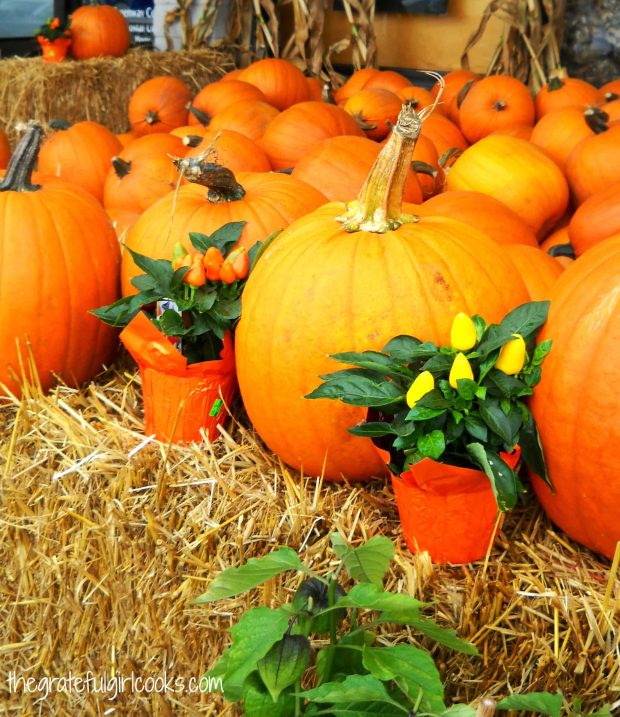 First you will need to carefully cut your pumpkin open. I cut a  "pie pumpkin" (a smaller type pumpkin) in half horizontally, because I was not going to carve it, but instead use the "meat" of the pumpkin to make puree to store in my freezer to use in various recipes throughout the year. If you're interested in how to make puree from your pumpkin, check out my post on How To Make Pumpkin Puree.
Now… back to the SEEDS:  After you cut pumpkin open, you will need to remove the seeds and the "guts" of the pumpkin.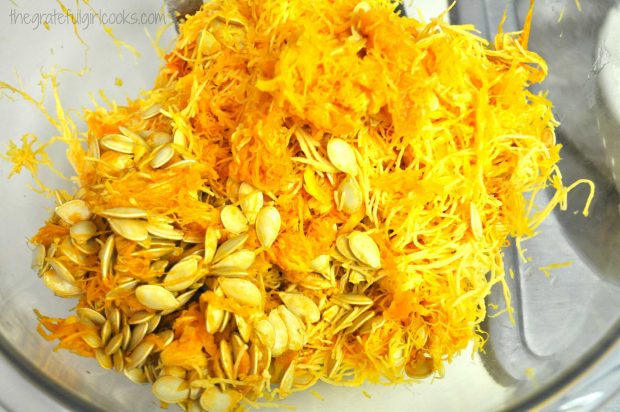 There are two ways to separate the seeds from the stringy "guts". One way is to put that "BLOB"  into a strainer and slowly pull the seeds away from the guts by hand, then give the seeds a good rinse. The other method is to put the seeds/guts into a large bowl, fill it with water, and remove seeds with your hands from the "guts". The seeds should float to the top once they are separated from the "guts", then you can just scoop or skim them up. Give the seeds a good rinse, then place them in a single layer on 3-4 layers of paper towels or a couple dish towels to dry.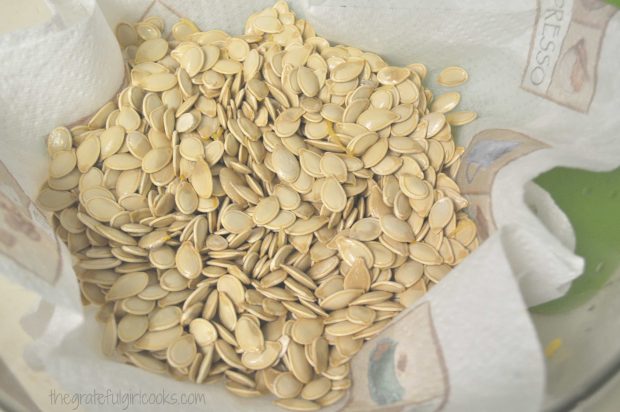 Once spread out, let the pumpkin seeds dry for an hour. Make sure they are nice and dry.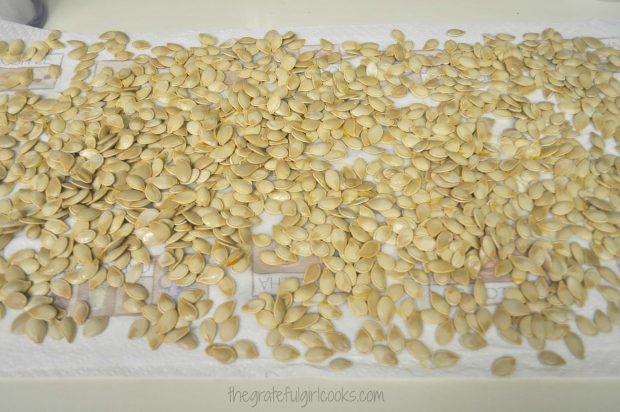 Toss the dried seeds with oil. Sprinkle with salt (side note: try these sometime substituting seasoning salt for regular salt), and stir, to combine. Spread them out into a single layer on a large (13×9 or larger) baking sheet. Cook the pumpkin seeds for about 20-25 minutes at 325 degrees F.  When you hit the 15 minute mark, give the seeds a good stir, then spread back out again. At the 20 minute mark, give them another stir. Keep a close eye on them so they don't overcook and burn. The average coking time is 25 minutes… they are done when light golden brown and crunchy.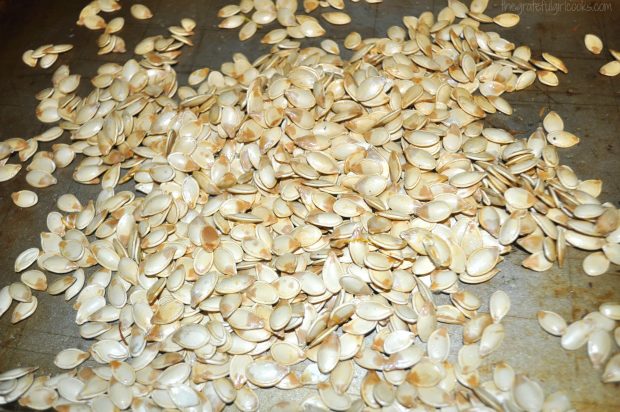 When done, remove pan from oven.  Let the cooked pumpkin seeds cool completely, then eat! Be sure to store the roasted seeds in a covered container or resealable plastic bag. That's it!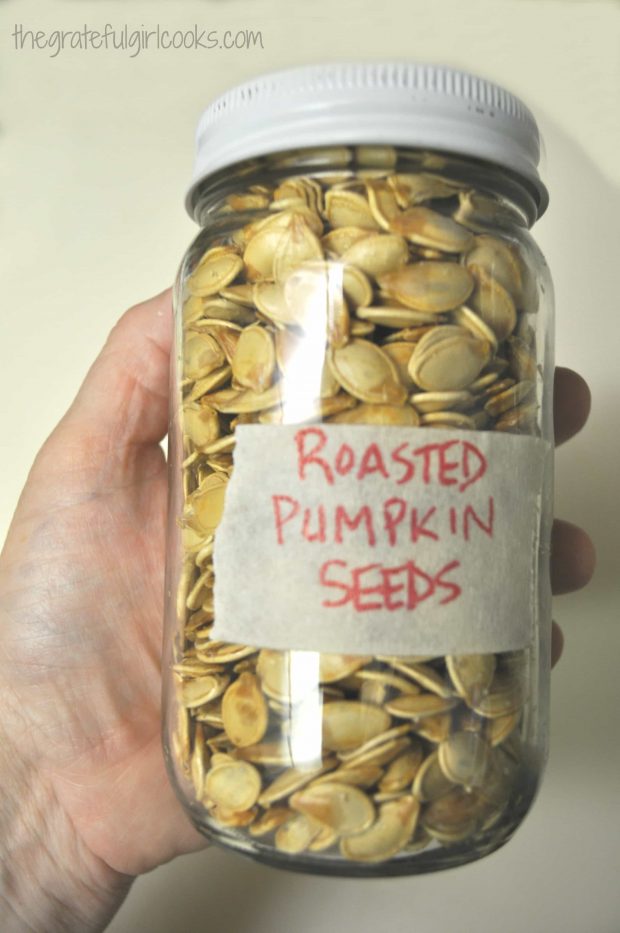 We enjoy snacking on the seeds, and occasionally I will throw a few into a salad for added crunch.  I figure if you're gonna go to the trouble and mess of carving a pumpkin (cause it's FUN!!), why not get an added bonus of roasted pumpkin seeds to snack on, too?!!  No fancy printable recipe needed for this simple snack. Here's the ingredients: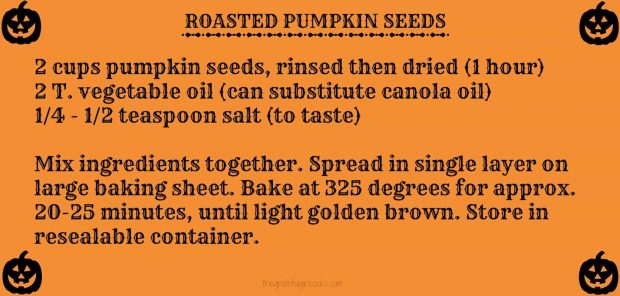 Hope you'll give this a try when carving your Fall pumpkins this year! Enjoy!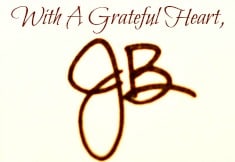 Save
Save
Save
Save
Save
Save
Save
Save
Save
Save
Save
Save
Save
Save