Have you ever roasted carrots in the oven before? I rarely do… I usually grate carrots for carrot cake, throw some in when I cook a pot roast, or serve mini-carrots with other veggies as an appetizer with dip. But roasting them? Not so much. Until now.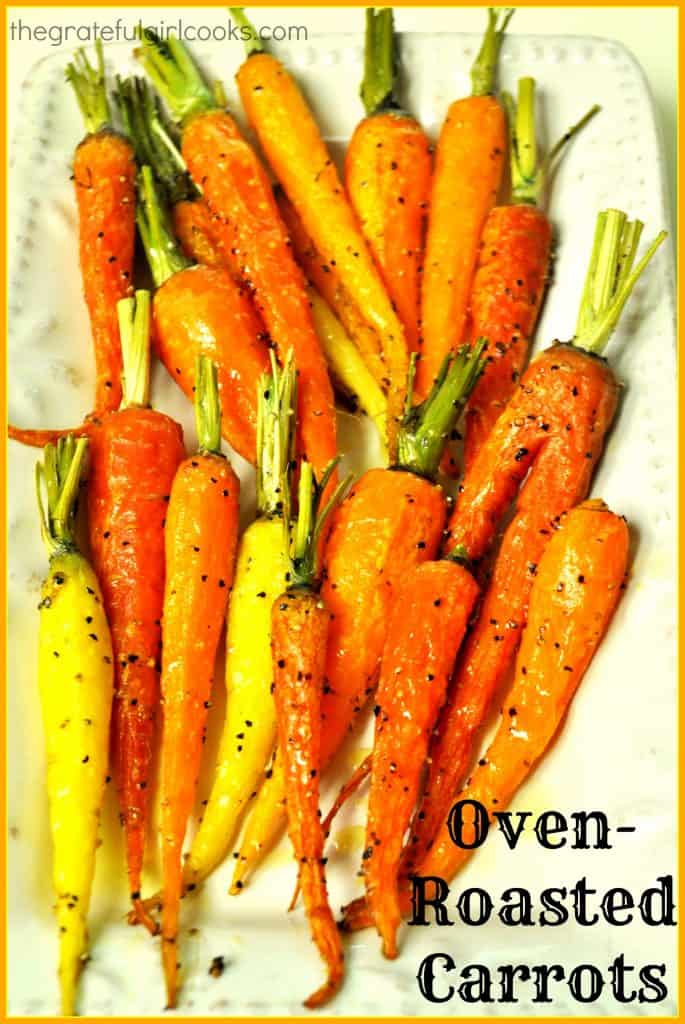 These oven-roasted carrots are a cinch to make. The flavors intensify when you roast them, so the end result is a sweet, concentrated carrot flavor, enhanced with olive oil, salt, pepper and some garlic powder (for extra goodness!)
I've been growing carrots in our backyard garden and recently pulled up quite a few "baby carrots"… you know, the kind that aren't 2 feet long! These rainbow carrots are each about 4-5 inches long and about an inch to two inches thick. This size is perfect for roasting!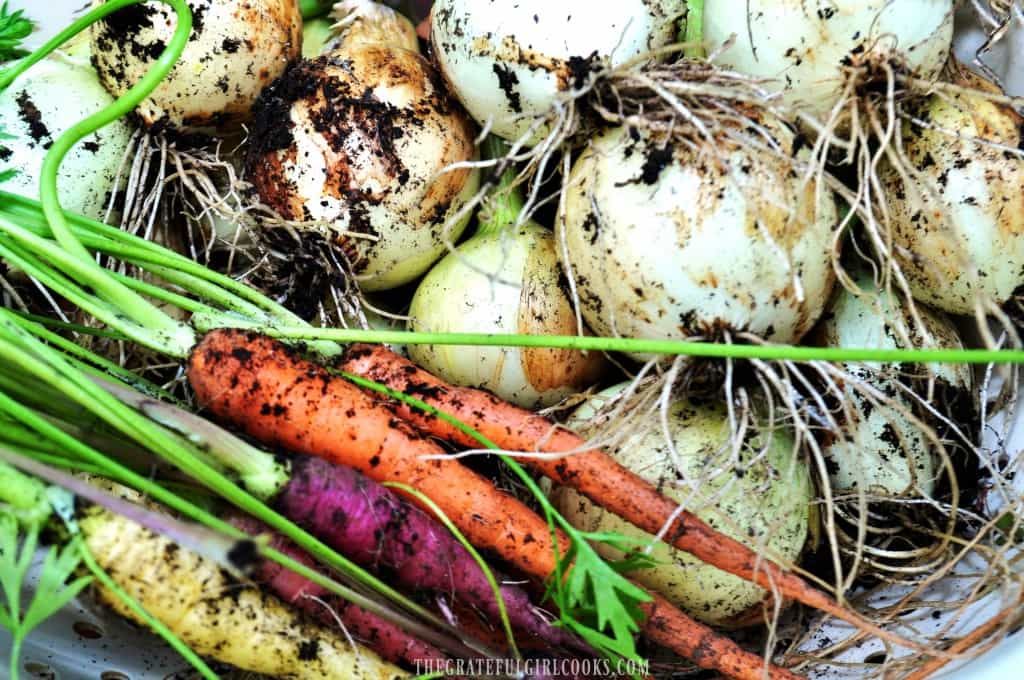 Carrots are washed and scrubbed, left whole (I even left a tiny bit of the green tops on because it looks cute!), tossed in a bit of olive oil to coat (about 1-2 Tablespoons), seasoned to taste with salt, pepper and garlic powder, placed on a baking sheet, then baked at 350 degrees for approximately 30 minutes, or until fork-tender. That's it! So delicious and so healthy! Hope you try this recipe…grab some fresh carrots at your local Farmer's Market this summer… and enjoy!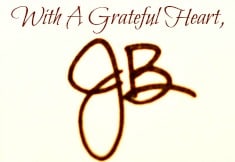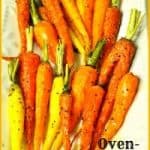 Oven-Roasted Carrots
Easy, delicious and healthy, these oven-roasted carrots are a perfect accompaniment to any meal.
Ingredients
15-20

small carrots

(I used rainbow carrots, but any carrots will be fine)

1-2

Tablespoons

olive oil

Salt

Pepper

Garlic Powder
Instructions
Preheat oven to 350 degrees.

Scrub carrots well to clean.

In a medium bowl, place the whole carrots. Add olive oil. Mix to coat the carrots. Season with salt, pepper, a a little bit (approximately 1/8 teaspoon) of garlic powder.

Mix well to combine. Place carrots on baking sheet.

Bake at 350 degrees for approximately 30 minutes, or until carrots are fork-tender. Turn carrots over on baking sheet half way through the baking time.

Serve, and enjoy! (See how easy that was?)
Save
Save
Save
Save
Save
Save