I've been on a bit of a bruschetta kick lately… testing appetizer recipes to decide what to make over the holidays for our family and friends. I recently made this flavor-filled recipe for Sun-Dried Tomato and Kalamata Olive Bruschetta, and it was a big hit!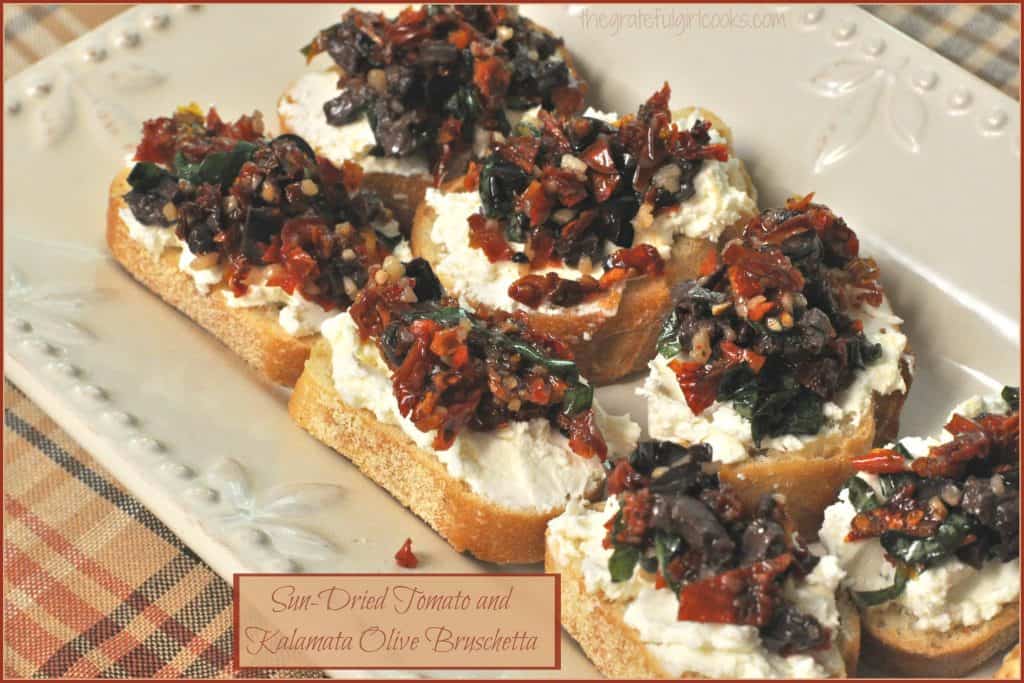 The recipe is really easy to prepare. It's wonderful taste comes from a garlic-rubbed toasted baguette slice, topped with feta, cream cheese and a sun-dried tomato/garlic/basil/kalamata olive tapenade. I love that you can prepare everything ahead of time, then easily put it all together at the last minute!  That's MY kind of appetizer!  Here's how you make this Mediterranean flavor inspired bruschetta:
First slice a small baguette into 1/2 inch slices. Brush each slice lightly with olive oil, then rub a garlic clove over each piece.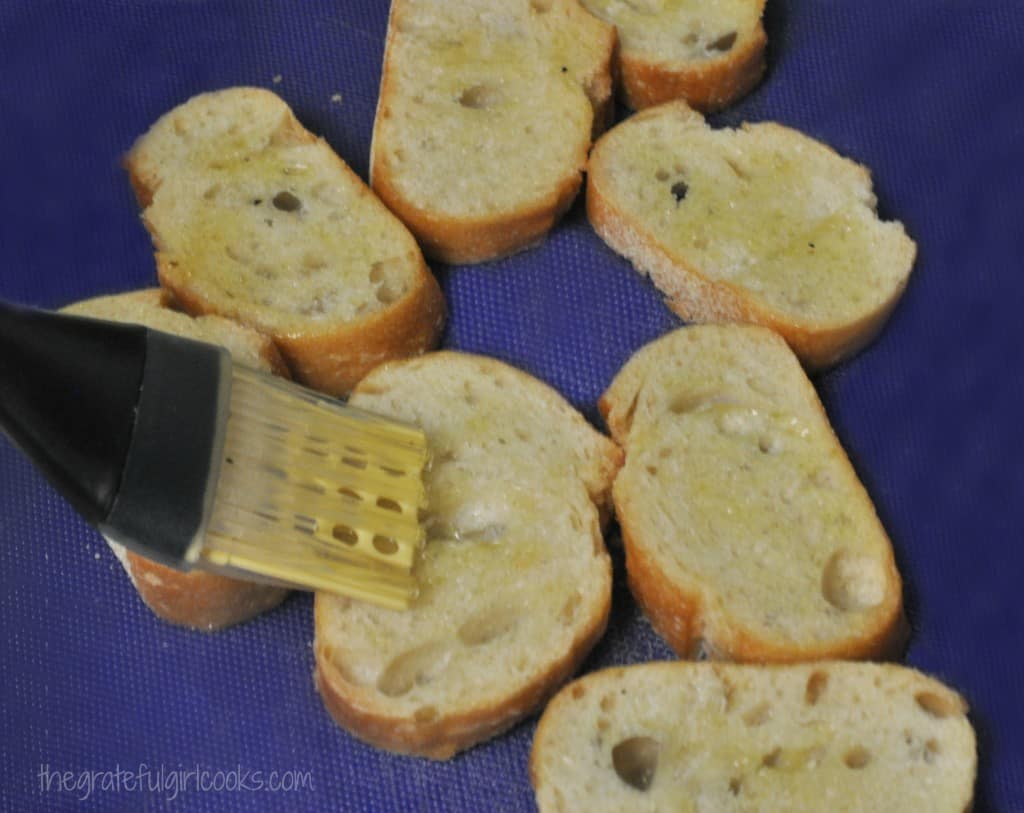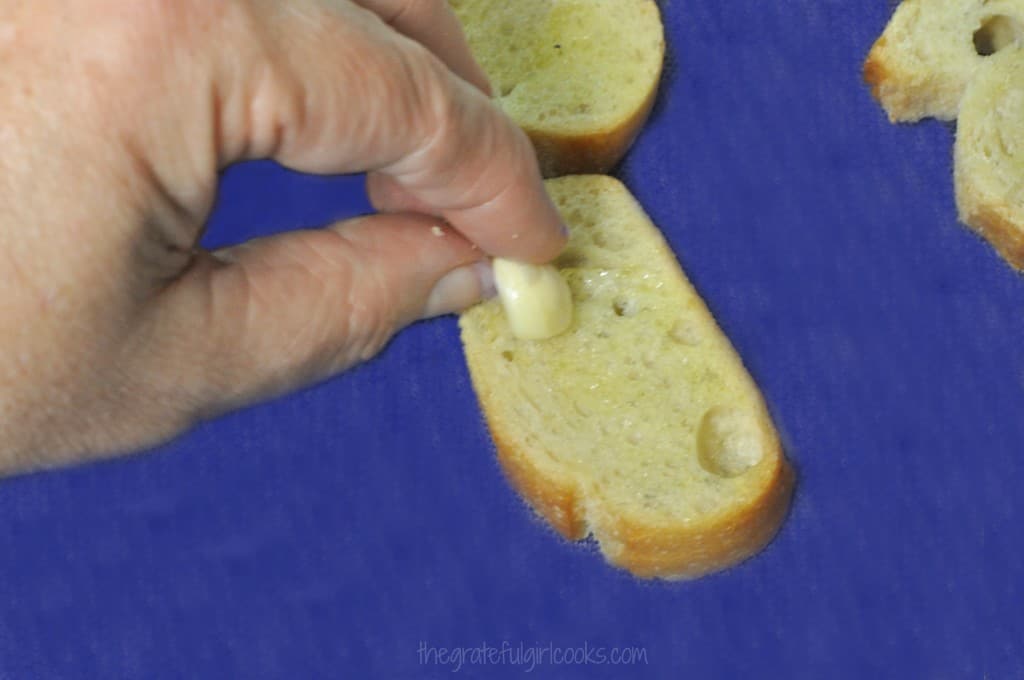 Bake for 7-9 minutes or until bread is light golden brown in color, and crispy. (You can also put the toasted baguette slices into an airtight container and save for a day or two before using, if you need to make this up ahead of time).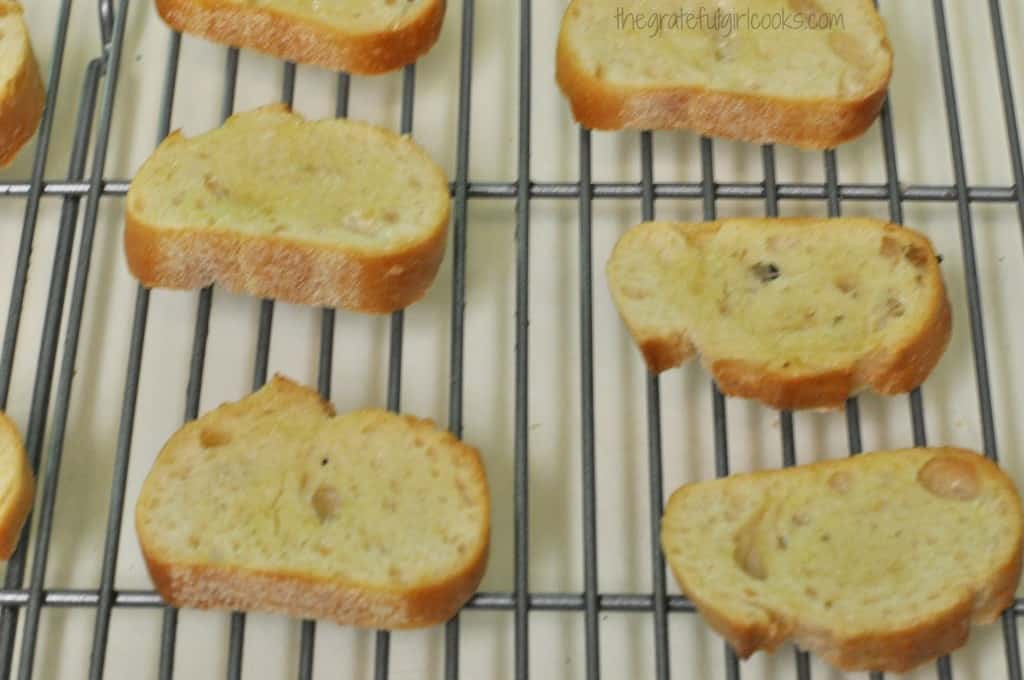 Combine and mix cheese mixture in one bowl, and tomato/garlic/olive tapenade in another.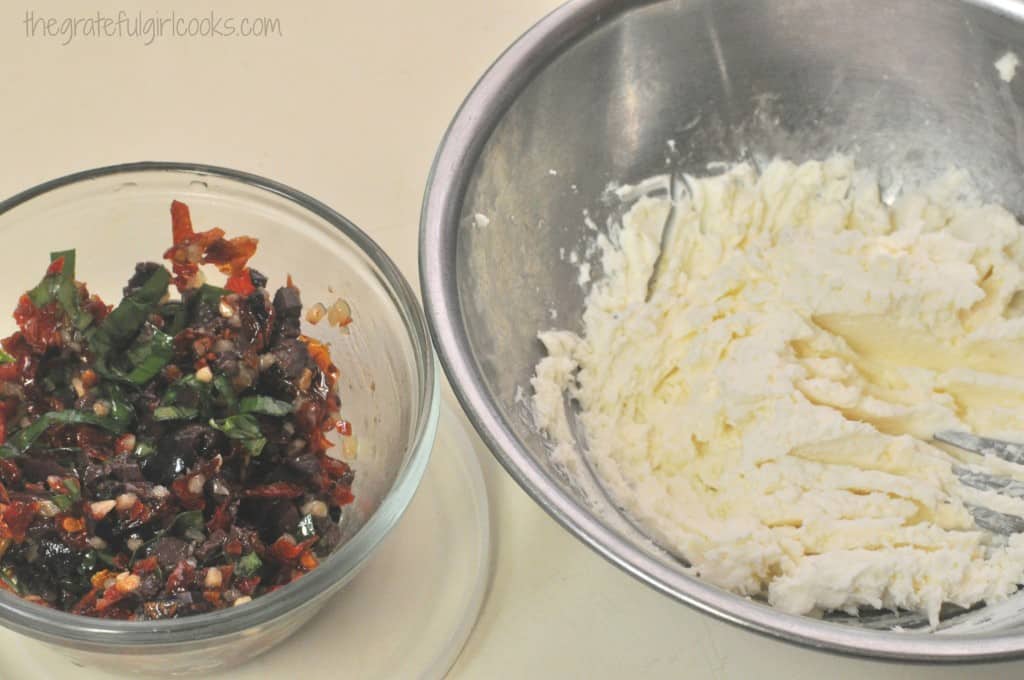 After baguette slices have cooled completely, spread some of the feta/cream cheese mixture onto each piece.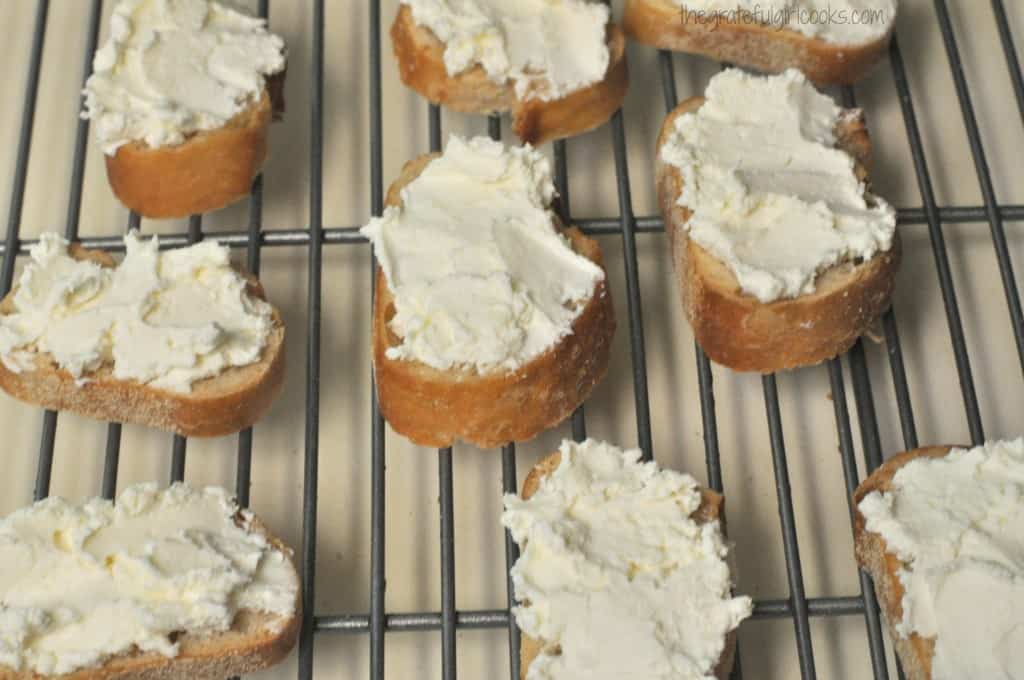 Top the cheese mixture with some of the tomato/olive/garlic and basil mixture (LOVE those Mediterranean flavors!)… place bruschetta onto platters…and serve!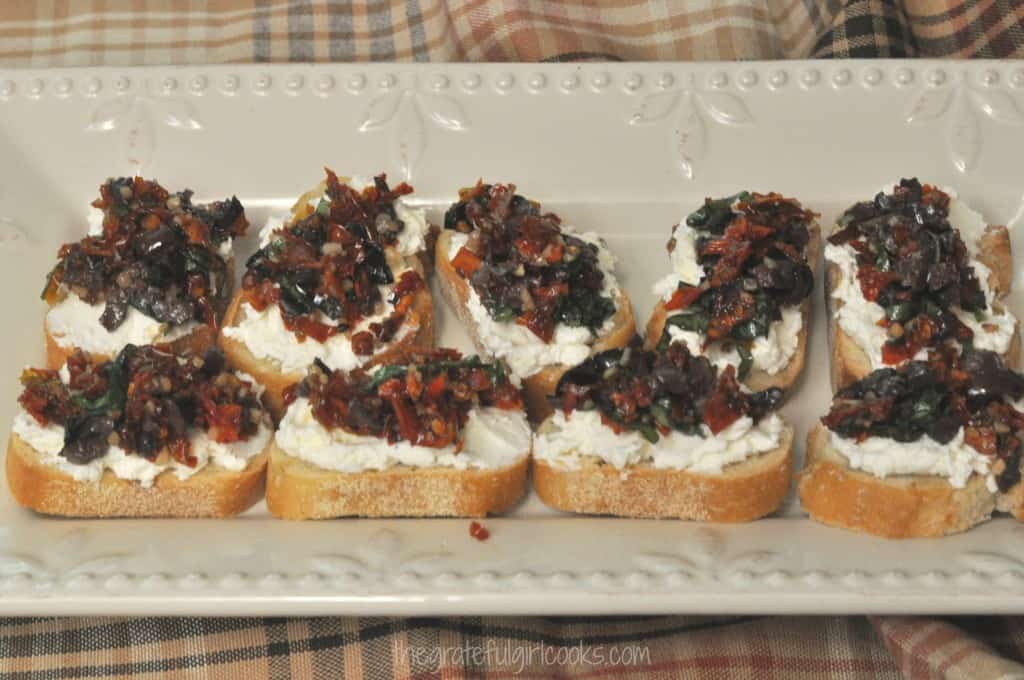 That's it! These are totally easy to prepare… they look good, and taste even better! Your guests will enjoy this flavor-filled appetizer! Best part is you can easily double or triple the recipe, as needed, depending on the number of guests!  Here's one piece I saved for YOU! Hope you enjoy it!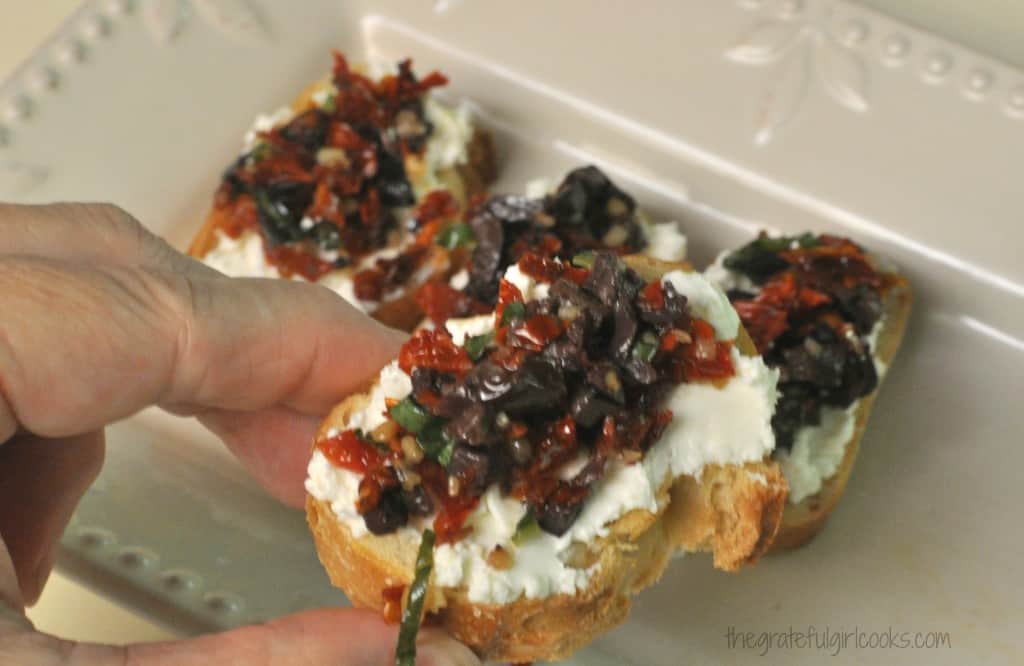 Have a wonderful day!  May you find moments of rest, gratitude, and fulfillment as you move throughout the busy-ness of this day!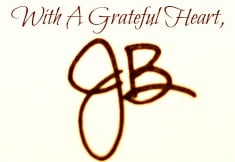 Recipe Source: http://www.garnishwithlemon.com/sun-dried-tomato-and-kalamata-olive-bruschetta/



Here's one more to pin on your Pinterest boards!

Save
Save