What a long title for a simple tip. "How To Keep Sliced Apples From Darkening Without Using Lemon Juice! Could I have possibly picked a longer title? Ha Ha.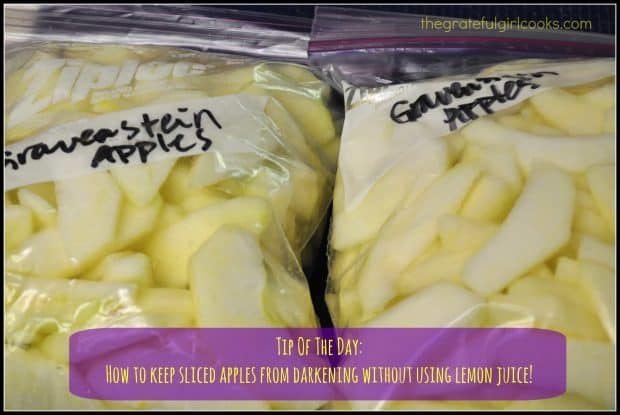 I pick apples from a local orchard each year. This year my husband and I picked 47 pounds of apples. That was the EASY part. Then comes the hard part…peeling and storing all those sliced apples in my freezer for my Fall baking.
A few years ago I stumbled upon an "old-fashioned" way to keep the sliced apples from turning dark by using a method utilized in the "olden days". This intrigued me, because I am constantly buying lemons (and they can be expensive) to use the juice to prevent discoloration of apples, once sliced.
Turns out the simple solution is…are you ready for it?  SALT and WATER. Yep…that's right! I guess it makes perfect sense. After all, salt IS a preservative, and now that I think about it, I've never heard of any pioneer women just reaching out and grabbing a lemon off their tree before making a pie. Hmmm… there just might be something to this!  So I tried it… and it works! I've prepared my sliced apples for storage this exact way for a couple years now and it works like a charm! I recommend it.
You simply place 1/2 cup of iodized salt in a large mixing bowl.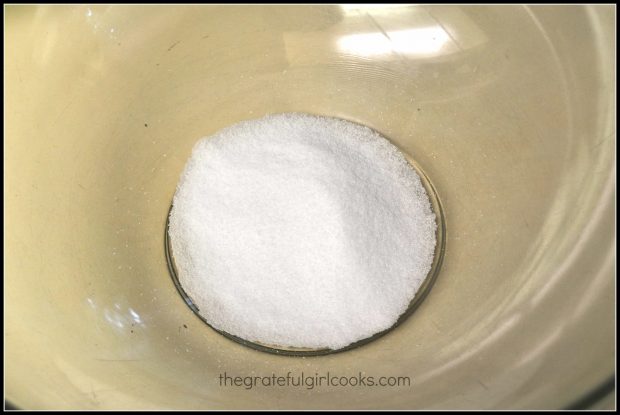 Add about 5 cups water; mix until combined. As you peel and slice the apples, just toss the apple slices into the salty water.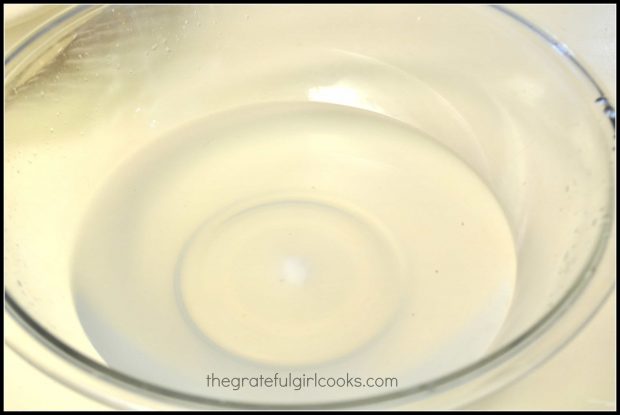 Mix the apple slices in the salty water and let them soak for a couple minutes. I slice 5-6 apples at a time in each batch.
Remove the slices; rinse and drain them under cool water in a colander or mesh strainer. Dry the slices off a bit, and pack 'em up in freezer bags. Seal them well, and they will last for quite a long time… I recently pulled some apple slices out of my freezer from last September and they were STILL just as white as the day I sliced them.
What a budget stretcher! Buy apples when they are on sale, and freeze some for a rainy day's baking! Hope you'll try this tip. It really works, and will save you some of your hard earned cash!
Save
Save
Save