I recently made a delicious and colorful Tomato, Basil and Three Cheese Tart. I found a recipe on Pinterest from a favorite blogger, tweaked the recipe very slightly, and enjoyed the results very much!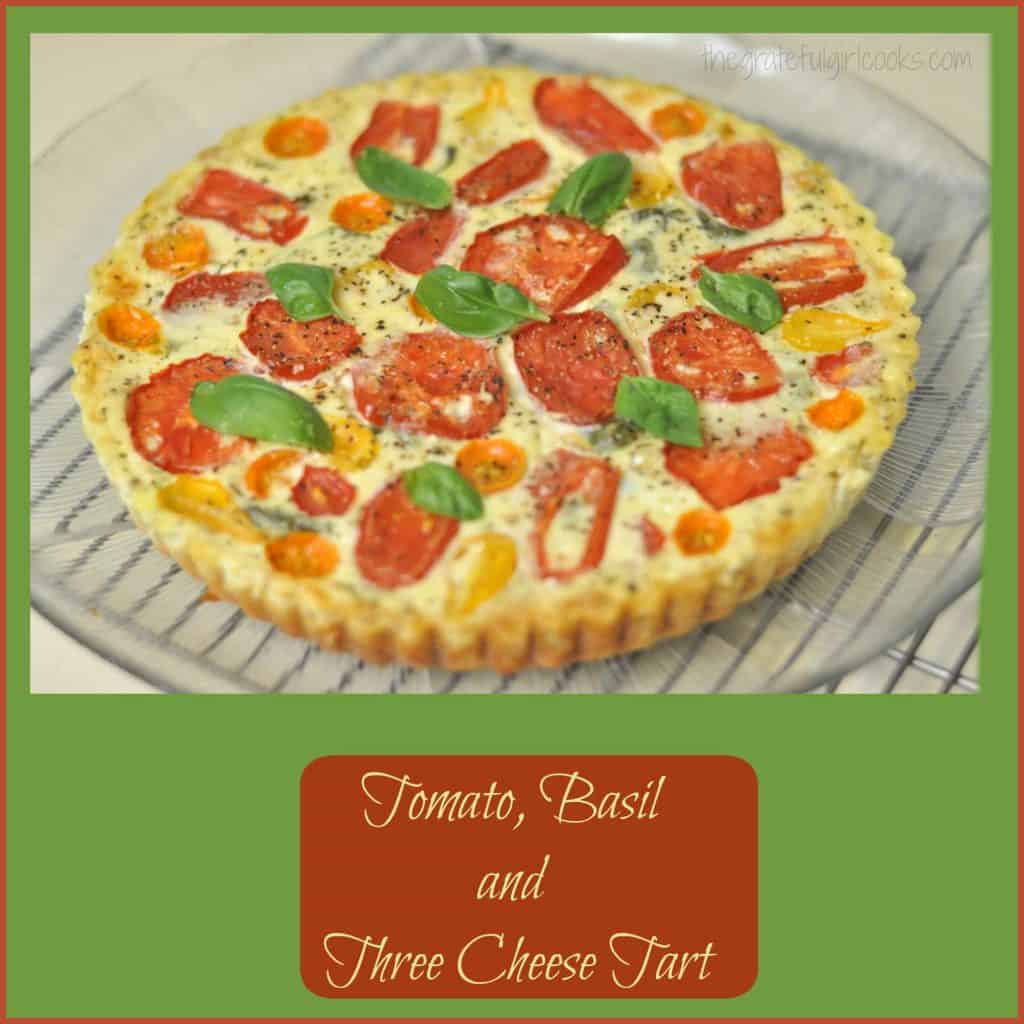 The recipe features a delectable (pat in the pan) crust, and is filled with quiche-style filling, with fresh mozzarella cheese, Parmesan cheese, and Ricotta cheese, plus fresh basil leaves, Italian spices, and is beautifully "crowned" with beautiful tomato slices for that pop of flavor and color!  Believe it or not, the recipe was not too hard to make, either! This dish is perfect for breakfast, lunch OR dinner. I think it would be fabulous to serve at a brunch!
Here's how you make this delicious tart:  Preheat your oven to 410 degrees F.  Place butter, oil, water, sugar and salt in an oven-proof bowl. Place bowl in preheated oven; cook for 15 minutes. Remove hot bowl from oven.  Add flour into the hot butter mixture. Stir this until the dough comes together and can be formed into a ball. Place the dough ball into a 10 or 11 inch tart pan (with a removable bottom).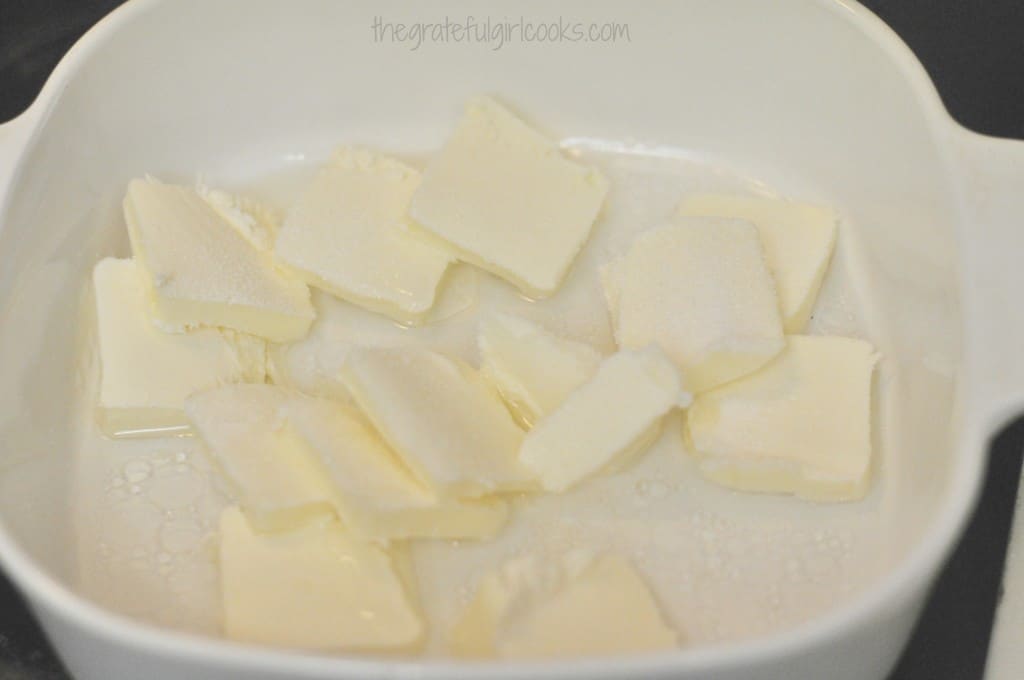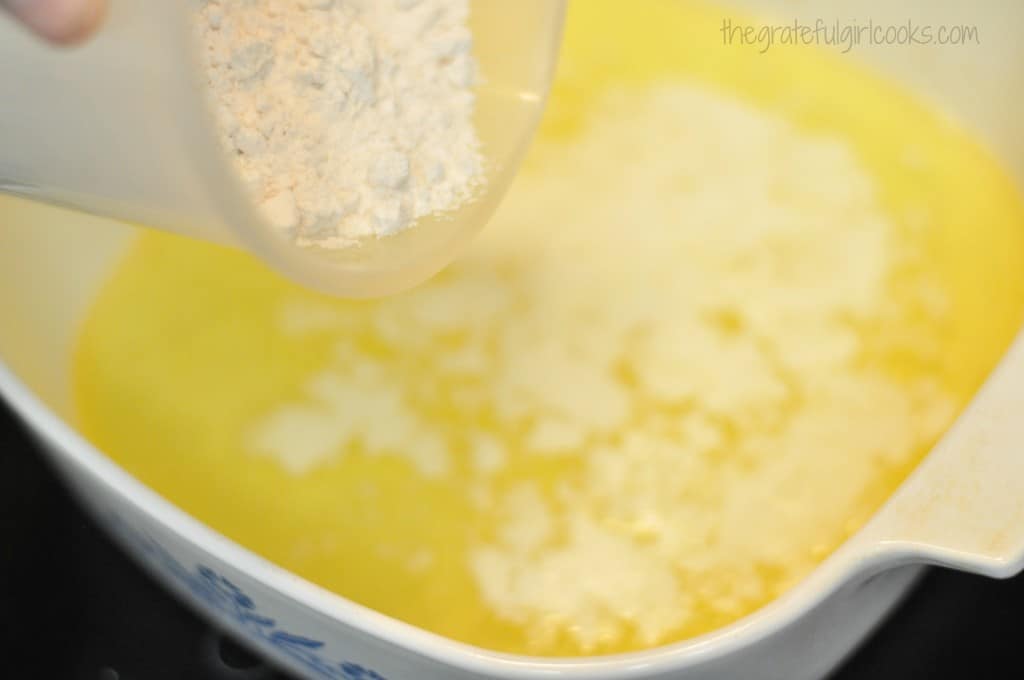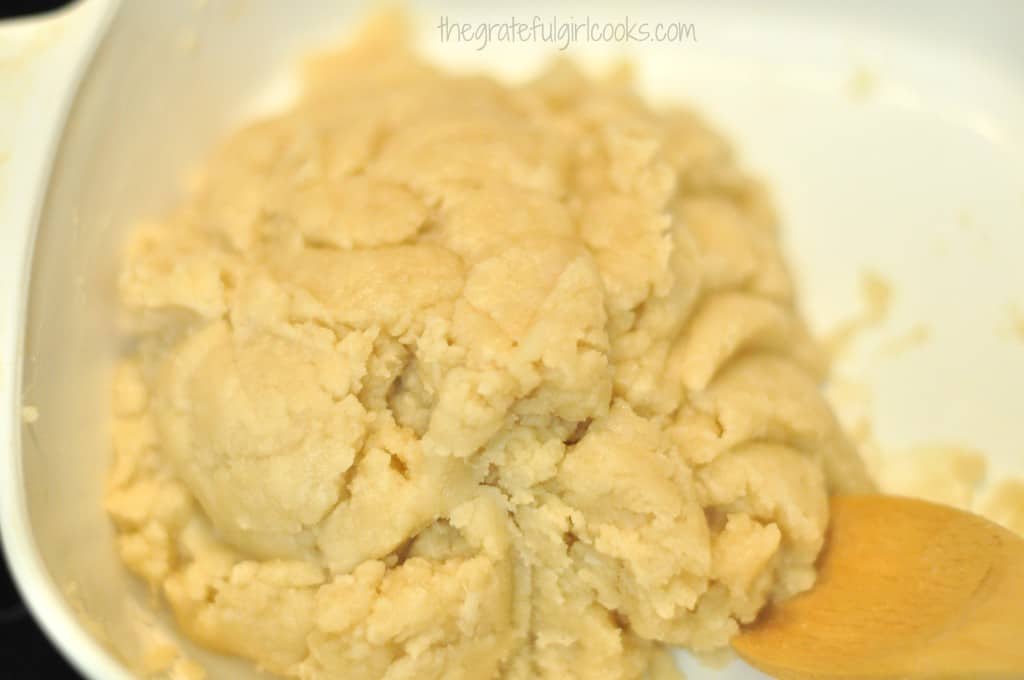 Once dough has cooled enough to handle, press the dough into the tart pan and up the sides to form a crust. (Hint from original recipe author: save a tiny bit of dough which can be used to repair any cracks in crust after baking).  Pierce the crust all over with the tines of a fork. Press the sides of the crust in the pan to help reinforce the crust. I used a fork to do this. Bake crust at 410 degrees for 15 minutes (until golden in color).  Remove crust from oven. If any cracks occurred, use the tiny bit of dough to do a quick repair job. Let crust cool.  Reduce oven temperature to 375 F. Place a long baking sheet into the heated oven (for later).
NOTE*** — I only had a 9 inch tart pan, so as you can see from my photos, I used the extra crust for two little tarts as well, then just divided the filling between the tarts. (The smaller crusts took a bit less time to cook).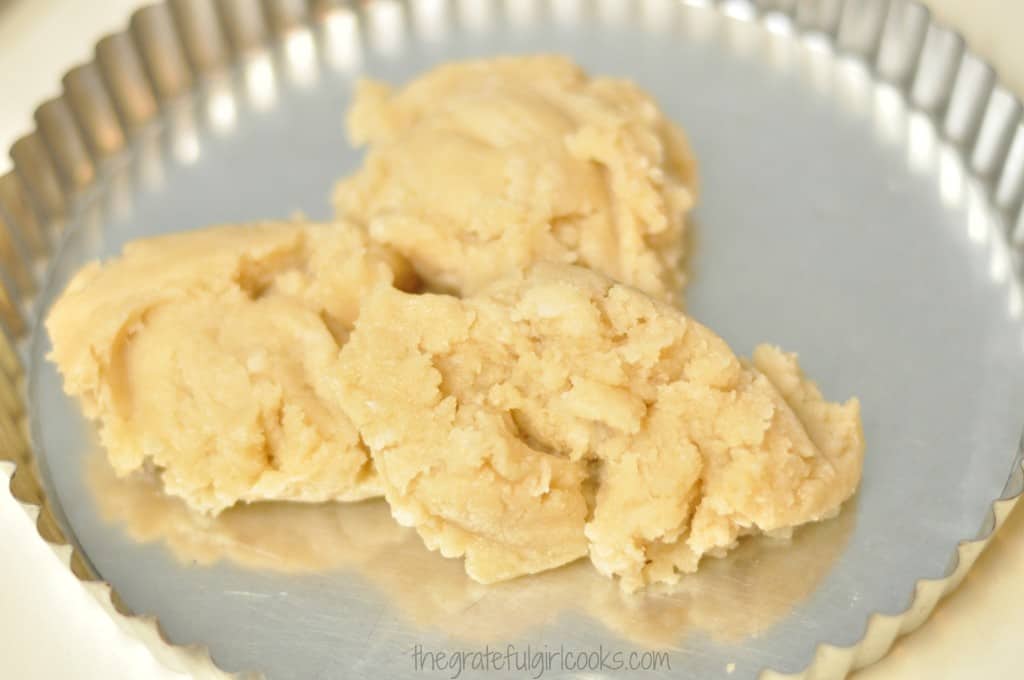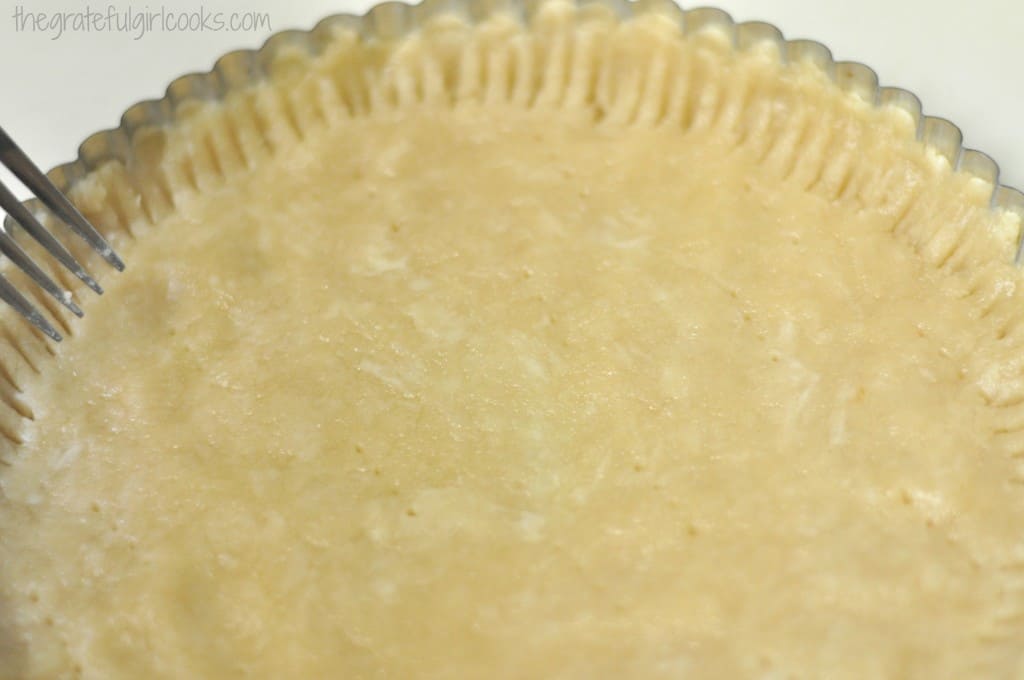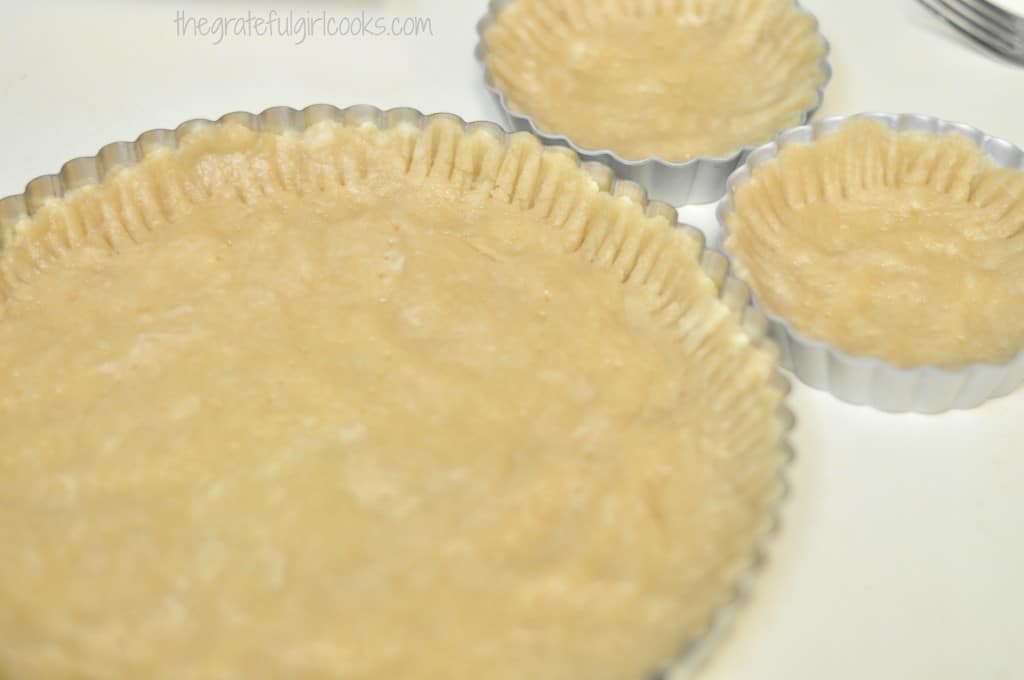 While you are baking crust or waiting for crust to cool down, combine the eggs, ricotta, Parmesan, half and half, Italian seasoning and salt in a medium bowl. Stir well to mix; once combined, add the small basil leaves and stir together. Set aside.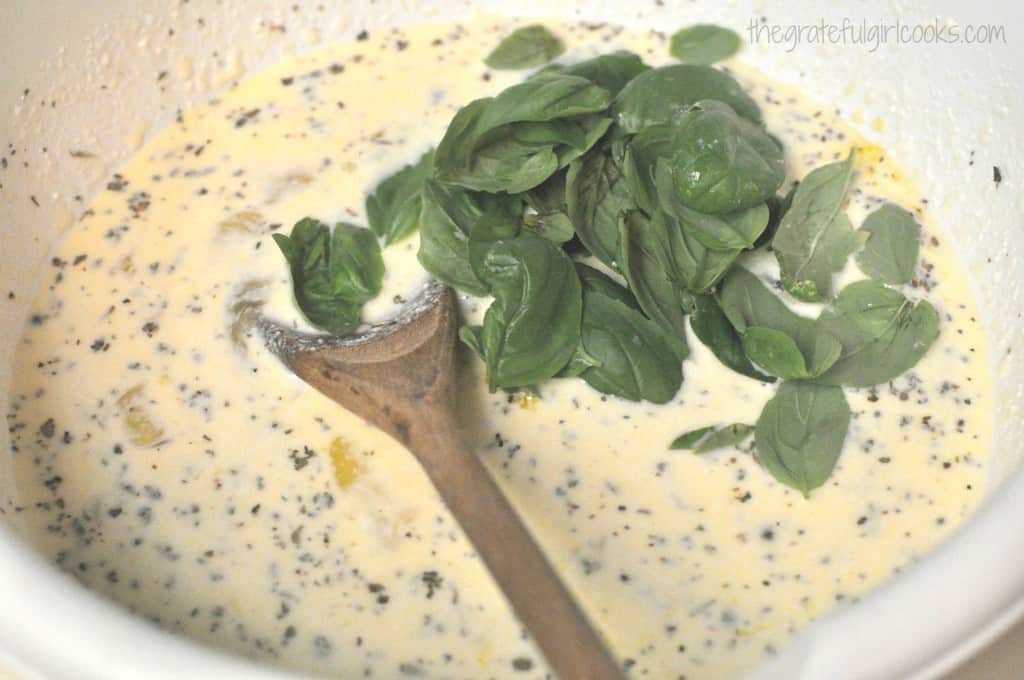 Slice tomatoes (1/4 inch slices). Place slices on top of several paper towel to let them drain a bit.  While the tart is in the oven baking, lightly brush the tops of each tomato slice with a bit of olive oil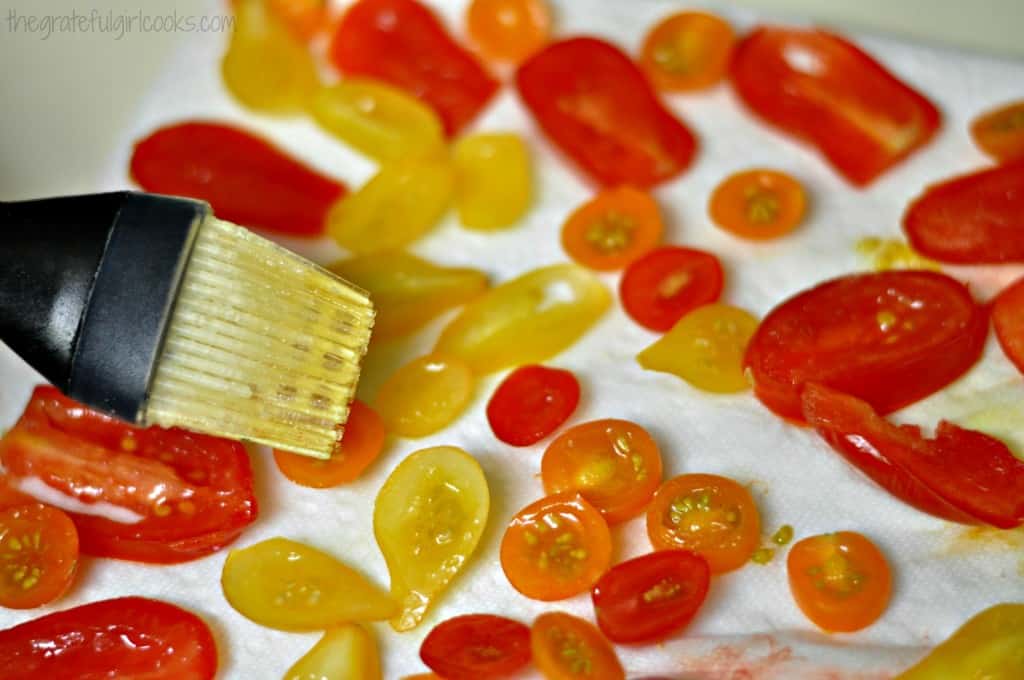 Once the tart crust has cooled completely, add the grated fresh mozzarella cheese and spread to cover bottom of crust. Pour the egg mixture over the top of the mozzarella cheese.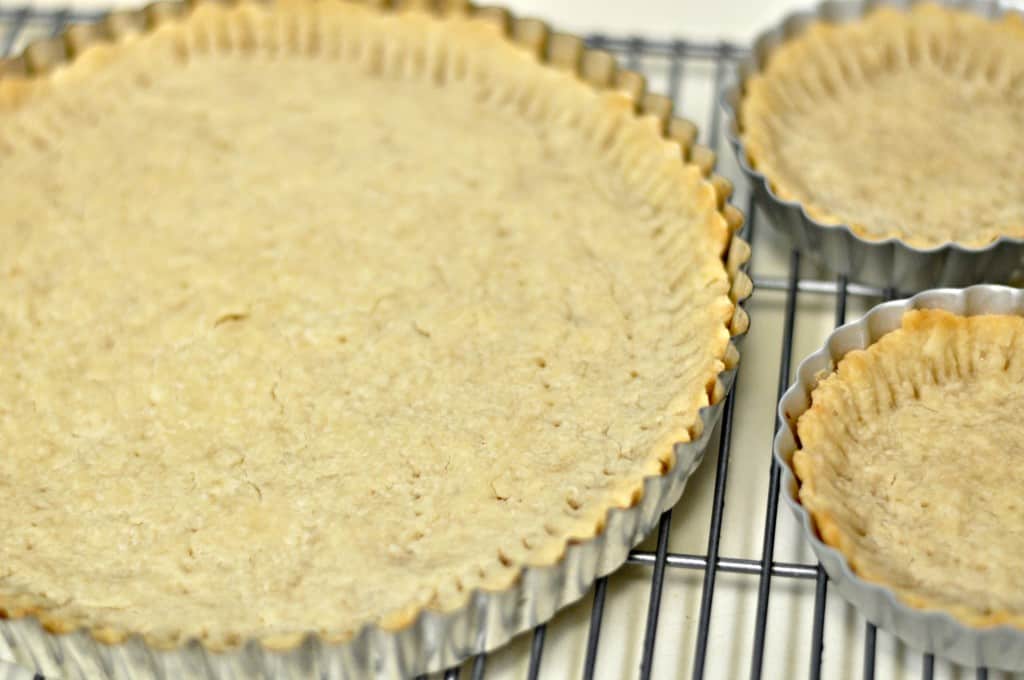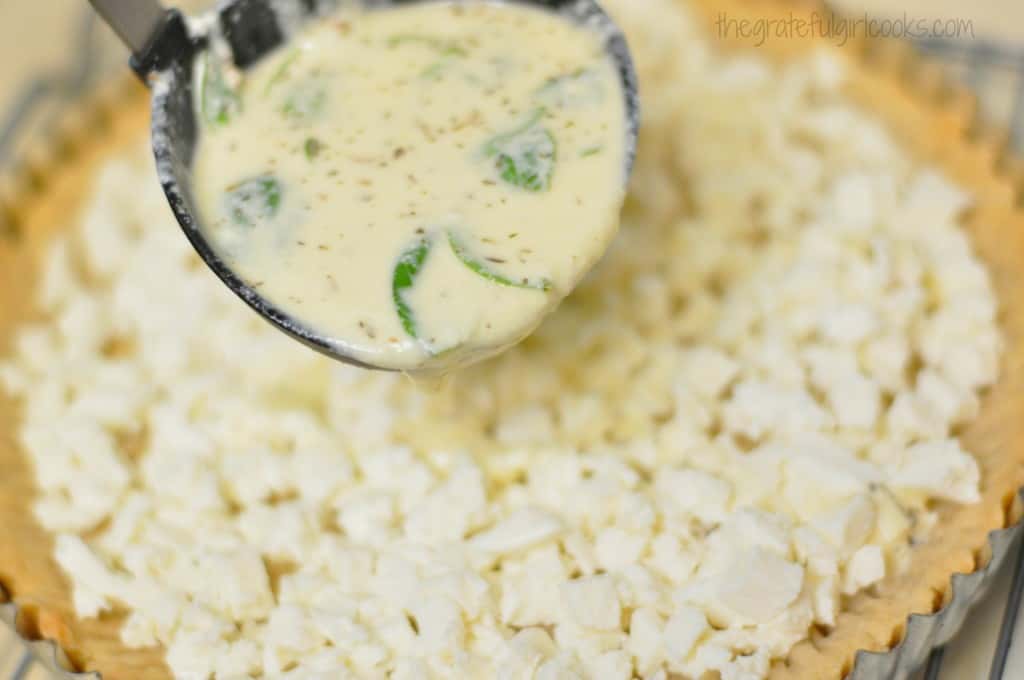 Place the tart onto the heated baking sheet (in the oven) and bake on the pan for 10 minutes at 375 F.
Remove tart from oven after 10 minutes; arrange the tomato slices on top of the tart. Sprinkle tomato slices with salt and black pepper. Place the tart back in the oven and continue to bake for an additional 15-20 minutes (mine took 20), until just set. (When you slightly wiggle the tart pan, the filling no longer "jiggles" back and forth). Remove the tart pan to a wire rack and let cool for at least 10 minutes before serving.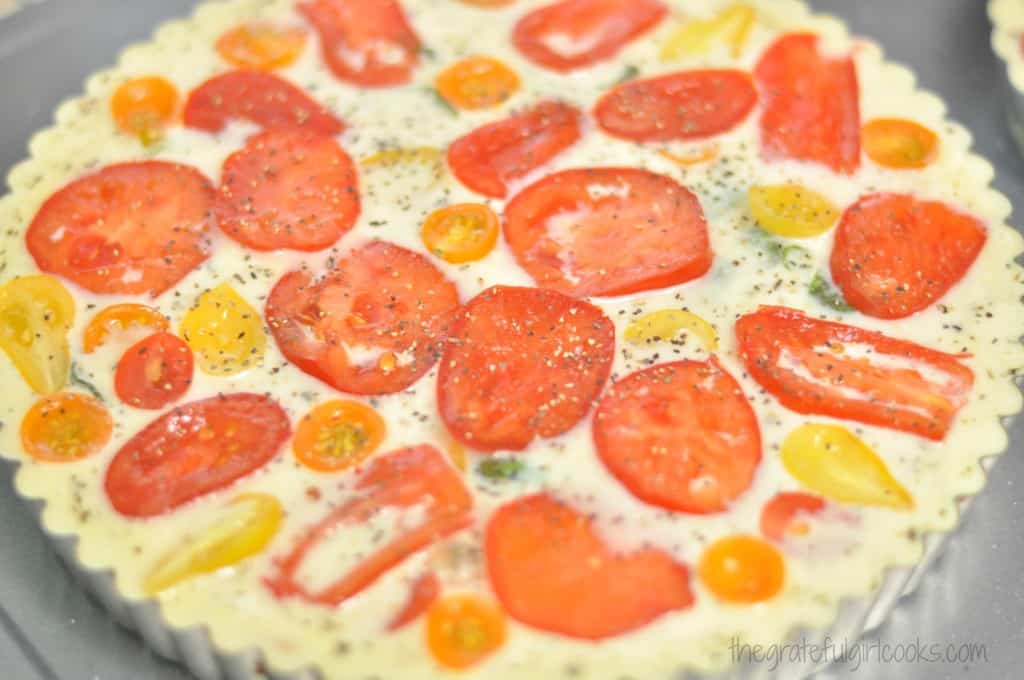 This is how they looked when they first came out of the oven. I already had taken the tart pan off the small ones, as they had cooked and cooled enough before the large tart was done. Aren't they gorgeous???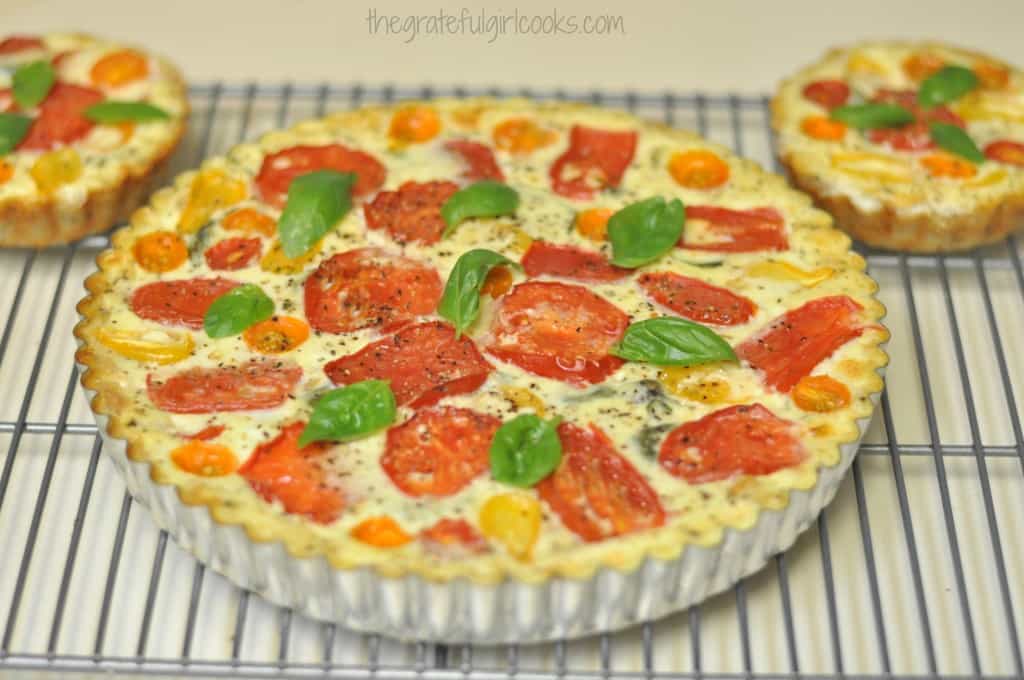 I kinda like the little bitty ones… they would be perfect to serve at a brunch!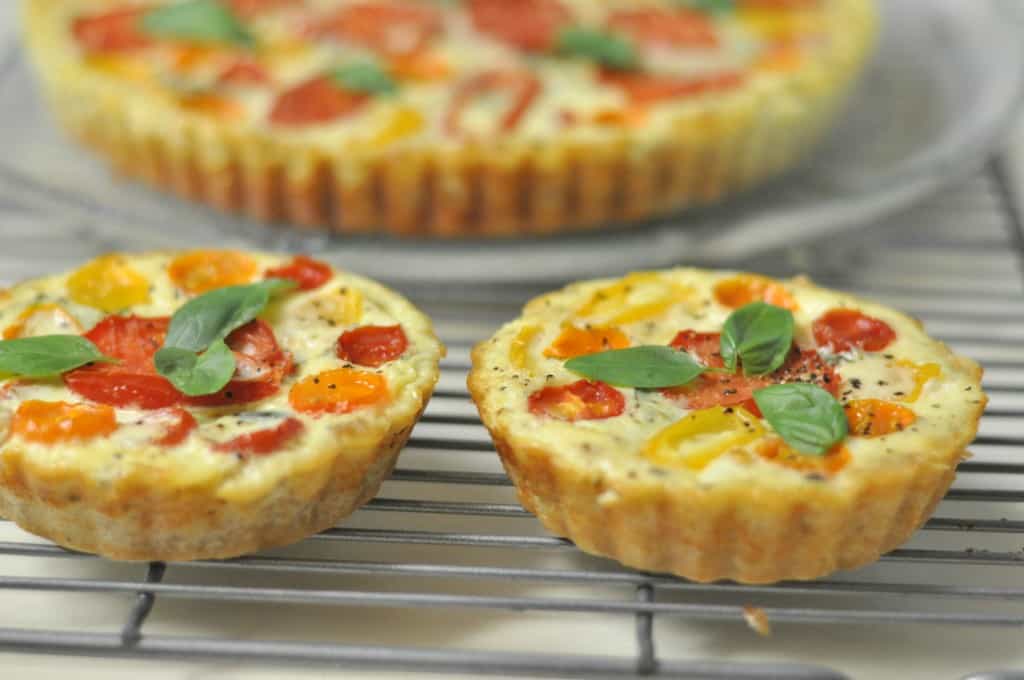 The tart can be served hot (after it rest for 10 minutes), or at room temperature. Either way is wonderful. Wrap leftovers well; will keep for several days if refrigerated.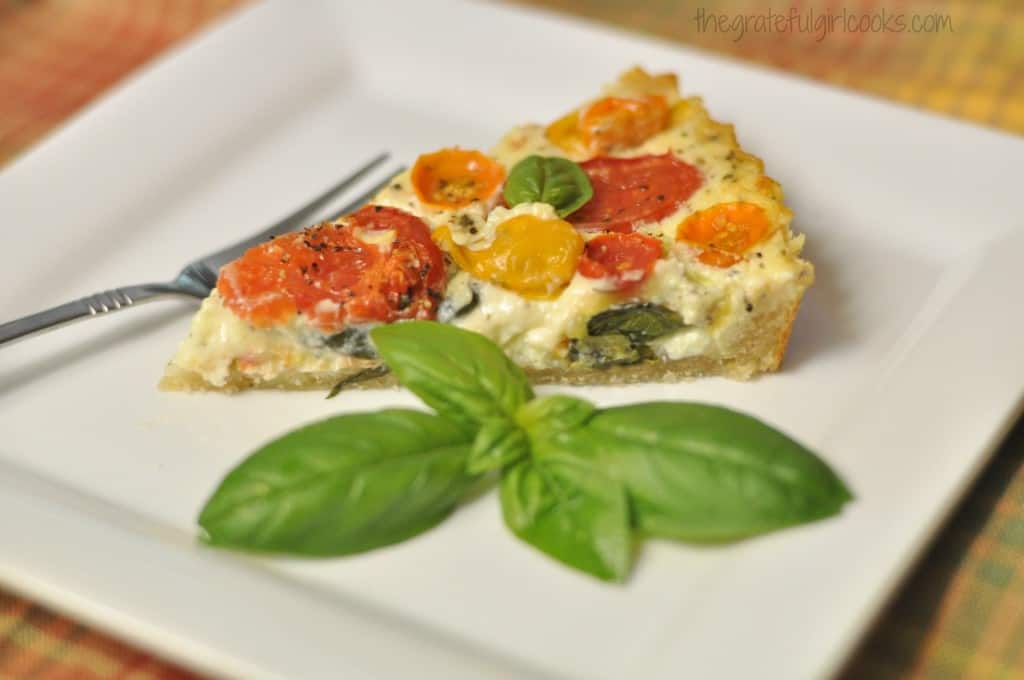 I hope you will consider trying to make this delicious tart, I loved being able to use fresh tomatoes and basil from our garden to make it! It was wonderful to have this tart hanging around in our refrigerator for a few days; it was so easy to grab a slice for lunch or breakfast!
Have a blessed day… we got a new puppy yesterday, so I am up to my eyeballs in "PUPPY" stuff. So tired, yet so very thankful for our new furry bundle of JOY!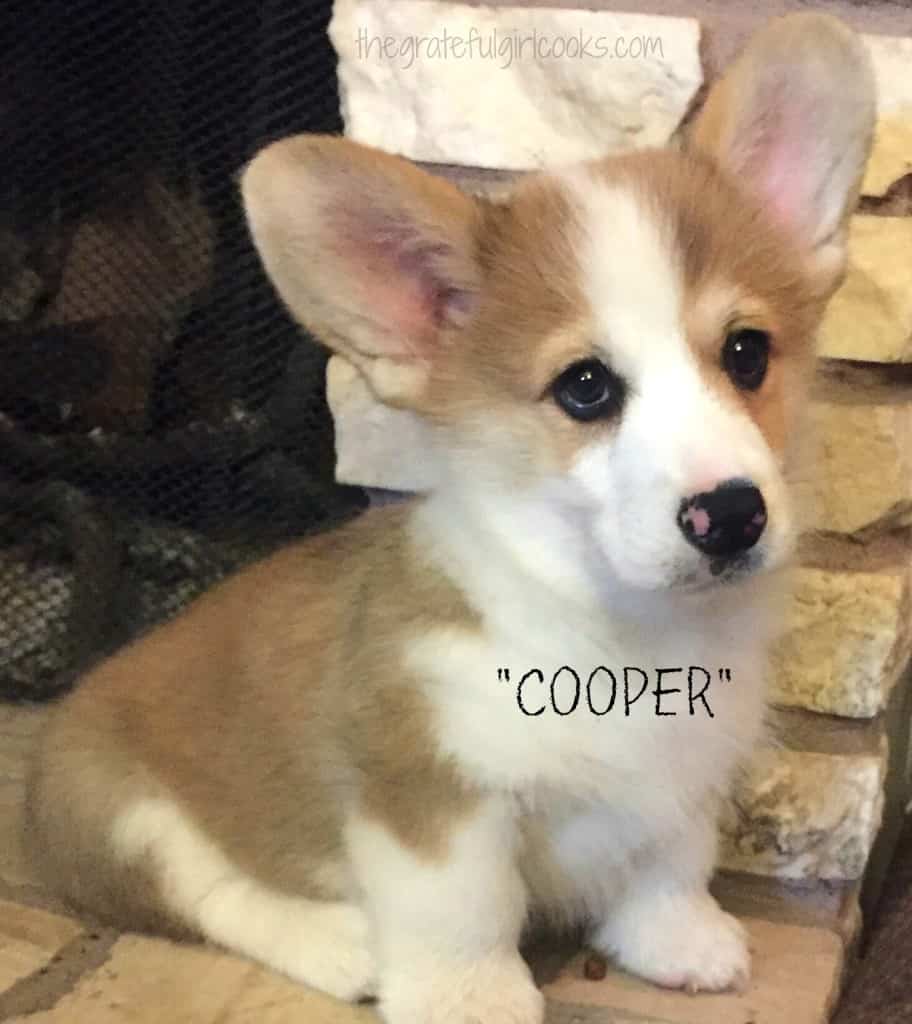 Recipe Adapted From: http://thecafesucrefarine.com/2016/06/tomato-basil-fresh-mozzarella-tart/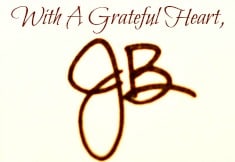 Recipe Source: http://thecafesucrefarine.com/2016/06/tomato-basil-fresh-mozzarella-tart/

Save
Save
Save
Save
Save
Save
Save
Save