What's a girl to do when her husband is out of state at a seminar and she can't sleep? Make these amazing Banana Crumb Muffins at 5:00 AM… that's what!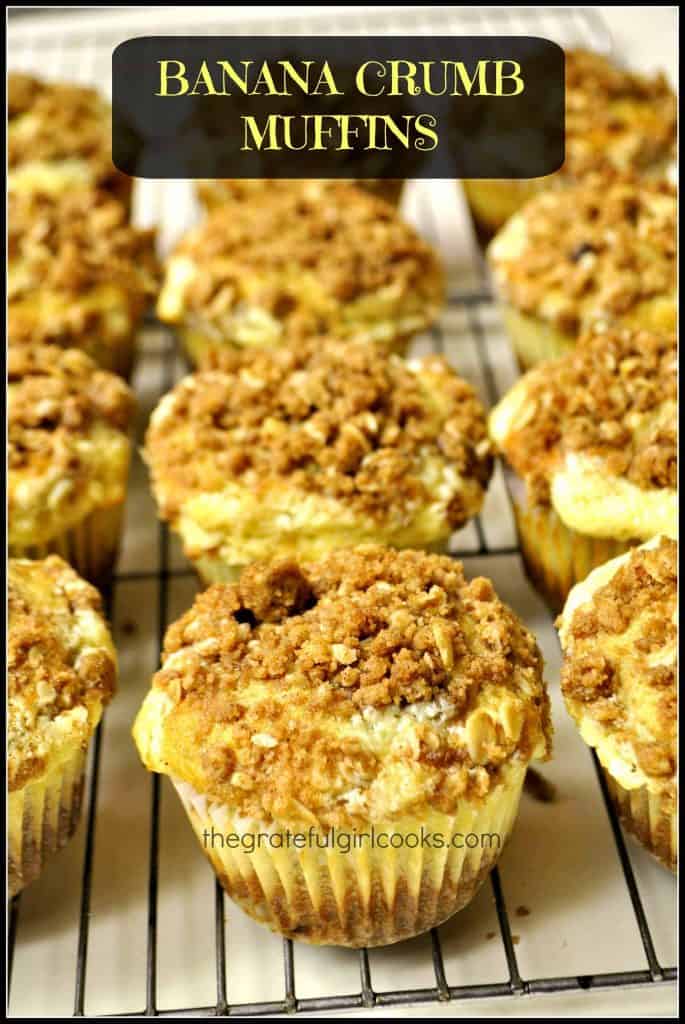 I recently found this recipe on a blog that I love… "The Café Sucré Farine", and thought I would give these muffins a try. I highly recommend this fantastic website and it's author, Chris Scheuer. She is very creative and posts wonderful recipes, along with great photography by her husband, Scott!
Anyways, I woke up very early after only 3 hours sleep and decided to whip up these muffins. They sounded great, and I loved the little surprise of a cream cheese filling, along with a crumbly topping. I compare these muffins to a really, REALLY good banana nut bread… on steroids. So delicious!
The muffins are made with a layer of banana muffin batter, a layer of cream cheese filling, another layer of banana muffin batter, and crowned with a brown sugar, cinnamon and pecan . crumb mixture on top. Oh man… these are SO good!
Bake 'em for about 18-20 minutes, and BOOM! These absolutely moist and delicious muffins are done and ready to gobble up! This recipe is so easy, I could even follow it after only 3 hours of sleep (yep… I don't sleep well when the hubby is gone). I enthusiastically recommend these moist, delicious Banana Crumb Muffins. The recipe makes 12 servings, and they freeze well. Hope you will give them a try!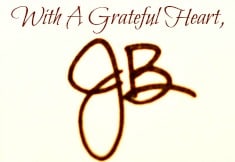 Recipe Source: http://thecafesucrefarine.com/2011/04/banana-crumb-muffins/

Banana Crumb Muffins
Crumb-topped, moist and delicious banana muffins, enhanced by a cream cheese filling in the middle.
As Prepared By:
JB at The Grateful Girl Cooks!
Ingredients
For Muffins:
1½ cups all-purpose flour
1 teaspoon baking soda
1 teaspoon baking powder
½ teaspoon salt
3 very ripe bananas, mashed
¾ cup granulated sugar
1 egg, slightly beaten
⅓ cup butter, melted
For Cream Cheese Filling:
4 oz. cream cheese, softened
3 Tablespoons granulated sugar
1 Tablespoon flour
½ teaspoon vanilla
1 egg, slightly beaten
For Crumble Topping:
2 Tablespoons packed brown sugar
4 Tablespoons all-purpose flour
2 Tablespoons old-fashioned oats
2 Tablespoons finely chopped pecans or walnuts
½ teaspoon cinnamon
pinch of salt
2 Tablespoons butter, melted
Directions
Preheat oven to 375 degrees. Line a standard muffin tin with 12 muffin wrappers or spray lightly with a non stick spray.
Prepare the muffin batter in a large bowl: Mix the 1½ cups flour, baking soda, powder and salt together. In a separate bowl, beat the bananas, sugar, egg and melted butter. Add the banana mixture to the dry ingredients and mix only until ingredients are combined and moist. Do not over mix. Set aside.
Make the Cream Cheese Filling: In a separate bowl, mix together the softened cream cheese, sugar, flour, egg and vanilla. Mix these ingredients until well blended. Set aside.
Make the Crumb Topping: Mix together the brown sugar, flour, oats, cinnamon and butter in a small bowl. Use a fork to combine; mix until the mixture becomes small crumbs. Set aside.
To prepare/layer the muffins: Spoon one half of the muffin batter into the bottom of the prepared muffin cups. Top the muffin batter with a Tablespoon of the Cream Cheese Filling. Top the Cream Cheese filling with the remaining half of the muffin batter. You should have three layers: Muffin Batter, Cream Cheese Filling, Muffin Batter. Now sprinkle the top of each muffin with the Crumb Topping to cover. Total of four layers!
Bake the muffins in a 375 degree oven for 18-20 minutes (mine took 20), or until a toothpick inserted into the middle of the muffin comes out clean. Remove the muffin pan to a wire rack to cool.
Enjoy!
Notes

**TIP: Once you remove the muffins from oven, If the muffin is spilling over the top of the pan, simply take a butter knife and gently but quickly push the muffin back into the pan on all of it's sides. This tends to round the muffin off and make for a prettier presentation. The recipe's author suggested this and I did it... it works!


Here's one more to pin on your Pinterest boards!

Save
Save
Save