My husband LOVES Creme Brulee. My husband LOVES chocolate. So when I found this recipe for Chocolate Creme Brulee, how could I go wrong? Chocolate AND Creme Brulee???… whoa. That's a winning combo, in my book!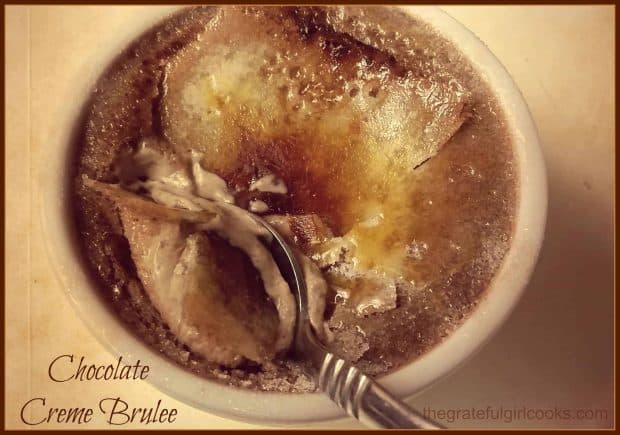 I found the original recipe on Pinterest a while ago, and finally decided to try a chocolate version of this classic dessert. My husband had just finished taking a few more continuing ed. classes that he is required to take every couple of years to renew his Real Estate Appraisal License, and I wanted to celebrate with one of his favorite desserts! He was pleasantly surprised… and enjoyed these very much!
If you like creme brulee, I highly recommend this delicious chocolate version. If you are also considering making a non-chocolate version, you can check out one of my earlier posts for making Classic Creme Brulee: http://www.thegratefulgirlcooks.com/classic-creme-brulee/. I think you will love it! This delicious treat is a nice and easy, yet impressive dessert to serve to those you love. I have a creme brulee set (a birthday present from years ago), but the directions I've given include a way for you to make these without specialty pans. All you will need are four 6oz. ramekins and a cake pan.
Creme Brulee is so easy to prepare, and there's nothing more fun than to crack into the hardened sugar "shell" on top (that hardened sugar shell, thanks to a handy butane kitchen torch!)
Sure hope you enjoy this delicious dessert!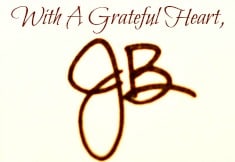 Recipe Source: http://www.melangery.com/2013/02/chocolate-creme-brulee-have-most.html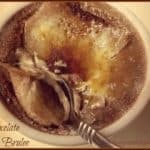 Chocolate Creme Brulee
Rich, creamy Chocolate Creme Brulee. Truly classic dessert!
Calories Per Serving
:
674
kcal
Ingredients
2

cups

heavy whipping cream

1/4

cup

granulated sugar

1

pinch

salt

3

oz.

bittersweet chocolate

, finely chopped

1

teaspoon

vanilla extract

3

egg yolks

4

Tablespoons

granulated sugar

(For garnishing the top of the cooked creme brulee)
Instructions
Preheat your oven to 300 degrees.

If you are preparing this in a standard creme brulee pan and rack, simply prepare the recipe, add the boiling water to the pan and bake, per instructions. If you are preparing this without a creme brulee pan, this is what you do: Take a tea towel and get it damp. Lay it in the bottom of a large baking pan (with sides). The damp towel is so the dishes don't move around while baking.

Bring a large pot of water to a full boil. While the water is boiling, prepare the recipe.

Place the finely chopped chocolate pieces into a heatproof bowl.

Add the whipping cream, 1/4 cup sugar, and the salt to a saucepan. Stir and cook over medium heat for approximately 5 minutes (until you can see the steam beginning to rise). Do not boil. Remove the hot cream mixture and pour it over the chocolate pieces. Let it stand for a couple minutes, then whisk it to combine. Mixture should be smooth.

Beat the egg yolks and vanilla in a medium sized bowl until they are smooth.

Slowly and in a very thin stream, pour (just a little at a time) the hot chocolate mixture into the egg yolk mixture, whisking constantly. You don't want the eggs to scramble, so trust me, do this slowly and stir continually.

Once mixture is fully incorporated and smooth, pour the mixture into four 6 oz. ramekins.

Carefully place the ramekins on the towel sitting in the baking pan. Place the pan onto a middle baking rack. Now carefully pour the boiling water into the pan (but of course NOT into the ramekins!). Pour the boiling water in the pan until it reaches about half way up the sides of the ramekins. Loosely cover the entire pan with aluminum foil.

Bake in a 300 degree oven for 25-30 minutes. The custard should just be "set" at this point.

Remove baking pan from oven; remove ramekins. Chill the ramekins for 4-6 hours (can even chill overnight!), to ensure they are fully "set" and cold. Right before you serve, sprinkle 1 Tablespoon granulated sugar over the top of each ramekin. Use a kitchen torch to brown/crystallize the top OR place under the oven broiler to brown (about 2-3 minutes).Enjoy!
Nutrition Facts
Chocolate Creme Brulee
Amount Per Serving (1 serving)
Calories 674
Calories from Fat 495
% Daily Value*
Total Fat 55g 85%
Cholesterol 310mg 103%
Sodium 63mg 3%
Potassium 224mg 6%
Total Carbohydrates 39g 13%
Protein 5g 10%
* Percent Daily Values are based on a 2000 calorie diet.
Save
Save
Save
Save