Chocolate chip orange scones with citrus glaze, are a delicious treat for breakfast, brunch or an afternoon snack!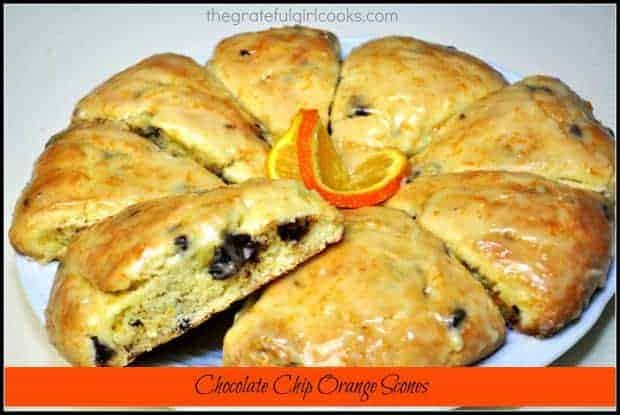 These chocolate chip orange scones are my "all-time favorite"! I LOVE them! When I worked full-time (for almost 30 years), I would occasionally bring plates of them to the office, to share with my friends. They were always a big hit… and I always returned home with empty serving plates!
Now that I have my own blog (to share favorite recipes with family and friends in one convenient location), I decided to share this special recipe with you. I've been making them for over 20 years, and I am sure you will LOVE these scones!
Scroll Down For A Printable Recipe Card At The Bottom Of The Page
Do You Love SCONES?
If you love scones, I hope you will consider checking out some of the other recipes for them I have on this blog, like Apple Cinnamon, Lemon Cream, Cranberry Orange, Cinnamon Chip or Banana Nut, to name a few. All my recipes can be found in the Recipe Index at the top of this page! Here's a few photos to tempt you!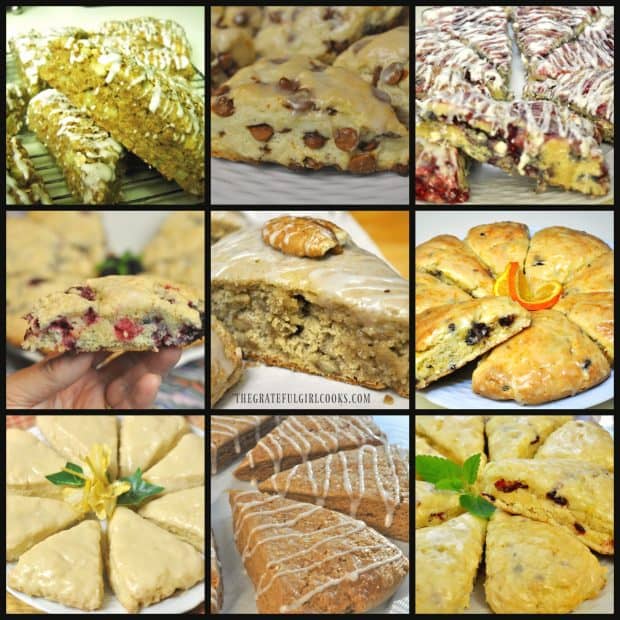 I made a batch of these chocolate chip orange scones this morning. It was a brisk 36 degrees outside; a gorgeous Pacific Northwest kind of day (thank you, God, for the beauty all around). My husband and I discussed our plans for the day while enjoying a scone, accompanied by our cups of "strong" coffee. Ahhhh… delicious!
Chocolate and orange are a favorite flavor combination of mine, and these scones, with their sweet citrus glaze on top, are "practically perfect in every way". What a great way to start the day (and much less expensive than buying them at a local coffee house!) Give them a try… I hope you enjoy them as much as we do!
Making Chocolate Chip Orange Scones
Here's a few pics showing how to make them: First you mix up the ingredients for the dough…(I used a food processor, but you can also use a small pastry blender).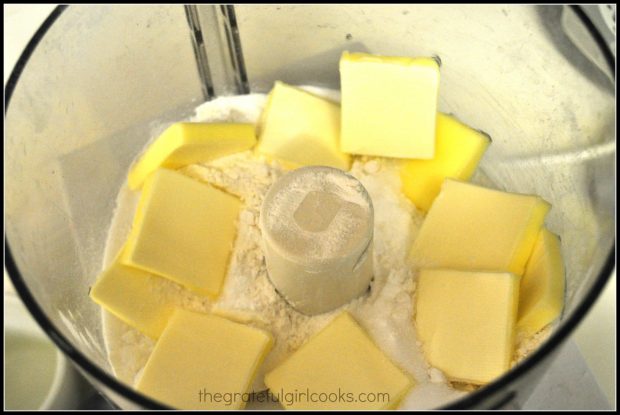 The grated orange peel makes the dough smell good and "citrusy", and helps add in citrus flavor!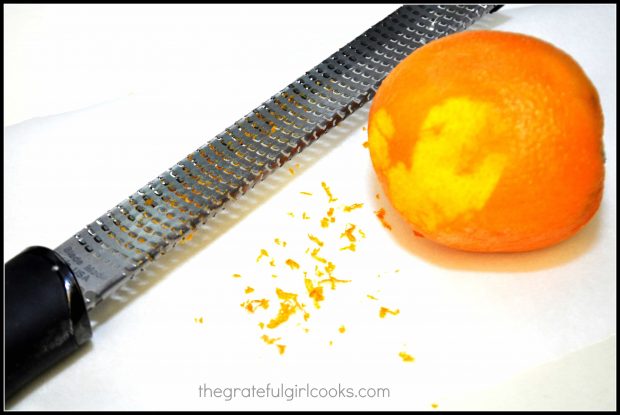 Forming The Dough For Chocolate Chip Orange Scones
Shape the dough into a circle after all the dough ingredients have been mixed together. Look at those chocolate chips and orange zest!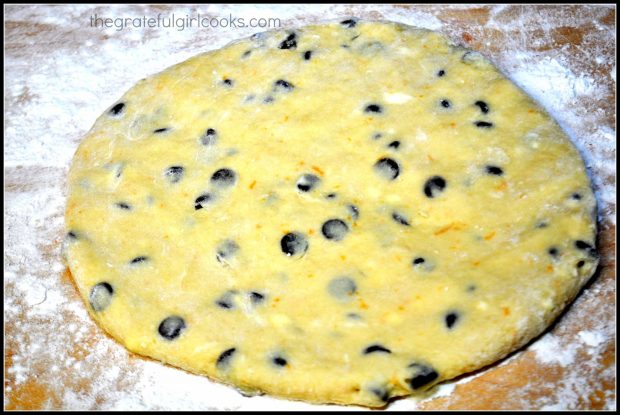 Next, cut the dough circle into 8 pie-shaped wedges, brush the tops with egg white/water combo, and into the oven they go. I like to use a pizza cutter to make the cuts.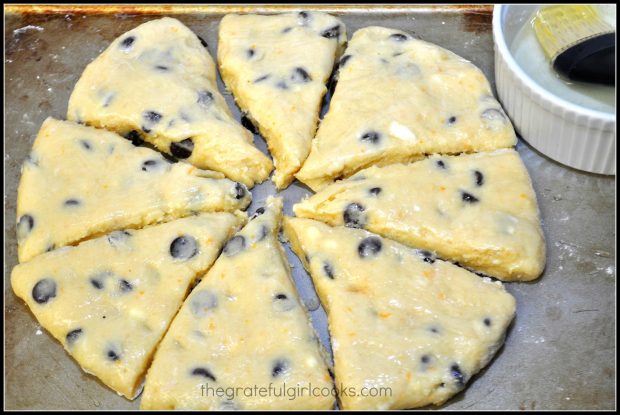 Prepare The Citrus Glaze While Scones Bake
While the scones are baking, mix up the orange glaze…see all the orange zest? This glaze is made with orange juice, orange zest, orange extract, vanilla and powdered sugar.
That's a lot of citrus flavor! The glaze will be brushed onto the scones once they have been baked and completely cooled. It's the most wonderful topping, and adds so much additional citrus flavor to the chocolate chip orange scones.!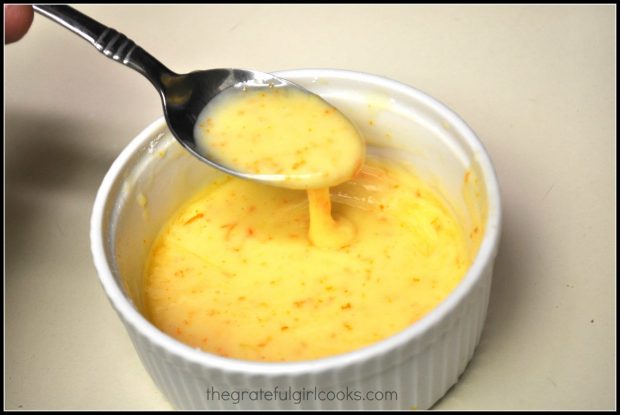 Glaze The Baked Chocolate Chip Orange Scones
Here are the chocolate chip orange scones, golden brown and hot, straight out of the oven. Now they just need a shiny orange glaze after they've cooled, to make them PERFECT!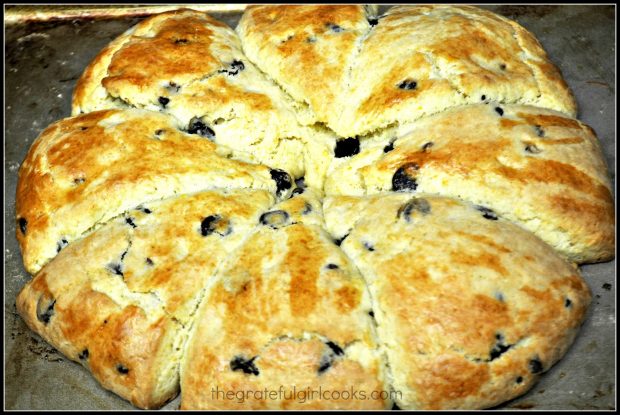 "Painting" the citrus glaze onto the scones with a pastry brush gives them an extra burst of flavor, plus a beautiful shiny top!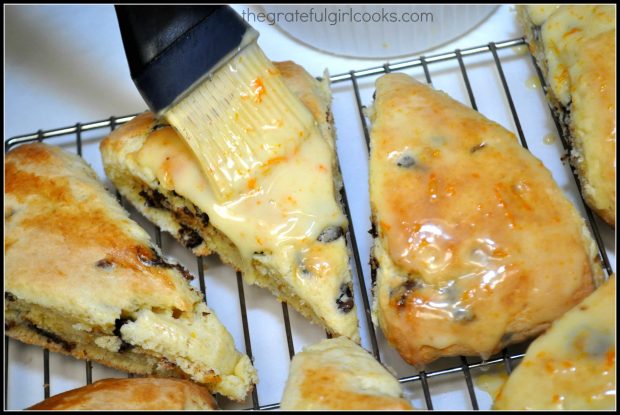 Ready To EAT!
Let the chocolate chip orange scones cool until the glaze firms up. All that's left to do is take a big bite, and enjoy!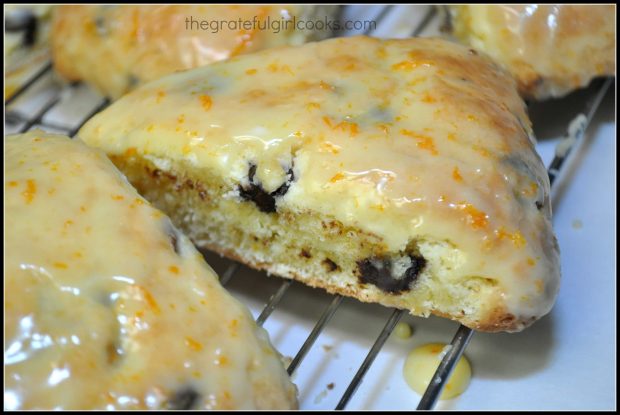 Update: I made some this past Christmas (2015) for breakfast for my husband, myself, and our two grown sons. Here's a picture. These scones sure disappeared in a flash!!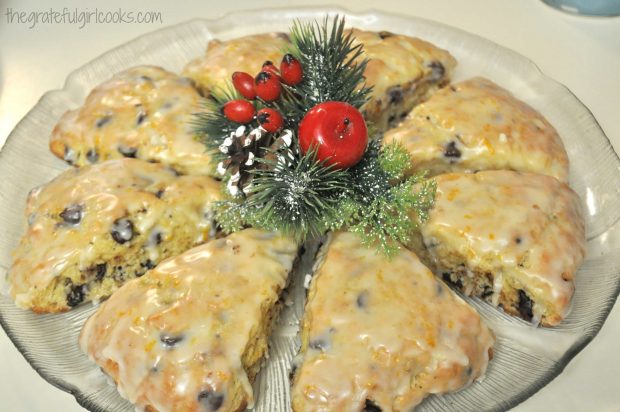 Sure hope you enjoy these easy to make chocolate chip orange scones! I think you will love them as much as our family does! Have a GREAT day, and thanks for stopping by!
Interested In More Recipes?
Thank you for visiting this website. I appreciate you using some of your valuable time to do so. If you're interested, I publish a newsletter 2 times per month (1st and 15th) with all the latest recipes, and other fun info. I would be honored to have you join our growing list of subscribers, so you never miss a great recipe!
There is a Newsletter subscription box on the top right side (or bottom) of each blog post, depending on the device you use, where you can easily submit your e-mail address (only) to be included in my mailing list.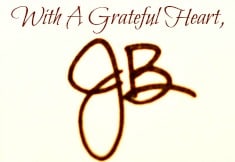 Original Recipe Source: unknown
↓↓ PRINTABLE RECIPE BELOW ↓↓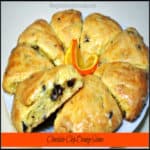 Chocolate Chip Orange Scones
Chocolate chip orange scones with a citrus glaze, are a delicious and easy to make treat for breakfast, brunch or an afternoon snack!
Keyword:
chocolate chip orange scones
Calories Per Serving
:
458
kcal
Ingredients
For scones:
2

cups

all-purpose flour

1/3

cup

granulated sugar

2

teaspoons

baking powder

1/2

teaspoon

salt

1/2

cup

(1 cube) unsalted butter, very cold

2

large eggs

1/4

cup

orange juice

1

teaspoon

vanilla

1/2

teaspoon

grated orange peel

(finely grated; I use a micro-plane zester)

3/4

cup

semi-sweet chocolate chips

(regular or mini-sized)

1

egg white + 1/2 tsp. water
For glaze:
1 1/2

cups

powdered sugar

(can always add more if you need extra)

1/4

teaspoon

vanilla extract

1/4

teaspoon

orange extract

(I use it for enhanced flavor, but optional)

1

teaspoon

grated orange zest

3-4

teaspoons

orange juice (until you get the right consistency of glaze to

"paint" on the scones)
Instructions
Preheat oven to 425 degrees. In a food processor (or cut in by hand with a pastry blender in a large bowl), mix flour, sugar, baking powder, salt and chilled butter together until well combined.

In a separate bowl, mix together the eggs, orange juice, vanilla, and grated orange peel. Add egg mixture to the flour mixture; combine till fully blended.Stir in chocolate chips. Mix well, to fully combine.

Transfer dough onto a well-floured surface. Knead dough with floured hands until dough comes together...(continue to sprinkle the dough and surface with additional flour as needed, as dough is usually fairly "sticky"-I usually do this 3-4 times). Shape dough into an 8" circle.

Mix egg white and water together in small bowl. Using a pastry brush, brush the tops of the scones with this mixture. Using a pizza cutter or very sharp knife, cut the dough circle into 8 pie-shaped wedges.

Spray a baking sheet with cooking spray. Place wedges on baking sheet and bake at 425 degrees for 20-25 minutes (mine are usually ready at the 20 minute mark), or until golden brown on top. When done, remove from oven; transfer scones to a wire rack, with foil or parchment paper underneath.

When scones have slightly cooled, "paint" the glaze on with a pastry brush (glaze is made by mixing up the ingredients listed, in a small bowl). Completely cover the tops of the scones with the glaze. Let scones cool until glaze has hardened., then serve, and enjoy!
Nutrition Facts
Chocolate Chip Orange Scones
Amount Per Serving (1 scone)
Calories 458
Calories from Fat 171
% Daily Value*
Fat 19g29%
Cholesterol 72mg24%
Sodium 172mg7%
Potassium 272mg8%
Carbohydrates 65g22%
Protein 6g12%
Vitamin A 440IU9%
Vitamin C 5.7mg7%
Calcium 68mg7%
Iron 2.8mg16%
* Percent Daily Values are based on a 2000 calorie diet.
Here's one more to pin on your Pi!nterest boards!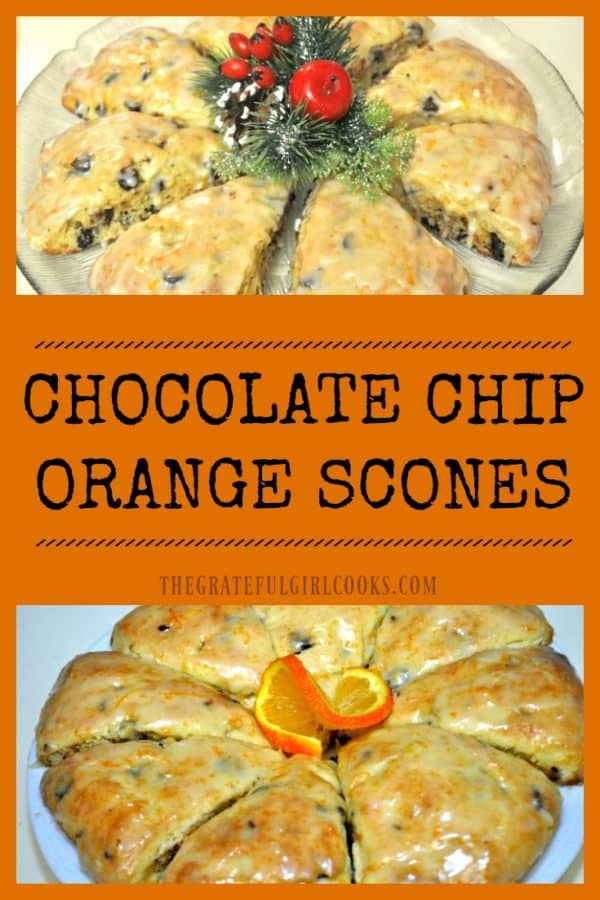 Save
Save
Save