It's easy to make chewy, delicious, authentic New York Style Blueberry Bagels from scratch! Grab the cream cheese and enjoy this classic treat!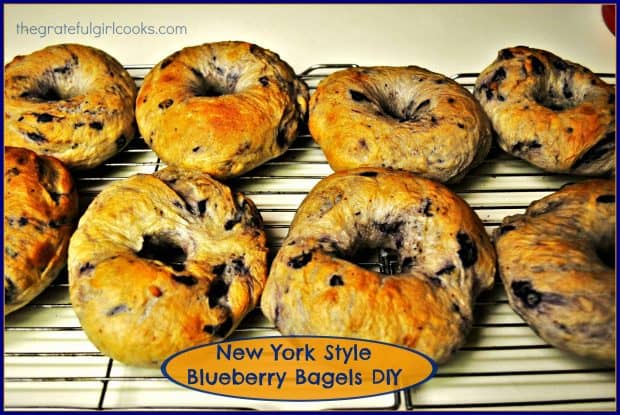 I love bagels, especially these authentic, made from scratch New York Style Blueberry Bagels. I love them plain or toasted, with cream cheese! My husband also loves a good bagel, and is notorious for grabbing a few "fresh" bagels from the bakery department at our local grocery store.
Scroll Down For A Printable Recipe Card At The Bottom Of The Page
Making Bagels From Scratch Is Economical!
Last year I decided to take on the challenge of making bagels from the comfort of my very own kitchen. That way I would know what was in them, and in the long run, it would be a lot cheaper than buying them at a coffee house or grocery store.
I've Made Several Bagel Varieties Over the Years
The first bagels I made were cranberry-orange and they were amazing (and not nearly as hard to make as I had imagined). Next came the jalapeno cheddar bagels, cinnamon crunch bagels, gingerbread bagels, and everything bagels… all with good results!
Trust me… these blueberry bagels are absolutely amazing! If you like bagels, AND you like blueberries, you really should try this recipe!
Look at these beautiful Oregon blueberries in the photo below! I picked almost 20 pounds of blueberries this past summer at a local U-Pick farm, so my freezer always seems to have bags full of frozen blueberries! I used fresh for this recipe, but either fresh OR frozen blueberries will work in this recipe.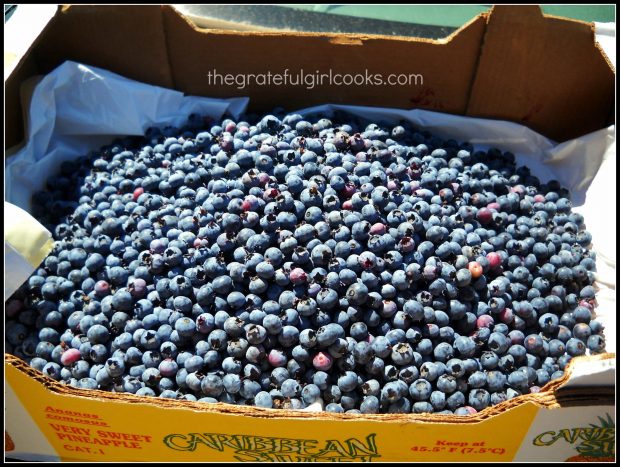 Is It Hard To Make New York Style Blueberry Bagels?
Honestly, NO. These NY style blueberry bagels are fairly easy to make, and there are a few steps to follow. But… the end result is creating bagels that are chewy, delicious, and bursting with blueberries! The only real thing you need to have is patience to wait for the dough to rise!
That waiting time for the dough to rise is truly the only hard part of making them. Don't worry if the dough looks a little bit purple. That's just from a little of the blueberry juice mixing into the dough… it's all good!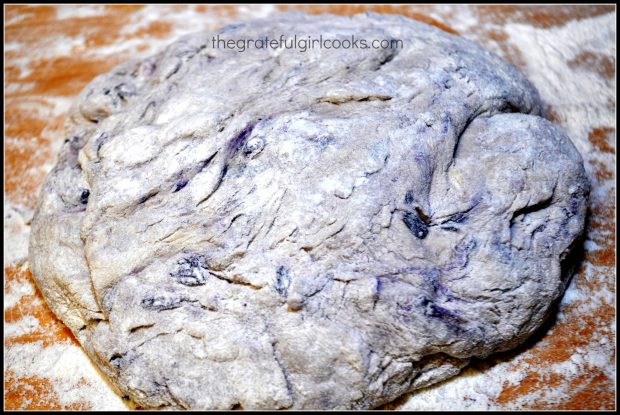 Dough for NY style blueberry bagels is formed into their distinctive circular shapes. Now they are ready to boil! Boiling them before baking helps ensure a chewy, authentic textured bagel!
Boil First Then Bake
True NY style blueberry bagels are boiled before they are baked. This two step process gives them their nice, traditional chewy texture! It is one extra authentic step you will be glad you took!
Look at those gorgeous blueberry bagels boiling away in a big pot of water below. It sort of looks like a blueberry bagel jacuzzi, don't ya think? They are only boiled for 3-4 minutes, so this extra step doesn't take too long!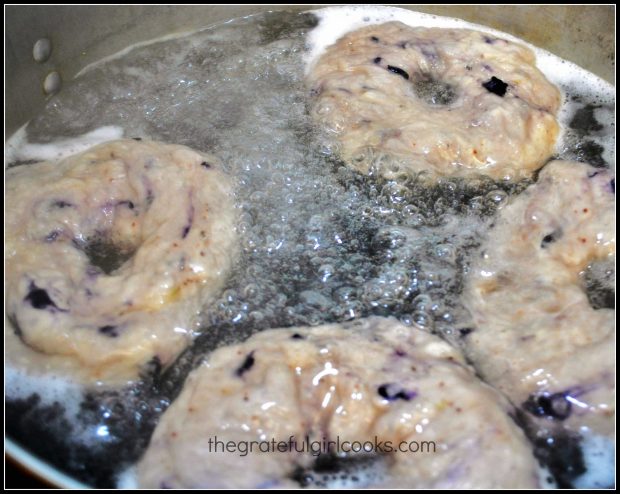 The bagels are boiled in batches in a LARGE pot of water, until all of them have been boiled. Once the NY style blueberry bagels have been boiled, they are drained, just prior to baking.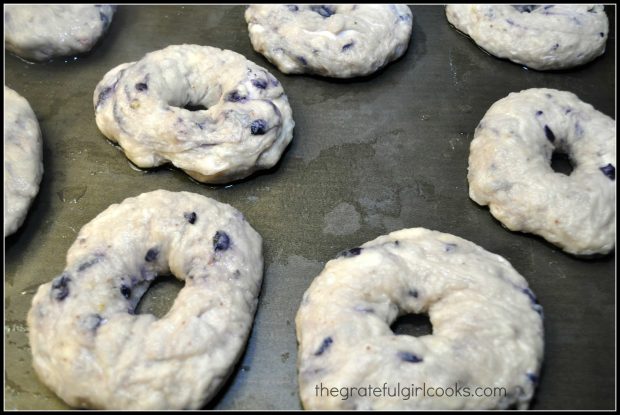 Bake The New York Style Blueberry Bagels, Then Enjoy!
The blueberry bagels are baked at 425° F. for approximately 20 minutes. When done, the bagels will have risen, are baked all the way through, and are wonderfully golden brown on the outside. Bagels are then transferred to a wire rack to slightly cool, then served!
Voila! Here's one of the hot, chewy New York Style Blueberry Bagels, fresh out of the oven! All that is left to do is slice it in half, toast it (if that's how you like 'em), spread some cream cheese on it, and EAT IT! So good!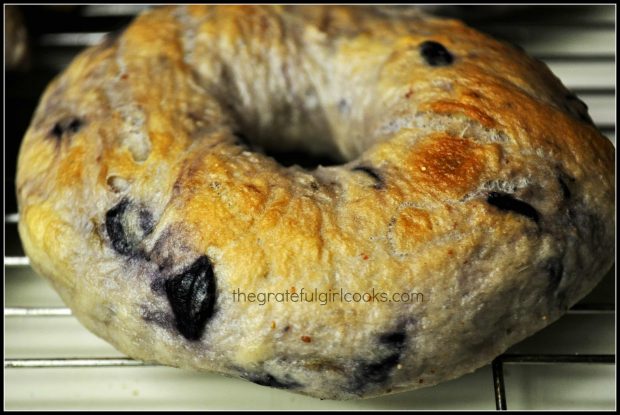 Trust me…if I can make delicious NY style blueberry bagels, so can YOU! Toast one, grab some cream cheese to spread on it, throw on a pot of coffee or tea… and ENJOY one of these delicious blueberry bagels! I love the crispy outside, combined with the chewy goodness on the inside. It tastes like an authentic New York-style bagel should! The blueberry bagels also freeze very well, which is an added bonus!
Thank you for stopping by today, and I hope you will come back soon for more delicious recipes. Have a GREAT day, and don't forget to check out ALL my recipes in the Recipe Index, located at the top of the page!
Interested In More Recipes?
Thank you for visiting this website. I appreciate you using some of your valuable time to do so. If you're interested, I publish a newsletter 2 times per month (1st and 15th) with all the latest recipes, and other fun info. I would be honored to have you join our growing list of subscribers, so you never miss a great recipe!
There is a Newsletter subscription box on the top right side (or bottom) of each blog post, depending on the device you use, where you can easily submit your e-mail address (only) to be included in my mailing list.
You Can Also Find Me On Social Media:
Facebook page: The Grateful Girl Cooks!
Pinterest: The Grateful Girl Cooks!
Instagram: jbatthegratefulgirlcooks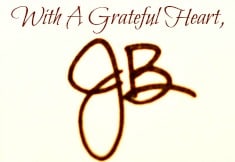 ↓↓ PRINTABLE RECIPE BELOW ↓↓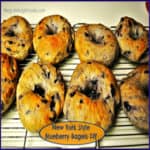 New York Style Blueberry Bagels DIY
It's easy to make chewy, delicious, authentic New York Style Blueberry Bagels from scratch! Grab the cream cheese and enjoy this classic treat!
Keyword:
blueberry bagels
Calories Per Serving
:
221
kcal
Ingredients
1

(0.25 ounce)

package

(envelope) active dry yeast (2¼ tsp.)

2

Tablespoons

sugar

1 1/4

cups

warm water

(divided)

3 1/2

cups

all-purpose flour

1 1/2

teaspoons

salt

1

cup

blueberries

tossed in additional 1/4 cup AP flour
Instructions
In a small bowl, dissolve yeast and sugar in ½ cup of warm water. Let rest for 5 minutes. You should see little bubbles forming on the surface after 5 minutes or so, indicating yeast is "good" and "alive".

In large bowl or bowl from a stand mixer, mix together salt and 3½ C. flour - making a "well" in the center of the flour. Add yeast mixture and remaining water to the flour mixture. Gently fold in blueberries that have been tossed in an additional ¼ cup of flour.

Knead (either by hand or by using dough hook on your stand mixer) until dough becomes soft and elastic (this could take approx. 5 + minutes). Don't worry when you see dough turning a bit purple...it's all "good".

Cover dough with a dishtowel, set bowl in a warm place and let dough rise until doubled (about 1 ½ hours).

Turn dough out onto lightly floured surface (I even lightly dusted the dough with flour so it was easier to work with). Divide dough into 8 balls (shape and pull edges of dough to the underside of the ball for a smoother ball). With floured hands, take both of your thumbs and press into the center of each ball, forming a hole, and stretch the hole to form a bagel shape (I even pick up the bagel dough and enlarge the hole from the bottom). Once bagels have been formed, let dough rest for 30 minutes.

While dough rests, preheat oven to 425°F. and bring a large stockpot to a rolling boil. Boil bagels 2-3 at a time in boiling water for 3-4 minutes (make sure they float to the top at the end). Remove bagels from water. and place on an ungreased baking sheet, allowing bagels to drain a bit.

Bake bagels on same baking sheet at 425°F. for 20-24 minutes, or until golden brown on top. When done, transfer bagels to a wire rack to cool, then ENJOY!
Nutrition Facts
New York Style Blueberry Bagels DIY
Amount Per Serving (1 bagel)
Calories 221
% Daily Value*
Sodium 437mg19%
Potassium 72mg2%
Carbohydrates 47g16%
Protein 5g10%
Vitamin A 10IU0%
Vitamin C 1.8mg2%
Calcium 8mg1%
Iron 2.6mg14%
* Percent Daily Values are based on a 2000 calorie diet.
Here's one more to pin on your Pinterest boards!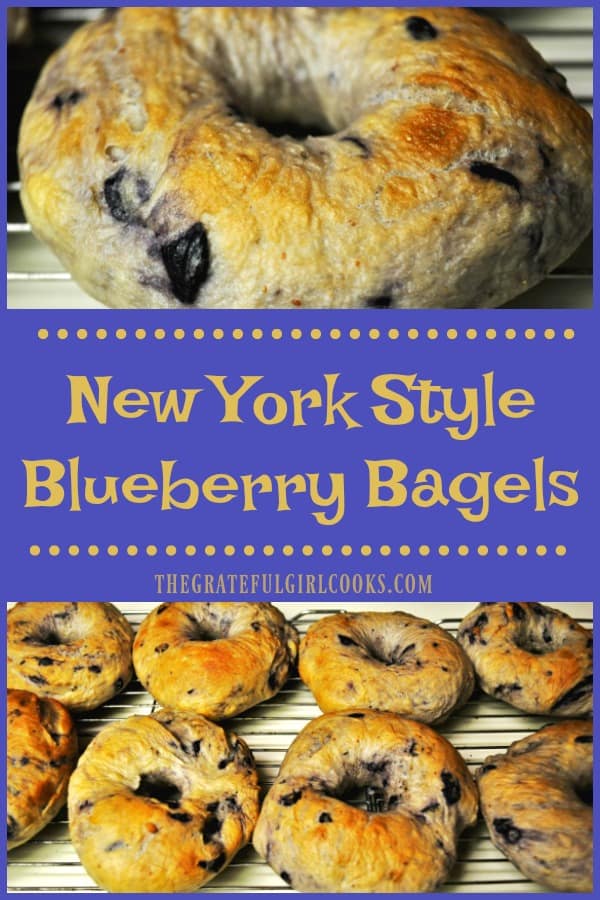 Save
Save
Save