Anyone who knows me well knows I LOVE a good scone with a strong cup of coffee!  I also love to collect and try new recipes for scones…it's what I enjoy doing! That is why I tried this recipe for Apple Cinnamon Scones recently!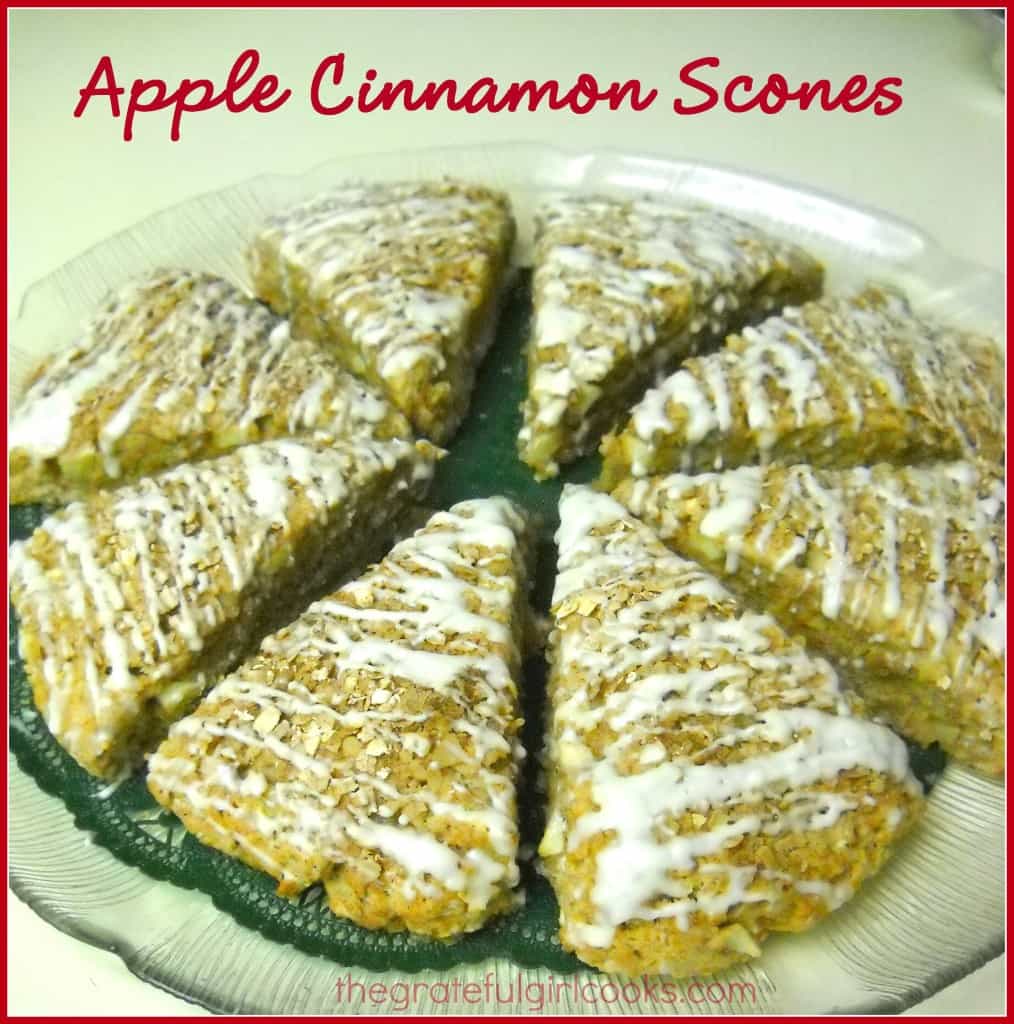 I found this recipe on Pinterest several days ago and thought it sounded pretty good. Since I love the smell of apples and cinnamon (in pies, in oatmeal, in crisps, in candles…get the picture here?), I had a hunch I would love that same flavor combination in a scone (what's not to love?), so off to the kitchen I went, and in no time at all they were cooling on our kitchen counter, just waiting to be lovingly gazed at… then devoured.
These Apple Cinnamon Scones are easy, economical to make, and taste delicious. Give them a try…I think you'll like them!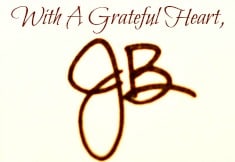 Original Recipe Source: http://www.jocooks.com/bakery/pastries/apple-cinnamon-scones/ 
Apple Cinnamon Scones
These tasty scones are moist, and filled with chopped apples and cinnamon. what's not to love?
As Prepared By:
JB at The Grateful Girl Cooks!
Ingredients
For Scones:
2 cups all-purpose flour
⅔ cup rolled oats
1 Tablespoon baking powder
1 teaspoon ground cinnamon
¼ teaspoon baking soda
¼ teaspoon salt
¼ teaspoon ground nutmeg
½ cup COLD butter
1 large apple, peeled and chopped (I use Granny Smith...nice and firm!)
½ cup milk
¼ cup honey
For Topping:
2 Tablespoons rolled oats
1 Tablespoon Turbinado sugar (if you do not have this, substitute granulated sugar)
½ teaspoon ground cinnamon
2 Tablespoons milk
For Glaze:
1 cup powdered sugar
½ teaspoon vanilla extract
2-3 teaspoons warm water (or till thin enough for "drizzling" tops of cooked scones
Directions
Preheat oven to 400 degrees. Prepare a baking sheet by lining it with parchment paper.
In a large bowl, whisk together the flour, oats, baking powder, cinnamon, baking soda, salt and nutmeg. (You can also use a food processor for this, if desired)
Cut in the COLD butter with a pastry blender (or pulse until cut into small crumbs in a food processor).
In a separate bowl, mix together the milk, honey and apple. Add this mixture to the dry ingredients; mix until blended.
Turn the dough out onto a lightly floured work surface. Knead the dough gently until all ingredients are combined. (You might want to lightly flour your hands) Form the dough into an 8-9 inch circle and about ¾ inch thickness. Slice into 8 wedges. Carefully put the wedges onto prepared baking sheet (keep them in a circle, but leave about ¾ inch between each wedge).
In a small bowl, mix together the topping ingredients, EXCEPT FOR THE MILK.
Using a pastry brush, lightly brush and cover the tops of each scone with the milk.
Sprinkle each scone with the topping ingredients evenly till all of the mixture has been distributed.
Bake at 400 degrees for approximately 20 minutes (or until golden brown). Remove scones from oven and let them cool on a wire rack. Mix glaze ingredients and decoratively drizzle glaze over tops of scones when cool. Serve... and enjoy!
Save
Save