Applebee's Restaurant describes their signature salad as "Crisp Oriental greens topped with chunks of crunchy Chicken Fingers, toasted almonds and crispy rice noodles, tossed in a light Oriental vinaigrette".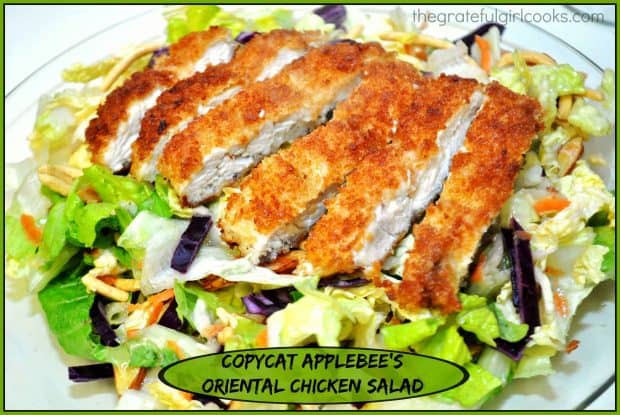 Over the years I have enjoyed finding "copycat" recipes from restaurants and then challenging myself to see if I can duplicate the same thing at home (sometimes for half the price, which is a huge plus in my book!). I love the "Top Secret Recipe" cookbook series, by Todd Wilbur.
My sons gave me a couple of his books for Mother's Day years ago…I've bought a couple others…and they are wonderful. Basically, the author tries to identify what ingredients are in a restaurants food (he orders it, then "dissects" it in his lab to determine the ingredients. Then he experiments to re-create the recipe until it is as close to the original as he can get). I love this because HE does all the dirty work, and I benefit from his efforts. Awesome! It works for me (heh heh heh)!
This is a salad I have made MANY times over the past 15 years. I've made it for my husband and I, AND for as many as 25 hungry co-workers at a staff retreat, all with great results each time.
Honestly, it is fairly easy…just takes a bit of time to do the "prep" work. My tip: Do the prep work early, then after school or work, cook the chicken and throw it all together. Boom! I hope you like it!  If you want to serve 4 with this recipe, just split all the ingredients into 4 smaller sized servings (including the chicken… just cut it into chunks and divide it on 4 salads!) We love this filling salad's great flavor, and think you will, too! Enjoy!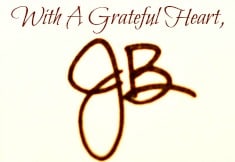 Recipe Source: The book "Top Secret Restaurant Recipes", by Todd Wilbur, published 1997)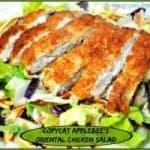 Copycat Applebee's Oriental Chicken Salad
Copycat version of the popular restaurant's version of this Asian-inspired salad.
Category:
Salad or Main Dish
Servings
:
2
large servings
Ingredients
For the Oriental Dressing:
6

Tablespoons

honey

3

Tablespoons

white vinegar

8

teaspoons

mayonnaise

2

Tablespoons

Grey Poupon Dijon mustard

1/4

teaspoons

sesame oil

(find this in the Asian food section of the grocery store)
For the Chicken:
1

cup

vegetable oil

, for frying (you want the skillet to have about 1/2 inch deep of oil)

2

eggs

1

cup

milk

1

cup

all-purpose flour

1

cup

Panko breadcrumbs

(or you can substitute crushed cornflake crumbs)

2

teaspoons

salt

1/2

teaspoons

black pepper

2

boneless

, skinless chicken breasts
For the salad:
6

cups

chopped romaine lettuce

2

cups

chopped purple cabbage

2

cups

chopped napa cabbage

1

carrot

, julienned or shredded (I grated mine)

2

green onions

, sliced (use entire stalk-green and white parts)

2

TBSP

sliced

, toasted almonds (saute them on low in dry skillet for 3-4 minutes to toast-stir to prevent burning)

2/3

cup

chow mein noodles
Instructions
Prepare the salad dressing and chicken: Using a whisk or an electric mixer, blend together the dressing ingredients in a small bowl. Cover and refrigerate until it is well chilled and you are ready to serve the salad.

Preheat the oil in a skillet over medium heat. The temperature of the oil should be around 350 degrees before cooking the chicken (an electric skillet or a temperature gauge is helpful to get the oil at the right heat). The right amount of heat is necessary for a crispy brown crust!

In a small bowl, mix together the eggs and milk until well combined.

In another bowl, mix the panko crumbs (or cornflake crumbs) with the flour, salt and pepper.

Cut the chicken breasts into 4 or 5 long strips. Dip each chicken strip into the egg mixture first, then into the flour mixture, coating each piece completely. Carefully place chicken pieces into the hot skillet (remember, you preheated it, right?) Fry the chicken fingers for approximately 5 minutes, turning and cooking until the coating on all sides has darkened to a golden brown.

Assemble the salad: Prepare the salad by tossing the romaine lettuce with the purple cabbage, napa cabbage and shredded carrot. Place on individual serving plates.

Sprinkle the green onions on top of the lettuce mixture.

Sprinkle the almonds over the salad, then the chow mein noodles.

Cut the chicken into bite sized chunks (that's the authentic way)...sometimes (like in the picture) I just leave the strips on top and let everybody cut up their own...whatever- I'm usually in a big hurry to eat the salad, and don't want to bother cutting it all up into chunks!) Anyways...back to the recipe: Place even amounts of the chicken on top of each salad, placing the chicken in a pile in the middle. Serve the salad dressing on the side. Enjoy!
Recipe Notes
You can easily make this salad into 4 smaller sized portions. Just cut the chicken into chunks, divide the chicken chunks and salad into 4 portions, and you're good to go!
Save
Save
Save