Years and years ago, both of my parents were members of Weight Watchers. My mom found a recipe in their membership book for an Easy & Healthy Veggie Soup that they loved, and she shared it with me.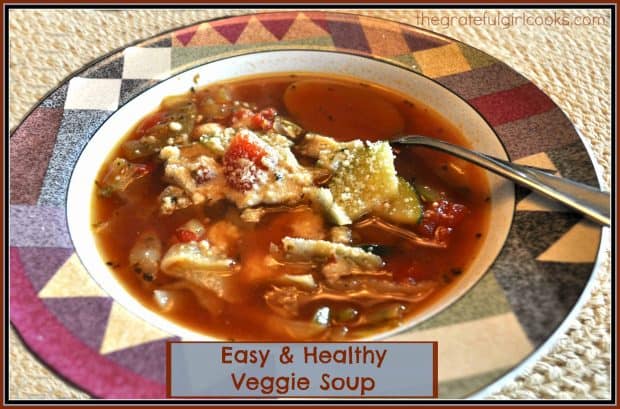 My Mom loved to cook this soup, and have it around for a quick lunch or dinner because not only was it delicious.  She tweaked the original recipe a bit, but loved that it was extremely low in calories and fat, but high in fiber, to keep them both feeling full while dieting.
For years now I have been making this soup whether I've been dieting or not dieting… just because I LOVE IT! It's very easy to make, ridiculously LOW in calories, and frankly, with the seasonings in it, tastes like a wonderful Italian-flavored soup. It's wonderful (whether you're on a diet or not) and DELICIOUS!!!
Just like my Mom did, I have found it to be a hearty soup (filled with carrots, onions, beans, cabbage, and zucchini), that I love to have extra of in my refrigerator, for a quick lunch or dinner meal. The picture (above) is from the time I made this soup for her, when I was home visiting… kind of a "full-circle" kind of thing!
Hope you enjoy making and eating this delicious healthy soup, too!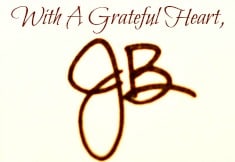 Recipe slightly adapted from: Weight Watcher membership booklet from years ago.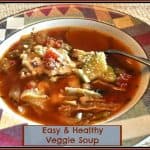 Easy & Healthy Veggie Soup
You'll love this healthy, easy to prepare, low calorie, Italian flavored vegetable soup
Ingredients
Non-stick cooking spray

1

cup

carrots

, sliced thinly

1/2

cup

brown onion

, chopped

2

teaspoons

minced garlic

12

oz.

can diced tomatoes

3

beef bouillon cubes

(can also use beef or vegetable broth)

3

cups

water

1

cup

chopped frozen spinach

(cooked according to pkg. directions, then drained)

1

cup

green cabbage

, sliced, chopped

1/2

cup

canned

(or frozen) green beans

1/2

Tablespoon

dried oregano

2

teaspoons

dried basil

1

teaspoon

salt

black pepper

(to taste)

1 1/2

cups

uncooked

, thinly sliced zucchini (added during last 10 minutes of cooking)

Parmesan cheese

(optional as garnish, but it really add to the flavor!)
Instructions
Spray a soup pot with non-stick spray.

Cook the carrots and onions in soup pot for 4 minutes on medium-high heat. Add the garlic and cook for additional 45 seconds, stirring constantly, to prevent garlic from burning.

Add the rest of the ingredients (EXCEPT for the zucchini and Parmesan cheese).. Stir to combine. Bring to a boil, then reduce heat and cook on low for 30 minutes, or until carrots have become tender.

Add the zucchini and cook an additional 10 minutes (adding the zucchini in toward the end of cooking time prevents the zucchini from getting soggy or falling apart).

When heated through, ladle soup into serving bowls. Garnish with a few sprinkles of Parmesan cheese.

Enjoy!

Heat
Recipe Notes
If you are using bouillon cubes (like I do) instead of store bought broth, just toss them in whole with the other ingredients. As the soup heats up, cooks, and is stirred, they will dissolve and help flavor the soup. Easy!
Save
Save