It's EASY and ECONOMICAL to make yummy homemade fruit smoothie popsicles! Enjoy a fresh fruit smoothie, popsicle style! You and your kids will love 'em!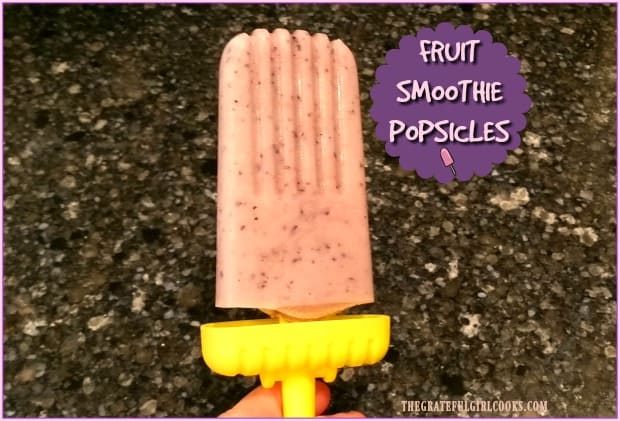 Summer was a hot one, here in good ol' Oregon. We had less rain than usual, and many days were above 90 degrees. One of the things we enjoyed having in our freezer were fruit smoothie popsicles! Best part? These are not summer only treats…you can make them ANY time of year!
I tend to drink a lot of fresh fruit smoothies in the summer, so it was only natural that I started making popsicles out of them. The beauty of making fruit smoothie popsicles is that you can tailor make them to your own preferences! How great is that?
Scroll Down For A Printable Recipe Card At The Bottom Of The Page
What Ingredients Are Used To Make Fruit Smoothie Popsicles?
The ingredients were quite simple… fresh fruit, milk (of choice – I used coconut milk for this batch), and Greek vanilla yogurt. The best part is that you can make YOUR favorite smoothie, any flavor, into a popsicle!
For this recipe for fruit smoothie popsicles I used bananas, and blueberries and strawberries! I even was able to use homegrown blueberries and strawberries from our garden in the backyard!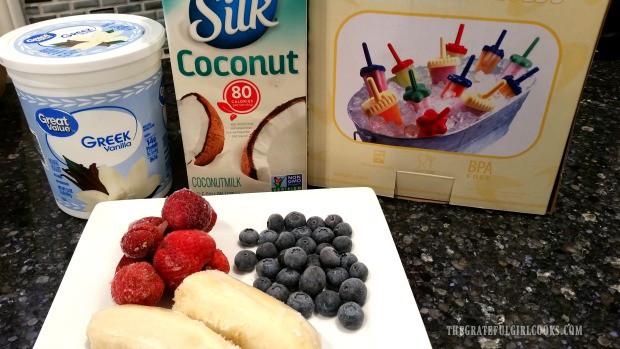 Several years ago I paid around $8 for these "GROOVY" pop molds, and I have gotten so much use out of them! They make popsicle creating so easy (and NO, I don't receive compensation from them, just thought I'd show what I used to make these fruit smoothie popsicles!).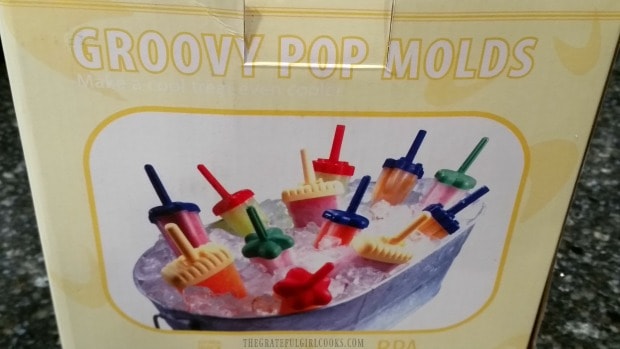 Making fruit smoothie popsicles could NOT be any easier! You simply add the ingredients (again… YOUR choice) to a blender, just like making your smoothie normally. Blend together for a couple minutes until mixture is smooth.
Once fully blended, pour the liquid into your popsicle molds. Make sure the plastic popsicle holders are securely standing in the base unit to secure them. Fill the popsicle molds about 3/4 of the way full.
What If I Don't Own A Popsicle Mold To Make Fruit Smoothie Popsicles?
If you do not own a popsicle mold, you can also make the fruit smoothie popsicles this way. Pour the smoothie mixture 3/4 of the way into a small paper dixie cup. Place in freezer on baking sheet. After the smoothie has partly frozen (thickened up), insert a popsicle or wood craft stick into the cup. Freeze popsicles overnight, then simply tear off the paper cup to reveal the popsicle.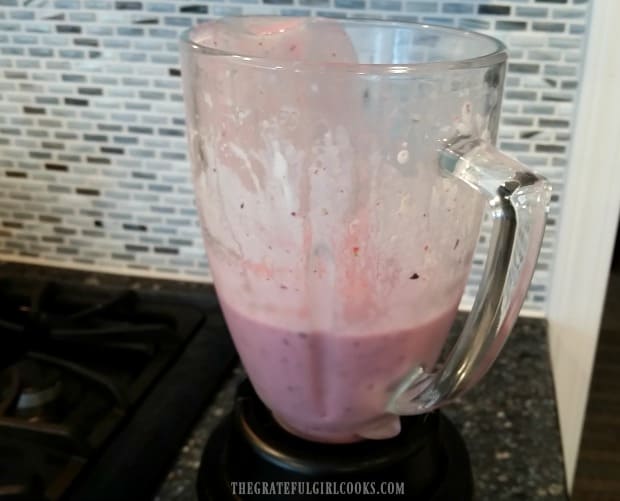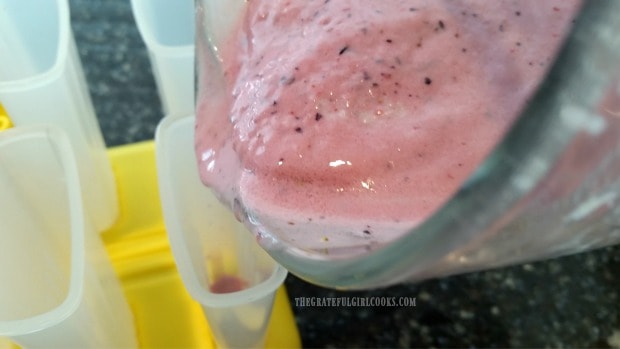 Here you can see the holder that securely anchors the popsicle molds for filling. Once molds are filled, snap on and firmly secure the lids (with handles) onto tops of containers.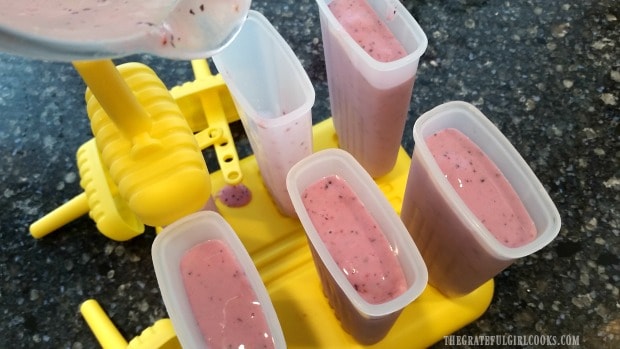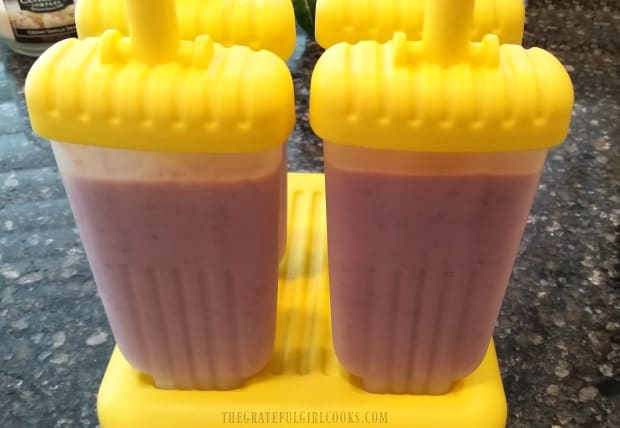 Freeze smoothies overnight, and BOOM! You've just made fruit smoothie popsicles! See how easy that was? When you are ready to enjoy one, simply hold the popsicle mold under some running warm water to loosen popsicle from sides of the container, then carefully slip popsicle out… and ENJOY!
If you used the "paper cup" method (mentioned above), simply tear off the paper cup, and enjoy your fruit smoothie popsicles! Now you have a fruit-filled and protein-enhanced (Greek yogurt) "snack" for the kids after school, or an after dinner creamy frozen fruit smoothie popsicle for YOU!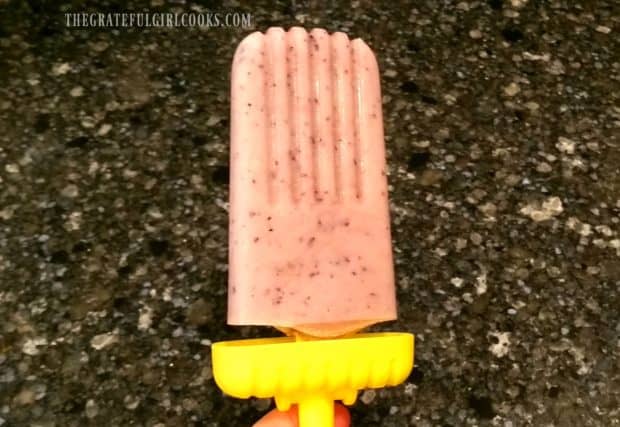 Using Other Smoothie Recipes To Make Popsicles
There are so many choices of flavors for fruit smoothies, including Orange Julius, PeachBerry, Triple Berry Banana, Chocolate Peanut Butter, Blueberry Kale, Strawberry, etc. Have fun making your very own flavor combinations for fruit smoothie popsicles!
thanks for stopping by. Be sure to check out ALL of my recipes in the Recipe Index, located at the top of the page. Have a GREAT day!
Interested In More Recipes?
Thank you for visiting this website. I appreciate you using some of your valuable time to do so. If you're interested, I publish a newsletter 2 times per month (1st and 15th) with all the latest recipes, and other fun info. I would be honored to have you join our growing list of subscribers, so you never miss a great recipe!
There is a Newsletter subscription box on the top right side (or bottom) of each blog post, depending on the device you use, where you can easily submit your e-mail address (only) to be included in my mailing list.
You Can Also Find Me On Social Media:
Facebook page: The Grateful Girl Cooks!
Pinterest: The Grateful Girl Cooks!
Instagram: jbatthegratefulgirlcooks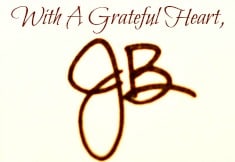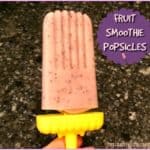 Fruit Smoothie Popsicles
It's EASY and ECONOMICAL to make yummy homemade fruit smoothie popsicles! Enjoy a fresh fruit smoothie, popsicle style! You and your kids will love 'em!
Keyword:
fruit smoothie popsicles
Calories Per Serving
:
59
kcal
Ingredients
1

cup

coconut milk (dairy)

, or milk of choice

1/2

cup

Greek vanilla yogurt

1

large

banana

1/2

cup

blueberries

8-10

strawberries
Instructions
Place all ingredients in a blender or food processor. Blend until ingredients become smooth, approximately 2-3 minutes.

Pour smoothie into popsicle molds, securely attached to holder/stand. Fill each container about 3/4 of the way full. Cover with lid securely, then move entire holder with popsicle molds (vertically standing) to freezer. Freeze overnight, of for 6-8 hours.

When ready to serve, hold a popsicle mold (still sealed) under warm running water, turning, until it has loosened from sides, and can easily slip out of the plastic mold. Serve, and enjoy!
Recipe Notes
No plastic popsicle molds? You can make these popsicles using small paper dixie cups. Pour smoothie into paper cups, place cups on baking sheet, and let firm up a bit in the freezer. Insert a wooden popsicle or craft stick into cup, and let the popsicles finish freezing overnight.
Nutrition Facts
Fruit Smoothie Popsicles
Amount Per Serving (1 g)
Calories 59
Calories from Fat 9
% Daily Value*
Fat 1g2%
Cholesterol 1mg0%
Sodium 6mg0%
Potassium 132mg4%
Carbohydrates 12g4%
Protein 2g4%
Vitamin A 15IU0%
Vitamin C 12.5mg15%
Calcium 19mg2%
Iron 0.2mg1%
* Percent Daily Values are based on a 2000 calorie diet.
Here's one more to pin on your Pinterest boards!