Anyone remember the catch-phrase "It's Shake n' Bake… and I helped!"?  I sure remember those TV commercials. I'd like to share with you a copycat version of how to make Homemade Shake and Bake Chicken, using ingredients you probably have in your kitchen already!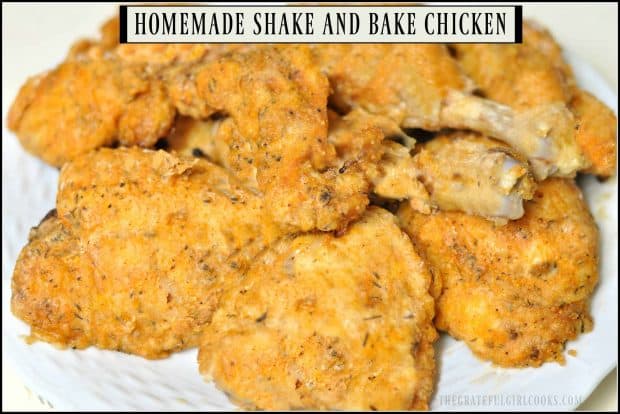 The original mix was a packet you could buy to season chicken with.  Well, why not make it yourself, and save some money?  The mix is so easy to throw together, chicken pieces are coated with it, then baked until done. That's it!  Here's how to make this chicken dish:
Dry ingredients (flour, paprika, salt, garlic powder, thyme, and black pepper) are mixed in a small bowl  until combined. The mix, as written, will coat 8 pieces of chicken. Once mixed, place it in a gallon sized resealable bag.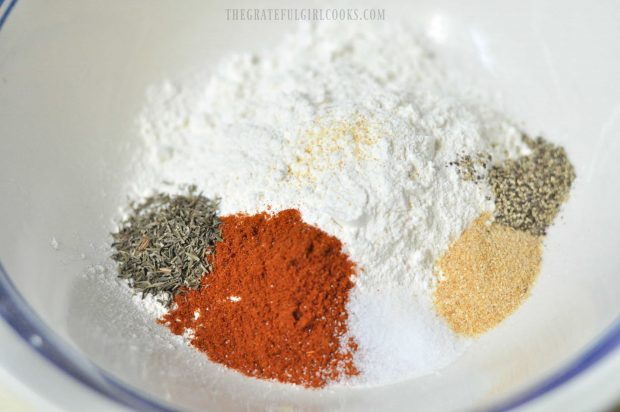 I took the skin off the chicken (optional), and used chicken thighs and legs for this go-around.  Chicken pieces are dipped in milk first.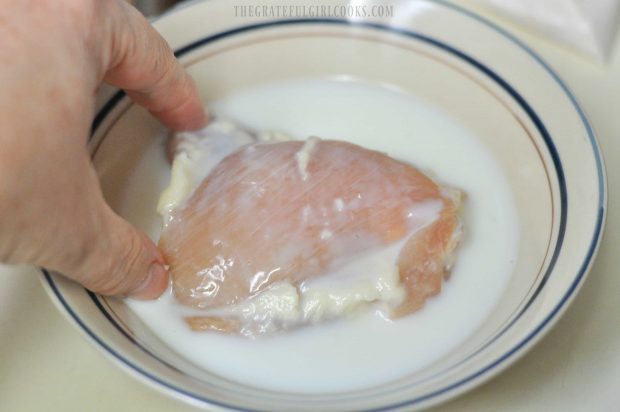 The chicken is placed (one piece at a time) into large resealable bag with dry ingredients. Close and shake until chicken is coated. Repeat milk, then shake/mix process for each piece.
Spray a 13×9 inch baking sheet with non-stick spray.  Place coated chicken pieces onto pan,  leaving a bit of space between pieces..
Bake chicken in a preheated 375 degree oven for 40 minutes (a little longer if using large breasts).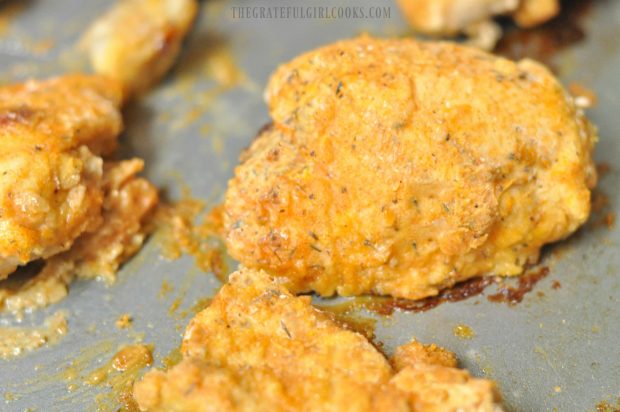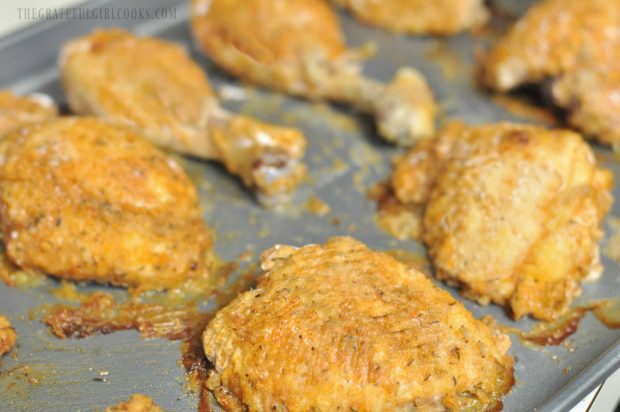 When done, remove pan from oven.  If any of the mix is still "dry" on top of chicken, simply brush some of the pan drippings onto the mix and it should wet it enough for a uniform look.  Serve, and enjoy this delicious chicken with a side dish you enjoy!  It's a completely SIMPLE and flavorful way to serve those you love a tasty dinner without a lot of fuss!
Have a wonderful day, and may God bless you!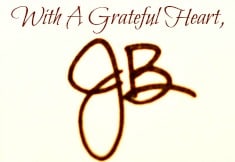 Recipe Source: unknown (found on 3×5 index card written on years and years ago)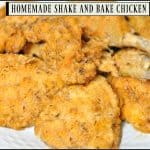 Homemade Shake And Bake Chicken
Create a flavorful chicken entree using this quick and simple spice mixture.
Ingredients
For Spice Mixture:
1

cup

all purpose flour

2

teaspoons

paprika

1

teaspoon

salt

1/2

teaspoon

black pepper

1

teaspoon

garlic powder

1

teaspoon

dried thyme
For Chicken:
8

pieces

chicken

(thighs and legs)

1/2

cup

milk
Instructions
Preheat oven to 375 degrees F.

Combine spice mix ingredients; stir well. Place into a plastic, gallon sized resealable bag.

Dip one piece of chicken in milk at a time, and fully coat on all sides. Let excess drip off.

Place piece of chicken into resealable bag with spice mix. Close top of bag and shake until chicken piece is completely coated. Place coated chicken onto a 13x9 inch baking sheet that has been sprayed with non-stick spray.

Repeat process for rest of chicken, leaving a bit of space between each piece on baking sheet.

Bake chicken at 375 degrees for 40 minutes (a bit longer if using chicken breasts-bone in). When done, remove from oven, and serve immediately.
Save
Save
Save
Save
Save
Save
Save
Save
Save
Save