Recipes for cookies, salads, desserts, etc. are popping up all the time that include "candied bacon". It would be helpful to know "HOW" to make Candied Bacon, right? Well… it's EASY!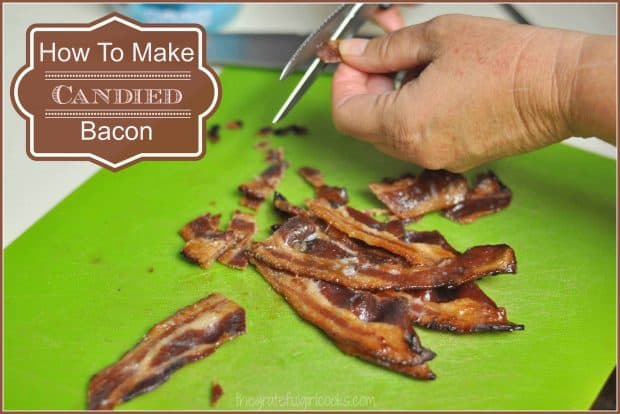 Candied bacon can be used in salads, on appetizers, or even in ice cream. I used this batch of candied bacon in some homemade Candied Bacon Ice Cream. Amazing!
Here's how you can easily make candied bacon: First line a baking sheet with aluminum foil (or a silicone mat). If using aluminum foil, put the shiny side down. Lay strips of bacon down on the foil.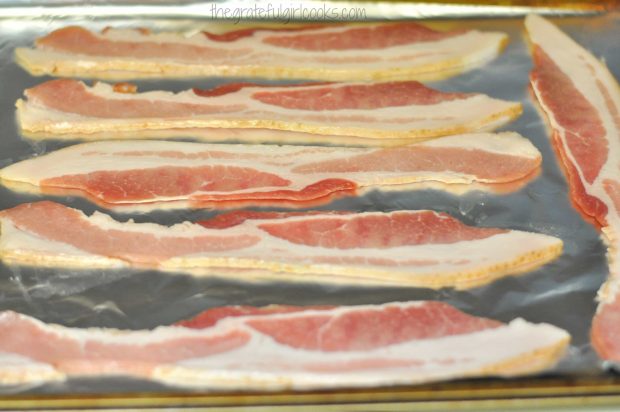 Sprinkle approximately 1½ – 2 teaspoons brown sugar over the length of each piece of bacon.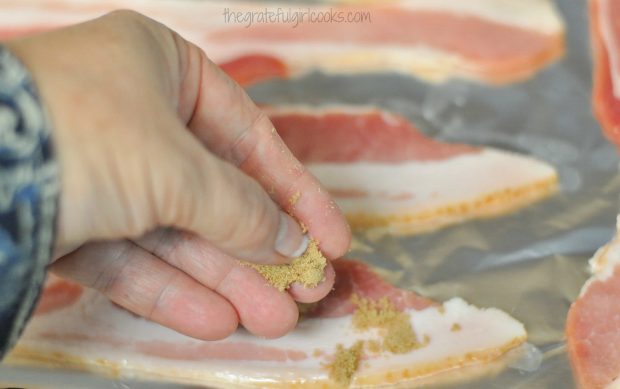 The strips of bacon looked like this. Put the bacon in a preheated 400 degree oven and bake it for 12-16 minutes. About half way through the baking time, turn the bacon strips over and pull them through the syrupy glaze (to coat) on the baking sheet.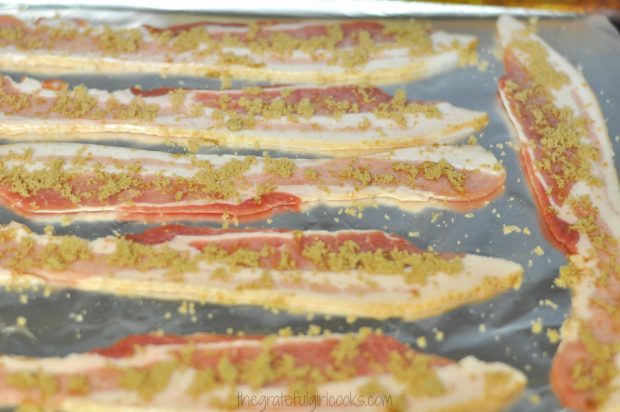 After turning the bacon over and dragging the pieces in the brown sugar syrup on the foil, continue baking for the rest of the baking time, until the bacon is done and dark in color.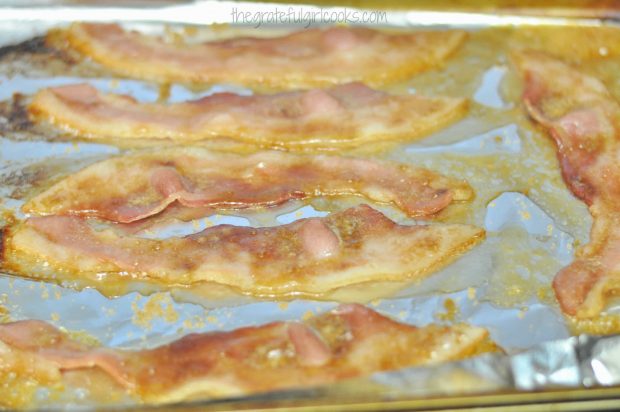 Remove the bacon strips to a wire rack and let cool completely.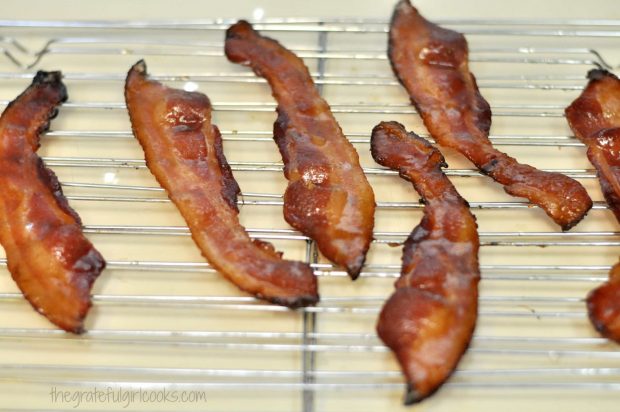 Once candied bacon has cooled, chop it up or cut with kitchen scissors into small pieces. It is now ready to be added to a great salad, or recipe that requires candied bacon. If you've never had a mixed green salad with candied bacon bits added, you're missing out! It's a great addition.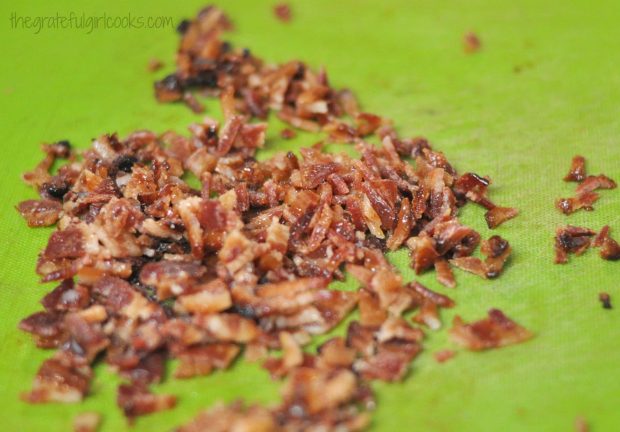 See how easy that was? The sugary, salty taste of the bacon bits is AMAZING! Hope you'll try this easy technique for making candied bacon. You can store the bacon bits in an airtight covered container in refrigerator for a couple days, OR you can freeze them for a couple weeks ahead of when you will be using them! Try not to eat them all BEFORE adding it to a recipe!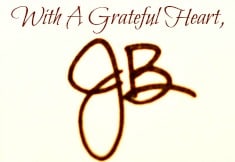 Recipe Source:  http://www.davidlebovitz.com/2008/03/candied-bacon-i-1/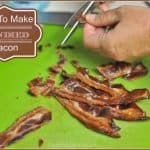 How To Make Candied Bacon
Candied bacon is becoming a popular ingredient in desserts, salads, etc. Here's how to quickly make this sweet/salty treat!
Ingredients
Bacon strips

(as many as desired)

Brown sugar

(can use dark or light-I use dark)-will need 1½-2 teaspoons per slice of bacon
Instructions
Preheat oven to 400 degrees. Cover a baking sheet with aluminum foil (or a silicone mat).

Place bacon strips in single layer on foil.

Sprinkle each piece of bacon with 1½ - 2 teaspoons brown sugar.

Bake at 400 degrees for 12-16 minutes. Halfway through the baking time, turn the pieces over and drag them through the brown sugar glaze to coat. Finish baking time. Remove from oven when bacon is done and is dark brown in color. Place bacon strips on wire rack to cool completely.

Once cooled to room temp., cut or chop bacon into small pieces. Bacon pieces may be stored in a covered airtight container in refrigerator for a couple days. Bacon can also be stored in freezer for a couple weeks prior to using.
Save
Save