Well, here it is…the recipe I found for making and canning the most wonderful Jalapeño Pepper Jelly ever! It is a fantastic jelly to use as an appetizer or as a glaze on cooked pork or chicken.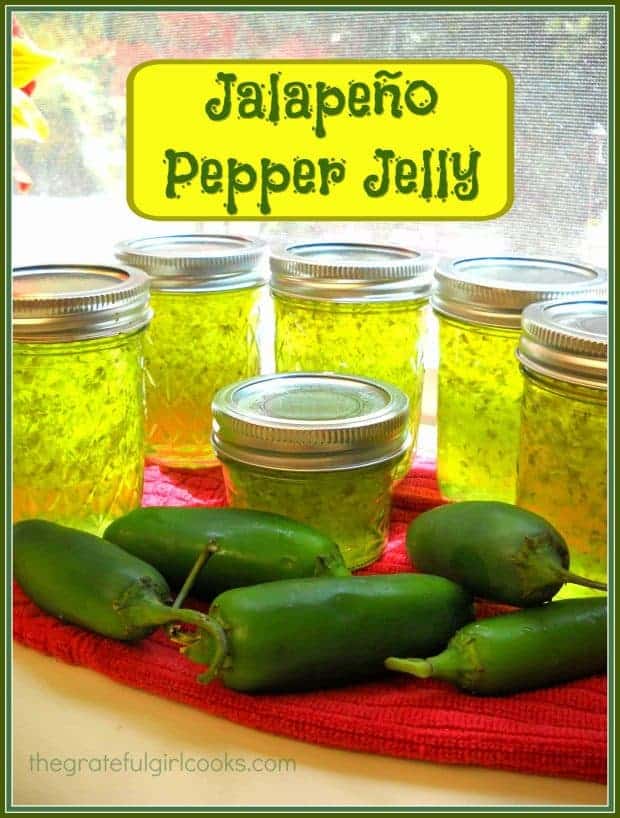 We LOVE this jelly…it's sweet and a bit spicy, and is amazingly fantastic when served over a block of cream cheese, with some good crackers to spread it on. Yummm… Some people even enjoy this jelly when heated and served over pork or chicken as a glaze. It has just enough sweet taste and a slight bit of heat to make it GREAT!
It is a very easy jelly to can. Amazingly easy!  When I made this jelly, I got five 8 oz.  (1/2 pint) jars and one smaller jar of jelly from one batch.  It's perfect to store in the pantry and grab a jar throughout the year for a quick and delicious appetizer.  Hope you will give it a try…and enjoy it like we do! Here's a couple pics of the finished jelly:
Isn't it gorgeous? See all the little bitty bits of peppers floating in the jelly? Yum.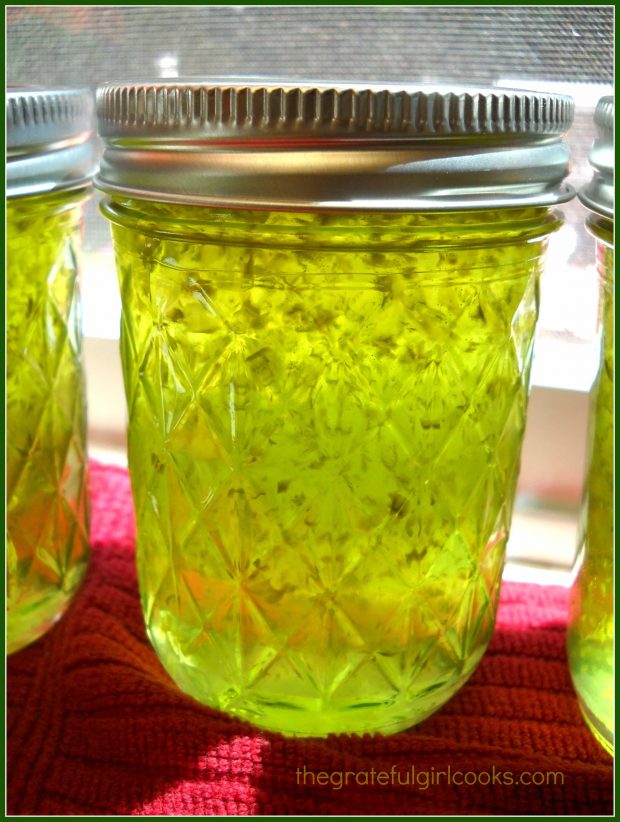 Spread the jalapeño pepper jelly on top of a little cream cheese, on top of a cracker…delish!!!!!!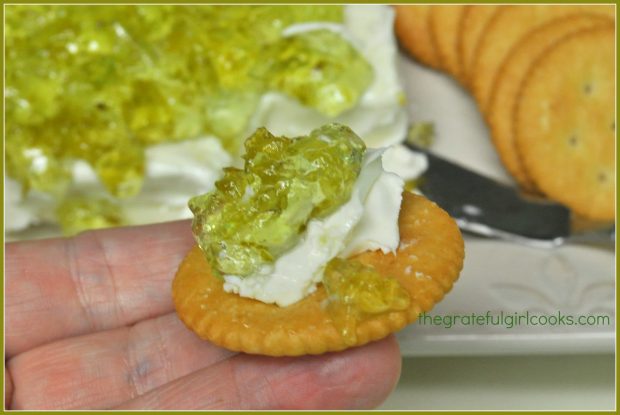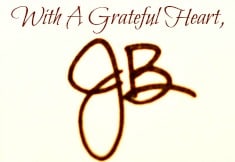 Recipe Source: http://www.food.com/recipe/hot-pepper-jelly-35699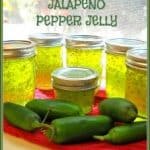 Jalapeño Pepper Jelly
Sweet and a bit of heat make this jalapeno pepper jelly the perfect appetizer, spread over cream cheese, on top of a cracker!
Servings
:
6
half pint jars
Ingredients
1 1/2

cups

green sweet peppers

, seeded & veins removed (can also use red sweet peppers)

1/4

cup

jalapeño pepper

, seeded & veins removed

1 1/2

cups

white vinegar

6

ounces

liquid pectin

(this is 2 packets)

1

drop liquid green food coloring

(optional...can use red if using red peppers)

6

+ 1/2 cups granulated sugar

(six and a half)
Instructions
Cut the peppers and jalapeños into small pieces. Place them, along with the vinegar into a food processor (or blender); blend until the mixture is smooth. Pour the mixture into a large stockpot.

Add the sugar to the pot. Heat this mixture on medium-high heat. Stir constantly until sugar has dissolved fully.

Bring the mixture to a full boil, and boil for 3 minutes.

Stir in the pectin; return the mixture to a full boil. Boil it for 1 minute longer, then remove the pan from the heat. Skim off any foam that may have accumulated on the top of the jelly.

Add drop of food coloring to achieve the color you desire (optional). Stir to combine.

Pour the jelly into hot, sterilized half pint (8 oz.) jars. Fill the jars to within 1/4 inch of the top.

Wipe rims completely clean. Center the lid on the canning jar. Screw the band on until it is fingertip tight.

Place jars in a canner, in a hot water bath. Make sure the jars are completely covered with water.

Cover. Bring water to a full boil, then process for 10 additional minutes. After 10 minutes, remove the canner lid. Wait for 5 minutes, then carefully remove hot jars, cool, and store. Let sit, undisturbed for 24 hours before moving. Remember to check to make you have a good seal on the jars before storing!

Enjoy!
Here's one more to pin on your Pinterest boards!

Save
Save
Save
Save
Save
Save
Save