Do you like tomatoes?  We sure do, so I want to share this delightful recipe for a Marinated Tomato Salad.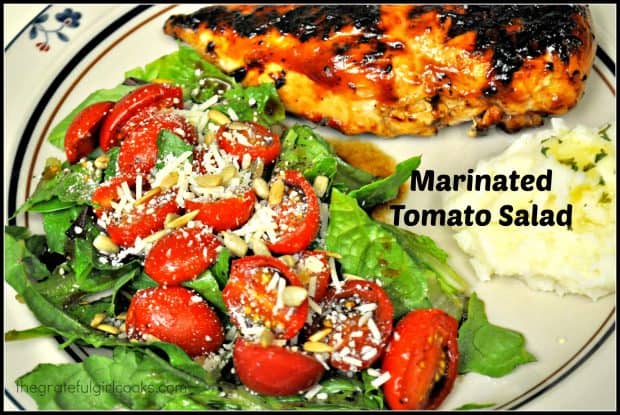 Yes…you heard me right. The tomatoes are MARINATED before serving, and they are wonderful!
My husband and I were first served this salad when we were guests at a lovely Italian dinner, hosted by our mutual friend Greg. The cherry tomatoes are marinated in a wonderful blend of balsamic vinegar and honey, along with other ingredients, which give the tomatoes a fantastic flavor. The marinade is also used as the dressing over chilled, fresh greens. YUM!
This recipe is not only delicious, but is really easy to prepare! It LOOKS like a "normal" green salad, but the marinated tomatoes really make this salad taste very different from "normal" salads. I asked our friend for the recipe he used and he was kind enough to send it to me. I only made a couple very slight changes to his original recipe.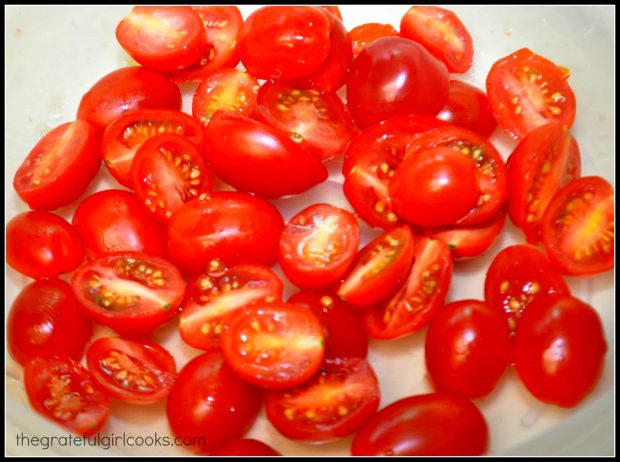 You can use a basket of red cherry tomatoes or a colorful mix of cherry tomatoes. I've used both.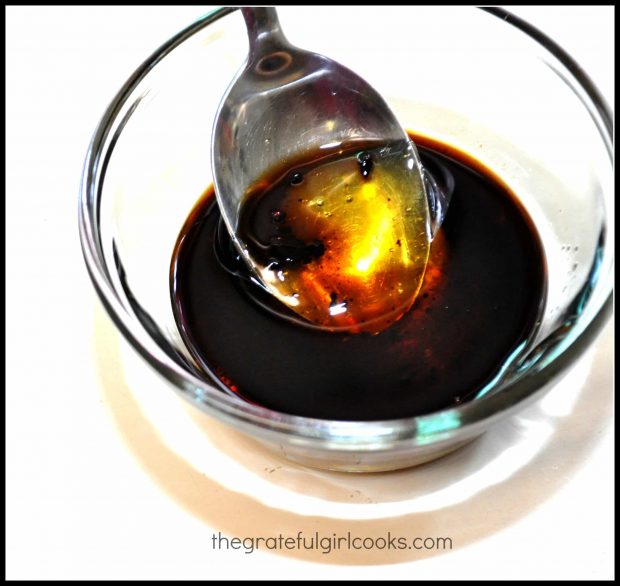 The marinade is so easy to prepare, and doubles as a wonderful dressing to the chilled salad when serving!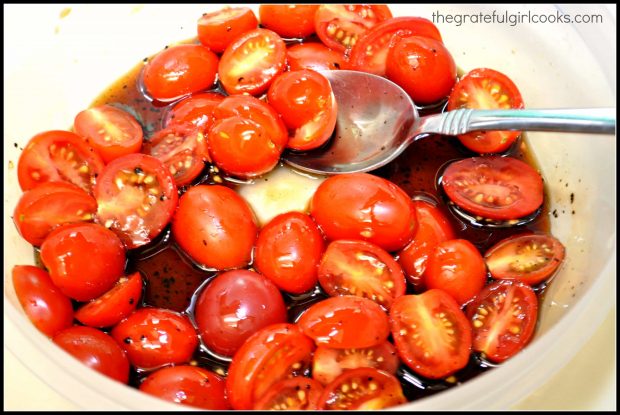 Let those beautiful tomatoes sit in the marinade in the refrigerator for several hours to soak up all the flavor!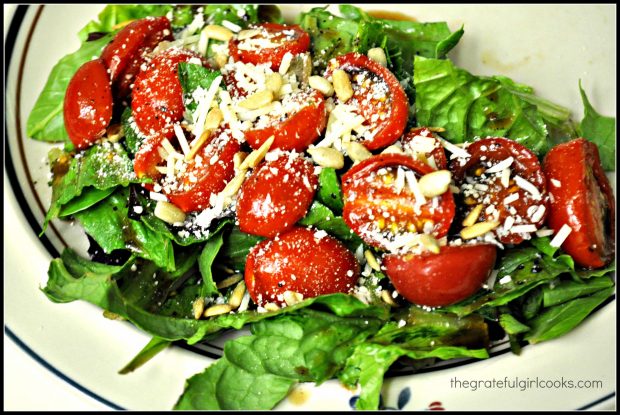 I hope you will give this refreshing and delicious salad a try…I think you will like it!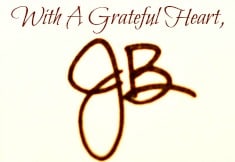 Recipe adapted from: Gregory Beagle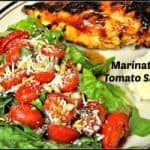 Marinated Tomato Salad
Wonderful light summer side salad, featuring cherry tomatoes, marinated in a balsamic/honey mixture.
Servings
:
2
-3 side salads
Ingredients
One basket cherry tomatoes

, halved
For the Marinade:
4

Tablespoons

balsamic vinegar

4

Tablespoons

honey

1/4

teaspoon

salt

1/4

teaspoon

ground pepper

1/4

teaspoon

garlic powder

pinch

of dried oregano

pinch

of dried basil
For The Salad:
Chilled

, fresh mixed salad greens

Parmesan cheese

, grated (enough to sprinkle on top of salad)

1/4

cup

pine nuts

(or sunflower seeds)
Instructions
Cut the cherry tomatoes in half, horizontally.

In a covered medium sized container, whisk together the balsamic vinegar, honey, salt, pepper, garlic powder, oregano and basil.

Add the halved tomatoes to the marinade mixture. Stir gently to combine. Cover and place container in refrigerator for at least 4 hours, stirring occasionally to completely coat the tomatoes with the marinade.

When ready to serve, arrange fresh, chilled salad greens on serving plate. Spoon the tomatoes over the top of the greens. Spoon some of the marinade over each salad. Top with pine nuts (or sunflower seeds), followed by fresh grated Parmesan cheese
Save
Save