This is a great day for soup! This is a day for Olive Garden Toscana Soup!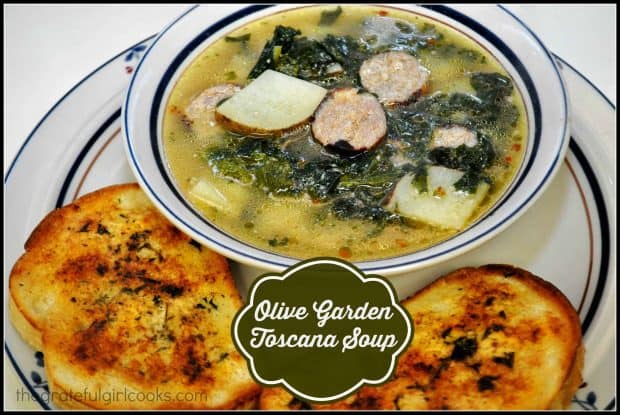 I'm sitting in my office at home looking out the window at freshly fallen snow in our backyard. We had a crazy snowstorm (it gets a bit crazy in Portland when we have significant snow) yesterday, and another 3-5 inches is expected for later this afternoon.
My husband and I have both been fighting pesky head colds for several days now, so we decided a big pot of soup was just the ticket for us to have around for 1) the snowstorm, and 2) leftovers, so I wouldn't have to cook too much while sick. It was a really good idea (we occasionally have good ideas!)
Once we settled on what KIND of soup it was easy: A big pot of Toscana Soup, a copycat version of the popular soup found at Olive Garden. I dug out my trusty cookbook called "Top Secret Restaurant Recipes", by Todd Wilbur… and got busy in the kitchen.
I can't count how many times I have made this recipe over the years…it's always soooo tasty and filling (and ridiculously easy to make, too!). The blended flavors of Italian sausage, potatoes and kale (which I conveniently grow in our garden) are wonderful in a light, creamy broth. Seriously good soup! Perfect way to warm up on a cold, snowy day…or any time you want a great bowl of soup!
Hope you will give it a try and will discover, if you haven't already, just how delicious this soup really is!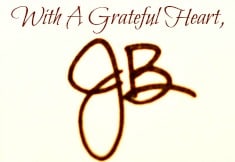 Recipe adapted from the cookbook: "Top Secret Restaurant Recipes", by Todd Wilbur, (published 1977).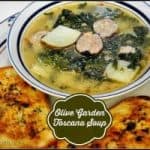 Olive Garden Toscana Soup
Here's a copycat restaurant recipe I've been making for years! It's delicious, and easy to prepare!
Ingredients
4

Italian sausage links

(mild or hot flavors are okay-I typically use mild)

6

cups

chicken stock

3/4

cup

milk

(for an even creamier version, use heavy whipping cream, then omit the butter)

2

Tablespoons

butter

3

cups

chopped kale

3

small russet potatoes- unpeeled

(or 1 1/2 large potatoes-unpeeled)

3/4

teaspoon

salt

1/2

teaspoon

pepper

1/4

teaspoon

garlic powder

1/2

teaspoon

red pepper flakes
Instructions
Grill or sauté the sausages till done (approx. 15 minutes). Remove from heat and let cool. Once sausage has cooled, slice the sausages at an angle into slices about 1/2 inch thick.

In a large saucepan, combine the chicken stock and the milk/butter (or heavy cream) over medium heat.

Add the grilled Italian sausage slices and kale to the soup.

Slice the unpeeled potatoes into 1/4 inch slices, and then quarter each slice. Add the quartered potato slices to the soup

Add the spices (salt, pepper, garlic powder, and red pepper flakes) to taste.

Let the soup simmer on low, uncovered for about 1 hour, stirring occasionally.

ENJOY!
Save
Save
Save
Save
Save