It's definitely a day for decadent White Chocolate Raspberry Scones and humongous cups of coffee.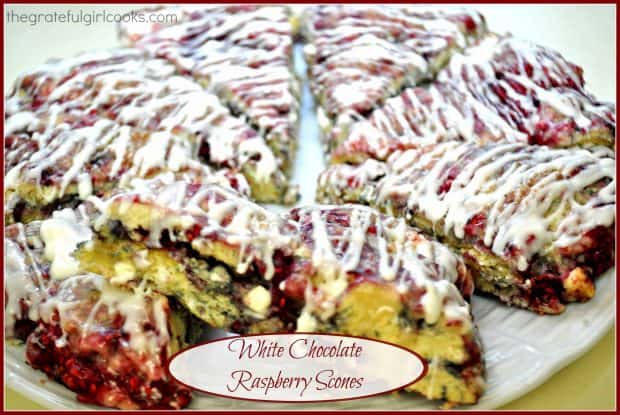 I'm sitting in my home office looking out at a forest filled with snow… and it has begun snowing again. We are on Day 3 of what Portland locals call "Snowpacalypse 2014". Tonight we are expecting a coating of ice on top of it all. Yippee.
My husband and I both have been sick (we're on Day 4-ugh), so we're content to be house-bound and off the slippery streets, but there's only so much napping and taking medicine that one girl can take, so off to the kitchen I went yesterday to find something to bake, and ended up trying another new recipe for scones. I mean- if you're going to be sick and snowbound…make sure you have scones, right?
I found the original recipe on Pinterest and tweaked it up just a bit, and voila! A new, tasty recipe for a delicious scone! I just happened to have some raspberries in my freezer that I picked this past summer, and I just happened to have half a bag of white chocolate chips left over from my Christmas baking. How convenient…it must be DESTINY…Perfect!
The recipe was very easy, although my kitchen work surface did look like a murder scene (blasted raspberries) when I was done, but no big deal! It just made it a bit more exciting! Hope you enjoy these tasty treats!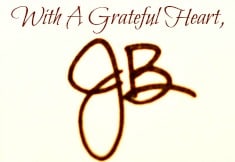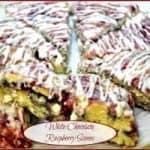 White Chocolate Raspberry Scones
Delicious scones filled with white chocolate chips and raspberries, then topped with a sweet glaze.
Category:
Breakfast, Snack
Calories Per Serving
:
435
kcal
Ingredients
For Scone Dough:
2

cups

all-purpose flour

2

Tablespoons

granulated sugar

1

Tablespoon

baking powder

1/2

teaspoon

salt

6

Tablespoons

cold butter

, cut into pieces

6

oz.

raspberries

(fresh or frozen will work-I mixed mine in while still frozen)

1/2

cup

white chocolate chips

1

large egg

1

teaspoon

vanilla extract

1/3

cup

milk

(or heavy cream-I used milk)
For Glaze Topping:
1 1/2

cups

confectioner's sugar

(powdered)

1/4

teaspoon

vanilla extract

3-4

teaspoons

warm water

(to get glaze to correct "painting" consistency)
For White Chocolate Drizzle:
1/2

cup

white chocolate chips + 1 teaspoon vegetable shortening- melted

(microwave 30 seconds, stir, microwave 20 seconds stir.-don't let them burn!)
Instructions
Preheat oven to 350 degrees. Spray a baking sheet with non-stick spray.

In the bowl of a food processor (or in a large bowl if making them by hand), combine all of the dry ingredients. Add the cold chunks of butter to the processor and pulse to cut in butter (or cut in by hand with a pastry cutter).

In a separate bowl, mix the egg, milk (or heavy cream), and the vanilla; Mix these ingredients together, till well blended.

Add the egg mixture to the dry ingredients and pulse till the dough comes together into a dough ball (If mixing by hand, stir and stir till you have a cohesive dough ball).

Turn the dough ball onto a floured work surface (or into a large bowl) and GENTLY mix in the white chocolate chips and the raspberries by hand (might want to flour your hands) till blended. Note: Don't worry if it looks like a murder occurred at this point...it will all be okay. Really.

With floured hands (sprinkle a bit more flour on dough if necessary, cause the dough is sticky), gently form the dough ball into a round "disc" approximately 8 inches across.

Using a sharp knife or a pizza cutter (my weapon of choice!), cut the disc into 8 scones.

Gently pick up each scone and re-arrange them in a circle on the prepared baking sheet, with a bit of space between each one.

Bake the scones at 350 degrees for 25-30 minutes (mine were ready at the 25 minute mark-just keep an eye on them). Bake till golden brown.

When done, remove from baking sheet to a wire rack, with parchment or foil underneath (to catch any drips from glaze icing). Let cool.

While cooling, mix up the glaze ingredients. Once scones are completely cooled off, "paint" the icing over the tops of the scones, completely covering the surface; when that glaze hardens add the white chocolate drizzle in a decorative pattern. ENJOY!
Nutrition Facts
White Chocolate Raspberry Scones
Amount Per Serving (1 scone)
Calories 435
Calories from Fat 144
% Daily Value*
Total Fat 16g 25%
Cholesterol 48mg 16%
Sodium 255mg 11%
Potassium 303mg 9%
Total Carbohydrates 66g 22%
Protein 5g 10%
* Percent Daily Values are based on a 2000 calorie diet.
Save
Save
Save