I love biscotti. I mean, I REALLY love biscotti, that crispy little "breakfast cookie" I dunk unceremoniously and without apology into my steaming, hot cup of morning coffee. Ahhhh…simple pleasures! You will love the taste of these Orange Almond Biscotti!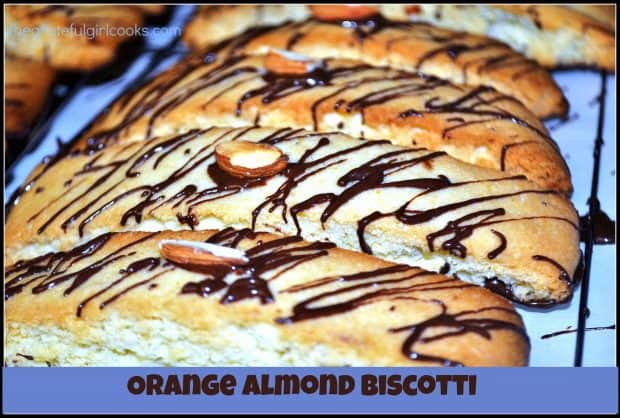 I found this biscotti recipe online and they were a snap to make. These Italian cookies are slightly less "hard" than some of the other "hard as a brick and need to see my dentist afterwards" biscotti recipes. A good flavor combination of orange and chocolate makes these one of my "go to" biscotti recipes.
I've made them many times, and have given many plates of them as gifts to my unsuspecting good friends and neighbors; they are always a hit.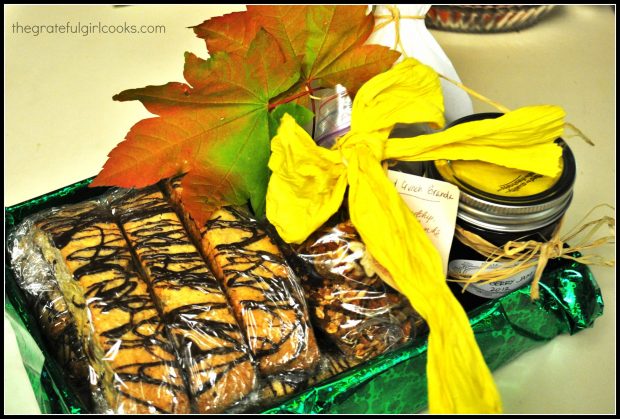 I dip the bottoms of the baked and cooled biscotti into melted semi-sweet chocolate and place on waxed paper to harden the chocolate. Then I drizzle some of the melted chocolate over the top of the biscotti to finish them off.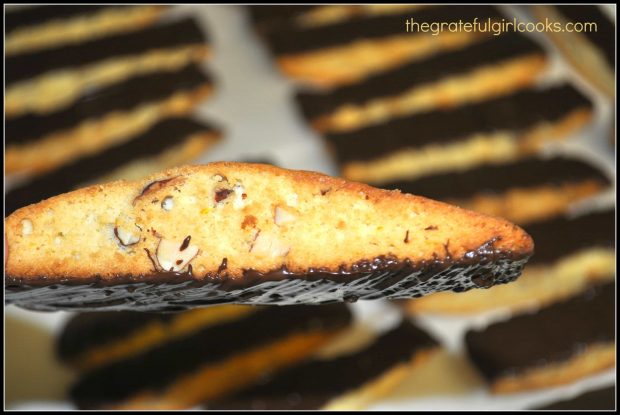 Here is a photo of the last batch I made…hope you enjoy these, too!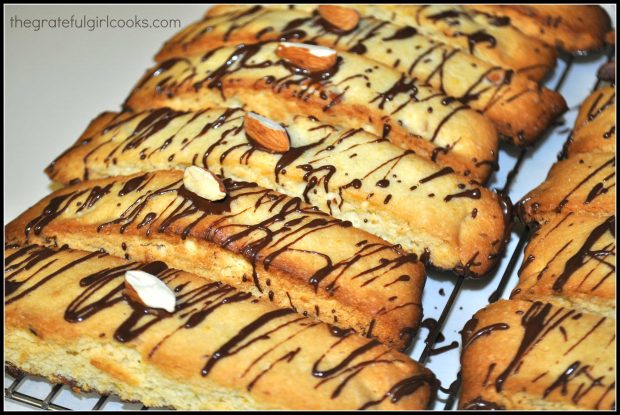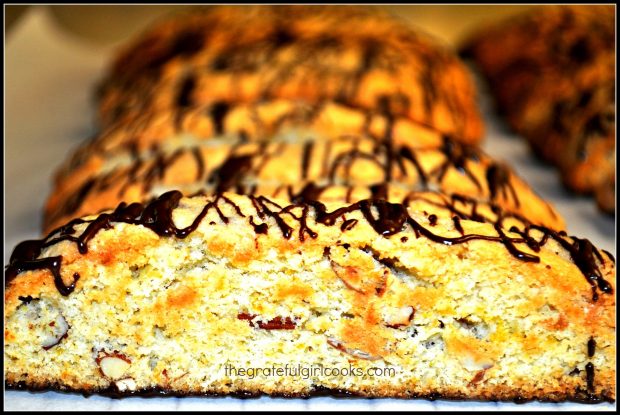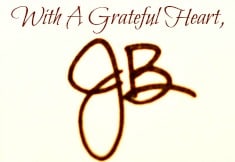 Recipe Source: http://bakingbites.com/2011/10/orange-almond-biscotti/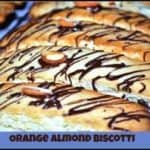 Orange Almond Biscotti
These orange flavored almond biscotti are perfect Italian cookies to munch on, especially when paired with a strong cup of coffee! Yum!
Ingredients
3 1/2

cups

all-purpose flour

1 1/2

Tablespoons

baking powder

1/2

teaspoon

salt

1

cup

butter

, room temperature

1 1/2

cups

granulated sugar

3

large eggs

1

large egg white

1

teaspoon

vanilla extract

2/3

cup

sliced almonds

, toasted (cook in skillet, stir constantly on low,. 2-3 minutes)

3

Tablespoons

fresh orange zest

(from approx. 2 oranges)
To make chocolate glaze for bottoms of biscotti and drizzle glaze:
1

cup

semi-sweet chocolate chips

1

Tablespoon

vegetable shortening
Instructions
Preheat oven to 375 degrees. Line a large baking sheet with parchment paper.

In a medium bowl, whisk together the flour, baking powder and salt.

In a large bowl, cream together butter and sugar till fully mixed and light. Beat in the eggs, one at a time, followed by the egg white and vanilla extract.

With the mixer on a slow speed, gradually add in the flour mixture, blending just until flour is fully mixed in. Stir in the orange zest and the toasted almonds.

Divide the dough in half. With lightly floured hands, shape one half of the dough into a "log", about 2 1/2 inches high and 8-10 inches long (log should be fairly narrow) on the prepared cookie sheet (dough will be sticky, so make sure you flour your hands to work with the dough). Prepare the other half of the dough in the same manner, but make sure to use another parchment-lined cookie sheet, as the dough will "spread a bit".

Place the cookie sheets in the oven and bake for 30 minutes (or until the biscotti are dark golden and set. The biscotti should spring back slightly when lightly pressed in the center. Remove from oven and place on a wire rack to cool.

Allow the dough logs to cool on a wire rack for approximately 20 minutes, then slice into cookies 1/2-3/4 inch thick, using a sharp knife. Arrange the biscotti upright on baking sheets. Lower oven temperature to 350 degrees. Put biscotti back into oven a second time and bake for 20-25 minutes, until they are lightly browned on the sides and slightly crisp. The top and bottom of the biscotti should be relatively dark. Remove from oven and cool completely on a wire rack.

If you want to dip the bottom of the biscotti or drizzle them with chocolate: Melt 1 cup chocolate chips (or more, as needed) in a microwave-safe bowl with 1 T. vegetable shortening in the microwave for approx. 1 to 1 1/2 minutes, stirring every 30 seconds so the chocolate doesn't burn, till smooth).

When biscotti have cooled completely, I dip the bottom of the biscotti (or "paint" on the chocolate using a pastry brush) in melted semi-sweet chocolate , then place on parchment paper or foil until chocolate has hardened. Then I drizzle the chocolate on top of the biscotti. I usually end up using a pastry brush to brush the melted chocolate onto the bottom of the biscotti and a honey dipper to drizzle the glaze over the top of the biscotti. Set the biscotti aside and let the chocolate complete harden, then store finished biscotti in an airtight container till you're ready to dunk 'em in your coffee. Enjoy!
Save
Save
Save