You will LOVE this easy, delicious Raspberry Lemon Crumb Cake, which can be served as a dessert (yummy with a scoop of ice cream) OR a breakfast coffeecake.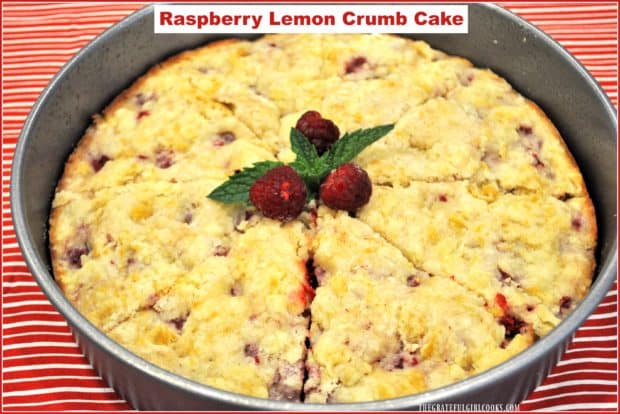 This time of the year is the PERFECT time to find ripe raspberries at local farms or in the local produce section at the grocery store. Then you can make this absolutely yummy raspberry lemon crumb cake!
This past weekend I took my sister and brother-in-law raspberry picking at a local U-Pick farm. They were visiting Oregon from Southern CA for several days, and this is one of the activities my sister really enjoys when she comes up here to visit.
Scroll Down For A Printable Recipe Card At The Bottom Of The Page
Where I Go To Pick Fresh Berries Every Summer
Rowell Brothers Berry Farm has been around since 1853, is about 15 minutes from our home, and is one of the scenic places I LOVE to pick raspberries, blueberries, and boysenberries each summer (plus the fact that you can eat berries for free while you pick is always fun!).
We got to the farm early in the morning, picked raspberries for half an hour and then we were done! Over eight pounds of raspberries picked in half an hour, and we only paid a little over $10, which is a real deal, compared to what they sell for at the grocery store.
A couple days later I used the berries to make homemade raspberry jam , froze a lot of them to use another time, and then also made this delicious raspberry lemon crumb cake with the remaining berries!
How I Got This Recipe For Raspberry Lemon Crumb Cake
I received this recipe from a friend from Southern California 3 years ago. Diane and I grew up together in the youth group at church, and ran into each other once again at a music group reunion we both attended. I hadn't seen her in over 40 years! It was fun catching up with her, and I learned she had attended culinary school in the past. Ooh… how fun!
Once I returned home to Oregon, Diane sent me this recipe via e-mail and suggested I might enjoy trying it! I saved the recipe in a basket which contains a HUGE pile of recipes I want to try (too many recipes, never enough TIME), and just this week finally hunted it down and pulled it out to use with these fresh picked raspberries! So glad I did – this is a delicious recipe!
The recipe is incredibly EASY, and the fruit-filled crumb cake tastes wonderful. We enjoy a slice for breakfast, accompanied by a good, strong cup of coffee! My husband said his favorite way to eat this would be with a big ol' scoop of vanilla ice cream on the side! It's that versatile – it can be either a breakfast coffeecake or a dessert cake!
Here's How To Make Raspberry Lemon Crumb Cake
Very cold chunks of butter are cut into flour sugar and salt, using a pastry blender. The butter is worked into the dry ingredients until mixture is crumbly and butter is about the size of a pea. One half of a cup of the crumbly mixture is set aside to use for a crumb topping for the cake later on.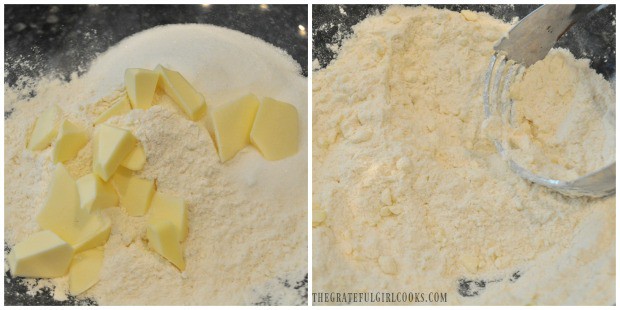 The remaining flour mixture is combined with baking powder, baking soda, egg, buttermilk and fresh lemon juice, and blended until fully combined.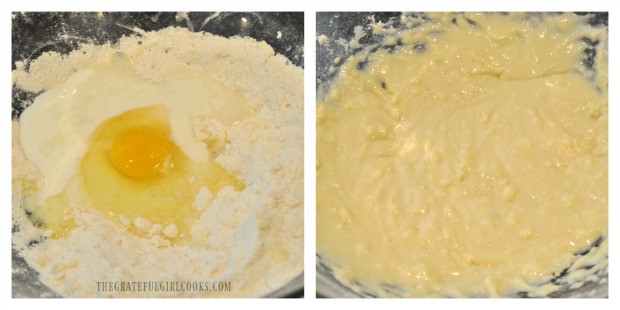 Fresh raspberries are gently stirred into cake batter. The batter is then placed into a cake pan that has been coated (bottom and sides) with non-stick cooking spray.

Lemon zest and juice are then added to the reserved flour mixture that was set aside earlier. This crumb topping is mixed until combined, then sprinkled over the top of the cake batter in cake pan.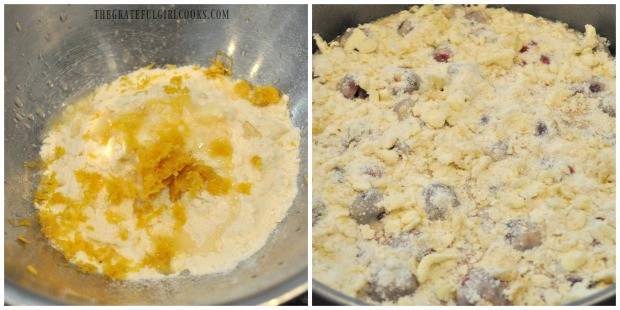 Time To Bake The Cake!
The raspberry lemon crumb cake is baked in a preheated 350°F oven for 25-30 minutes, or until the cake springs back when touched lightly in the center. This picture below shows how it looked straight out of the oven.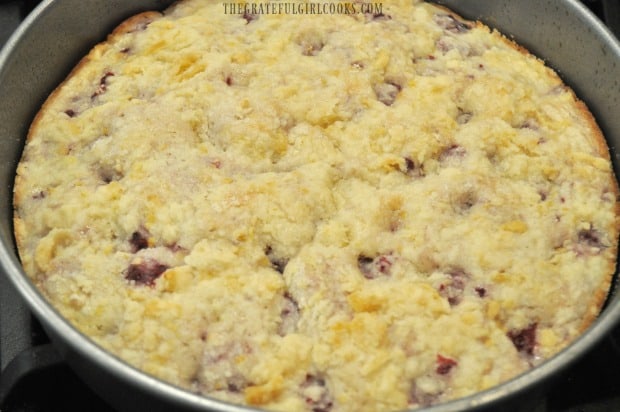 Once the cake cooled to room temperature, it was cut into 8 wedges. The top was garnished with a few raspberries and a sprig of fresh mint (from my garden!).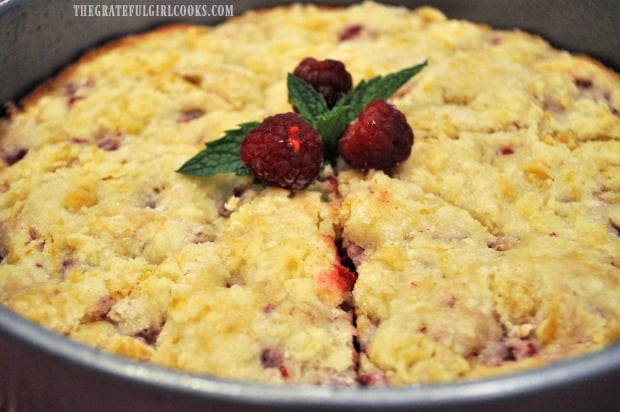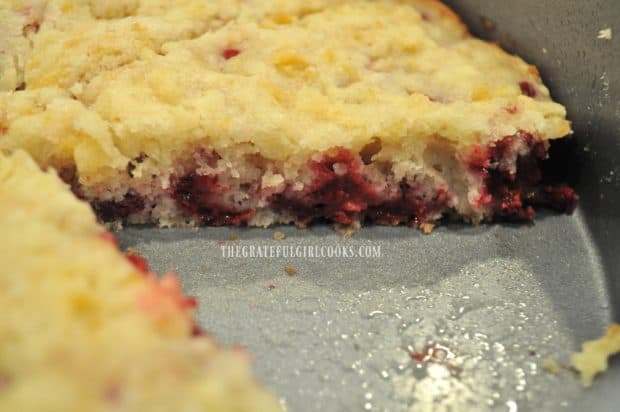 Time To EAT!
You can see what the raspberry lemon crumb cake looks like on the plate. It's LOADED with raspberries! The cake is not dry at all, and the combination of raspberry and lemon flavors are absolutely perfect!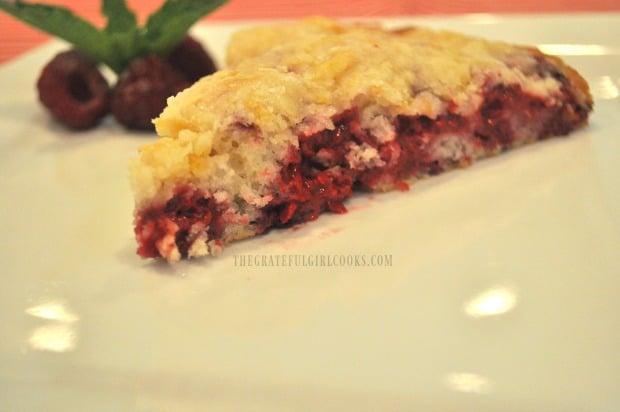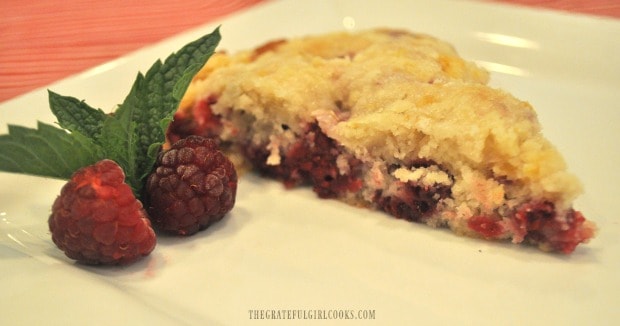 We truly enjoyed this simple, yet delicious raspberry lemon crumb cake! I really hope you will consider trying this cake for yourself… you will be surprised just how easy it is to make, and hope you will enjoy it, as well!
Looking For More CAKE Recipes?
You can find ALL my recipes in the Recipe Index, located at the top of the page. I have a nice variety of delicious cake recipes, including:
Interested In More Recipes?
Thank you for visiting this website. I appreciate you using some of your valuable time to do so. If you're interested, I publish a newsletter 2 times per month (1st and 15th) with all the latest recipes, and other fun info. I would be honored to have you join our growing list of subscribers, so you never miss a great recipe!
There is a Newsletter subscription box on the top right side (or bottom) of each blog post, depending on the device you use, where you can easily submit your e-mail address (only) to be included in my mailing list.
You Can Also Find Me On Social Media:
Facebook page: The Grateful Girl Cooks!
Pinterest: The Grateful Girl Cooks!
Instagram: jbatthegratefulgirlcooks
Have a wonderful day!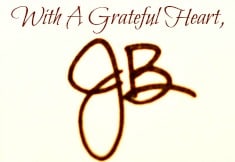 Recipe Source: Diane Schultz O'Brien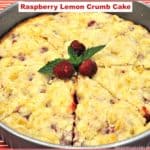 Raspberry Lemon Crumb Cake
You will LOVE this easy, delicious Raspberry Lemon Crumb Cake, which can be served as a dessert (yummy with a scoop of ice cream) OR a breakfast coffeecake.
Category:
Dessert or Coffeecake
Keyword:
raspberry lemon crumb cake
Calories Per Serving
:
207
kcal
Ingredients
1¼

cups

all purpose flour

2/3

cup

granulated sugar

1/8

teaspoon

salt

1/4

cup

butter (very cold)

1/2

teaspoon

baking powder

1/4

teaspoon

baking soda

1/3

cup

buttermilk (low-fat)

2

Tablespoons

lemon juice (fresh)

1

egg

1

cup

fresh raspberries

2

teaspoons

lemon zest (finely grated lemon rind)

3/4

teaspoon

lemon juice (fresh)
Instructions
Preheat oven to 350°F. Coat an 8" round cake pan with non-stick cooking spray (bottom and sides).

Place flour, granulated sugar and salt in a large mixing bowl. Cut in chunks of COLD butter, using a pastry blender or 2 knives or forks, until the butter/crumbs are about the size of peas. Measure out 1/2 cup of this crumb mixture and set aside to use as crumb topping later (set aside).

To the mixing bowl with remaining flour mixture add the baking powder, baking soda, buttermilk, lemon juice, and egg. Beat on medium speed with a mixer until well blended. Gently STIR in fresh raspberries until fully combined with batter. Spoon batter into the prepared (sprayed) cake pan. Gently spread to cover bottom of pan.

Take the reserved flour/crumb mixture and add lemon zest and juice to it. Combine these ingredients with a fork until crumbly. Sprinkle this mixture over the top of the cake batter, until top of cake is covered.

Bake cake on center rack of preheated 350°F oven for 25-30 minutes or until it is light golden brown on top and cake springs back with touched lightly in the center (mine took 30 minutes). Remove cake pan to a wire rack to cool to room temperature. Slice into 8 wedges, and garnish cake with fresh raspberries and a mint sprig, if desired. ENJOY!
Nutrition Facts
Raspberry Lemon Crumb Cake
Amount Per Serving (1 slice)
Calories 207
Calories from Fat 54
% Daily Value*
Fat 6g9%
Cholesterol 36mg12%
Sodium 140mg6%
Potassium 91mg3%
Carbohydrates 34g11%
Protein 3g6%
Vitamin A 205IU4%
Vitamin C 6.2mg8%
Calcium 34mg3%
Iron 1.1mg6%
* Percent Daily Values are based on a 2000 calorie diet.
Here's one more to pin on your Pinterest boards!