I was looking through a bunch of my old "Taste of Home" magazines recently (I've kept them all!) and came across this "ribbon winning State Fair recipe" for Sky High Biscuits. I have been wanting to try it ever since, so this morning I made them for breakfast.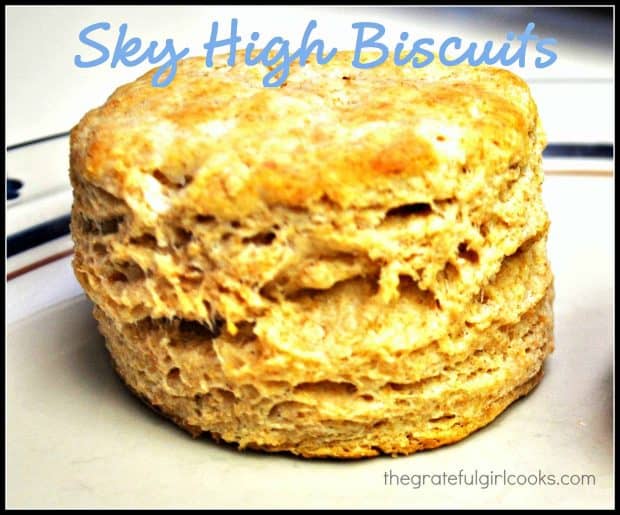 "I trust in Your unfailing love. I will rejoice because You have rescued me. I will sing to the Lord because He has been so good to me." (Psalm 13:5-6)
I LOVE that Bible verse! I've experienced firsthand God's unfailing love over the course of my life, and have been changed for the better because of it. I can easily lift my heart's song to Him in thankful response to His unconditional love. It changes everything. And now…back to my regularly scheduled recipe… ♥
These really were tall, flaky, and delicious biscuits! The recipe as written includes a cup of whole wheat flour, but recipe reviews indicate that others have made them using only all-purpose flour and the results were just as fantastic! I will definitely make these again, and will try the recipe with only all-purpose flour and then compare the two tastes. This was a very easy recipe to pull together quickly. It's also an "easy on the budget" recipe AND from start to finish it took under 30 minutes to pull 12 gorgeous hot, sky high biscuits out of the oven! I tried the biscuits with jam AND even tried a biscuit with gravy. Both passed the taste test! I even wrapped a few up and put them in our freezer for another time we have a craving for good, homemade biscuits! I sure hope you will give them a try!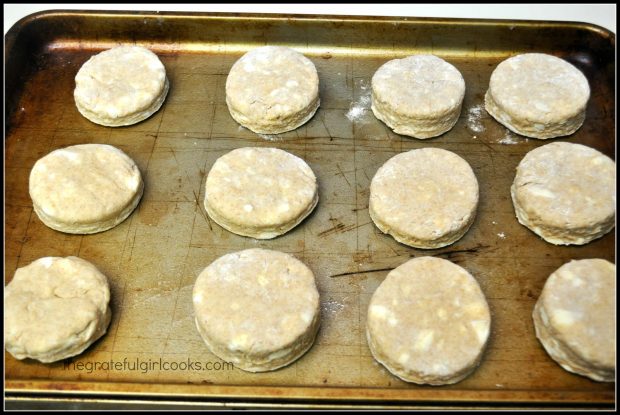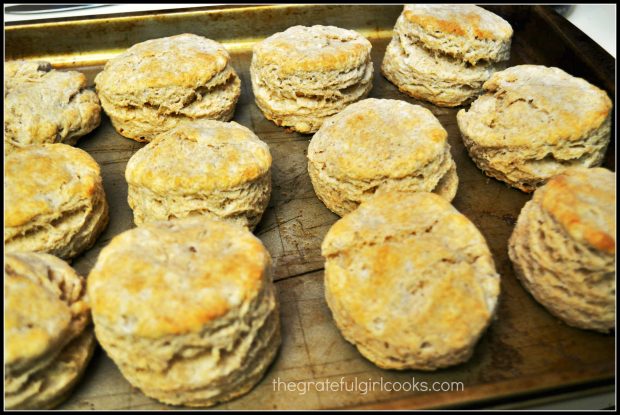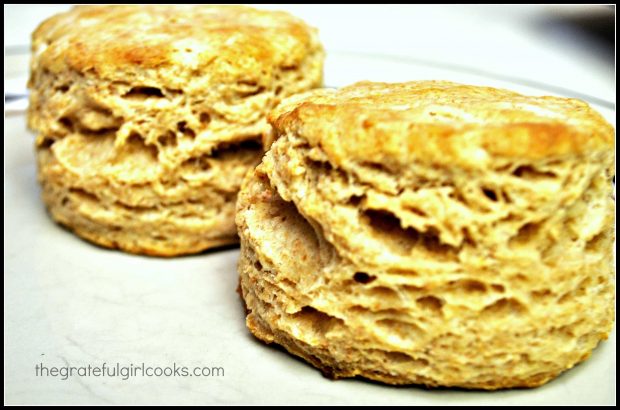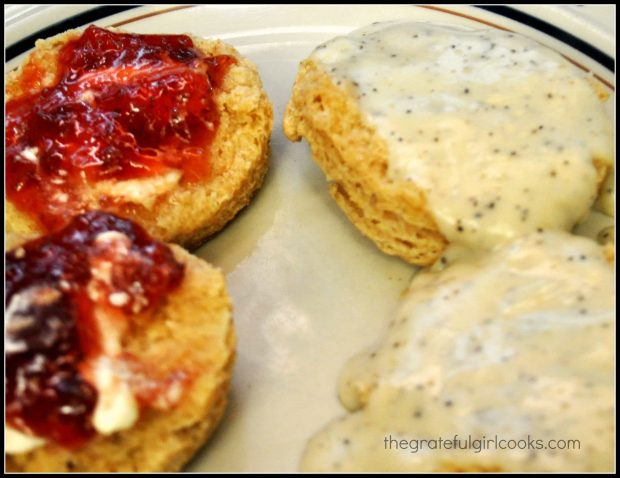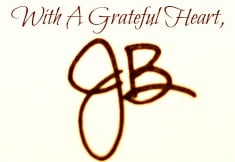 Recipe Source: Ruth Burrus, Taste of Home Magazine, June/July 2001 issue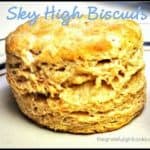 Sky High Biscuits
Tall and fluffy, these homemade biscuits are sure to please!
Ingredients
2

cups

all-purpose flour

1

cup

whole wheat flour

(or can use all-purpose)

2

Tablespoons

granulated sugar

4 1/2

teaspoons

baking powder

1/2

teaspoon

salt

3/4

cup

COLD butter

(1 1/2 cubes)

1

egg

1

cup

milk
Instructions
Preheat oven to 450 degrees F.

In a large bowl, mix together the flours, sugar, baking powder, cream of tartar and salt.

Slice the butter into small chunks and cut it into the flour mixture with a pastry blender (or pulse several times in your food processor) until butter is about the size of a pea. If using a food processor, pour the mixture back into the large bowl once butter has been cut in.

Mix the egg and milk together with a fork and stir in to the flour mixture only until dough is fully moistened.

Turn the dough out onto a floured surface and form into a ball. With a lightly floured rolling pin, roll the dough out to a 1 inch thickness. Brush any extra flour off the top of the dough, using a pastry brush. Cut with a biscuit cutter (mine was about 2 inches across). Roll up the extra dough, roll it out again and cut it into additional biscuits. You should have 12 biscuits when done (but that depends on the size of the biscuit cutter used).

Place biscuits an inch apart on a greased baking sheet.

Bake at 450 degrees for 10-15 minutes, or until golden brown on top. (Mine took 15)

Remove biscuits to a wire rack.

Serve with jam, gravy, honey...or whatever you like! These would be great breakfast sandwich biscuits, also. ENJOY!
Recipe Notes
Recipe Source: Ruth Burrus, Taste of Home Magazine, June/July 2001 issue
Save
Save
Save