My husband and I just got home after a 5 day trip to Southern CA to attend a music reunion with friends of over 40 years. We had a blast, but came home exhausted, and facing a mountain of work for my husband's company. So, that being said, today's recipe for this tasty "Stir Fry Asian Glazed Shrimp & Veggies" will be short and sweet, so I can get to work!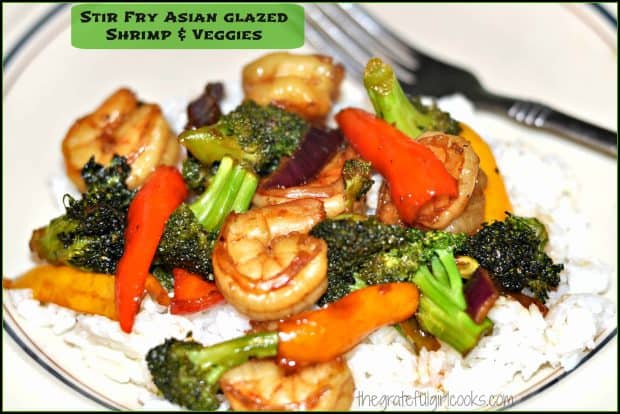 I recently was trying to figure out what to make my husband and I for dinner. I had some frozen large shrimp, some fresh veggies, and a good idea. I love to stir fry meals. Small amounts of meat, and LOTS of veggies make for a pretty tasty dinner. I remembered a sauce I made last year for some Asian Lemon Chicken Strips, and decided to make a shrimp stir fry using the same sauce. Boy, was it good! I will post the recipe as I made it , but as you are already totally aware, with a stir fry, you can just add any kind of veggies that you like or have available.
This stir fry is so easy. The sauce takes about 15 minutes to cook. While it is cooking, you can stir fry the veggies and shrimp. Combine it all, heat through, and serve. It's THAT easy, and it only takes about 30 minutes, from start to finish. And it's really delicious, too! Sure hope you'll give this one a try!
Here's what I did:  First I made the sauce. Easy. Combine all ingredients in saucepan and cook for about 15 minutes.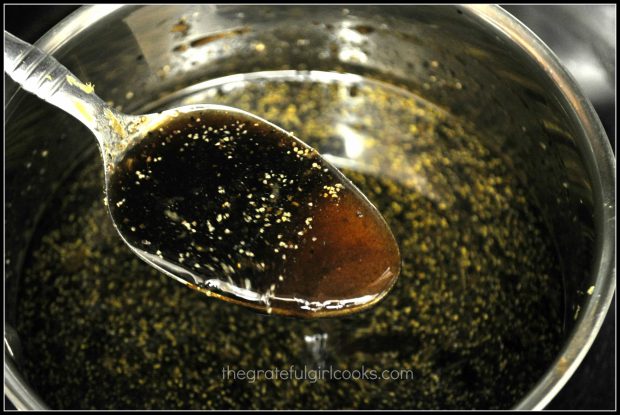 I steamed the veggies for about 5 minutes. Usually I just stir fry them in a bit of olive oil (5-6 minutes) in a skillet. (This time I steamed them a bit just to get them softened up a bit, then stir fried them. Don't know what came over me…) If you stir fry the veggies, take them out of skillet when done. Then you add a bit more olive oil and can stir fry the shrimp in same skillet.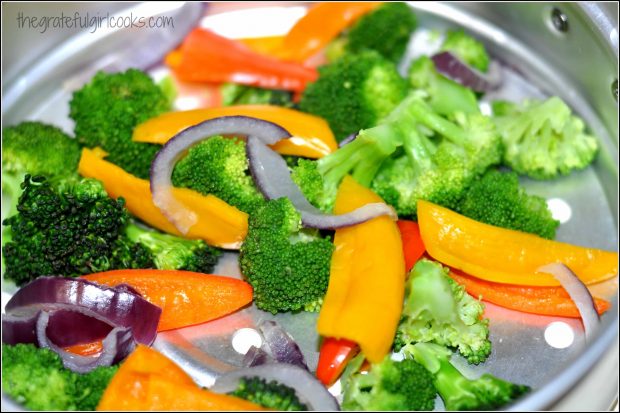 I stir fried the shrimp in a small amount of olive oil. This only takes a couple minutes.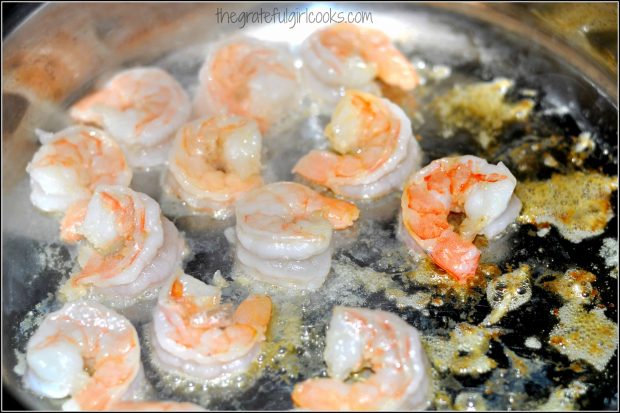 I added the veggies back into the skillet to hang out with the shrimp.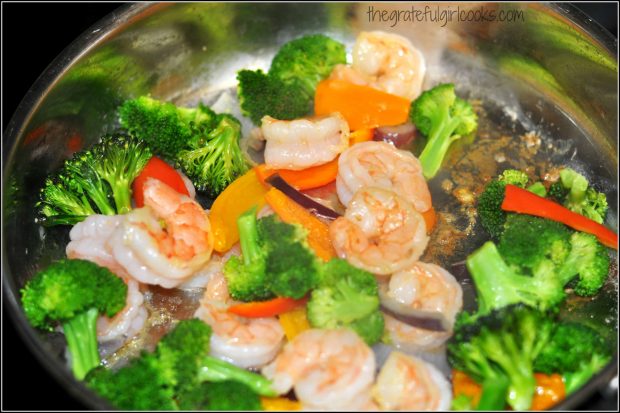 Pour enough of the sauce into the skillet to coat everything (you may have a bit leftover. No worries… the sauce freezes well!).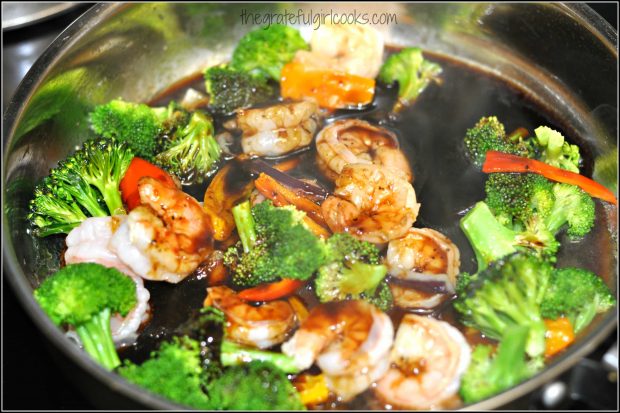 Give everything a good stir to combine and coat everything with the sauce, then heat through.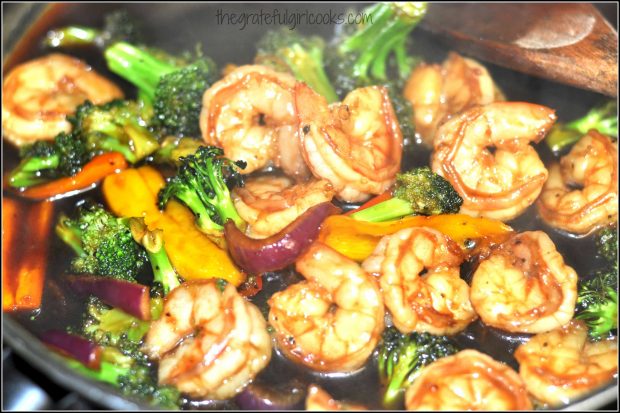 When ready to serve, spoon out the shrimp, veggies and sauce. We love it served on top of white rice! Spoon some of the extra sauce over the top, serve, and enjoy!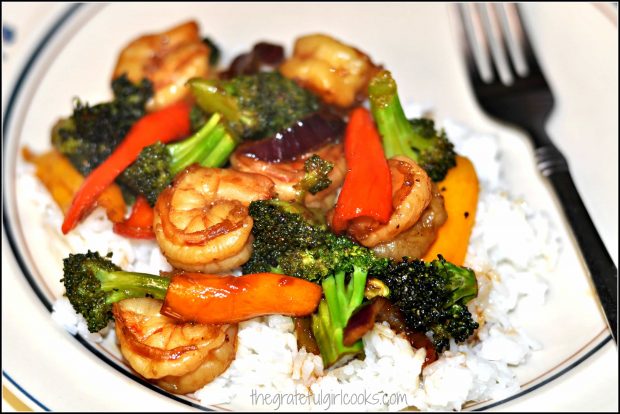 Quick and easy… and on your plate in about 30 minutes… just the way I like it!  Hope you have a great day!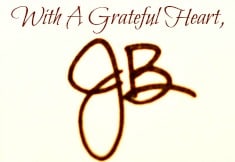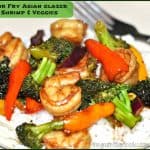 Stir Fry Asian Glazed Shrimp & Veggies
From stove to plate in 30 minutes, this shrimp and veggie stir fry is coated in a delicious Asian-inspired lemon sauce.
Ingredients
For The Stir Fry:
1/2

pound

medium or large shrimp

, peeled, deveined (Approx. 6-7 shrimp per serving)

Broccoli

(approx. 2 cups of florets)

Red onion

(as much as you like. I used about 2 round slices, cut in half)

Red

, orange, yellow bell peppers (any combo works- about 1 cup of slices)

3

Tablespoons

olive oil

(divided)
For the Sauce:
1/2

cup

honey

1/3

cup

soy sauce

1/4

cup

pineapple juice

1/4

cup

brown sugar

, packed

Juice & zest of 1 lemon

2

Tablespoons

apple cider vinegar

2

Tablespoons

olive oil

1

teaspoon

ground black pepper

1/2

teaspoon

garlic powder
Instructions
Prepare the sauce: Place all sauce ingredients into a medium sized saucepan. Stir well, to combine. Bring mixture to a rolling boil over medium heat; once mixture is at a rolling boil, reduce heat, and simmer for approx. 15-20 minutes. Stir occasionally. The sauce will thicken slightly as it cooks.

While sauce is cooking, heat 1 1/2 Tablespoons of olive oil in a skillet. When oil is hot, add the broccoli florets, sliced red onion, and sliced red, yellow and orange bell peppers. Stir fry the veggies, stirring constantly, for about 5 minutes. Remove veggies from pan to a plate. Set aside.

Add remaining 1 1/2 Tablespoons olive oil back into the skillet. Heat oil once again. When it is good and hot, add the shrimp. Cook shrimp on both sides for 2-3 minutes or until shrimp has turned pink on all sides.

When shrimp is done, add the veggies back into the skillet.

Add enough of the Asian sauce to completely coat the shrimp and veggies. Stir to combine well.

Heat shrimp, veggies and sauce until fully heated through (only takes a minute or two).

Serve, with a side of rice, or on top of a bed of rice. Drizzle extra sauce from the skillet over the shrimp. (You can freeze any leftover sauce; cover it tightly. It freezes well.)

Enjoy!
Recipe Notes
This recipe was created for two people, but is ridiculously easy to double, triple, etc.
Save
Save
Save