I love cheesecake. I love strawberries. I also love cheesecake with strawberry topping, so it stands to reason that I would also love homemade Strawberry Cheesecake Ice Cream!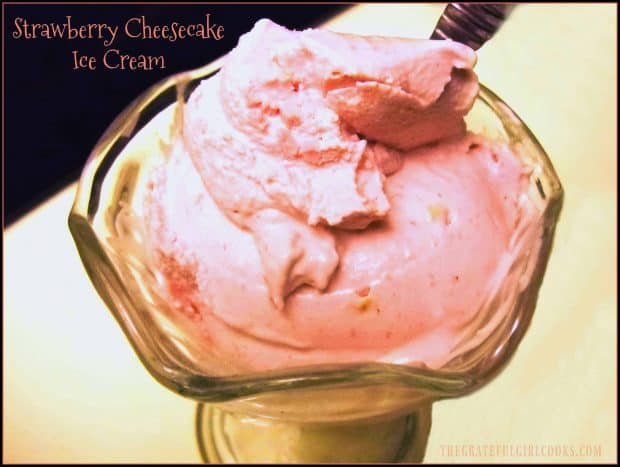 I love making homemade ice cream in my little electric ice cream maker that I received several years ago for my birthday. The kind I have is perfect for a quick batch… no ice cubes and no salt to freeze it. It just sits on my kitchen counter where I pour in the ice cream mixture and a little over 20 minutes later… boom… ice cream! It's fun (and dangerous) to be able to make homemade ice cream… even when it might be snowing or pouring down rain outside.
This recipe is a really easy one that I first made one summer while experimenting with a LOT of ice cream recipes. For this recipe I added in the ingredients that I thought would make a great ice cream.  Did I mention that I ate all the different kinds of ice cream I made that summer? Well… SOMEONE had to do it.  Heh heh heh. This recipe for Strawberry Cheesecake ice cream tasted great, and is very simple to make. Here's how:
Place cleaned, stemmed, cored and sliced fresh strawberries, sugar and lemon juice into a blender. Blend on high until mixture is pureed.  Add 8 ounces of room temperature cream cheese (cut into chunks) to the liquid. Blend again until mixture is well pureed.
Transfer strawberry/cream cheese mixture to a large bowl.  Stir in whipping cream, milk, and vanilla extract, to fully combine.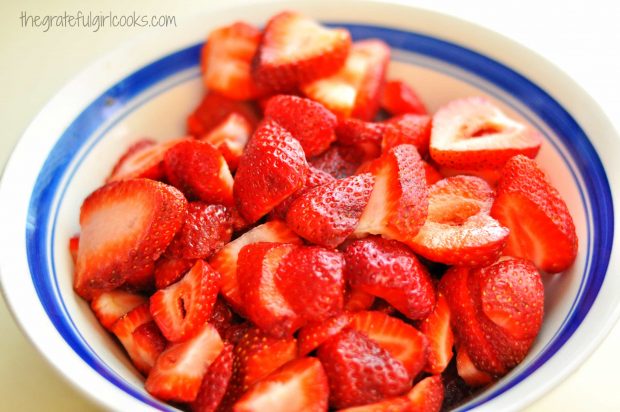 Pour the ice cream mixture into the cannister of an ice cream machine. Freeze, per manufacturer instructions until done (my beloved machine takes just over 20 minutes to freeze to soft-serve consistency).  It's ready to eat right then and there, but I suggest transferring ice cream to a freezable container with a lid, and freeze for 2-3 additional hours to firm ice cream up to a more "scoopable" consistency.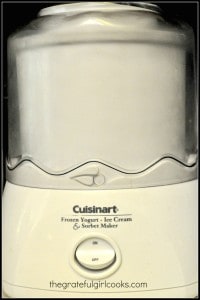 That's it!  When the ice cream's done, grab a big ol' scoop, plop down into the nearest chair and enjoy this delicious ice cream.  Sure hope you enjoy it… we sure do!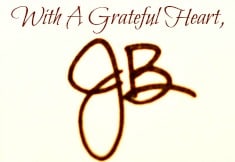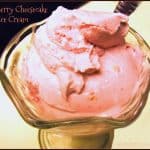 Strawberry Cheesecake Ice Cream
Ingredients
2

cups

fresh strawberries

, de-stemmed, cored, sliced

3/4

cup

granulated sugar

2

teaspoons

fresh lemon juice

8

ounces

cream cheese

(room temp)

1

cup

whipping cream

1/2

cup

whole milk

1

teaspoon

vanilla extract
Instructions
Combine strawberries, sugar and lemon juice in blender. Blend until mixture is smooth and pureed.

Cut softened cream cheese into chunks and add to blender. Blend until smooth. Transfer fruit puree into a large mixing bowl.

Stir in whipping cream, milk and vanilla until blended.

Pour ingredients into freezer cannister of ice cream machine and freeze according to manufacturer instructions (usually between 20 and 25 minutes).

When done, transfer ice cream to a covered freezer container and place in freezer for 2-3 hours to firm up to a scoopable consistency.

Serve, and enjoy!
Here's one more to pin on your Pinterest boards!

Save
Save
Save
Save
Save
Save
Save
Save
Save
Save
Save