Fall is here! I am ready for cool, crisp mornings… and soup! I made a pot of Tuscan Chicken & Vegetable Soup yesterday, and I gotta say… it really was good!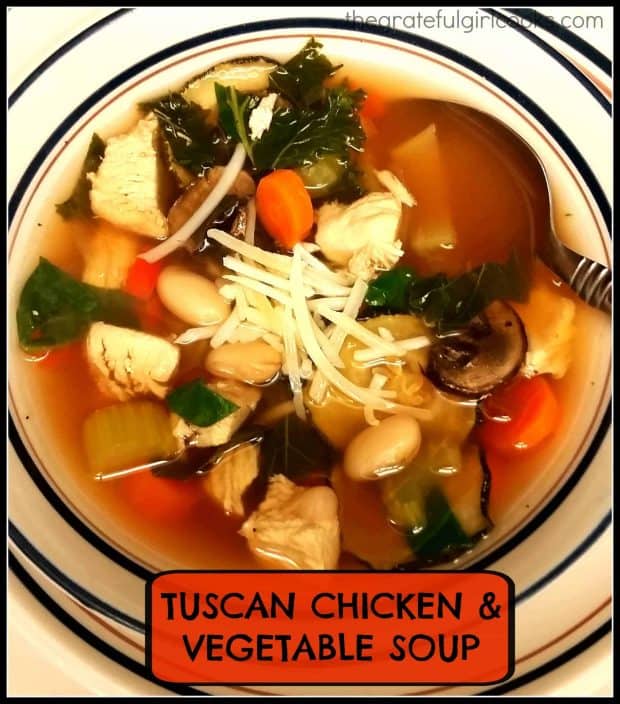 We're had a gorgeous summer here in the beautiful Pacific Northwest, but I am really enjoying the cooling air, the trees beginning to turn into their Fall colors, etc. There's just something about Fall that calls for a large pot of delicious smelling soup on the stove. Yesterday I was in the mood for a good Italian-inspired soup. I've read various recipes for Tuscan Soup over the years (trust me, there's a bazillion of them), so I had a basic idea of what could go into this soup, but I ended up not using any ONE recipe… I decided to simply create my own version of it,. And guess what? We LOVED it!!!!
Seriously, people, we LOVED it!! Success! Lots of "good-for you-veggies", chicken and a great combination of spices in a light Italian-flavored broth makes for one great pot of soup! I used chicken broth and chicken in this soup, but believe this soup would be just as good using vegetable broth and no chicken (if you're of the vegetarian or vegan mindset).
It was a fun recipe to prepare, because I was able to use a lot of ingredients I grew this summer in our garden… onion, garlic, oregano, thyme, basil, carrots, kale and spinach, but obviously those ingredients can all be found at your local grocer.
All that said, this is an incredibly easy recipe to throw together and is wonderfully delicious! I sure hope you'll try it. Throw on a warm sweater, some sweatpants, turn on some great music, make a large pot of this soup… and enjoy the beauty and taste of this glorious Fall season! Enjoy!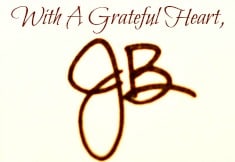 Recipe Source: My brain. In "Fall" mode.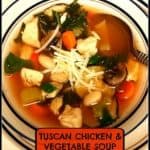 Tuscan Chicken & Vegetable Soup
Delicious Italian-inspired chicken and vegetable soup... perfect anytime, especially on a cold day!!
Ingredients
2

boneless chicken breasts

, cooked and cubed

7

cups

chicken broth

(may substitute vegetable broth, if desired)

1/2

cup

onion

, chopped

3

carrot stalks

, sliced thinly

3

celery stalks

, sliced thinly

1/2

cup

sliced mushrooms

1/2

small zucchini

, sliced thinly

2

Tablespoons

olive oil

1

cup

kale

, chopped (stems removed) (if omitting, double the spinach quantity!)

1

cup

baby spinach

, chopped

1

can cannellini beans

, drained

1/2

teaspoon

Salt & pepper

, to taste (may have to add more)

1/2

teaspoon

dried basil

1/2

teaspoon

dried oregano

1/4

teaspoon

dried thyme

1/4

teaspoon

garlic powder

1/3

cup

tomato paste

Parmesan cheese

, grated (for garnish)
Instructions
In a large soup pot, saute the onion, carrots, celery, mushrooms, and zucchini in olive oil for 3-4 minutes.

Add the chicken broth and cooked, cubed chicken to soup pot.

Add the salt & pepper, basil, oregano, thyme, and garlic powder to soup.

Bring soup to a boil, then reduce heat to low.

Add tomato paste, Mix well to combine.

Add cannellini beans, kale and spinach. Season again with salt & pepper to taste, if necessary.

Cook on low for 45 minutes, stirring occasionally

When ready, ladle hot soup into bowls, garnish with grated Parmesan cheese, and serve.

Enjoy!
Recipe Notes
Tip: Use a pre-cooked rotisserie chicken for the fastest way to make this recipe.
*I boiled the chicken breasts in water for 45 minutes earlier in the day... then used them later in this recipe. Whatever works best for you is the bottom line.
Save
Save