These Chocolate Chip Orange Scones are my "all-time favorite" scones. Period!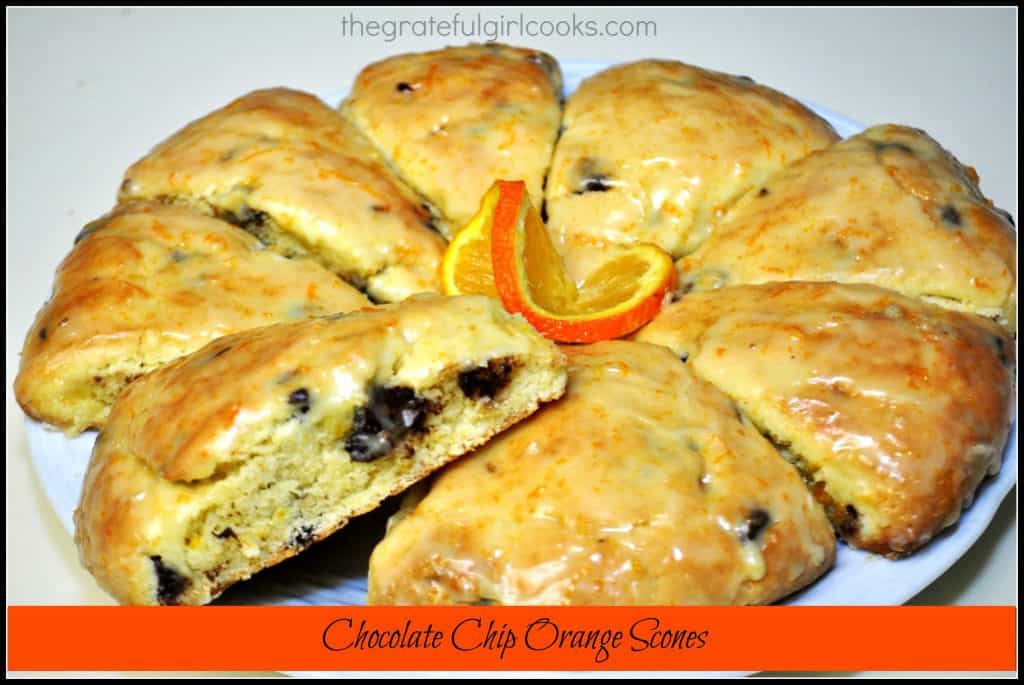 When I worked full-time (for almost 30 years), I would occasionally bring plates of these delicious scones to the office, to share with my friends. They were always a big hit… and I always returned home with empty serving plates!  Now that I have my own blog (to share favorite recipes with family and friends in one convenient location), I decided to share this special recipe with you. I think you will LOVE these scones!
I made a batch this morning…it was a brisk 36 degrees outside; a spectacularly gorgeous Pacific Northwest kind of day (Thank you, God, for the beauty all around us). My husband and I discussed our plans for the day while enjoying a scone, accompanied by our obligatory cups of "strong" coffee. Ahhhh… delicious! Chocolate and orange are a favorite flavor combination of mine, and these scones, with their sweet citrus glaze on top, are "practically perfect in every way".
What a great way to start the day (and soooo much less expensive than buying them at the local coffee house!)  Give them a try…I hope you enjoy them as much as we do!
Update: I made some this past Christmas (2015) for breakfast. They were gone in a flash!!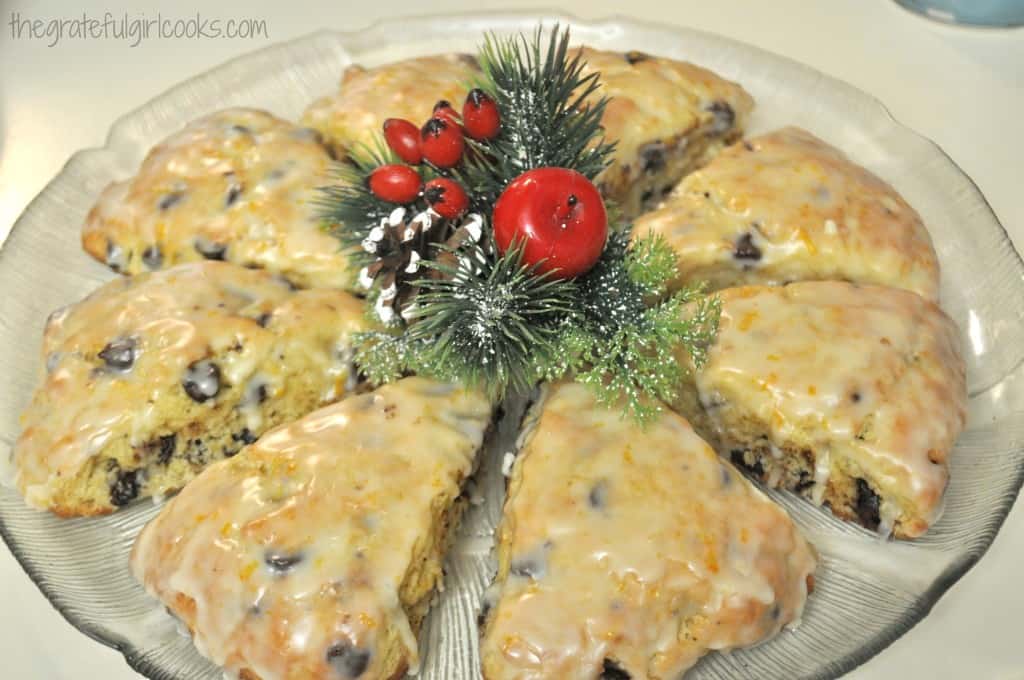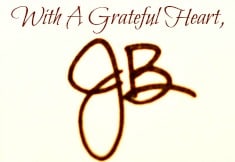 Recipe Source: unknown

Chocolate Chip Orange Scones
Soft chocolate chip orange scones, with an orange glaze on top, that are just as good, if not better than the local coffee house scones.
As Prepared By:
JB at The Grateful Girl Cooks!
Ingredients
For scones:
2 cups all-purpose flour
⅓ cup granulated sugar
2 teaspoons baking powder
½ teaspoon salt
½ cup (1 cube) unsalted butter, very cold
2 large eggs
¼ cup orange juice
1 teaspoon vanilla
½ teaspoon grated orange peel (finely grated; I use a micro-plane zester)
¾ cup semi-sweet chocolate chips (regular or mini-sized)
1 egg white + ½ tsp. water
For glaze:
1½ cups powdered sugar (can always add more if you need extra)
¼ teaspoon vanilla extract
¼ teaspoon orange extract (I use it for enhanced flavor, but optional)
1 teaspoon grated orange zest
3-4 teaspoons orange juice (until you get the right consistency of glaze to
"paint" on the scones)
Directions
Preheat oven to 425 degrees.
In a food processor (or cut in by hand with a pastry blender in a large bowl), mix flour, sugar, baking powder, salt and chilled butter together until well combined.
In a separate bowl, mix together the eggs, orange juice, vanilla, and grated orange peel.
Add egg mixture to the flour mixture; combine till fully blended.
Stir in chocolate chips. Mix to fully combine.
Pour out the dough onto a well-floured surface.
Knead dough with floured hands until the dough comes together...(continue to sprinkle the dough and surface with additional flour as needed, as dough is usually fairly "sticky"-I usually do this 3-4 times).
Shape dough into an 8" circle
Mix the egg white and water together in small bowl. Using a pastry brush, brush the tops of the scones with this mixture.
Using a pizza cutter or very sharp knife, cut the dough circle into 8 pie-shaped wedges.
Spray a baking sheet with cooking spray. Place wedges on baking sheet and bake at 425 degrees for 20-25 minutes (mine are usually ready at the 20 minute mark), or until golden brown on top.
Remove from oven to a wire rack, with foil or parchment paper underneath.
When scones have slightly cooled, "paint" the glaze on with a pastry brush (glaze is made by mixing up the ingredients listed, in a small bowl). Completely cover the tops of the scones with the glaze. Let scones cool until glaze has hardened. ENJOY!
Save
Save
Save