When I make spaghetti sauce, I cook the sauce for several hours… BUT sometimes I don't have time to spare, so I make this EASY and quick spaghetti sauce which is flavored with Italian sausage, mushrooms, green peppers, onions, and lots of spices. It's delicious and filling, especially on a "cool weather" kind of day, like today in the Pacific Northwest.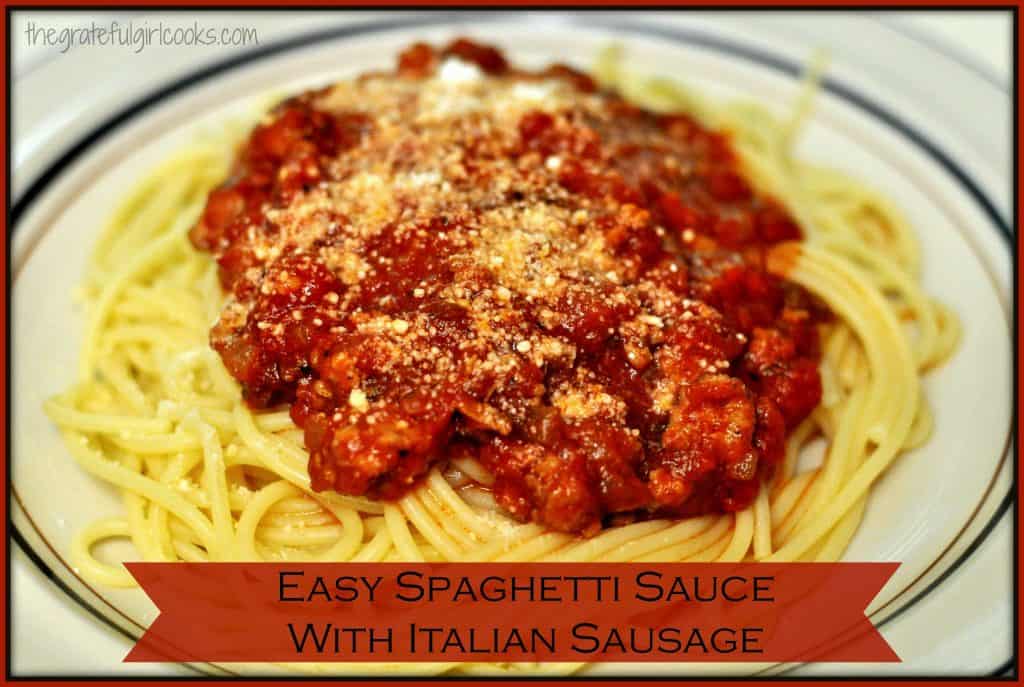 The sauce only takes about 10 minutes of prep work, then the rest of the time (30 minutes) is inactive "simmering" time. Not too much time to invest, and the results are wonderful! I like to make extra sauce to freeze for another day (the recipe serves 4-6 depending on serving size, but it's always nice to have extra made up).
Start the party off by sautéing Italian sausage (which has been removed from the casing) with some chopped onion.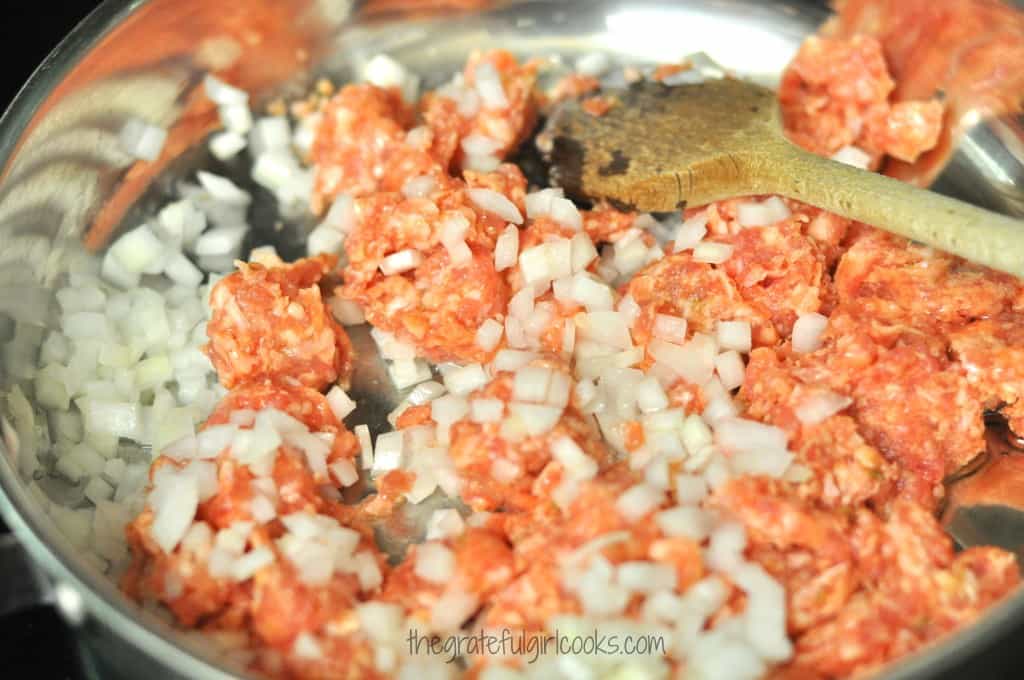 Add chopped green pepper and continue cooking until sausage is fully cooked.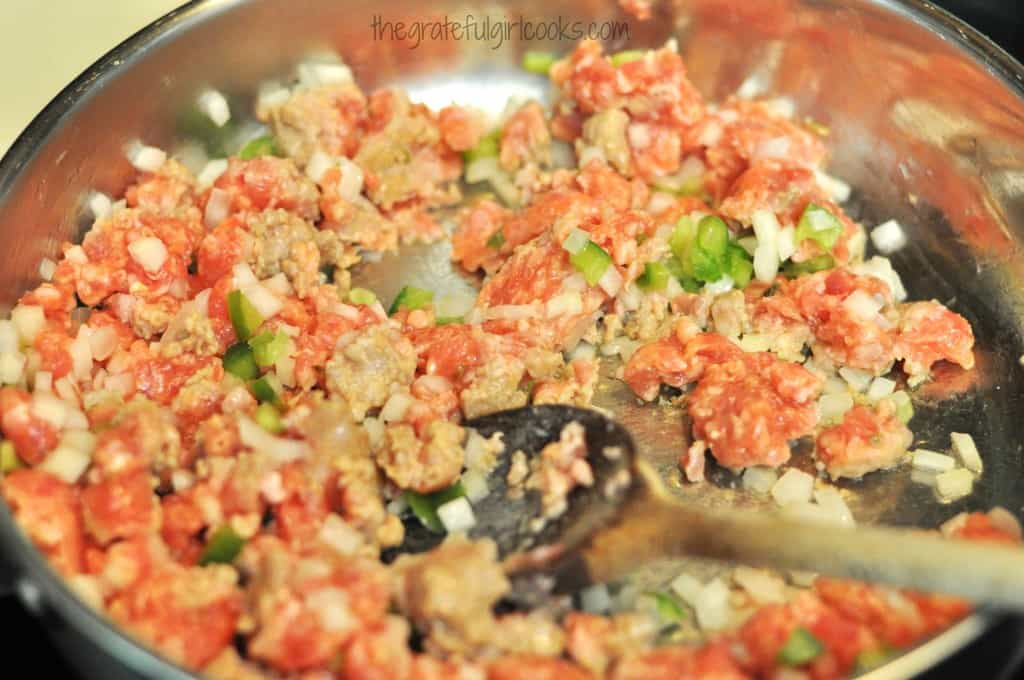 Drain the grease from the skillet, then add tomato paste, a large can of diced tomatoes, and water. Sometimes I add in 1/2 cup red wine, if I have an open bottle (optional, though).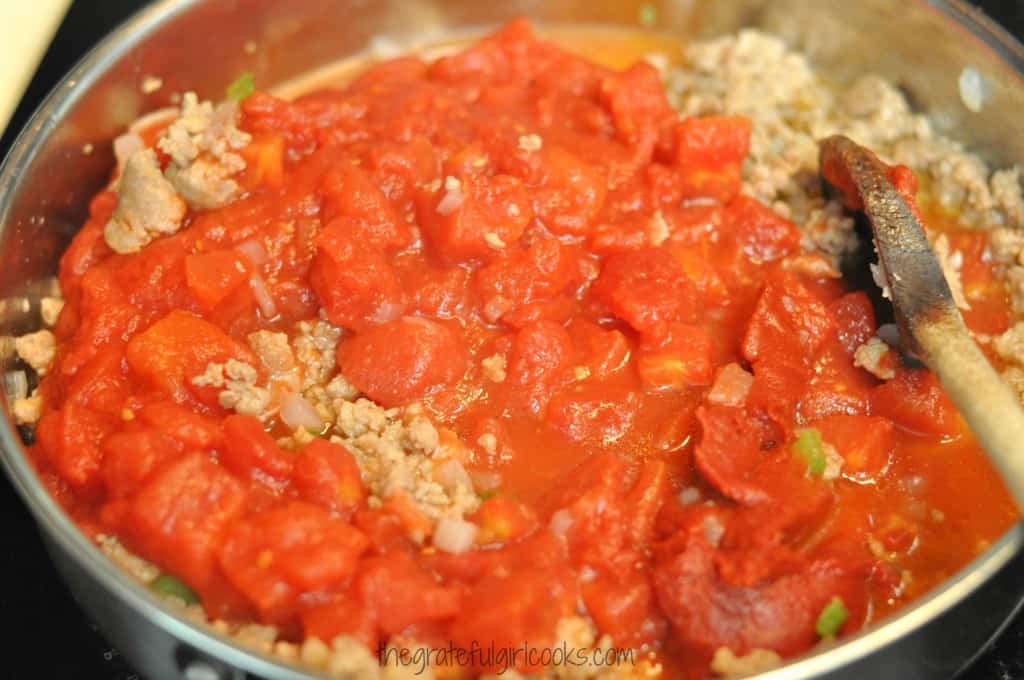 Next add the spices (oregano, basil, Italian seasoning, garlic powder, red pepper flakes, salt & pepper).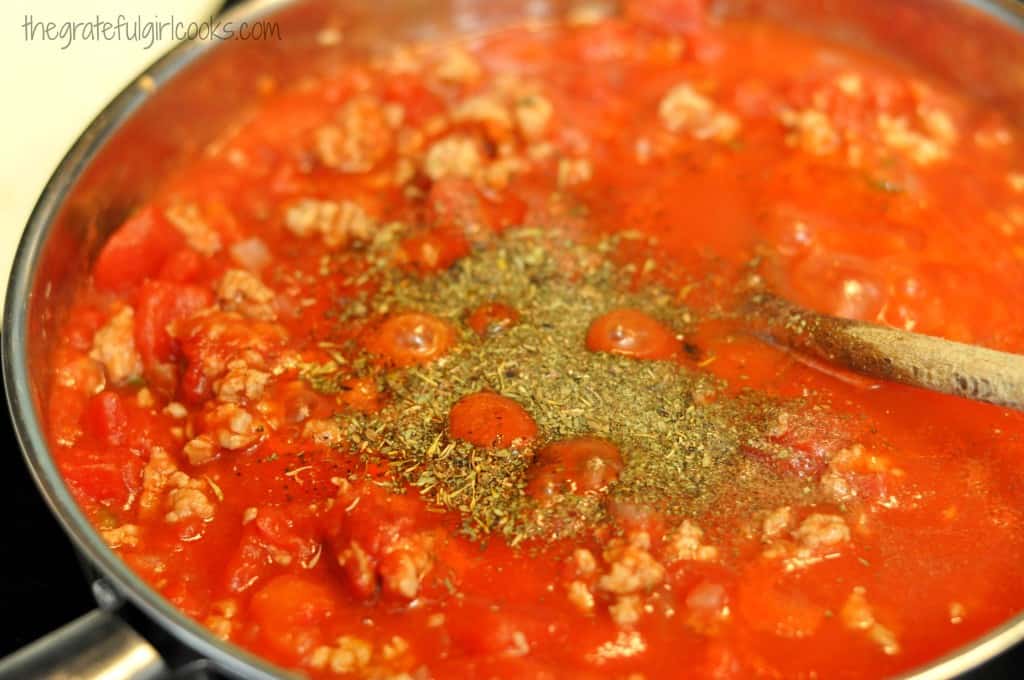 Add mushrooms. I used some of my dehydrated mushrooms (they ARE kind of handy to have around and re-hydrate wonderfully in the sauce), but of course, you can use the same amount of fresh, sliced mushrooms. If you don't like mushrooms, just leave 'em out!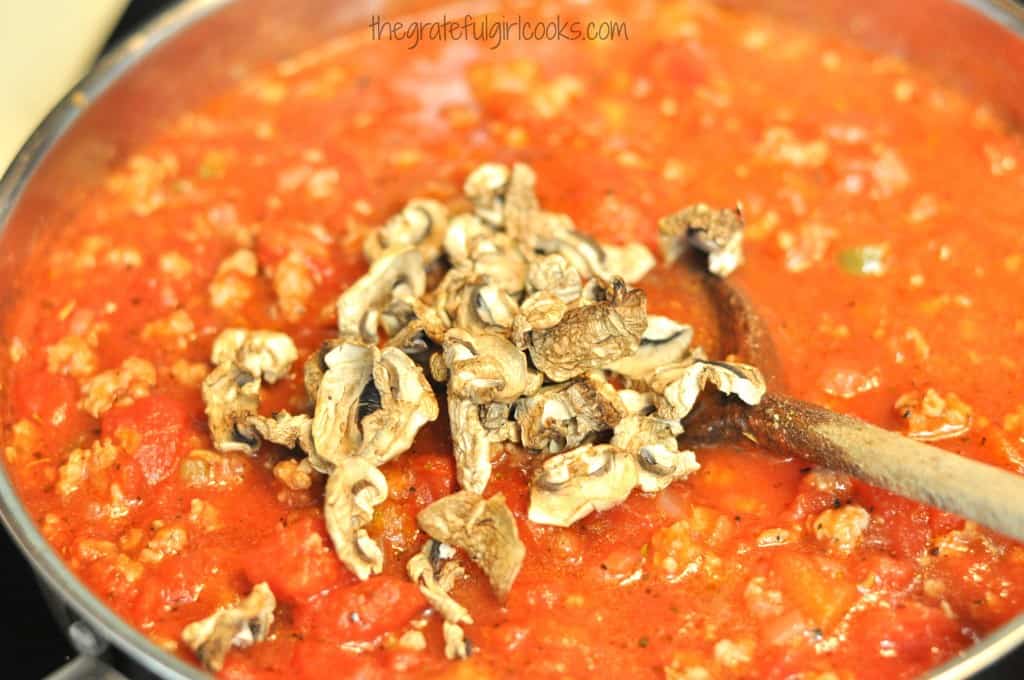 Bring the sauce to a boil, then reduce heat to a low simmer and cook for about 30 minutes or so. The sauce will reduce a bit, and all those yummy flavors will permeate the sauce. While the sauce is cooking, I cook the spaghetti noodles (or any other pasta I am using), drain, then place the drained pasta on individual serving plates, and top with a ladle of sauce, then some grated Parmesan cheese. That's it! So easy… yet such a very quick… inexpensive, and delicious hearty meal.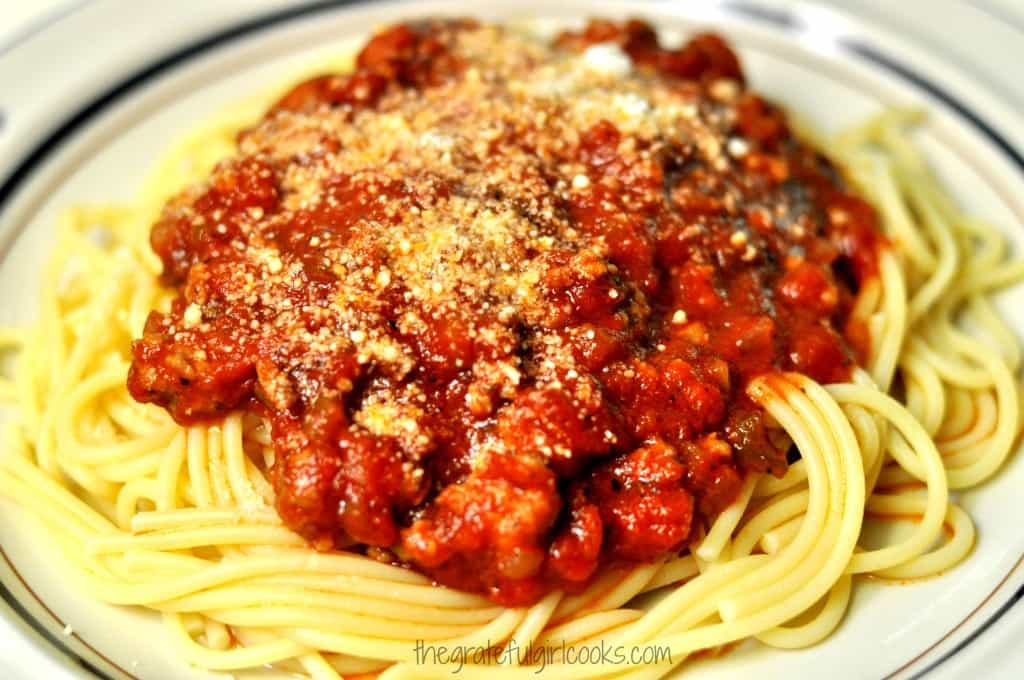 I grew up eating my Mom's spaghetti sauce with ground beef in the sauce. My husband and I prefer the great taste of Italian sausage in our sauce. If you've never tried it, hope you will consider giving it a try.  Have a great day, and Buon Appetito (Italian, for "enjoy your meal!)!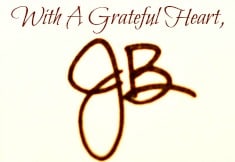 Recipe source: My brain, in Italian mode.

Easy Spaghetti Sauce With Italian Sausage
Quick, inexpensive, and easy to prepare, this delicious spaghetti sauce is flavored with Italian sausage, onions, green peppers, and spices!
As Prepared By:
JB at The Grateful Girl Cooks!
Ingredients
3 Italian sausage links (mild or hot), casings removed.
¾ cup chopped brown onion
⅓ cup chopped green pepper
1 can (6 oz.) tomato paste
1 large can (28 oz.) diced tomatoes
1 cup water (or substitute ½ cup water and ½ cup red wine, if desired)
1½ teaspoons oregano (dried)
1 teaspoon Italian seasoning
½ teaspoon basil (dried)
1¼ teaspoons garlic powder
1 teaspoon salt
¼ teaspoon black pepper
¼ teaspoon red pepper flakes (dried)
1½ cups sliced mushrooms
Grated Parmesan cheese, for garnish (if desired)
Directions
Remove casing from sausage links by cutting with a knife down the length of the link, and removing the sausage. Discard the casing. Crumble the sausage into a large skillet.
Sauté the sausage and chopped onion on medium heat. Add the green pepper; cook until sausage is fully cooked. Drain the grease out of the pan (discard), and return skillet to stovetop.
Add tomato paste, can of diced tomatoes (including juice), and water to skillet.
Add oregano, Italian seasoning, basil, garlic powder, salt, pepper and red pepper flakes.
Add sliced mushrooms. Stir all ingredients well, to combine.
Bring sauce to a boil, then reduce heat to low and continue to cook for about 30 minutes. The sauce will reduce down a bit, and the flavors will permeate the sauce. Taste test the sauce and add additional salt or spices as desired.
While sauce is cooking, prepare the pasta according to package directions. Drain pasta, then serve with sauce ladled over the top.
Garnish with Parmesan cheese, if desired, and serve HOT!
Save
Save