Wouldn't it be fun to receive an absolutely delicious Giant Chocolate Chip Cookie Pizza for a birthday surprise? I think it's even more fun to GIVE one as a birthday surprise!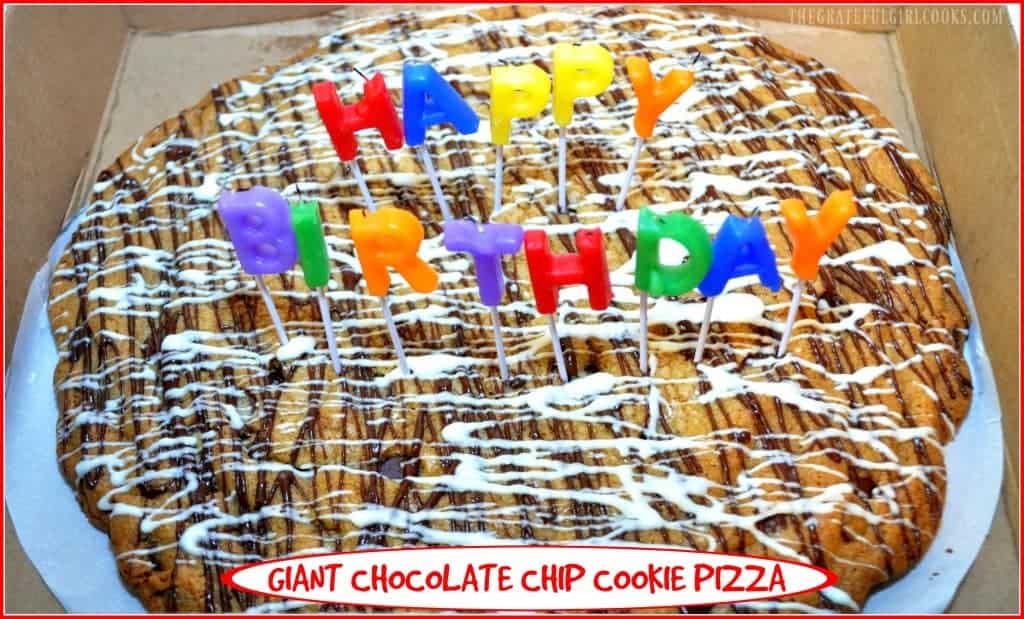 I made the giant cookie pictured above as a birthday gift for a friend, placed it inside a pizza box, and hand delivered it right to their front doorstep (no tipping of the delivery driver necessary)!  It was fun honoring them in a unique way on their special day.
The cookie itself is very easy to make, and is baked on a traditional 12 inch pizza pan. Once baked and cooled, the pizza is then drizzled decoratively with semi-sweet chocolate and white chocolate for the finishing touch. It really couldn't be simpler, and once it is delivered in a pizza box, becomes a unique treat for a special friend or family member.  The cookie can be sliced into pie shaped wedges with a pizza cutter. Just remember… if your friend decides to eat the WHOLE cookie themself, they're going to need a HUGE glass of milk!
Hope you try this recipe. It's a fun and creative way to make a dessert cookie that actually serves between 10 and 12 people!  Make it a special occasion to remember!
Recipe Adapted From: http://sallysbakingaddiction.com/2016/06/27/chocolate-chip-cookie-pizza/

Save
Save
Save
Save
Save
Save
Save
Save
Save
Save
Save
Save
Save
Save
Save
Save