Some days you just need a cookie as big as your head. Something like a Giant Sugar Cookie, perhaps?  Perhaps.  Yes… I think I would like one right NOW.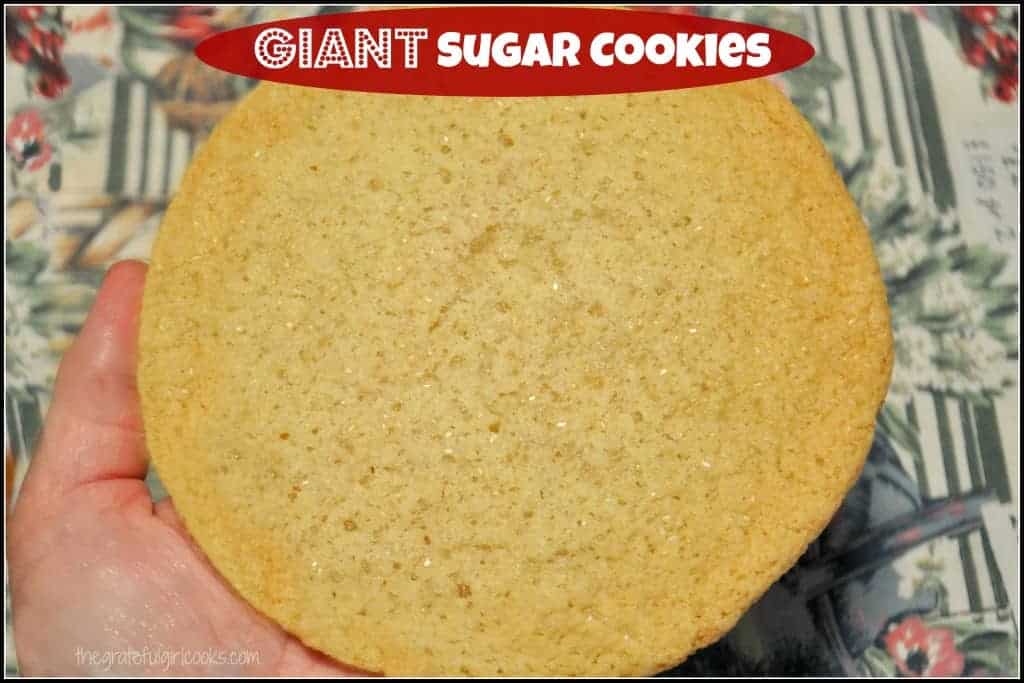 I made these jumbo cookies recently as my husband and I were still reeling from the loss of our furry family member, Bailey (our beloved dog), who we lost to cancer two weeks ago. Getting in the kitchen and baking is therapy for me, to be honest! My heart was sad, and I really just wanted to bake! So I did.
This recipe for Giant Sugar Cookies only makes 6 cookies, but they each come out about 6 inches wide, so trust me when I say, you will only need one.  My husband and I each ate one, then I gave the others away to our 2 sons, one of their girlfriends and one of our friends, because I like to bake, but I LOVE to give goodies to my friends and family (I hope you LOVE the giant size… every now and then someone you know might just need a GIANT cookie to help make it all better)!
Here's how easy they are to make:
While your oven is preheating, cream together butter and sugar until smooth. Once smooth, add egg and mix well, then add other dry ingredients until a soft dough is formed.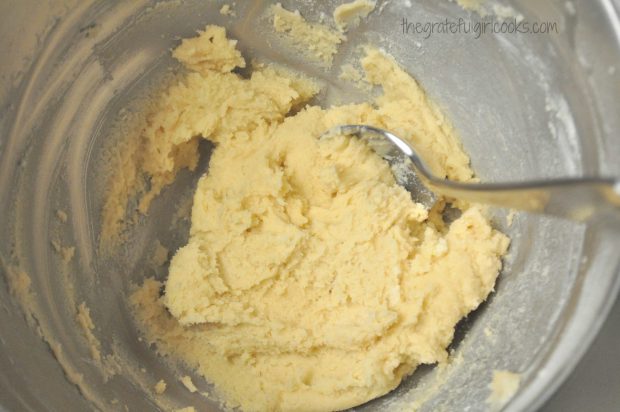 Measure out 1/3 cup of the dough for each cookie (6 total), then roll each one in between your clean hands to form a ball.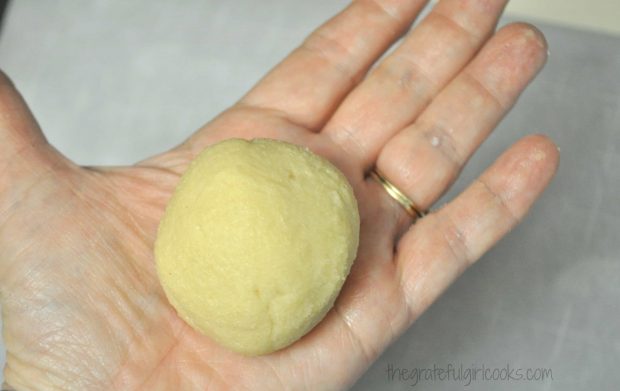 Place the dough balls on two separate cookie sheets (on parchment paper), leaving plenty of space between each one (remember these will end up about 6 inches in diameter, so trust me… leave lots of room in between the cookie dough balls).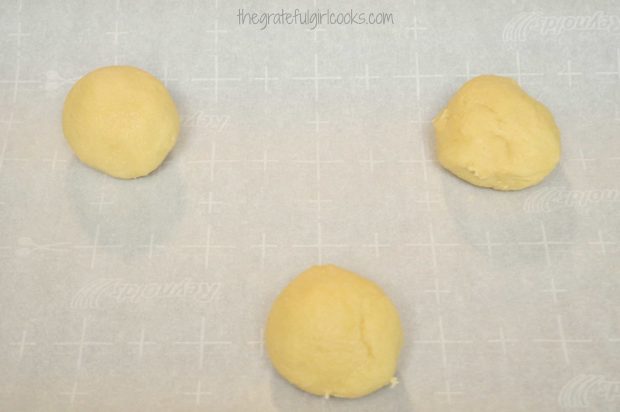 Lightly press down each cookie to flatten them out a bit. Lightly sprinkle tops of cookies with coarse sugar.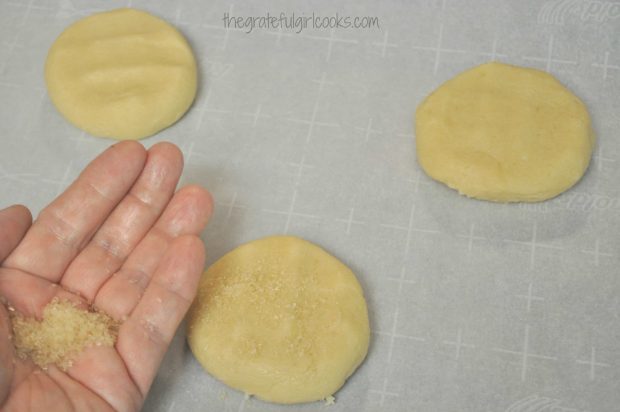 Bake cookies at 350 degrees for about 14-15 minutes. They should be just lightly brown around the edges when done. The cookies will firm up more as they cool.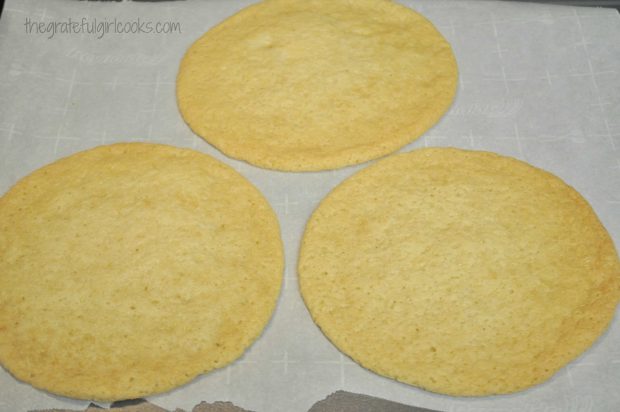 See? Each cookie is about 6 inches in diameter. THAT is one GIANT sugar cookie!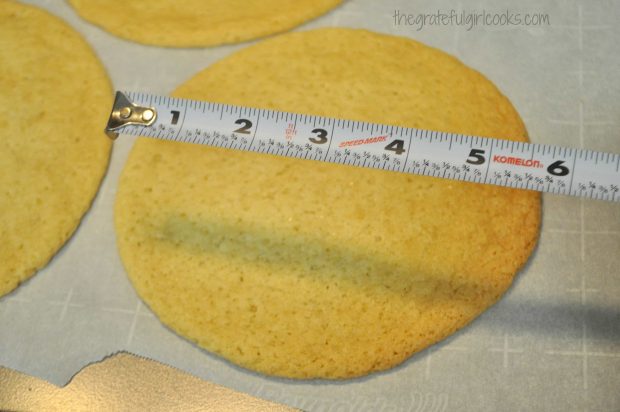 Sure hope you enjoy these jumbo-sized cookies! They are fun to give to others when they least expect a surprise gift from your kitchen! Enjoy these big ol' bites of deliciousness!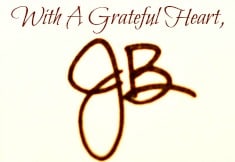 Recipe Source:  http://www.centercutcook.com/jumbo-sugar-cookies/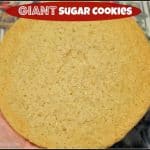 Giant Sugar Cookies
These classic, delicious GIANT sugar cookies will make you smile!
Ingredients
1/2

cup

butter

1

cup

granulated sugar

1

egg

1 ½

cups

all purpose flour

1 ½

teaspoons

baking soda

2

Tablespoons

cornstarch

1/2

teaspoon

salt

Coarse sugar

, for sprinkling on top of cookies (optional, but recommended)
Instructions
Before beginning, line two large baking sheets with parchment paper. Heat oven to 350 degrees.

Place the butter and sugar into a large mixing bowl. Mix until smooth; add egg and mix well.

Add flour, baking soda, salt and cornstarch to the batter. Mix dough until it is thoroughly combined.

Measure out 1/3 cup dough for each of the 6 cookies. Roll dough between your clean hands to form a ball. Place on cookie sheet (3 per sheet). Repeat with remaining dough. Remember to leave enough space between each dough ball as they will be approximately 6 inches in diameter when done. Lightly press down on each dough ball with your hands, to slightly flatten. Sprinkle tops of cookies with coarse sugar.

Bake cookies at 350 degrees for 14-15 minutes or until cookies are light golden brown around the edges. Remove from oven. Let cookies cool on the parchment paper. They will firm up slightly as they cool. Enjoy!
Save
Save