My sister told me about a delicious scone recipe she recently tried. Turns out it was the same recipe I had saved on Pinterest several months before and had been meaning to make, so I did!  Wow – really glad I made them…these Lemon Cream Scones are fantastic!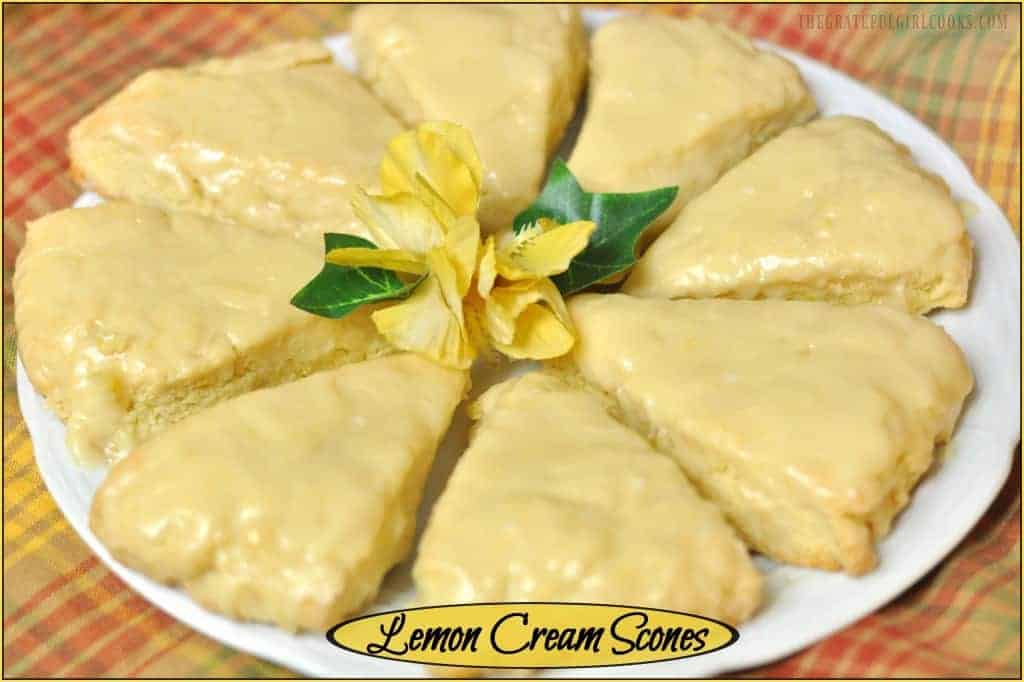 The scones are amazing – they are NOT dry (thankfully!), and get their delicious flavor from lemon zest IN the scones, and a lemon flavored glaze ON TOP of the scones!  They are very easy to make in about 30 minutes from start to finish… here's how:
The oven is preheated to 400 degrees.  Sugar and lemon zest are mixed together in a medium sized mixing bowl. Flour, baking soda, baking powder, and salt are then stirred into sugar/lemon zest mixture until well combined.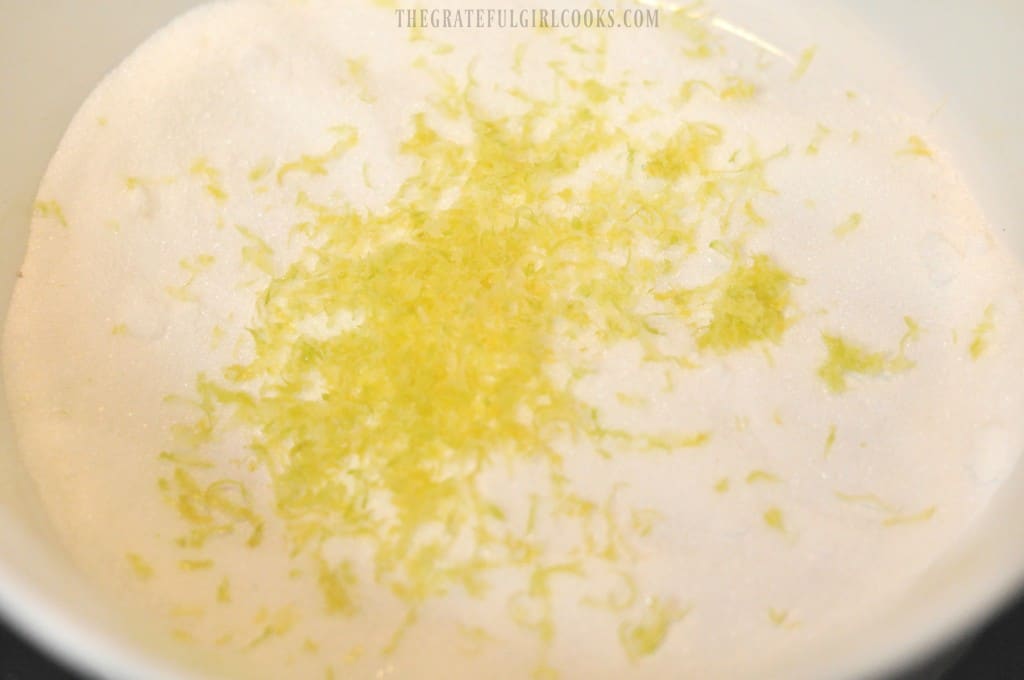 A cube of butter that has been frozen (I only froze it for 15 minutes before starting) is grated directly into the bowl with the flour, etc..  A pastry blender is used to mix until the flour mixture resembled coarse crumbs. (If you don't own a hand held pastry blender, two forks can be used). The grated frozen butter looks a LOT like grated cheese, right?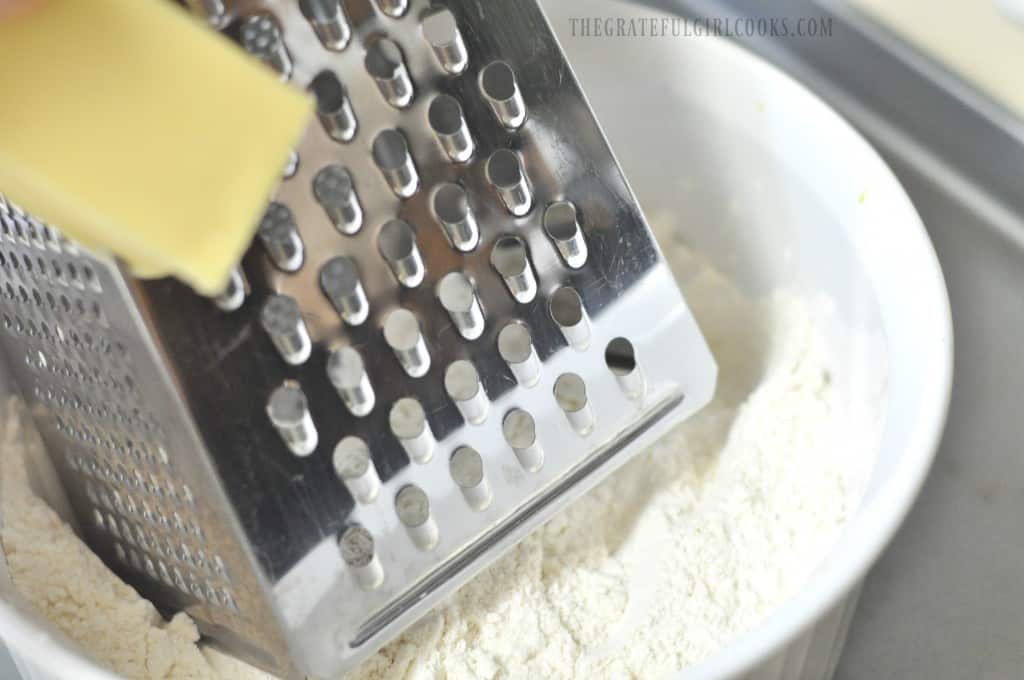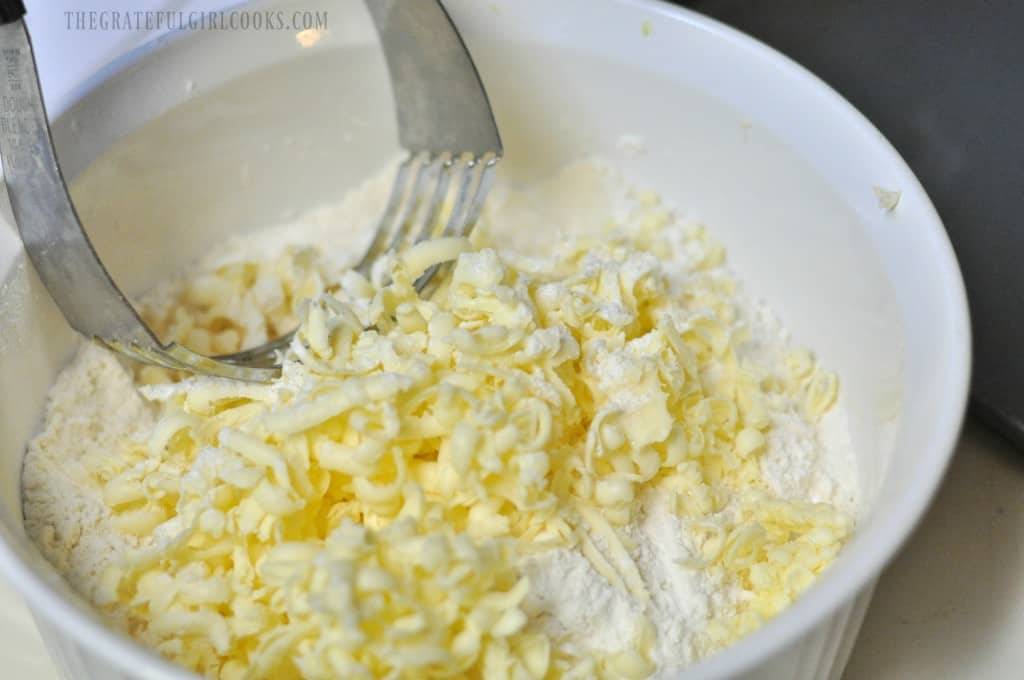 Once the dough mixture is the size of coarse crumbs, mix an egg and heavy whipping cream together in a separate bowl. Once fully blended, pour it into the flour mixture, and stir until ingredients are combined. This may take a minute or two. Just keep at it, scraping down the sides of the bowl as you go, to incorporate all the crumbles.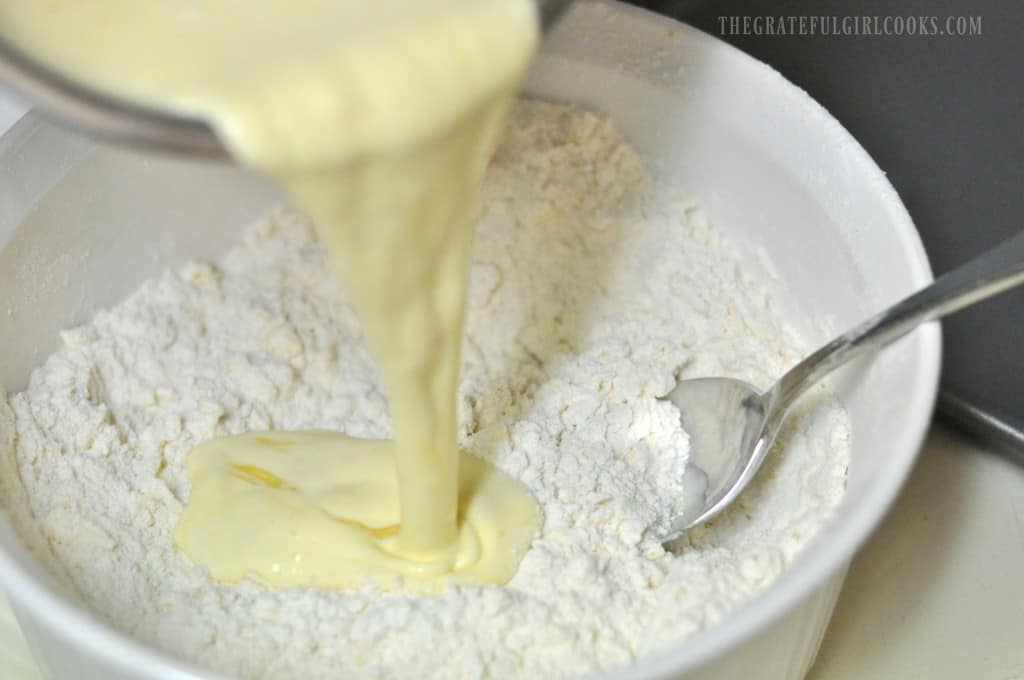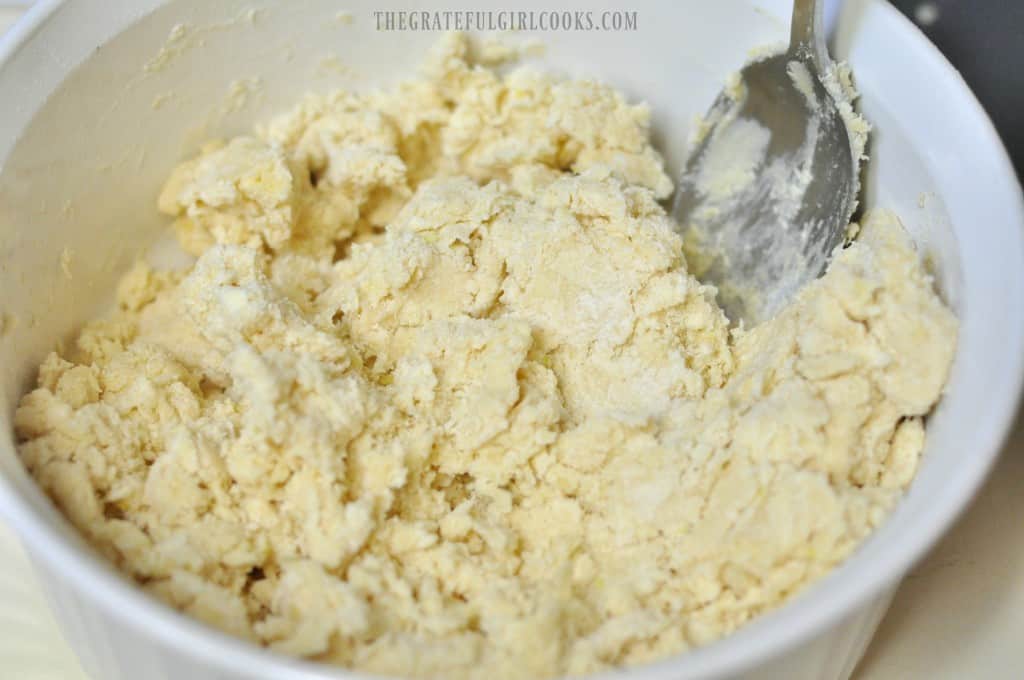 Shape the dough with your hands into a round ball (I did this in the same bowl I mixed the dough in). Once the dough ball is formed, place it onto a lightly floured work surface. Roll the dough out into a 7 inch circle (dough will be about 3/4 inch tall). Cut it into 8 wedges (I use a pizza cutter to make smooth even cuts, but a sharp knife works just as well!).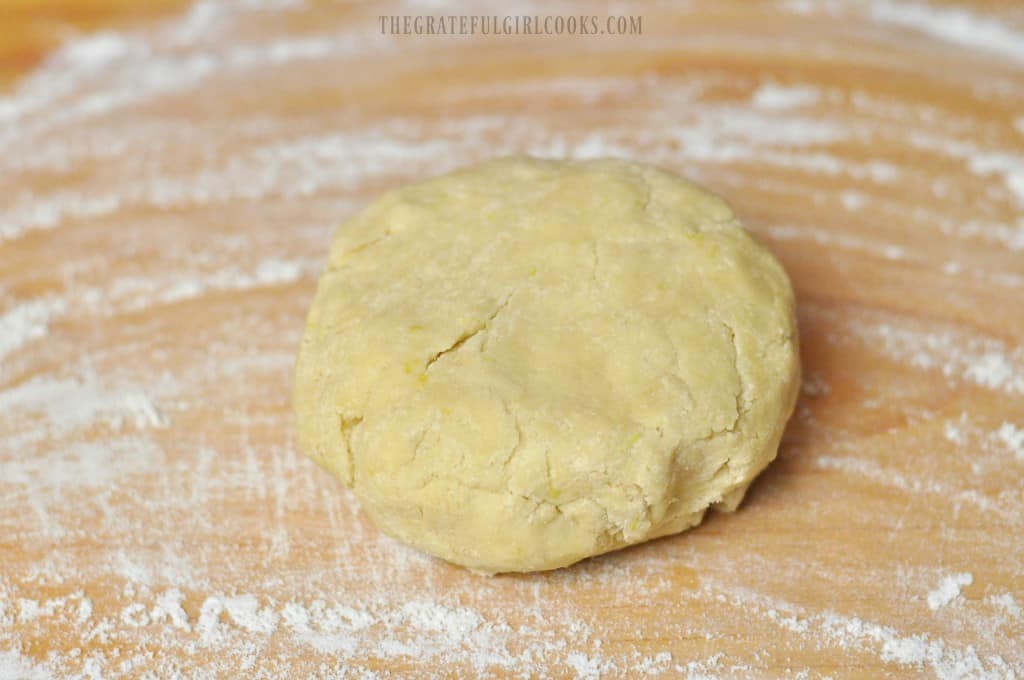 Can you see the little pieces of lemon zest in the dough? That adds great FLAVOR!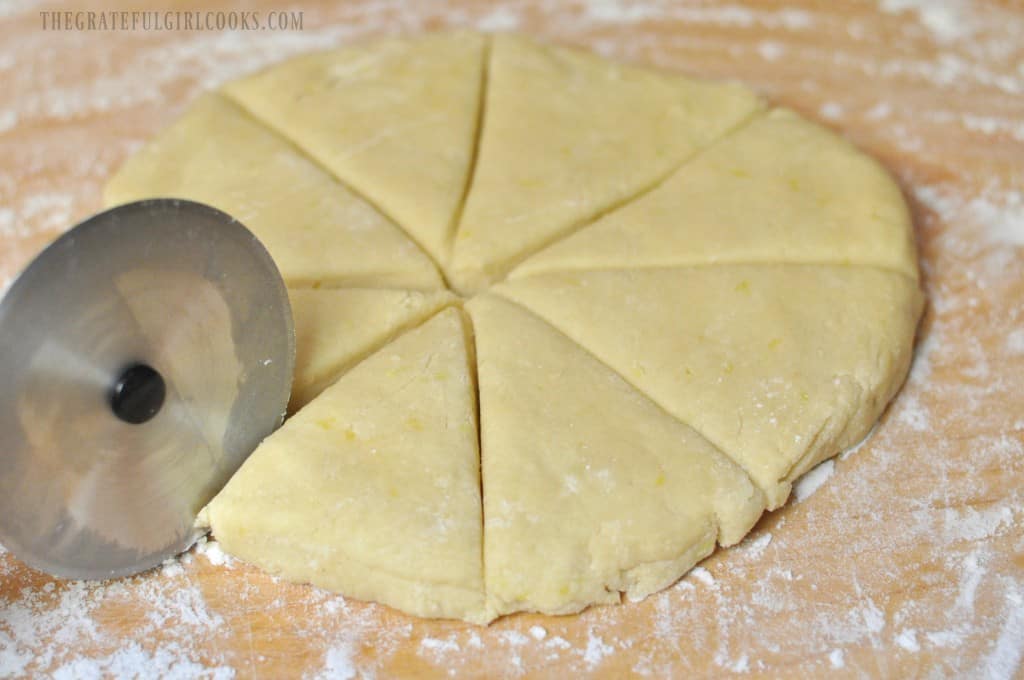 Place the wedges onto a parchment paper covered baking sheet. (Note: I realized I had run out of parchment paper, so I used wax paper… guess what? I ran out of THAT, also, and only had enough wax paper to hold the dough… barely. BUT… it worked perfectly – Ha Ha… some days are like that!). Leave a bit of space between each wedge.  Bake in a preheated 400 degree oven for 15 minutes, then remove from oven. Scones should be slightly light golden brown.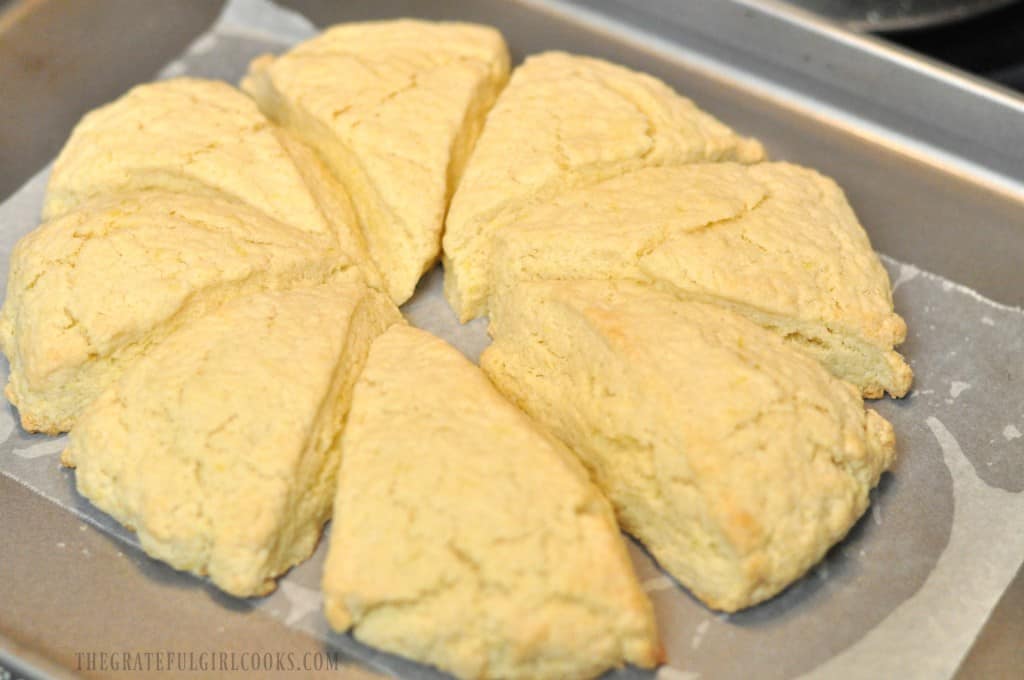 Let the scones cool for a moment, then transfer them to a wire rack to finish cooling.  While cooling, prepare the lemon glaze in a small bowl, by mixing together powdered sugar, fresh squeezed lemon juice, melted butter and vanilla extract until smooth.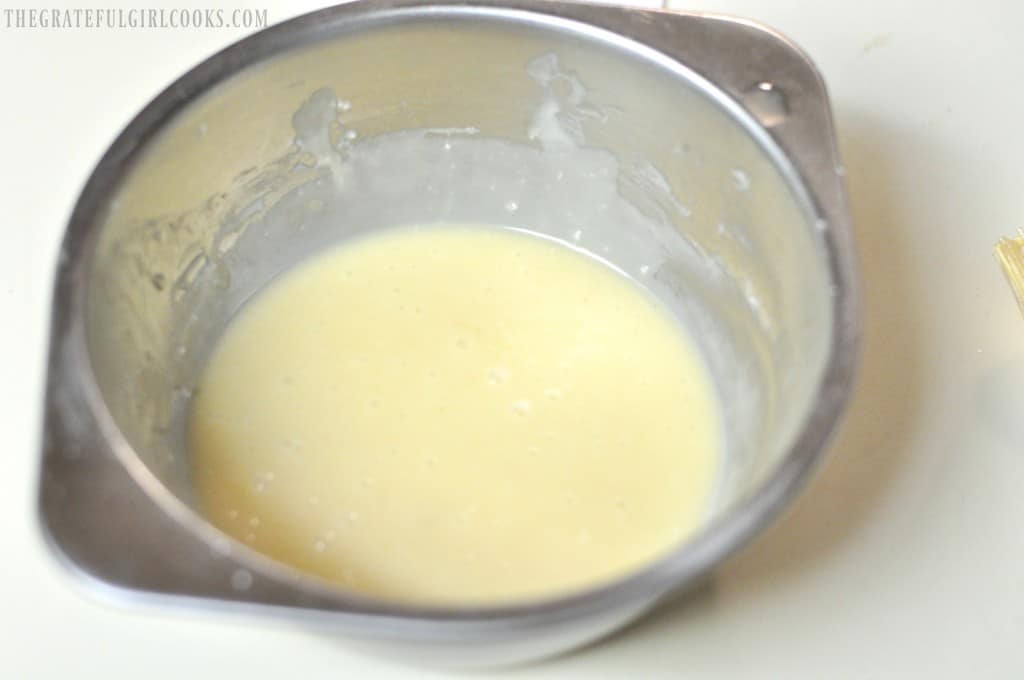 Once scones have cooled a bit, brush the lemon glaze over the top of each one. Use ALL the glaze! I like to put a piece of foil or wax paper UNDER the rack to catch any glaze that drips off the scones (for easy cleanup!).
I like to let a bit of the glaze run down the sides of the scones. YUM!  Once all the glaze has been distributed, let the scones rest a few minutes in order to let the lemon glaze firm up.  Once glaze hardens, they are good to go! Don't they look GOOD? Wait until you taste them!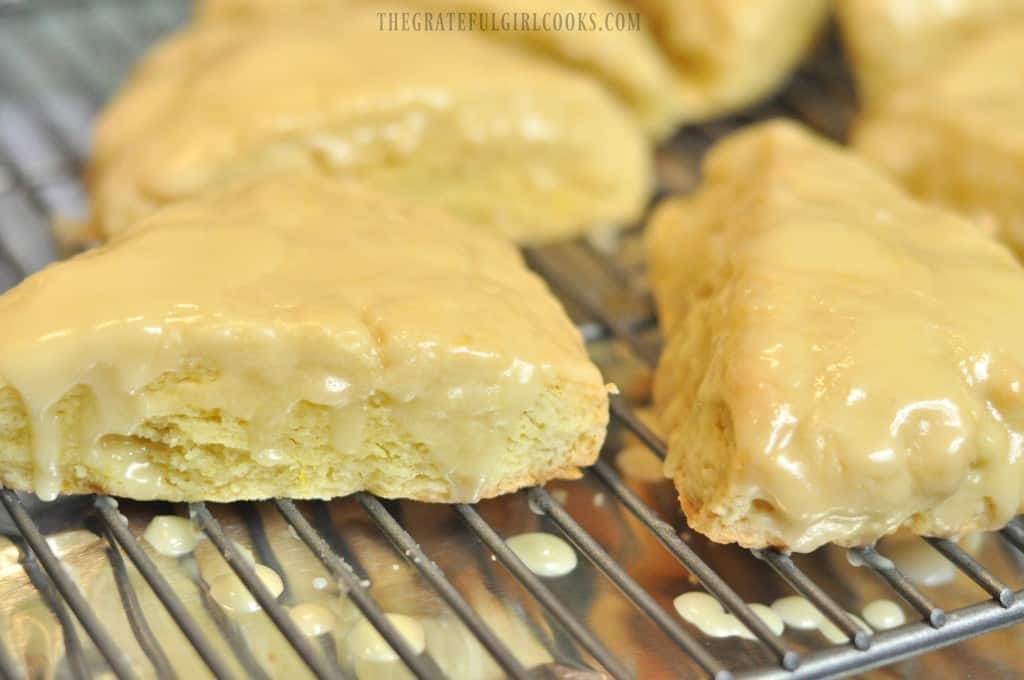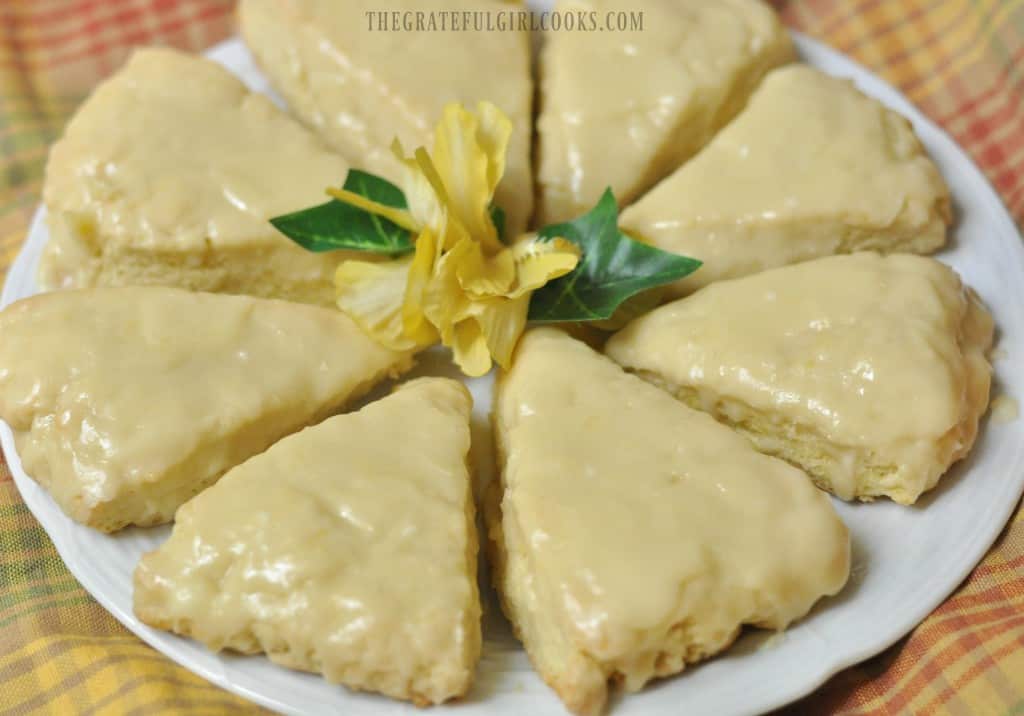 We REALLY loved these scones… I hope you do, too!  Be sure to check out my other scone recipes (in my Recipe Index); I think you will LOVE them! Have a great day, friends.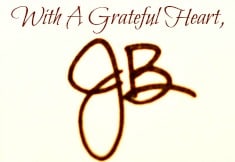 Recipe Source: https://www.foodfanatic.com/recipes/lemon-cream-scones-recipe/

Save
Save
Save
Save
Save
Save
Save
Save
Save
Save
Save
Save
Save
Save
Save
Save
Save
Save