I love to make salad dressing from scratch. Don't get me wrong… I have bottles of brand name salad dressings in my fridge, but when I stumble on a great "made from scratch" recipe, I add it to my collection. That's how it is with this simple Poppyseed Salad Dressing.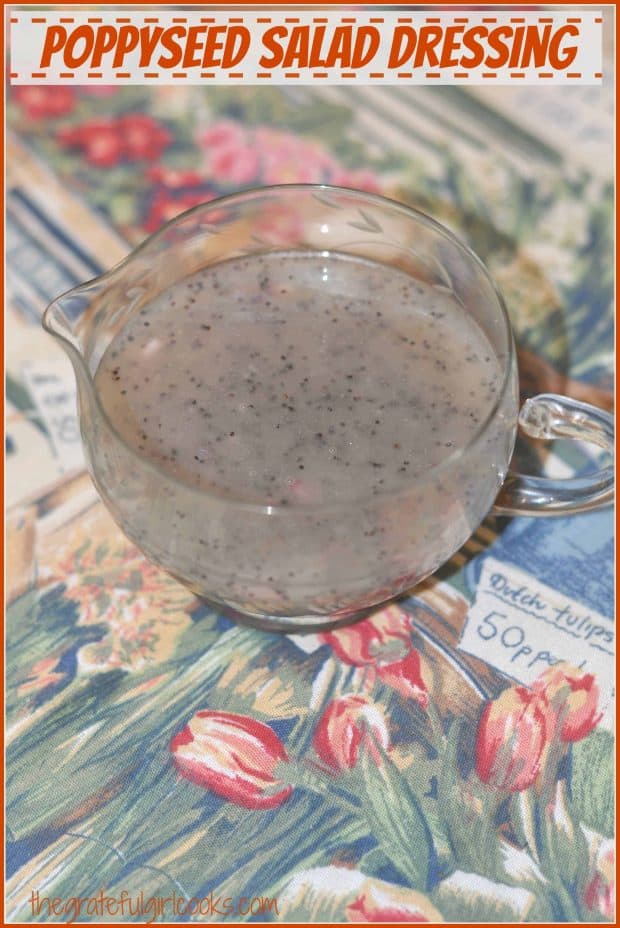 I found this recipe on Pinterest, and thought I'd give it a try pairing it with one of my favorite salads that I make often. Sure enough… it was FANTASTIC!  I love knowing the salad dressing is made without a lot of chemicals, but with common household ingredients! And guess what? This salad dressing is wonderful, and can be ready in just a couple minutes!
Here's how you can make it, too!  Gather the ingredients: Apple Cider Vinegar, dry mustard powder, chopped red onion, salt, poppy seeds, sugar and oil.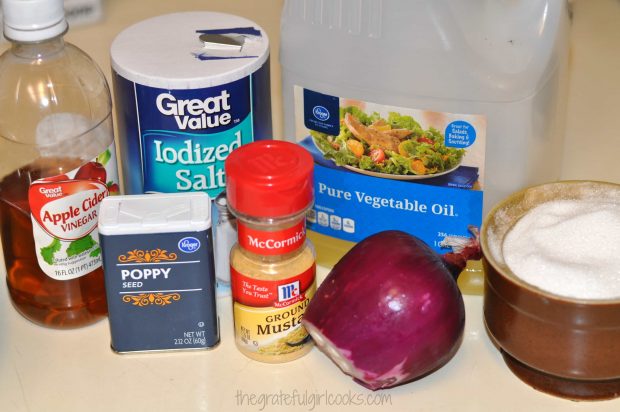 Mix all the ingredients together really well, until the sugar has dissolved, and all ingredients have blended together. Pour into a covered bottle or serving container. Refrigerate until ready to use (the flavors really "marry" well, the longer you let it refrigerate).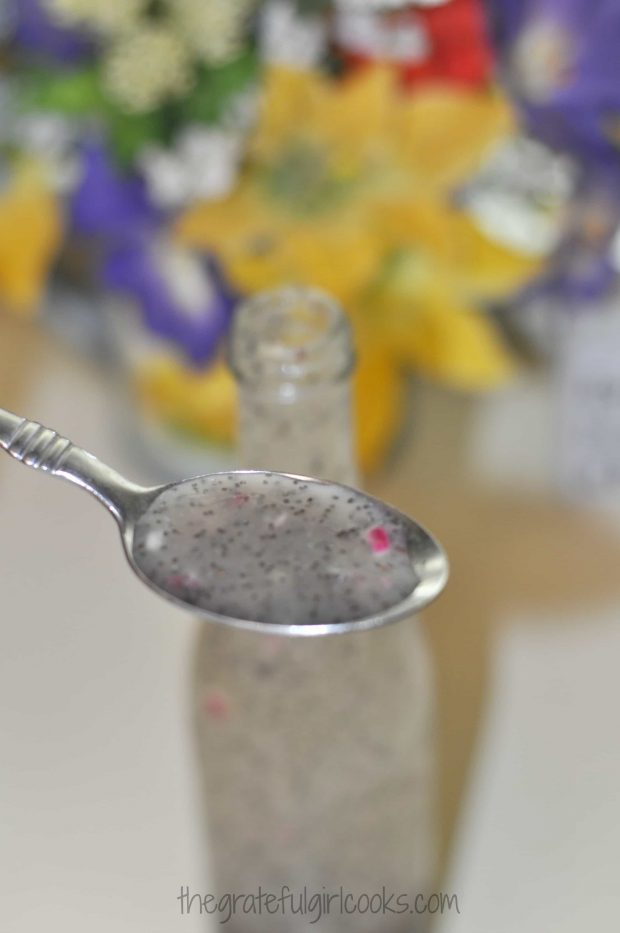 I'm not kidding you… this stuff is GOOD!  I might have even taken a spoonful taste the day AFTER we had it on a salad, and oh boy… this one's a keeper! My husband loved it, as well!
We used it on a mixed green salad (one of our faves) that has mixed greens, toasted almond slices, blueberries, strawberries, and feta cheese. Perfect! I will definitely make this again!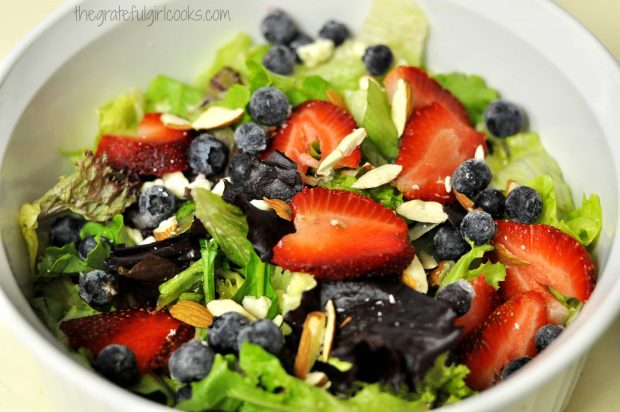 Hope you'll give this recipe a try! Have a blessed day, friends.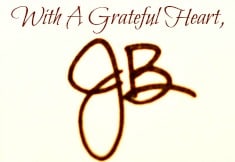 Recipe Source: http://thefoodcharlatan.com/2014/05/23/copycat-cafe-zupas-poppyseed-dressing-spinach-bleu-cheese-salad/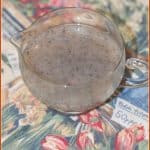 Poppyseed Salad Dressing
It's easy to make your own delicious Poppyseed Salad Dressing in under 5 minutes!
Ingredients
1/2

cup

apple cider vinegar

1

teaspoon

dry mustard powder

4

teaspoons

chopped red onion

1/2

teaspoon

salt

1 1/2

Tablespoons

poppy seeds

2/3

cup

granulated sugar

1

cup

vegetable oil
Instructions
Place all ingredients into medium bowl or blender.

Whisk all ingredients together by hand for a minute or two until completely blended, OR blend in electric blender until ingredients are fully incorporated.

Refrigerate dressing, so the flavors have time to fully come together.

Serve, and enjoy!
Save
Save